Reel Fun Sportfishing, LLC
Fishing Reports for 2022 covering Sandy Hook, NJ
"Capt. John's Fishing Reports" gives you the latest information about our fishing charters as they occurred.
So bookmark this page and check back with us regularly.
---
July 14, 2022
Fellow Angler,
Had the pleasure of fishing with the Stroff group Thursday 7/14 for Fluke.
Decided to go after the bigger (over 18") fish first, utilizing the lake-like flat waters of the ocean in some deep water areas. (Long trip as my odometer read 54 miles traveled round trip). Fished an area about 5 miles offshore of the Monmouth Beach area on some rough bottom structure and then tried some flat sand areas that surrounded the rocks.
Bucktailed as well as drifting bait both worked during our stay, as we did catch some legal keepers and legal Black Sea Bass, just not nearly enough.
Here we are mid July and I'm asking myself "Where the hell are all the Fluke?"
I read topside water temps ranging around 71 degrees, but once again all the rigs coming up from 70' of water were still cold. Is the cold water effecting the migration into our waters? Maybe but there may also be something else playing here.
Look, you want the truth or some BS? If you want the truth, then you've come to the right place.
My mate Rich thinks they are just late to arrive this year....I hope he's right.
Finally, many "Thanks" to the entire Stroff group...you all fished hard.
Tight Lines,
Capt. John and Crew
---
July 3, 2022
Fellow Angler,
My trip for Fluke to Montauk, NY
Had the pleasure of fishing with my son Chris for Fluke in Montauk, NY this past Thursday.
Stayed at my son's house Wednesday pm and headed out Thursday am at 4:00. A 2 hour drive from his house but our reservations were locked in due to my sons Fathers Day gift certificate.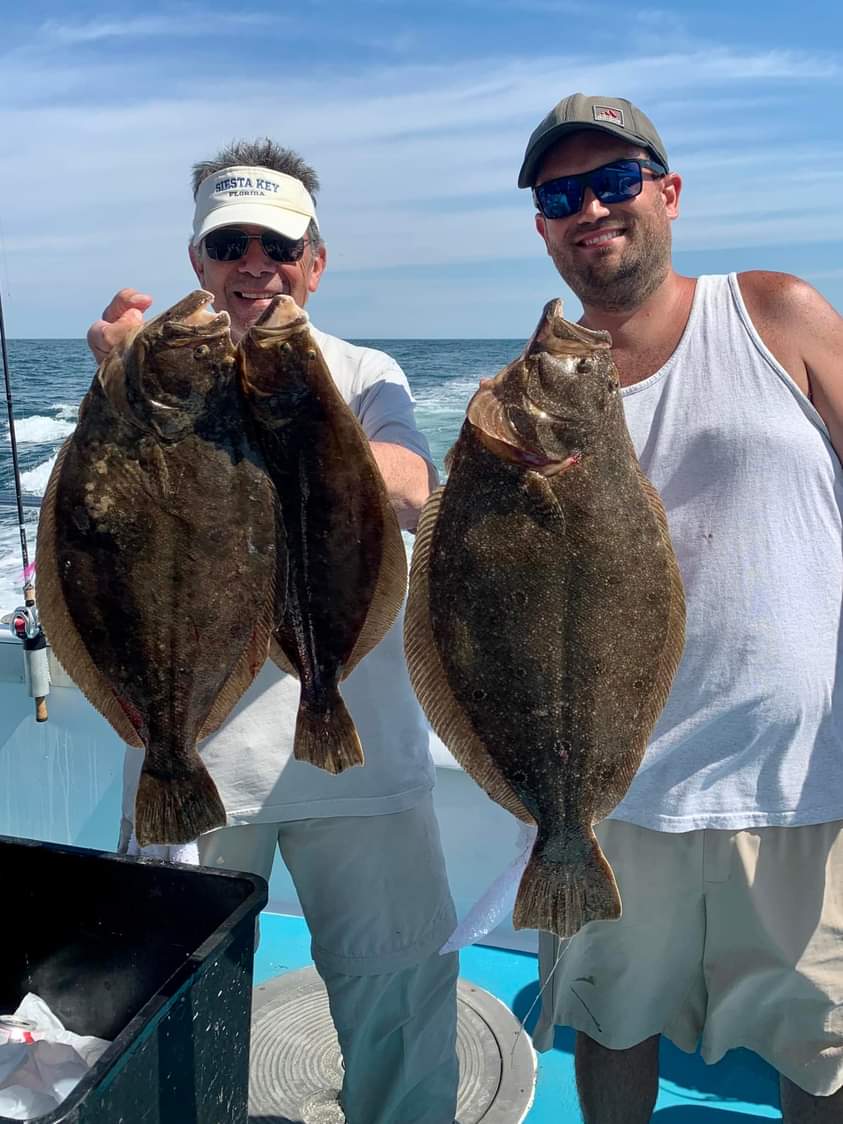 Boarded the boat in time for a 7am departure and headed for some "sticky stuff" bottom structure about 7 miles offshore. Lot's of anticipation by the 20 or so other anglers onboard....regretfully, someone didn't tell the fish we were coming.
I was expecting gin clear water, but was greeted with water just about the same brackish color as our local waters nearshore. Kind of disappointing to be sure. Water temps up there were colder than ours....mid to low 60's on the surface and I'm sure the water where we were fishing (110') was a hell of a lot colder.
My son Chris and I bucktailed the entire trip, actually about 7 hours fishing time, and we came home with some sore arms. Now the main question....did we catch fish? Sure did, but nowhere near the quantity or quality that we were expecting. Went there, for me, for my PB....a doormat, but it was not meant to be today.
Quite frankly, everyone onboard fished their asses off for what we got today. The boat did a respectable job at putting some fish in coolers, but admittedly by the captain, this was an off day, as has been for the past few days. On again, off again fishing for Fluke.
Biggest fish on the boat for the day was 7.2 lbs, with Chris taking the honors with a 6+ lb flattie.
Look, let's be honest...good Fluke fishing is just not here yet, at least not to my standards. I read just this morning on a Facebook web page that Nantucket Shoals (a hotbed for massive Fluke) is off so far this year. So the showing of Fluke here in NJ is just about the same for our waters as is NY, Rhode Island and Mass.
Why the downturn in fish? Only the fish gods know that answer, but I have my ideas that I'm not at liberty to discuss. Hopefully, our local waters will warm up soon and the migration of Fluke will materialize.
Anyway, a fantastic day fishing with my son Chris, who once again, outfished me....stinker!
Thank you my son for a great day on the water with you...you're the best.
Tight Lines,
Capt. John and Crew
---
June 24, 2022
Fellow Angler,
Had the pleasure of having the Toro party out for a day of fishing for the flatties...Fluke.
Beautiful day with a few exceptions. The water temps all over the past few days (bays and ocean) took a significant drop. To the tune of 5 degrees which will usually turn off the Fluke bite just about wherever you are.
Our first area of attack was a short cruise up the river. Perfect drift with outgoing water and almost no breeze. Found a few shorts and a keeper fish but not quite enough action to keep me there. So it was on to our next location.
Sailed to an area known as Officers Row...bust. Made another move to try to go oceanside, but a pretty significant 4 foot swell with 7 second spacing between waves did not allow me to go any further so I decided to try "The Knoll". Regretfully, we had outgoing water with and East wind (wind/against) which equalled no drift.
Look, if you not moving when you fish for Fluke, you don't catch.
Making a move into the Sandy Hook Bay, when I get a cell call from my neighbor captain calling me into an area he's found fish....I'm on my way.
Get to this area and see a net going over from his boat and knew it was play time. Bottom line.....nice steady pick of Fluke for a solid hour and a half until Captain Sean and I were swarmed with other boats all around us and the bite shuts down. But by that time we had our fish.
My hat goes off the Capt Sean....I will return the favor.
Nice day on the water, great anglers and a bag filled with Fluke fillets.
The Fluke fishery will only get better as the ocean water temps warm up.
Tight Lines,
Capt. John and Crew
---
June 18 , 2022
Fellow Angler,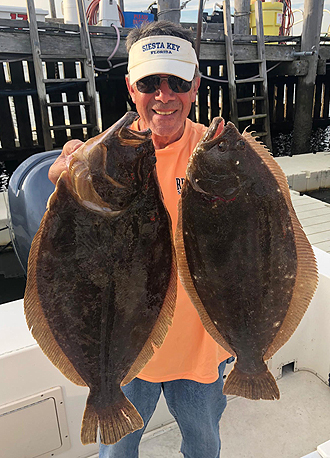 Well, it's that time of year...MY time of year. The official start of the summer season begins this Tuesday, 6/21 and I couldn't be happier.
The Summer Flounder (Fluke) have arrived just a short distance from the marina and they are hungry and feeding.
We will be fishing the bay until we see that the bay is depleted enough and we will start to work oceanside in search of bigger fish...probably within the next week or so. So get those Fluke sticks ready, bucktails and rigs and let's go after the best tasting fish for dinner in our waters.
The current 2022 Fluke reg's are 2 fish 17" to 17.99" and 1 fish 18" and over. And don't forget that the total boat count can be increased based upon the captain and mate being in the mix for keeper fish, so a 4 angler charter count is 18 fish...not bad at all. Don't forget we are currently under a fuel surcharge of $10.00 per angler so plan accordingly.
The fee for a single angler on one of our Open Boat trips is now $160.00 and the fee for a reserved 4 angler private charter for the standard 6 hours is $640.00 which INCLUDES the fuel surcharge. You can either bring all your own rod/reel and rigs or use ours at no additional charge.
All fresh bait is included in the fee. We also do have additional bucktails on board if you snag yours on the bottom (No charge for the first one, thereafter a small fee per bucktail).
On Open Boat trips, all fish (fillets) are shared amongst the anglers on board that day, so usually everyone goes home with dinner..only fair.
So let's go there Flukers....it's that time to get it on.
Call 908-421-4761 to reserve your dates.
See you at the dock.
Tight Lines,
Capt. John and Crew
---
June 15 , 2022
Fellow Angler,
I was truly hoping it wouldn't come to this, but I have no other choice.
Upon coming to my marina yesterday morning for a charter, the marina is now charging $6.29/gallon for gas...OUCH!
As such, I have no other alternative but to implement a temporary surcharge for ALL charters effective immediately.
For full 4 man private 6 hour charters, the fee will now be $640.00 until further notice. For my single Open Boat anglers, the cost of a 6 hour trip is now $160.00 per person. (This equates to a $10.00 per person increase)
I'm very sorry for this situation, but you and I know I have no control over this. I am already absorbing increased cost of bait across the board, but the massive increase in fuel I cannot handle alone.
I really hope you understand my situation as I too love being on the water with you catching fish, but I just can't take a bath doing it. Hopefully, this shitty situation will be rectified soon. The crew and I always stand ready to serve you now and in the future if you care to join us for a day on the water.
Tight Lines,
Capt. John and Crew
---
Fellow Angler,
I currently have 2 spots for an "Open Boat" Striper trip for this Wed. May 25th departing at 7 am and returning about 1 pm or sooner if we limit out.
The cost of the trip is $150.00 p/p and includes all bait, tackle and use of our rods/reels..gratuity for the mate is extra.
The fishing in Raritan Bay continues to be good as of late and it would be ashame if you missed out on this great opportunity fishing for the best gamefish in our local waters. 4 anglers means we'll keep 6 Stripers (one each additional counting the captain and mate) with fillets shared by the paying anglers as is company policy.
The weather looks good with light winds and my kind of tide.
Don't hesitate......Call me at 908-421-4761
Tight Lines,
Capt. John and Crew
---
May 18, 2022
Fellow Angler,
I currently have 1 spot for an "Open Boat" Striper trip for this Friday May 20th departing at 7 am and returning about 1 pm.
The cost of the trip is $150.00 p/p and includes all bait, tackle and use of our rods/reels..gratuity for the mate is extra.
The fishing in Raritan Bay continues to be very good as of late and it would be ashame if anyone missed out on this great opportunity fishing for the best gamefish in our local waters. 4 anglers and we'll keep 6 Stripers (one each additional counting the captain and mate)
The weather looks good (so far) with light south winds and my kind of tide.
Don't hesitate......Call me at 908-421-4761
Tight Lines,
Capt. John and Crew
---
May 13, 2022
Fellow Angler,
Just thought it would be a good idea to keep you abreast of what's going on at the shore.
The weather for the past 8 straight days has played hell for me and quite a few other charter captains out there. A combination of rain, constant nonstop NE/E winds and now dense fog has put a real crimp on fishing and reports for over two weeks now.
Striped Bass fishing has been, for the most part, lights out fishing in Raritan Bay on most days during the week....weekends is another story as the armada of boats tend to put the fish on a holding pattern and fishing can be a slow pick, but the bass in the bay are plentiful. It's been cool and breezy at the shore and I damn well know what's going to happen. Temps in the 50's and 60's now will one day skyrocket into the 80's and 90's...just watch. The ocean water temperature is still a cool 52-54 degrees, but on the bright side.
I got a call from a friend down in south Jersey telling me the Delaware and Chesapeake Stripers have spawned and are on the move north....really good news. Another week or so and they will invade our area.
Fluke fishing has also been very impressive in Raritan and Sandy Hook bays...kind of early but they are here nonetheless. For anyone interested in a Fluke charter or a single "Open Boat" trip, call me and let me know your intentions. I have the Fluke gear available for our trip if that's your choice.
Let's all pray for the return of some summertime weather so we can get out and enjoy the day on the water. Enjoy the rest of your day.
Tight Lines,
Capt. John and Crew
---
May 7, 2022
Fellow Angler,
As you can see by this morning's weather, it's not a nice day. I thought this would be a good time to have a discussion about what I've learned about the weather over the past 18 years of chartering.
First and foremost, the weather has definitely taken a obvious and noticeable turn for the worse over the past 3-4 years. You don't have to be in the charter fishing business or a meteorologist to see what is occuring. Because of the jetstream, lows are following it, picking up moisture from the Gulf of Mexico and riding up the Atlantic coast bringing rain, very high winds and some really nasty weather for us here in New Jersey. Low's riding up the Atlantic coast can sometimes turn into Nor'Easters and completely shut down fishing along the coast.
Checking todays wave and wind reports, the ocean (according to NOAA) will be in the 9-13' range during the day with gale force winds today reaching N/E 30-40 kts....that's some nasty weather and not to be on a boat trying to catch fish.
Once the rains subsides, mother nature dries everything off with winds that will be around us for a few days...tough fishing once again.
For a good day on the water, winds that are "light and variable" are the best, 5-10 kts, 10-15 kts and we are usually a go. Once the winds start cranking in the bay 15-20 with gusts to 25, then regretfully we are home for the day.
I was supposed to be out on a charter today, but for very obvious reasons, I called it off for another, and hopefully, better day down the road. As you are aware, I am a cautious person and not willing to gamble someone's life for a few fish. So we reschedule for everyone's safety and well being. Most times I call it right, but there were times that I could have been out on the water, but "better safe than sorry" as they say. Not to stick a feather in my cap, I have a damn good track record when it comes to calling a go or no-go for a fishing trip because of weather conditions.
It's really a shame because the fishing in Raritan Bay has been "on fire" for the past 2 weeks "if I am able to get out". Resident Hudson River Stripers have invaded the bay and the fishing has been lights out using tried and true methods to catch them.....casting out shads, top water plugs and numerous lures as well as trolling bunker spoons, MOJO rigs and umbrella rigs. Everything seems to be getting hits for these ravenous hungry fish.
Quite frankly, this has been the best spring Striped Bass fishing I've seen in 18 years if I can only get the weather to calm down and cooperate. And best of all, the migrating Chesapeake Stripers haven't even made their appearance yet. Wait till that happens.....when these arriving fish zero in on the bunker in the bay....lights out fishing for the Striper fishermen. I think we should continue to see this outstanding fishing well into June.
A note for the Fluke fishermen out there.....boats sailing for Fluke this past week have been doing really well with 17" fish. This years Fluke fishing could shape up to be a banner year for that species.
In 2004, when I first got into chartering, I can remember beautiful quiet days fishing in the bay...no winds, plenty of warm sunshine and enjoyable days with my anglers. Most times it was a clam bite or bunker chunking anchored up having great conversation and catching many fish.
Regretfully, the weather along with that type of fishing have changed drastically and many for-hire businesses have had to adjust accordingly. Sea clams, which were the bait of choice for a clamming trip, have been fished out of our area. Thankfully, now that bunker have made a fantastic recovery in the bay, fishing for Stripers using live or dead bunker is still an option for the charter guys. But, and that's a big word, netting bunker can be a really tough chore in the bay and very time consuming in the process...taking away from valuable fishing time for my anglers.
For the money you spend, I try to give you as much "lines in the water" time as possible and not driving around trying to cast net bunker. Bang for your buck.
Here is my M/O....I try to treat my anglers as I would like to be treated if I hired a charter for myself...it's that simple. Safety, catching fish and a fun day on the water for all. Isn't that what it's all about?
Finally, if you have any plans about a spring Striper trip, now is the time to do it once this crappy weather moves the hell out of here. The Striper fishing can't get any better than this. Make your move NOW.
Stay well, be in touch and HAPPY MOTHERS DAY
Tight Lines,
Capt. John and Crew
---
May 2, 2022
Fellow Angler,
Good morning. Hope you are doing well this morning despite the rain and thunderstorms.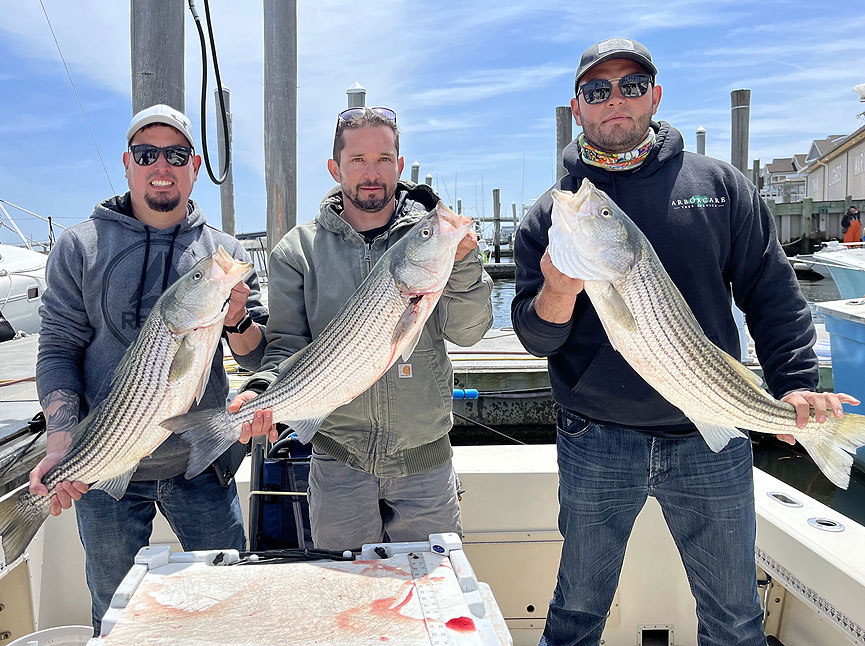 Had the White Birch Tree Experts out yesterday (Sunday) morning for a shot at Striped Bass and we did quite well. Working over a few of my areas in Raritan Bay, we were rewarded with a limit catch for the group up to a 33" Striper and quite a few releases of shorts. From what mate Rich and I could tell, these were resident Hudson River fish as the migrating Chesapeake fish have yet to make their appearance as was evident by lack of sea lice on their bodies.
The boat traffic was incredible which explains why the fishing was slower than it had been from previous days. With the explosion of boat sales last year, it's almost imperative for most private fishermen to fish during the week to get away from all the traffic. But Reel Fun gets away from the crowds and find our own fish....less traffic and better fishing.
Great to finally be out on the water catching fish. The weather pattern for the entire month of April has been really tough for the fishing industry and I'm no exception, but we made it out yesterday under beautiful conditions and caught fish for the cooler.
If I can get the weather gods to cooperate, I'll be able to get all my charters in for the next 2 months of Striper fishing. The bay water temps are still hovering at the 52 degree mark (still quite cold) but the clarity of the water has been steadily improving...good news.
I'm trying out a new video camera (like a GoPro) and I attempted my first vid. yesterday with one of the fish caught..... "on the job training as they say". It wasn't our biggest fish, but you get the idea of it. I really won't win an Academy Award, but hey, it's a start.
It's a very short video (42 sec.) on YouTube if you care to watch....click here.
In any event, the anglers had a good time and so did the Reel Fun crew. Many more fishing days are ahead of us for 2022.
Oh, and by the way.....today is the 1st day of NJ Fluke season. Let's go Flukers.
Tight lines,
Capt. John and Crew
---
April 15, 2022
Fellow Angler,
Today was our crew shakedown trip for Striped Bass with Rich, my son Chris and myself fishing Raritan Bay.
First off, the boat ran very well after completing a engine tuneup and spring maintenance. All the rods and reels worked perfectly as did all support items that we take care of during the winter months. We couldn't have asked for a better day to be on the water as we had abundant sunshine and light winds all day with the bay hardly producing a chop...great sailing weather.
The bay water temperature registered 51 degrees most of the day, but was still a little stained from many days of rain. It usually take a few days of tide changes to settle everything down to normalcy.
Even with the quality of water we encountered today, we still did very well with the fish....we had our 3 man limit of fish to 33" and returned 12 more fish to fight another day. Very good action all things considered. The fish were not schooled up in any one area, which meant we covered a lot of water, but catching fish is our main goal even if we had to do some travelling to find fish.
As the days progress through the rest of April, May and June, Striper fishing should continue to do well.
Food for thought.....Raritan Bay is THE hot spot in NJ for Striper fishing as even boats from Brielle and Point Pleasant are sailing here to fish. The best Striper fishing in New Jersey is right here in Raritan Bay, NJ.
The fish are there and so are we.....are you ready?
To view a small sampling of today's fishing with my son Chris catching our biggest fish of the day, here is a short YouTube Video....click here.
If you'd like to get in on the action in the next 3 months for Striped Bass, call me at 908-421-4761.
Tight lines,
Capt. John and Crew
---
April 14, 2022
Fellow Angler,
Today was the day that I've been waiting for the past 4 months through a cold winter...the boat is ready and in the water at her slip. So yes, we are ready to go for spring Striped Bass if you are.
Striper fishing has been quite good the past 2 weeks even though Raritan Bay has been stained with runoff from all the rain we've been having. Good news is that with every change of tide, the water get clearer and cleaner and it now very fishable.
Water clarity is steadily improving each day. The crew and I are planning a "crew trip" this weekend to locate the schools of Bass in the bay so I will know more by the end of the weekend.
As is the case each year for the past 5 years, trolling and casting lures is the way to catch some nice Stripers, so we will follow suit.
So if you're ready to shake the winter cobwebs off and get some sun and fresh air, now is the time to book your spring Striper charter with us by calling the number below and let's put some delicious Striper fillets in the fridge.
For our single anglers, don't forget our Wednesday and Friday "Open Boat" trips too. You can call me at 908-421-4761
Tight lines,
Capt. John and Crew
---
April 8, 2022
Fellow Anglers,
Yesterday the 2022 Fluke season regulations were set by the NJ Marine Fisheries Council which are the following....
Dates... May 2 to September 27, 2022.
Keepers.. 2 fish at 17-17.99", 1 fish greater than 18" per person/per day.
So, bottom line, recreational fishermen will have a much better chance for Fluke for the dinner table. More males will be taken and less pressure on the females so it seems. I heard that this final reg was not the preferred option but it is what it is. So here we go Fluke fishermen/women.
Stripers continue to show nice numbers far back in the Raritan Bay being taken mostly on casting lures. Word has gotten out that schools of bunker have appeared in the shallow waters of the Navesink and Shrewsbury Rivers...good news for sure.
Work has begun on the boat as you are reading this with some routine maintenance still to be done. The crappy weather hasn't helped as we've dodged the raindrops for the past 2 weeks, so we pick our days to work, but things are coming along......sometime next week we should be good to go.
Tight lines,
Capt. John and Crew
---
April 2, 2022
Fellow Anglers,
Well here we are, the beginning of April and the spring Striper season is upon us.
My boat is being prepared this coming week for another year of Striped Bass and Fluke fishing here in the Sandy Hook, NJ area.
Current water temp's in Raritan Bay, as of this morning (4/2/22), stands at 43 degrees, which earlier in the week hit a high of 52 degrees. As you can see, wild flucatuations occur during this time of year with Stripers preferring water around 50-52 degrees.
Regardless of water temps, Striped Bass ARE NOW in the western sections of Raritan Bay (warmest water they can find) and being caught by trolling or casting shads, lures, as well as top water poppers.
My sources have told me that the majority are smaller schoolie fish, but a new group of larger fish arrived within just in the past few days....good news. New bodies of fish arrive into Raritan Bay every few days usually coming from way up the Hudson River or also coming from the ocean and points south. They have been dormant for the entire winter and now they are hungry as hell looking to chow down before they head back up the Hudson to spawn.
Weather conditions, the past 10 days, have been quite windy, making travelling around Raritan Bay a real chore. Considering where I am berthed, sailing west into the teeth of very windy conditions will usually make Raritan Bay look like a wash tub and take a hell of lot of time for me to make it back to where the fish are. So I am in no big rush as my target date of April 15th still looks doable. That date also allows me to fish in New York waters and gives me the whole bay to ulitize.
The entire for-hire fleet (charters like me) are still abiding by the last years Striper reg's which is for NJ....one (1) fish 28" to no larger than 38", and NY reg's currently stand at one (1) fish from 28" and no larger than 36".
The big rage in fishing for Stripers are the "flutter spoon" lure which is dropped to the bottom and lifted about 2-3 feet to attract the fish and a bite. That as well as trolling and casting lures is the way to go for early season spring Stripers until at least when the bunker arrive.
Once my boat is ready to go, the crew and I will make a "look-see" crew trip and pinpoint where these fish are residing, so I will keep you informed going forward. To make your reservation just call me at 908-421-4761 for full 4 man charters as well as open boat fishing.
Tight lines, Capt. John and Crew
---
© 2005 Reel Fun Sportfishing, LLC. All Rights Reserved.
Web site designed and published by Capt. John