Fluke Tips:
Bucktailing - Spro type jigs has become our defacto standard aboard Reel Fun Sportfishing for years. Much more fun, more and usually bigger fish hit that lure with vengeance. We like to get everyone involved in the days fishing and not just standing there holding the rod and reel waiting for a strike. Once we teach you how to "Bucktail" you'll never go back to drifting bait again....and it's easy to learn.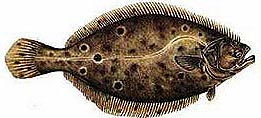 Bucktailing with strip baits added are deadly...... rigged along with a Clouser or Deceiver teaser a foot above the bucktail on the same line. A "killer" bucktail is the Spro type in Chartreuse/White or all White fished with a strip bait of your choice (I especially like sea robin strips and fluke belly)......... outfishes all meats.
I like the sea robin strips because they are tough. Catching 3-4 fish on one strip bait is not unusual. I like and also use "Squid Tube" strips that are thick, and pure white. A big winner for us is also nice and oily mackerel strips, bunker strips and bluefish strips. My all time favorite for catching big fluke in August or September has got to be live peanut bunker or snapper bluefish.....a big time big fluke killer in the deep.
Spro bucktails.....(which we prefer) come in an assortment of weights and colors. Weights ranging from 1/4 oz on up to deep water bucktails in the 10 oz range with colors in white (my preference), chartreuse/white, pink/white and a hot color from the last 2 years....orange/white catching most of our fish. We always adorn our bucktails with fresh meat such as bluefish strips, squid strips, bunker strips, Gulp Alive products and my favorite...sea robin belly. Nothing like the smell of fresh strips attached to those bucktails to catch those flatties.
Tides - As you may have read from my previous info-mails, I'm a big proponent of utilizing "outgoing" water when fishing for Fluke. Outgoing water utilizes the warmer waters from streams and eddies pouring into the bays and rivers along with baitfish enticing Fluke to feed. My log over the past 14 years has shown a distinct advantage for catching Fluke on outgoing water. Do we catch fish on incoming....sure do, but not quite the numbers that outgoing produces.
Winds - also has a lot to do with success or failure on any Fluke trip and if you can get the wind to work in harmony with your tide, then all the better. Outgoing current along with winds out of a west quadrant is a good bet for nice drifting conditions. Although wind against tide can be a real problem at times, wind/against can be very helpful when the current is really moving during full or new moon tides. Bottom line....you have to cover ground and have a moving bucktail to catch Fluke. Be careful of our drift speed (.5 to 2 kts is great. Anything more than 2 kts and it's time to get out the drift sock) Dead calm winds and a slack tide means it's time to cast and retrieve that bucktail to get those fish. Bucktailing styles vary greatly, but I've now found that a fast jigging motion seems to be good for shallow waters (10-20 ft) and a slow uplift of the rod tip off the bottom is good for waters in the 40-80 ft depth. Seems like big Fluke, that inhabit deeper waters, like a slower moving target for a meal.
As they say in property ownership...location, location, location. That is very true when it comes to fishing for Fluke too. There's a lot of water out there and not knowing where the hell to fish can drive someone crazy. Well, quite frankly, that's what you pay me for. From opening day, I zero in on the shallow river and bay waters....waters that warm up quickly from the sun and hold a lot of baitfish. As the season progresses, and the waters warm, I start moving to deeper waters and heavier bucktails.
Structure....THE key word for Fluke fishing. Drifting around in wide open sandy ocean bottom is a monumental waste of time. I like fishing around structure (wrecks, channel edges, ledges, holes...well you get the picture) anything that might hold baitfish and provide cover for Fluke to wait in ambush. Be prepared to lose some of those expensive bucktails when fishing around wrecks and reefs if you're not paying attention to what you're doing. Once you find bottom with your bucktail, a few cranks of your reel should clear the lure off the snaggy stuff on the bottom and then begin your bucktailing motion.
The major reason why I'm a big proponent of bucktailing is you kill much less small fish than drifting bait along the bottom. Gut hooking small fish is a major waste of a good resource in my opinion and through my years of charter business, the number of gut hooked small fish while bucktailing is very, very small. Another advantage is every angler on my boat keeps active. Bucktailing is not hard, and once learned, few people ever go back to dragging baits. It's just a fun (Reel Fun) way of catching Fluke.
Equipment....I prefer a 6-7' med/hvy butt rod with a med/fast tip and a baitcasting reel. I really like the Shimano Tekota 500 or a Penn 965/975 loaded with half 20-30 lb mono backing and the other half with 20-40 lb braid line of your choice. The reason is you need some lifting power in deeper waters and it's a good "quick response" rod for setting that bucktail. Anything light and flimsy in the rod tip and you just can't set that hook fast enough for these fish. My son and mate Chris has cat-like reflexes and can out fish me when we are bucktailing for Fluke.