Sandy Hook NJ Fishing Reports for 2019
"Capt. John's Fishing Reports" gives you the latest information about our fishing charters as they occurred.
So bookmark this page and check back with us regularly.
---
May 26, 2019
Dear Angler,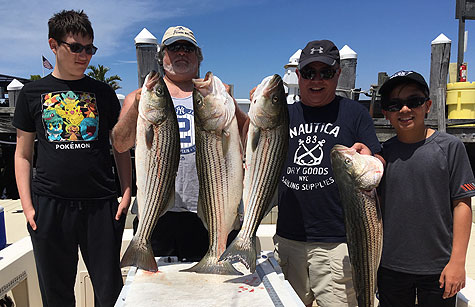 As you can see by the photo on the left, the Mike Verde party had a pretty nice day of this continuous Striper bite going on right now in Raritan Bay.
We are into a very nice resurgence of the 2019 spring Striper run that took a brief slowdown as the female and males played "house" up in the Hudson River during the spawn.
The spawn happens every spring and the timing of that mad orgy between the males and females happens on their time schedule, so you never know when or how long or even if the Stripers make a reappearance in our local waters. For the past two days, we've limited out our anglers with some nice Stripers quite close to the marina.
Weather still remains an issue on certain days with either rain, thunderstorms or high winds, so I juggle the appointment book constantly to get everyone on the water and catching fish. But this may not last too much longer as the water temps in the bay are steadily inching up, but the ocean temps are still cold and that may keep the bunker local and in the bay.
So the Bass and the Bunker are playing hide and seek throughout the bay for now. Let's hope this lasts another couple of weeks until the Fluke season gets into high gear.
Speaking of Fluke....the season opened officially for New Jersey last Friday with some success by a few boats. A 9 lb'er was boated the other day that set the bar pretty high for future fishermen. Cold ocean waters have hampered fishing outside somewhat, so it's mainly a bay thing so far. You have to sift through a ton of shorts to get to the keepers, but that is normal for this time of year for Fluke. A lot of action to say the least.
Finally, omage to all the Veterans out there for their service to our country on this Memorial Day 2019. While fishing the past two days, we saw numerous Navy ships sail into NY harbor for the fleet week celebration...what a sight.
Tight Lines,
Capt. John & Crew
---
May 25, 2019
Dear Angler,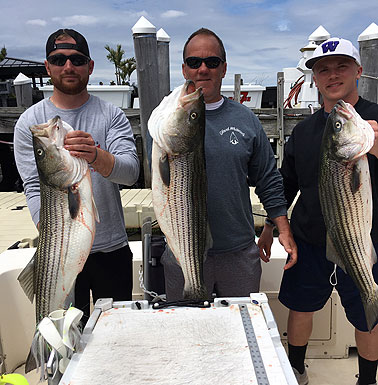 As you can see by the photo on the left, Tim Gardsy (center) and his two sons had a really good trip with us today catching their limit of Striped Bass.
After some searching the bay, we found a really nice and active area of bunker and along with them, of course, the Striped Bass. Find the bait....find the fish as they say.
I knew after yesterday's BIG winds, the bait were going to be headed for shelter (the bay) and as I thought, the Bass were right behind them.
Years of experience really paid off big dividends today. Sometimes you get the bear, sometimes the bear gets you.
Today it was the Gardsy family that was the recipient of some good common sense fishing knowledge. Am I bragging.....no because mate Rich and I discussed today's plan at the dock before our anglers arrived. We both get credit for this.
Thanks men of the Gardsy family....great job today.
Tight Lines
Capt. John & Crew
---
May 11, 2019
Dear Angler,
If there was ever a job that will humble you....try Charter Captain and fishing for a few years.
Wednesday we had a good fishing trip for Stripers, but yesterday afternoons trip with my Accountants/CPA's group was in a word....stinker. Look, I'll report the good and the bad. We've been doing well since the start of the Striper season, but yesterday was inevitable if you are into fishing......a stinker comes along every so often. You can't hit a home run with every at-bat as they say. So tomorrow is another day.
Yesterday, we left the slip at 1 pm and fished our asses off till 6 pm moving around to different spots. I can only hope that my guys understand that this is fishing and NOT catching.
Are the big females up the Hudson River spawning....I really think so as the sheer number of males in the bay has diminished right now too. But once the spawn is over, these fish should return to feed again.
My initial spot produced a hit and a keeper (31" beauty) almost immediately after we put the lines in the water.....oh, oh I said to myself. That was too easy. The dreaded "first quick fish" curse. This curse, like banana's on a boat, sometimes is an indication that if you whack a fish early in the trip it then gets quiet.....just what happened yesterday afternoon.
We fished the mid Raritan Bay area as all reports and conversations told me that far west bay has been drying up as of late. I read on my SONAR loose roaming bunker schools with sporadic Stripers under them which should have produced hookups....regretfully for us and others around us, these fish just weren't on the feed. We saw a few fish netted, but for the number of boats around us, it was slim pickings to say the least. Really tough, tough afternoon on nice weather conditions.... calm waters and overcast skies....perfect for Striper fishing.
Oh well, there's always the next trip for redemption. Charter Captains are a very proud group of people. Just when we think we've got a handle on fishing, something changes and it's back to square one....maddening. This is a never ending learning process and if one thinks "I know it all" about fishing, I'll tell them that's total B/S! I've been fishing in NJ since I was a young boy and now as a charter business for 15 years and I will tell you that I learn something new on every trip I do...amazing.
Looking back to May 2018 appointment book, this May is a repeat of postponements and rescheduling due to weather. Can we please have some nice calm and sunny days?
Tight Lines
Capt. John & Crew
---
May 8, 2019
Dear Angler,
As you can tell by the photo on the below, we had another good day of Striper fishing with Hani Fares (far right) and a few of his coworkers.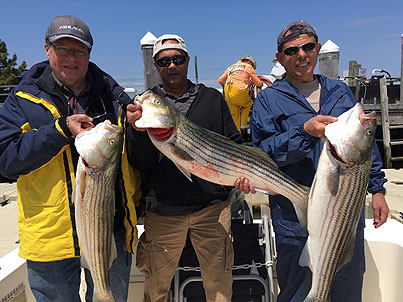 The day started out quite slow as our first stop yielded one nice keeper. But that soon turned off and we began an exhausting search for more fish. Scoured the bay along the Staten Island shores, and numerous points moving east and west in Raritan Bay. I went to one of my long time Striper "hangouts" and BINGO....pay dirt.
We even went into release mode for awhile....go figure after a brutal slow start. Mate Rich and I think that some of the big ladies are up in the Hudson River spawning, as the bay has calmed down somewhat, but that will all change as soon as the ladies release their eggs in hopes of some lonely male making babies out of all those eggs...millions of them to be exact. Nature in all its glory.
Bunker (menhaden) were all over many parts of the bay. Bay water temps are right in the sweet zone of 58 degrees. Let's hope it stays there for a few weeks. Anyhow, we found fish and Hani and friends had a really nice day.
Tight Lines
Capt. John & Crew
---
May 5, 2019
Dear Anglers,
This is why we do what we do...a letter from yesterday's charter below:
"Captain John, Thank you so much for yesterday's fishing trip! The photo you posted is great and really capture the happiness they all felt on your boat. Charlie has certainly turned into quite the avid fisherman.
As always, we are thankful to you and your crew for supporting his love and providing these opportunities to fish with his Dad and Grandpa.
Maybe next time I'll get back out there!!
Warm Regards, Dana"
Tight Lines,
Capt. John & Crew
---
May 4, 2019
Dear Anglers,
Here's our fishing report for today with the Defonte party.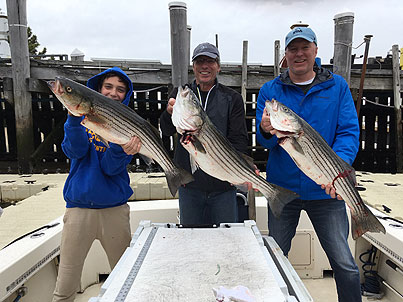 After a foggy morning with some showers, the Stripers cooperated with us and here is what we have to show for our efforts.
They say a picture is worth a thousand words......
Pictured on the left (left to right) Charlie, Grandpa Bob and Charlie's Dad Mike. I think we had a really nice morning fishing for these beautiful Stripers, but most of all some great quality time for this family who fish with us often.
Thanks Defonte family for a great day and your loyalty to Reel Fun Sportfishing. The fishing really in high gear now, with an occasional inactive day mixed in when the fish decide not to feed. They can't be hungry all the time.
Tight Lines,
Capt. John & Crew
---
April 29, 2019
Dear Anglers,
Here are some fishing reports from this past week (Tuesday afternoon with the Scharf family and a Wednesday Open Boat trip).
We had nice success on both trips considering the topsy-turvy weather pattern that we've been in the past two weeks. Using Monday, April 15th, as our official start date to today, we've had to postpone charters to other dates in May because of the horrible weather pattern we're in. Good one day and crap for a few days.
Tuesday afternoon was a nice and calm day on the water as we had a really nice trip with Joe Scharf and his kids to put some nice Stripers in the cooler.
By contrast, Wednesday morning was like being on a Great Adventure thrill ride....very tough day to say the least for the crew as well as my anglers. Conditions can change on a dime on the water as winds out of the west at a sustained 20 kts. put a big hurting in the bay for our guys and minimal results of fish in the cooler. We did catch fish, but we paid the price for it.
Tight Lines,
Capt. John & Crew
---
April 13, 2019
Dear Angler,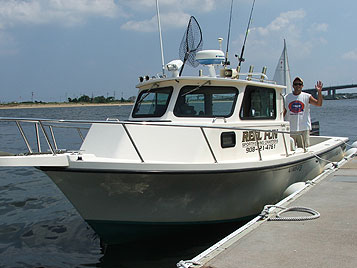 Trolling and casting shads have been the key to success. Surprisingly, the clam and bunker chunk bite, as of late, has been almost non-existent but that can change on any day. You just can never tell from one day to the next what these fish want.
With the New York waters opening on Monday April 15th, the possibilities for catching Stripers are much better as these fish come out of the Hudson River looking for a meal. It's been a long winter.
Reports from many of my sources, which also confirm what Chris, Rich and I found on our scouting trip the other day, is that the fish are spread over a wide expanse of Raritan Bay....some caught on the troll, others caught casting shads, but a very good body of fish are there. This is good fishing early in the season even with the water temps at sub 50 degrees....go figure.
As a reminder, not only do we offer full 4 angler, 6 hour charters, but we also have our Wednesday and Friday "Open Boat" fishing trips exclusively for our single anglers . We currently have spots open for Wednesday, April 24th and beyond. Look, the fishing has been very good, even by our standards, so don't procrastinate. Once these fish move north, it's bye-bye till mid November. You can view our current "Open Boat" schedule by going to our web page for booking your spot....click here.
We here at Reel Fun are now entering a very busy period with many bookings, so I'll keep you abreast of all that's going on "On the Water" as they say. I still do have some weekend dates open, as well as our "Open Boat" weekday trips, so stay tuned.
And finally.....LET'S GO LADIES!. A call to all the lady anglers. IT'S TIME TO FISH. If there is interest in an "Ladies Only" fishing trip, then let me know and I will be glad to accommodate a group of my lady anglers for Striped Bass. A fun day on the water and a day away from the office, hubby and the kids too. Give me a call.
Tight Lines,
Capt. John & Crew
---
April 7, 2019
Dear Angler,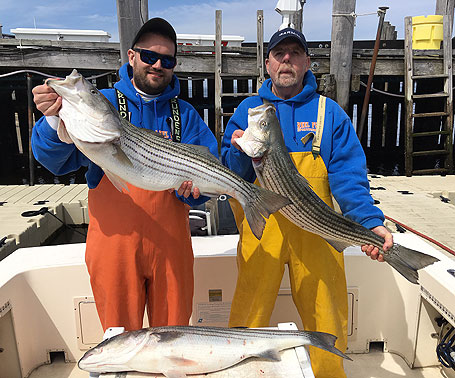 As you can see by the photo left, son and mate Chris (left) and mate Rich (right) holding some pretty hefty Striped Bass we caught today...4/7/19.
All fish caught in Raritan Bay....nice calm waters and a beautiful sunny day.
A three man limit of fish with the smallest at 30" long and a hefty 38" bruiser.
Great early season fishing is going on right now, so if you're a Striper fishermen/women, now is the time to get in on the action.
These fish are highly migratory and won't be here long. CALL NOW...908-421-4761.
---
April 3, 2019
Dear Angler,
Just a few quick words about where we are pertaining to the start of a new season of fishing for Stripers and Fluke.
The boat has all the equipment aboard as we await bottom painting...weather permitting. Air temp's have to be 50 or greater to bottom paint the hull, so it's any day now that we are in the water for another season.
While at the marina, the word out is that there are many small to legal size Stripers now in the bay and surf casters as well as the kayak guy's are catching fish. A very good sign as water temps are still hovering around the 42-47 degree mark.....still a bit cold but the fish are hungry to say the least. A long winter for them too.
The bigger spawning females are just now entering the Chesapeake. No word yet on the fluke reg's.....par for the coarse. Rumor has it that we (NJ) are staying at 3 fish @18" like last year even though we did under fish last years quota. I won't take this issue any further as NOAA and NMFS won't care for what I have to say.
I have been in contact with my web hosting service and my web site is now "secure" according to Google and industry standards. A secure web site means that all information that you send to me through my web site is now encrypted, ensuring your internet safety as it pertains to Reel Fun Sportfishing. Any web site that has in it's address "https" is a secure web site.
Also be aware that I and my credit card processor DO NOT retain your credit card information after any transaction....another measure of security for the both of us. Again, all credit card transactions are encrypted for your safety.
Please take note that all the safety features that I use to ensure your privacy and safety comes at a cost. Part of my commitment to my loyal customers. This is what you pay for....professional service!
Finally, the boat as well as our season should be good to go by this weekend or by mid week of the next. Let the fun begin. There are a lot of fish out there waiting to be caught.
Tight Lines,
Capt. John & Crew
---
March 28, 2019
Dear Angler,
We are about to embark on another fishing season here at Reel Fun Sportfishing. Spring is finally here, the crocus are in bloom and a fisherman's thoughts turn to.....what else....fishing! Weather permitting, a few of the crew and I will be at the marina this weekend preparing the boat for another season.
Our first charter is just 2 weeks away. Reports and scuttlebutt I've collected say that Stripers are in the western sections of Raritan Bay being caught using various methods. Not the big females as of yet, but smaller legal hard fighting resident fish searching for a meal just the same.
Bay water temp's as of this email at the Keansburg monitoring station was 42 degrees. But that can change within days with a warm front and some sunshine.
Now for a favor I ask of you... Google "reviews" is a very important part of the overall advertising strategy on the internet for many businesses, and mine is no different. Google is unquestionably the standard now in the "Search" tools arena that people use to find services and products to purchase.
Here is my request, which I don't ask of you often......
Would you be kind enough to offer your thoughts about Reel Fun Sportfishing in the review section of Google under Reel Fun Sportfishing?
Fishermen searching Google for a Striper or Fluke charter in the Sandy Hook area will come upon numerous charter businesses, but a 4 or 5 star rating speaks volumes about us and could really go a long way.
Also, if you are a Facebook subscriber, you can also find our page by searching for us and offering your thoughts about our business. Good, bad or indifferent, your comments are always welcome.
Or, if you would like to submit a "Testimonial" on our web site, please feel free to email me your thoughts and I will be glad to copy it to our "Testimonials" page.
In closing, the crew and I want to "Thank You" in advance if you decide to post a review on Google Search, Facebook or our Testimonials web page.
But most of all, we hope you have an outstanding fishing season...hopefully with us.
Tight Lines, Capt. John & Crew
---
March 14, 2019
Reel Fun Sportfishing is currently taking reservations for the Sandy Hook, NJ spring Striped Bass run starting with our first "Open Boat" trip on Wednesday, April 17th, 2019.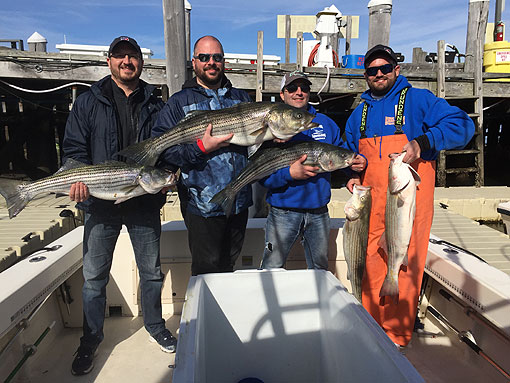 We also accommodate full 4 person private reservation charters. All our fishing trips are 6 hours all inclusive including the use of our rods/reels, fresh bait and tackle at NO additional charge.
We depart the dock at 7 am returning by around 1-1:30 pm. All our trips have a mate aboard able to handle all your fishing requests as well as teach you the current hot fishing methods being used to catch Stripers as well as Summer Flounder (Fluke).
We operate "Open Boat" trips every Wednesday and Friday mornings at the current fee of $130.00 p/p payable via a credit card over the phone "in full, in advance" of your date.
Trip availability (spots) can be found by going to our "Wednesday and Friday Open Boat Fishing" web page....click here.
If you're looking for a fun day on the water with your family, friends or coworkers, look no further than Reel Fun Sportfishing where your fun AND safety is our top priority. After 15 years of fishing as a charter business and over 50 years of fishing the Sandy Hook area, the Captain and outstanding crew knows how to make your day a special one. Let's fish :)
Capt. John and Crew
---
February 24, 2019
Ramsey Outdoor's "Cast and Blast" Show report,
First off, let me say that this was a very busy show with outdoor enthusiasts from many parts of the north NJ area as well as, surprisingly, many from the Jersey shore area too.
It was a very active day for mate Rich and I at the Reel Fun booth booking many fishing trips for both spring Stripers and summer Fluke trips. We were offering a "one day" show special of $100.00 per person for an all inclusive 6 hour fishing trip for either species of fish......a savings of $30.00 per person. (All subsequent pricing now returns to our normal rates as listed on our web site.) A good deal to say the least for those that attended and took advantage of our show offer.
Now on to a few well deserved "kudos". Show organizer and manager of the Ramsey store, Marty Brennan, did an outstanding job, once again, setting up the store with numerous displays across the spectrum of outdoor life as well as some very interesting seminars throughout the day. Thanks Marty for a job WELL DONE.
This is a yearly show that you should mark your calendar to attend next year...well worth it. There were signs of 20% and more off on many desirable fishing items that I took advantage of to replenish and/or replace and upgrade gear on the boat.
Many new and current anglers of Reel Fun stopped by to chat about how the fishing was last year and to discuss what may be in store for the upcoming 2019 season.....Striped Bass and Fluke being the center of our discussions.
Many thanks too to the Ramsey staff for their professional and courteous service that I witnessed throughout the day. In today's very competitive business environment, service is key. Once again...kudos to Marty and his staff. Well done. My staff and I anxiously await next years show as a good "kick start" to our fishing season.
My appointment book is filling up nicely for the 2019 fishing season. So as not to be left out on those "prime tidal days" for both species, I am now taking bookings for the entire spring, summer and fall season. Have your credit card ready as a $100.00 deposit will hold your spot on the day of your choice.
Remember, we now offer Wednesday AND Friday open boat fishing for our single anglers. (Rich and I met a lady angler who, we are sure, will put a big hurtin' on a lot of the guys who fish with us for Fluke. Her knowledge base fishing for that species was incredible....watch out.)
Finally, to all our "new" anglers that booked a trip with us....Thank you. It was a pleasure meeting you as the crew and I look forward to fishing with you starting in about 6 weeks or so. Welcome to being a part of the Reel Fun Family of Anglers. See you at the dock.
Tight Lines, Capt. John & Crew
---
February 1, 2019
Dear Angler,
Well, here we are. February 1st and as you may have noticed, the days are slowly getting longer and longer. A welcome sight seeing that we are in a historic cold snap....yikes! Maybe I shouldn't say this, but so far the winter hasn't been too bad. No major snowstorms yet but that could change at any time. :(
A reminder that the SWABC Flea Market will take place on Sunday, Feb. 17th. at the Hasbrouck Heights VFW Hall. (Google map for directions), so mark your calendar for this one. A great show with tons of stuff, a 50/50 raffle, food and more....stop by and shake off that cabin fever.
Also a date to remember is Saturday, February 23rd for the Ramsey Outdoors "Cast and Blast" one day show at their Succasunna, NJ location. Reel Fun Sportfishing will be offering a "Show Special" for those who book a fishing trip at the show...significant savings, so don't miss out on this one. This is a one time offering with all subsequent fares returning to their normal pricing.
On the fishing scene....haven't heard anything about the NJ Fluke reg's as of yet. Way too early and with the gov't. shutdown, that didn't help either so we wait. I would suspect sometime by mid March on our Fluke reg's for 2019.
I personally would like to see NJ go with 4@19" for 5 full months (same as NY reg's). More time on the water....good for anglers and good for business. With the added advantage of utilizing the entire Raritan Bay and surrounding waters to fish.....common waters should have common regulations, or is that too simple a concept to understand.
Coming along soon will be a Striper assessment taken in the Chesapeake area. There were reports of an incredible number of "schoolie" sized Stripers during the fall migration, so if you're looking for action, this spring could be a bonanza.
Schoolies on light tackle while clamming or bunker chunking is a blast not to be missed. Throw in some big keepers and you've got yourself a great day on the water.
I hope that if we do get into some "cows", you'll practice catch and release with those big spawning females that can carry anywhere from 300-400,000 eggs. It may be time to show a little restraint with these big breeders and help to keep this fabulous game fish going strong. Catch and release feels great! Box the males....release the ladies :)
Tight Lines, Capt. John & Crew
---
© 2005 Reel Fun Sportfishing, LLC. All Rights Reserved.
Web site designed and published by Capt. John

arters Sandy Hook, NJ