Sandy Hook NJ Fishing Reports for 2021
"Capt. John's Fishing Reports" gives you the latest information about our fishing charters as they occurred.
So bookmark this page and check back with us regularly.
---
April 2, 2021
Fellow Anglers,
Well here we go....a report of the first big beast that was caught and released yesterday by a guy in a kayak.
A 58 lb. prespawn Striper was caught in Raritan Bay as reported in both The Fisherman and On the Water magazines by a guy named Read. Big fish for sure, but most importantly, she was released to make babies for the future. A good thing and kudos to the fisherman in that kayak.
A few other reports coming in from Raritan Bay indicate the early arrival of Striped Bass....boy those ladies must really be hungry after a long winter laying dormant way up the Hudson River. Intel has also reached me that some big bass have left the confines of the Chesapeake and are a few weeks away from arriving here...some more good news for us.
This arrival of big Stripers in Raritan Bay seems to be a carbon copy of last year when these fish got here by the end of March and this year is following suit.. seems cold water aren't bothering them in their search for a meal before releasing millions of eggs way up the Hudson River.
Let's talk about these BIG Stripers. You know, or at least you should have heard by now, that the population of big spawning females has dwindled quite a bit over the last few years......not a good thing.
Big females are what keeps our Striper fishery alive and well. Throwing a big female in the cooler does nothing for the future of the fishery. So, I strongly urge you to release what the crew and I feel is a big "pre spawn" female. We'll be glad to measure, weigh and take a photo for you, but let's return her to fight another day. Thank you.
My boat is currently in the process of getting ready for the 2021 season...cutting shrink wrap off, a spring tuneup on the engine, painting the bottom with anti fouling paint and some good ol' elbow grease applying a few coats of wax on the hull. Hopefully, the boat will be in the water by the end of next week and we'll be good to go for another year.
On the COVID front....Rich, Chris and I have all been vaccinated which is a good thing considering the new variants that are now spreading across NJ. I trust you've had your shot(s)....we don't want to get anyone sick over a few fish.
This plea goes out especially to all my "Open Boat" anglers. Let's keep everyone safe and healthy. Get a shot...save a life is my motto!
Finally, I am awaiting the arrival of a new order of those super warm and comfy Reel Fun Hoodies and summer Performance Long Sleeve T-Shirts any day now. Sizes and pricing will be posted here in the near future....stay tuned.
Tight Lines,
Capt. John & Crew
---
March 13, 2021
Fellow Anglers,
Reports coming in online as well as in print (On The Water) is that many bays in New Jersey have been flooded with small schoolie Stripers and that means Raritan Bay too.
Fisherman braving some cold weather at the shore are starting to see small 20-24" Stripers being caught on both sandworms and bloodworms along the south shore of our bay. That's a VERY good sign for all of us. Considering that the bay never froze over, the early arrival of the schoolies is understandable.
The bay water temp currently stands at 42 degrees, down from a high yesterday of 52 degrees...what a swing in temps. But that is to be expected during the spring, but as you can see, sudden and drastic changes in the water temps do occur, but what I'm looking for is a nice steady 55-60 degrees and the fat ladies show up and chow down.
For our novice angler, the vast majority of our spring Striper fishing is in the confines of Raritan Bay...calm and protected waters. We usually don't move out into the ocean until about mid June. Raritan Bay fishing is my favorite for Stripers. Read a report of small schoolie Stripers all over Barnegat Bay too.
Appears that the massive amount of small fish that made a southerly migration back in November, never went that far south for the winter...more good news.
Look, seems to me if you're interested in ACTION fishing, this coming spring could be just the thing for you. A ton of sub-legal Stripers with a some beasts mixed in for the cooler would be a great day on the water after that stinker February we just had to endure.....think about it
. ....NOW is the time to make a reservation. To make your reservation with a $100.00 deposit, call me at 908-421-4671 and let's lock in your date. Let's do it ladies and gentlemen, anglers and anglerettes...the time has come.
Finally, don't forget to turn your clocks AHEAD tonight 1 hour as we spring ahead into daylight savings time....it's tonight!
Tight Lines,
Capt. John & Crew
---
February 14, 2021
Reserve Now for Spring Striped Bass
Even though we still have a ton of snow on the ground and we are in the dead of winter, spring is really just around the corner as the days are getting longer and longer and brighter too.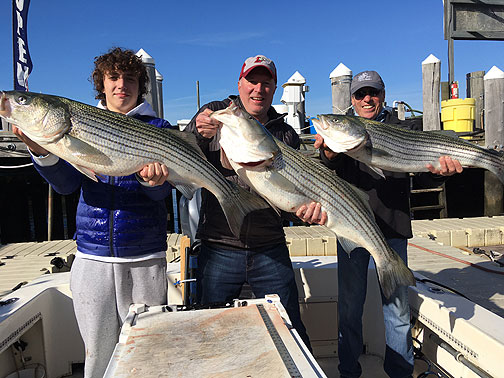 The spring Striper season, for the most part, will begin for Reel Fun Sportfishing around April 15th (which coincides with NY opening day) or even sooner depending on the weather and we will continue until the Stripers decide to bail out and head north.
As you may know, I am a big fan of fishing "tides" for certain species of fish and, as such, there are prime dates in every month for Stripers to put on the feed bag.
We were quite busy last year as many "new" anglers joined us for a day on the water just to get the hell out of the house with the family. Based upon what I've been reading the past few weeks, this year will be a carbon copy of last year in respect to the busy schedule for almost all charter operations. What started out as a morbidly slow spring last year due to COVID, turned into a robust June through November chartering operation.
So having said that....first come, first served, is my M/O as far as reserving dates for the spring run of Stripers. If you have any inclination of Striper fishing with us this year, then I would STRONGLY suggest you call now and reserve your date.
A $100.00 deposit will hold your date and we are good to go.
I already have dates booked in April, May and June, so please don't procrastinate. The fare for our 6 hour "Open Boat" Striper trip is $140.00 p/p, or $560 for a full 4 person charter.
As always, we only take 4 anglers per trip and supply all rods/reels, tackle and bait for you. We set sail at 7 am and return around 1 pm. The crew will fillet your catch for you too.
The spring Striper fishing, for the most part, is usually "bay" fishing in very calm waters and a great opportunity to get out of the house and relax catching those famous NJ Raritan Bay Stripers.
To hold your date, call 908-421-4761 as I'm ready to take your deposit.
Happy Valentines Day everyone!
Tight Lines,
Capt. John & Crew
---
© 2005 Reel Fun Sportfishing, LLC. All Rights Reserved.
Web site designed and published by Capt. John

arters Sandy Hook, NJ