Reel Fun Sportfishing, LLC
Fishing Reports for 2021 covering Sandy Hook, NJ
"Capt. John's Fishing Reports" gives you the latest information about our fishing charters as they occurred.
So bookmark this page and check back with us regularly.
---
December 27, 2021
Fellow Angler,
There aren't enough adjectives to describe the fall Striper fishing that we are in right now....incredible, outstanding, epic, insane just to name a few.
Stripers chasing bunker in the ocean has been almost non-stop even this late into December. Surf fishermen showing videos of acres of birds working the shoreline with Stripers gorging themselves on bunker are all over the social media posts...insane for this late into the usual fall migration pattern for these fish.
Although these fish are small juvenile schoolies and for the most part must be returned to the water, this amazing quantity of fish bodes very well for the future of the species. Sustaining a healthy Striper stock is very important considering this fishery almost collapsed in the mid 80's but has come back strong.
That being said, we must still refrain from taking big breeding females so that this current trend can continue. Although I have not been a big fan of some of the reg's I follow, fluke reg's in particular, the reg's in place for Stripers seem to be working very well. I am anticipating a banner spring Striper fishery in 2022 if this current trend continues.
Come April, these fish will return to the bay and provide outstanding fishing for both smaller schoolie fish as well as larger fish for the cooler. Trolling for the bigger fish always works, but if there are small fish around, casting shads to smaller fish will keep you very busy and is a blast to catch.
I hope Santa was good to you this year, and hopefully this pandemic situation subsides in the next few months so we can enjoy our time on the water together. Remember, we will begin Striper fishing around April 15th so plan accordingly.
Please make your reservations early for either full 4 man charters as well as holding your spots for our Wednesday/Friday Open Boat fishing. I will be posting the Open Boat dates on my website sometime around mid February for those single anglers looking into an Open Boat trip.
Finally, the crew and I wish you a happy and healthy New Year for 2022 and look forward to fishing with you again in a few short months.
Tight Lines,
Capt. John and Crew
---
December 6, 2021
Fellow Angler,
The following review that you are about to read is based solely on my fishing trips for spring Stripers, Summer Flounder (Fluke) and fall Stripers and NOT what other charters did for the year. Now that we got that straight, here's how my fares did for the year. As the saying goes, this is fishing and not catching.
Having said that, Reel Fun Sportfishing had a topsy-turvy year . Some outstanding trips, some good trips and some stinkers thrown in for good measure. First off, as I've said many times, it's all about conditions. High winds is THE biggest factor when it comes to a good fishing trip or a stinker regardless of what species you are targeting. Considering safety, which is my number one priority, my 25' Parker can usually handle some pretty snotty water, but can the people? Usually not. My M/O is to have an enjoyable day on the water AND catch some fish and not get beat up in the process.
So, let's start off with spring Stripers....
Based upon my Captain's Log, the spring of 2021 was a pretty good time for my anglers. Most, if not all, of the spring run of Stripers were in Raritan Bay. The baitfish (Bunker) were all over the bay which kept the Stripers local to Sandy Hook. The fish were not in one area, but spread throughout the bay, so trolling was the most effective way to locate and catch these fish. I'm not a big fan of trolling, but it produces fish for the cooler on a consistent basis...so that's what we did. Troll and catch some really big fish up to the legal limit and return the overs (fish over 38" long) to swim again.
Fluke fishing....
By my standards, which are pretty high, was fair at best. Sorry, but I call it the way it was. Fluke in Raritan Bay was almost non-existent so we had to resort, once again, to many miles travelled in the ocean for the bigger fish. The ocean is a big place and finding small pods of Fluke will usually mean many miles sailed. Almost all of my Fluke charters saw 50-60 miles traveled and some considerable time used up in the process. That's 2 years in a row.
On the flip side, boats sailing out of Montauk were hammering the Fluke and some big fish to show for it on almost a daily basis. Maybe the migration pattern for these fish has changed as I sure would have liked to see some of those fish here in NJ waters like in the past.
Hopefully, things will change for the better for the Sandy Hook boats and next year (2022) will produce some quality keeper Fluke for its anglers. One way to help the charter/party boat industry would be to regulate a slot fish or two for Fluke (16-17") along with the standard 3 18" keepers. Let's get real here NOAA and ASMFC....let's stop killing the bigger females and let the fares take home a few smaller males. Is that asking too much?
Fall Striper fishing.....was in one word outstanding. Stripers took up residancy within Raritan Bay and never left...and are still there although now much smaller fish (throwbacks). But because of the topsy-turvy weather, many of my charter's had to be rescheduled or even postponed to next spring because of rain and high winds.....bummer. Trolling and casting lures was the key to good fishing within the bay as the Bass didn't have to swim far to find millions of Bunker throughout the bay in which to feed...amazing. As is normal, strong W/NW winds can make even Raritan Bay a washtub and dangerous. On one of my trips, which I should not have taken, saw 4 foot waves (whitewater) every 4-5 seconds as we got to the Navy pier. Tough day to say the least.....stinker. On the days we did make it out, we did very well almost stupid fishing as they say. Leave the dock at 7am and we could have returned by 10am..beatdown! Based upon what we saw this fall, spring fishing for Stripers should be another beatdown as the bunker have now decided to take up permanent residence in Raritan Bay. And if that's the case, this spring could be a real winner.
Start rounding up your crew now and remember we start our spring Striper fishing around April 15th...so plan accordingly. The early bird catches the Bass.
So there you have it for 2021...the ups and downs. But for the most part, a nice year of fishing and good days to be out on the water with your family and friends. If you fished with us this year....many thanks and hope to see you again in a few months. And if we didn't see you this year, we're anxious to fish with you in 2022.
Tight Lines,
Capt. John and Crew
---
November 21, 2021
Fellow Angler,

Well, that's it for another fishing season on Reel Fun Sportfishing.
Decided to pull the boat out of the water on Thursday as the number of bigger Stripers have dwindled down the past few days. There is still plenty of action for 24-28" fish, but keeper fish for the cooler has become harder and harder to find unless you're willing to travel south along the beaches and locate them. The big females always swim in advance of the juveniles during their fall migration.
One of my charter friends who works the mid NY harbor is still doing very well eeling for Striped Bass around the Statue which is just a few minutes from his home port, but as I've said previously, I am not comfortable fishing that area strictly for safety issues.
Striper fishing for this fall run has been red hot one day, to luke warm the next in and around the Sandy Hook area. Most of the fish took up residence in Raritan Bay hunting down Bunker as Sand Eels in the ocean have been hard to find for the Bass.
All in all, a good run of fall Stripers as the smaller "runts" have now taken over so I decided to pull the boat for the season before it gets too cold and snowy.
To those who have asked....I'm feeling very well thank you and am getting ready for the opening of the 2022 Striper season sometime around April 15th. Many thanks to all who fished with us this fall and and throughout the 2021 season as we hope to see you again in just a few short months.
Tight Lines,
Capt. John and Crew
---
October 11, 2021
Fellow Angler,

I think this would be a good time to discuss with you fishing for the coming 2022 season as it pertains to the weather.

Not to get political, but it's time to face the truth and reality that our planet is undergoing some radical changes as it pertains to our weather here in New Jersey and across the USA. Just a few short years ago, we had some pretty quiet fishing weather. Calm seas and light winds were normal....not any more.
Six pack charters (like me) as well as party boats have been forced, numerous times this year, to tie up to their slips because of some really rough conditions both in the bay and oceanside. Tornado sightings and numerous offshore hurricanes have made fishing the Jersey shore a really tough go this year. Tornadoes in New Jersey...are you kidding me?
Quite frankly, I really don't see that changing that much for the 2022 fishing season. Which brings me to the point I'm trying to make.
Fishing dates at the Jersey shore, going forward, in my opinion, could be reduced drastically due to adverse weather conditions in 2022. High winds is the killer here along with big swells pounding the beaches and making a mess of the clarity of the water.
As if the ridiculous fishing regulations put in place by ASMFC and NOAA aren't bad enough, now the entire for-hire fishing businesses have to contend with mother nature.
Scheduling dates for charters is going to make my life much tougher as postponements and cancellations are going occur more often.
Having said that, I'm asking you to be flexible, tolerant and most of all understanding as I'm trying to get you on the water in the safest possible way. I might have to move you ahead one or two days or back a few days but that seems to be the nature of the beast ahead of me.
Remember this....your chances of a charter on the date you and I agree upon is only a 50/50% proposition. As the saying goes.....hope for the best, prepare for the worst.
Tight Lines,
Capt. John and Crew
---
October 11, 2021
Fellow Angler,
I am setting up a "Open Boat" fall Striper trip for Wednesday October, 20th, departing at 7 am and returning about 1 pm.
If you are interested, you can call the number below and reserve your spot on this 4 man 6 hour fishing trip. If the response justifies, I will be scheduling additional Open Boat trips for October/November on Wednesdays.
The cost of the trip is $150.00 p/p and includes all bait, tackle and use of our rods/reels..gratuity for the mate is extra.
Tight Lines,
Capt. John and Crew
---
September 16, 2021
Fellow Angler,
I've gotten a few phone calls asking how we Striper fish in the fall...whether we troll, cast and retrieve lures or do we chunk or liveline with bunker. Good questions.....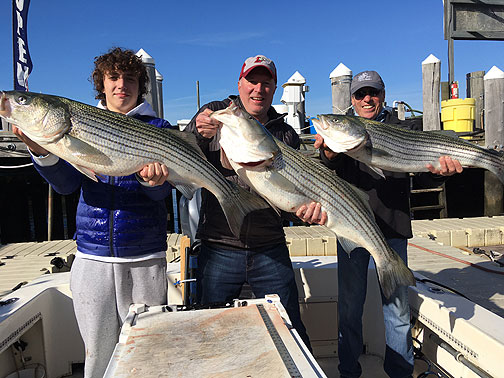 First, fall Striper fishing is somewhat different than spring fishing. During the spring, schools of bass move into Raritan Bay from their winter hibernation way up in the Hudson River and the Chesapeake area. So, they spread out into the bay searching for something to eat. As such, trolling is the most effective way to locate these fish as the lures we use imitate swimming baitfish which they attack. Look, let's be real....I'm not a big fan of trolling, but you can't deny one simple fact....it produces fish for the cooler each and every time. Do we use a ton of gas, sure we do but we put fish in the cooler and on your dinner plate in the process. We will ALWAYS do what is the most productive way to catch fish at that time.
On the flip side, fall Striper fishing is almost always in the ocean as we are hunting and finding migrating Stripers. They are swimming from north to south and as such, are only here a few short weeks from about mid October.
What makes this fall fishing different is that we are following the birds and casting and retrieving lures versus trolling. But sometimes the fish don't respond to cast lures and we have to revert back to the proven producer...trolling. I've been asked "do you fish with bunker?" We do....if we can find them and NET them. Not an easy chore even with all the bunker you see in the bay. Netting bunker in water beyond 20' deep is not easy and sometimes Stripers don't respond to bunker being chunked or even livelined.
Remember, to catch these fish you have to "match the hatch" as they say....so if the predominate baitfish are sandeels, you better throw a sandeel lure or you'll catch nothing. Without getting too deep into this very lengthy subject, let's just say that we will use whatever process performs the best "for that day". Sometimes it's trolling, trolling and casting or a combination of everything mentioned above to catch fish.
Between the mates and I, there is a lot of (many years) knowledge going on here in order to do the very best on your trip. Knowing tides, winds, water temps, what to feed these guys, are they swimming high or low...well I think you get my drift. A lot to know for sure and that's why you pay me and the mates the money you do.....knowledge.
If you'd rather fish one specific way at the cost of not bringing home many fish, then by all means let me know. But know that limiting my options can be counter-productive. Would you rather put 2 fish in the cooler casting lures or limiting out trolling? Something to think about.
Finally, for those who want to get a 2021 NJ Striped Bass Bonus Tag (keeping an additional fish 24-28" long), here is the application from the state that you have to fill out.
Tight Lines,
Capt. John and Crew
---
September 11, 2021
Fellow Angler,
As you are well aware, the Summer Founder (Fluke) season is coming to a close soon (Sept. 19th to be exact) and now is the time for all good Striper fisherman to look ahead to the fall run of Striped Bass coming back into our waters.
When they will arrive is anyone guess at this time because it's all based upon water temps in our area and baitfish movement.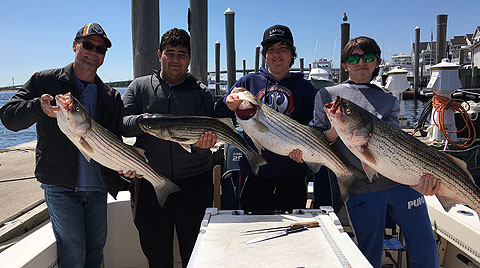 Having said that, mid October is a good time to set our sights for the arrival of Stripers back into our area and now is a good time to make your plans for some great fall fishing chasing those migrating Bass.
I currently have open dates available for you, both weekdays as well as weekends, so it's a good time to call your fishing buddies and look at your calendars and give me a call with your dates.
Going forward, once again I ask you to be flexible with your time and keep at least a day before and/or a day after your planned trip open, so that I can move you around to a better weather day rather than have to reschedule you weeks or even a month later or regretfully cancelling your trip altogether. This is especially true for the upcoming fall Striper fishing season as hard N/NW winds can play havoc with scheduling good fishing trips.
Tight Lines,
Capt. John and Crew
---
August 23, 2021
Fellow Angler,
Now that Tropical Storm Henri has passed us with some rain and not a lot of wind, the seas were pretty calm as I went to the marina this afternoon to put the boat back in the water.
A report I read just a few minutes ago by a charter from the south gave a nice report of nice keeper Fluke being caught today....great news.
Usually, when big storms move into our area, the Fluke bail out, but so far, that doesn't seem to be the case.
We will resume fishing with our "Open Boat" trips beginning Wednesday, September 1 and Friday, September 3 with spaces available. If you are interested, text or call me about what date (s) you want for our 6 hour Fluke trip.
The Fluke still seem to be around, so let's go find them and put some fish in the cooler.
Fluke season closes Sunday, September 19th and I still have a few open dates for full 4 man charters. There usually some big fish to be had this time of year.
Tight Lines,
Capt. John and Crew
---
August 7, 2021
Fellow Angler, Good morning.
Had the Sean Smith family out for a try at some Fluke and Black Sea Bass. Tough day to say the least. Sea conditions were the pits as a hard south/southwest wind and an outgoing tide made for some really tough drifting.
Sad, as mate Rich and I were really looking forward to a day with these great fishermen, but the fishing gods had other plans for us that morning.
Travelled to a spot I was given a "heads up" about 6 miles offshore on a piece of high ground surrounded by 60-70 feet of water. So much for "inside information" as the waves continued to build and the wind increased as the minutes wore on.....3-4 foot waves every 5 seconds made it really hard to drift at the proper drift speed for fluke.
Rich and I saw very few nets go over the side from about a dozen boats that were around us so were weren't alone. We did catch some shorts, missed a 5 lber at the boat just before getting the net in the water and put some Black Sea Bass in the cooler....but a really tough day for Fluke.
Look, I call it the way it is...good and not so good. With a much more flat ocean, I would have been able to sail around to a bunch of different spots, but it was not meant to be.
Like I've said hundreds of times before....it's all about CONDITIONS if you want to be catching fish.
Tight Lines,
Capt. John and Crew
---
Fellow Angler,
Reel Fun planned a busy schedule for the past few days.
So here is a report starting with Thursday July 22nd....
Well our July 22nd trip never materialize as high winds and a nasty bay prevented us from sailing. As you are well aware, your safety is first and foremost with us, so questionable weather will sometimes postpone our scheduled charter.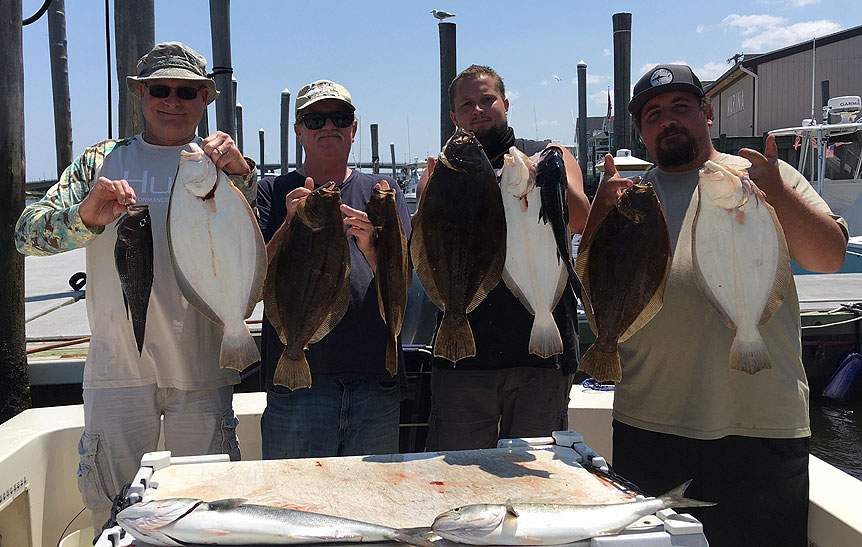 Friday July 23rd....As you see by the photo left, the Smith family had a decent day with a lot of activity as we caught 37 fish that day, with 7 legal Fluke going into the cooler, along with a few Bluefish and some nice Black Sea Bass. These 4 gentlemen would give anyone I know a clinic on how to bucktail for Fluke. Bravo and thank you guys for a great day.
Saturday July 24th...we had the McAleer charter for another try at the flatties. Not quite as active as the Smith family with the Fluke in the same exact area, but the Black Sea Bass decided to chew and we were rewarded with 7 beautiful Sea Bass. What a difference a day makes as the Fluke became temperamental for the McAleer group when the tide shifted, the fish got lockjaw...amazing. Same location as Friday, some baits, same water temperature....only major difference I can think of was a persistent east wind that usually hinders the fishing most of the time.
The fishing, for the most part, has been quite good depending on locating very small pods of fish, so constantly drifting these small pods is crucial to catching fish. The weather has been a factor too, as really fast moving currents with our "Buck Moon" made it impossible to fish some areas. Couple that with Saturday's east wind and I knew that things would be a bit slower.
Please remember...It's all about conditions. Especially with Fluke fishing, with the right conditions you catch. It's that simple.
Tight Lines,
Capt. John and Crew
---
July 10, 2021
Fellow Angler,
Good morning. As you can see from the photo, Jim and Annette had a pretty decent day with the Fluke on our trip of Saturday July 10th.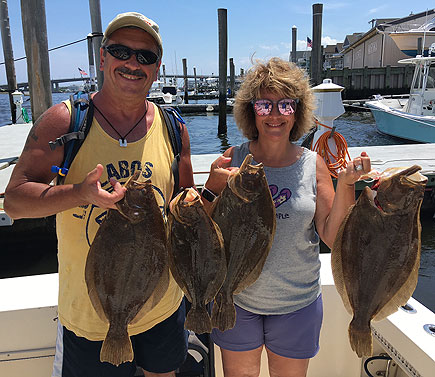 Still a hefty swell in the ocean from ELSA the night before, so I opted to stay in the mouth of Raritan Bay and we were rewarded with some nice fish.
I know that Fluke don't like rough water and swells, so I figured the fish would move inshore to find some quiet water and sure enough my hunch was right on the money.
Found a pod of fish and started to work them over...drift by drift, repeating the area that saw the two of them (mate Rich and I helped out too) with Sea Robins, numerous Dogfish, a Skate and a bunch of sub-legal throwbacks as well as the Fluke you see here. (2 more in the cooler)
All in all, a pretty good day considering we were still fighting off a good heave and a stubborn N/NE wind which made fishing a little uncomfortable, but we persevered and were rewarded with some nice fish with Annette holding a 5.6 lb. Fluke....nice fish guys.
Jim and Annette are really good anglers and very pleasant people to spend the day with...kudos and see you again soon.
Tight Lines,
Capt. John and Crew
---
July 7, 2021
Fellow Angler,
Good morning. We'll as the lyrics of an old western song goes..."I'm back in the saddle again" After a brief departure from fishing to attend to a medical issue, I am back on the water again with an "Open Boat" trip mate Rich and I did for Fluke.
Headed out at our usual time of 7am and went on a search mission throughout our bays. Water temperature, on top, was 74 degrees and quite stained by the torrential downpours we had Tuesday night. That was to be expected and most certainly had an effect on the fishing for our scheduled trip.
Our crew was mostly bait drifters, so heading into the ocean onto the wreck, rocks and other sticky stuff was not an option for this trip. We did the best we could considering the level of expertise in anglers we had today.
Look, here's the bottom line for this year at least.....you better be ready to lose a ton of jigs at all these rough bottoms locations in the ocean, because for the most part that's where we will be fishing for the remainder of the Fluke season.
Obviously, we can only sail when ocean water conditions allows us to, so let's hope that your day gives us the ocean conditions where we can sail. Having said that, our trip was a very slow pick of fish...shorts, a few keepers, sea robins, dogfish and skates. We caught fish, but just not enough of the right species to legally put in the cooler.
A word to the wise....if you don't know how to "bucktail jig" for fluke, there are many YouTube vid's out there to give you some help as well as following our guidance during our trip together.
Bottom line....if you want to catch your next seafood dinner, please learn this technique for success. Also, please dress with the lightest clothes you have and bring plenty of water to drink as it can get pretty darn hot out there on the water.
Tight Lines,
Capt. John and Crew
---
June 24, 2021
Fellow Angler,
Good news......got a call from my doctor this morning and I am good to go anytime after Wednesday June 30. It's time to get back on the water and catch some delicious Fluke. "Back in the saddle again" as they say.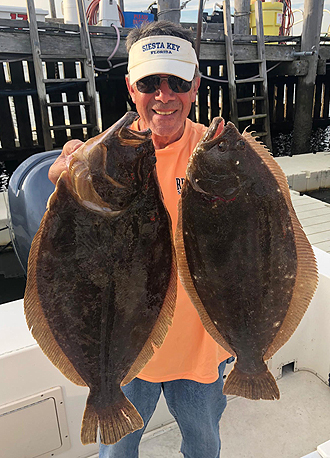 For my single anglers.....I currently have spots available for "Open Boat" fishing for Wednesday July 7th and Friday July 9th if you're interested. Give me a call at the number below to reserve your spot for our 6 hour Fluke fishing.
Now onto the fishing scene....Fluke are starting to show up in some familiar places in the bay as well as oceanside. Not in big numbers, but decent numbers just the same from reports by fellow Twin Lights anglers and online reports. A little late in starting because of cold ocean water, but it's steadily improving everyday.

The bay is starting to show some nice size (5 lbs) fish and numerous throwbacks. Pick a few here, pick a few there, so it's some sailing around to make a days catch, but the fish are there just the same. Bucktailing as well as drifting bait are both working with Chartreuse Gulp doing most of the bucktailing damage. I'm ready.....are you?
So there you have today's news. I'm back on the water and ready to put Fluke in the cooler. Give me a call and let's get the ball rolling.
Tight Lines,
Capt. John and Crew
---
June 1, 2021
Fellow Anglers,
I try to refrain from using adjectives that are somewhat over the top, but today was, in one word, INCREDIBLE.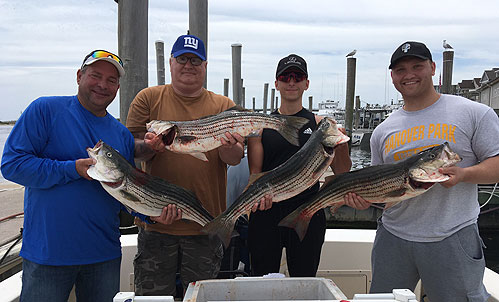 As you can see by the picture on the left is the Cicchine party with 4 of the keeper Stripers we put in the cooler. What you don't see is the 12 others we released (11 legals and 1 short) that was simply a Striper beatdown.
Now don't call me and expect the same thing to happen tomorrow or any other day. That's just the way this fishing is all about....nonstop action one day and beat your head against the wall fishing the next.
As we left the dock, mate Rich and I were wondering what the hell we were going to find after the horrible weather over the weekend. Bunker gone...Stripers gone. Who knew we would hit a bonanza. Go figure.
This has been one hell of a spring Striper run for Reel Fun Sportfishing to say the least. Let's hope for the charters coming up in the next 2 weeks that it continues.
Anyway, Kudos to the guys above, they did one hell of a job reeling in those fish with a few arm weary guys to prove it. As luck would have it, the biggest fish of the day was our last at 39" and about 25 lbs that had to be released anyway. Great job guys.
Tight Lines,
Capt. John and Crew
---
May 26, 2021
Fellow Anglers,
Had the pleasure of having the Sean B. party of 3 and Ray S. out for some of the good Open Boat Striper fishing going on right now. First off, I have to be very careful what adjectives I use, but the Striper fishing for the past 2 weeks has been spot on.
Bunker is in the bay by the millions and the migrating bass are chowing down as they prepare to move north for the summer.
What a nice day to be on the water with 4 guys who know what Striper fishing is all about......Kudos guys, great day on the water with you.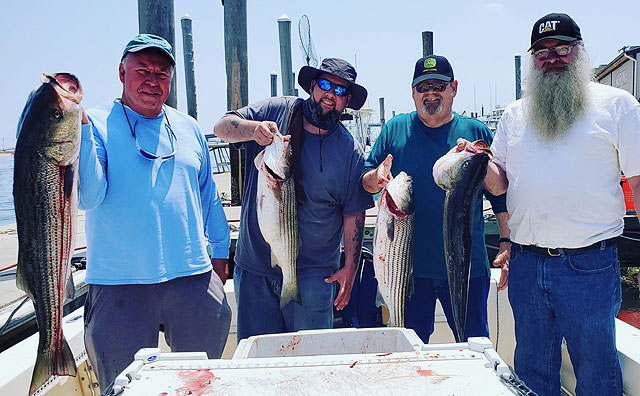 The water temp. has been hovering around the 63 degree mark for a few days now and let's hope it stays that way for another few weeks and these bass will hang around stuffing their faces. Most of the morning was trolling the MOJO rigs with good success catching the bigger fish swimming close to the bottom of the bay. The fish are spread out all over the bay, but the concentration was around an enormous pod of bunker....incredible amount of baitfish in the bay.
Catching legal fish to 32" and using bonus tags some of the guys had.....equals a cooler of Stripers to say the least. And if that wasn't enough at just about the time we were ready to head in, mate Rich spots a small patch of surface feeding Stripers and off we go to catch a bass on a surface popper plug on a light spinning rod....WHAT A RUSH. Incredible to see a fish that size smash a surface lure. Mother nature!
From a Captains' point of view....incredible day that doesn't happen often. Made my year.
Tight Lines,
Capt. John and Crew
---
May 25, 2021
Fellow Anglers,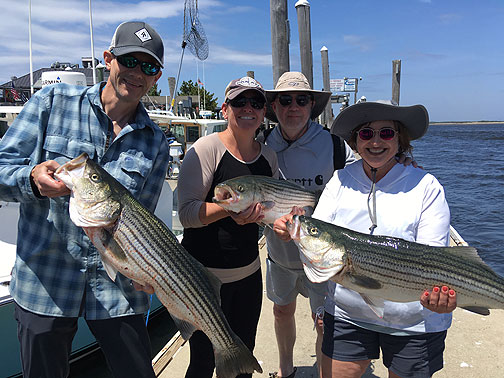 Fellow Anglers,
Had the Jessica B. party out for a try at the Stripers that remain in residence in Raritan Bay for the past few weeks.
Did fairly well today as the anglers onboard were new to Striper fishing and as such there was a learning curve to overcome, but we did put some nice fish in the cooler for the day.
As I have stressed numerous times....listen to the mates and I as to how to catch these fish as any deviation from that could cost you the fish of a lifetime, it's that simple.
After being on the water many hours, days, months and years, the crew and I are knowledgeable enough to teach you the most successful ways to fish. Be it that it may, we still caught 3 nice keeper Stripers and a few smaller releases.
Kudos ladies and gentlemen.....you did well.
Tight Lines,
Capt. John and Crew
---
May 21, 22 and 23
Fellow Anglers,
As you can tell....we've been very busy little beavers over the past 3 days doing quite well with Striped Bass. Some mornings are easy to find them, and on another morning a lot of cruising around to locate a feeding pod of fish. Listed below are 3 fishing reports all bundled into one email to you...hope you enjoy our adventures over the past weekend.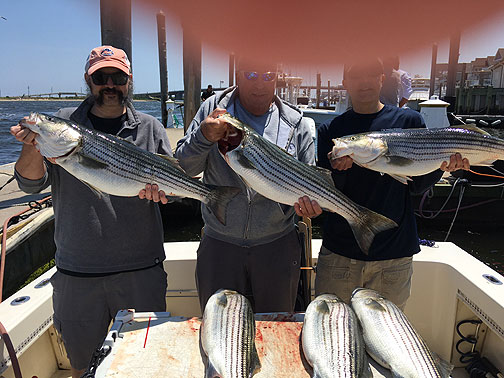 Pictured right are 3 of the 4 members of the Friday May 21st Open Boat Stripers trip .
(Left to right...Dan, Ray and Andy) (Sorry for the finger over a part of the lens....stupid cell phones. That would have never happened with my old digital camera that's broken)
Anyway, on Friday the 21st, we crushed the Striped Bass boxing one fish per angler and one additional fish on bonus tags which we are allowed to do....great job guys! You all fished together very well.
---
Saturday May 22
Our Saturday May 22nd charter with The Cerussi group started out well as we put 2 nice fish in the cooler right from the get-go. Then regretfully, we lost the next 4 fish that got unhooked and swam away...OUCH. This day also regretfully was cut short as one of the members was sea sick and we returned early to the dock. But, we did clean and fillet 2 nice fish as a reward for our perseverance. Better luck next time Cerussi family.
---
Sunday May 23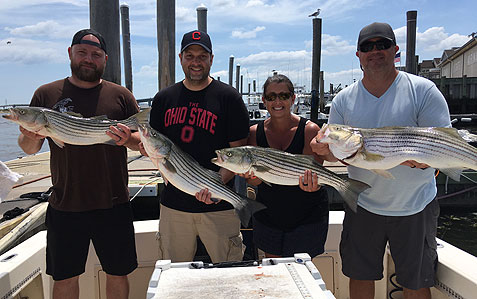 Finally, pictured is (far right) Dave and Angie,Tom and Pete...a group of dear friends and anglers of Reel Fun Sportfishing from PA that fish with me every spring and fall for Stripers and do very well.
The morning started a little slow and locating a pod of fish was quite a chore as we travelled across the bay (big place) in search of fish. But hey, that's what this is all about....THE HUNT!
Trolled a few areas with no luck until I talked to a fellow angler who told me of a bite that was in progress and off we went. Upon arriving at this new location, there were a few boats hooked up with fish and it was game on for us for 90 minutes of great Striper fishing as you can see above.
Outstanding job guys!
Tight Lines,
Capt. John and Crew
---
May 19, 2021
Fellow Angler,
Had one of our "Open Boat" trips with Dick, Mort, Alex and Chris for Stripers.
Trolled one area with good success around the mouth of the bay. Did well with green MOJO's on this trip as all previous trips where white was the color of choice......go figure.
Like I've said numerous times, you just never know from one day to the next what the hell these fish are going to do....feed or lockjaw, green or white MOJO's, bunker spoons or top water plugs or just plain bunker chunks. You almost have to be a shrink to figure these fish out.
Anyway, we did quite well releasing some shorts (under 28") putting some nice fish in the cooler and regretfully losing a beast that was tight on the line but shook off...OUCH. Would have loved to see the size and weight of that fish. It would have been released anyway so no big deal, but by the size of the fin when it surfaced, this was easily 30-40 lbs. We'll get her the next time.
Speaking of Striped Bass, you are now able to log onto the NJ Div. of Fish and Wildlife and register for a bonus tag that is now in use which is free of charge and good for the remainder of 2021. This bonus tag allows you to retain a fish 24-28" as an extra fish.
Also, we do have our Reel Fun Hoodies ($35) and Angler T-Shirts ($25) for sale at the boat for anyone joining us on a fishing trip during the year.....great gear at a great price. Try one on and take it home.
More fishing reports to come for the next few days. Let's hope and pray the weather and the fish both cooperate.
Tight Lines,
Capt. John and Crew
---
May 16, 2021
Fellow Anglers,
Decided today's report would feature something a little different....a video of my single customer Tim Balas from PA fishing for Striped Bass.
A lot more boat traffic than yesterday which probably explains why the fishing was a little slower, but the fish we did catch were nice size Chesapeake fish...with shorts and overs going back in the water to fight another day.
Some of the fish also had Sea Lice on them. Very normal for ocean going migrating Stripers in the spring. A word to note....sea lice are not harmful to the fish OR to you for that matter. They just attach themselves to the skin of the Stripers during their migration "in the ocean" and are discarded when we fillet the fish for you.
The 2 1/2 minute video shows Tim bringing in a nice fish....just the size you want for some delicious fillets for dinner. To view video...click here.
More fishing reports to come for the next few weeks. Let's hope and pray the weather and the fish both cooperate.
Tight Lines,
Capt. John and Crew
---
May 15, 2021
Fellow Anglers,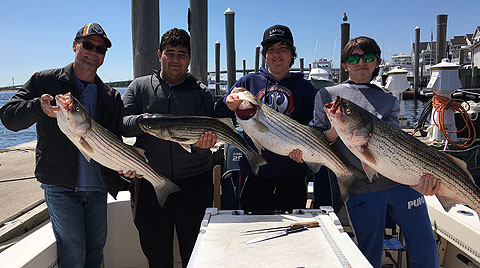 Incredible is the only word I can use to describe what the hell happened this morning to 3 16 year old boys and a father as we were Striper fishing.
This trip was the very first time these three boys ever saw or fished for a Striped Bass....talk about shock value. Couple that with outstanding weather today and these fish are the newly arrived Chesapeake bass from the south that were all intent on committing suicide, as you can see we had a banner day.
We had the lines in the water at 7:45 and by 8:30 we already had 3 Stripers in the cooler and one of them was that 30lb beast you see on the far right in the picture above caught by Casey. The father of one of the boys, Dave Spitzfaden (far left) set up this trip and was rewarded with oohs and ahhs by the boys on how big these fish are.....boy I like newcomers to Striper fishing.
Outstanding day all around for the boys, the father and Reel Fun Sportifshing. Let's hope these fish stay around a little while longer.
Tight Lines,
Capt. John and Crew
---
April 27, 2021
Fellow Angler,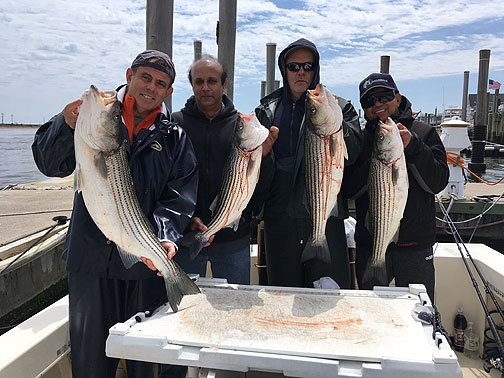 Pictured on the left is Hani Faris and his friends (far left) holding their limit catch of Striped Bass on a beautiful day around Raritan Bay.
Once again, trolling was the winning ticket for these four friends and putting some nice Stripers in the cooler for dinner.
Not overly big fish, but delicious legal (28-32") fish which are the best tasting kind.
More charter information to follow in the coming weeks.
Tight Lines,
Capt. John & Crew
---
April 24, 2021
Fellow Angler,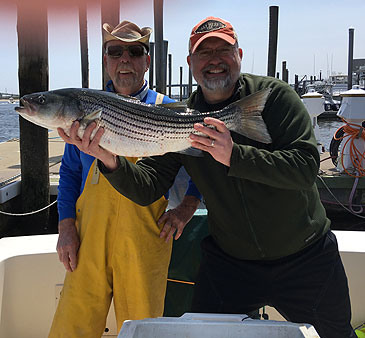 Pictured on the right is angler Peter Nelson holding one of the fish he caught along with mate Rich, on a beautiful day on the water.
Stripers were spread out all over the bay as there were numerous boats casting shads and trolling all sorts of stuff. Water temperature was still cold at 50 degrees even on an outgoing tide...usually a tide that warms the bay, but yesterday was an exception.
We were trolling bunker spoons and MOJO rigs that we brought from the bottom where cold to the touch which required me to troll very slow to get the fish to bite.
Not a bad day overall once you knew where to fish and get away from a fleet that had built up in this one area. Too many boats puts these fish down, so I like to get away from the pack and fish alone if possible....much better results.
Anyway, more trips coming, weather permitting, this week and for the month of May. I do have Reel Fun Hoodies and T-Shirt's with me at the marina in case you're interested in purchasing a garment as Peter did yesterday with one of my great 50 UPF T-Shirts.
Tight Lines,
Capt. John & Crew
---
April 2, 2021
Fellow Anglers,
Well here we go....a report of the first big beast that was caught and released yesterday by a guy in a kayak.
A 58 lb. prespawn Striper was caught in Raritan Bay as reported in both The Fisherman and On the Water magazines by a guy named Read. Big fish for sure, but most importantly, she was released to make babies for the future. A good thing and kudos to the fisherman in that kayak.
A few other reports coming in from Raritan Bay indicate the early arrival of Striped Bass....boy those ladies must really be hungry after a long winter laying dormant way up the Hudson River. Intel has also reached me that some big bass have left the confines of the Chesapeake and are a few weeks away from arriving here...some more good news for us.
This arrival of big Stripers in Raritan Bay seems to be a carbon copy of last year when these fish got here by the end of March and this year is following suit.. seems cold water aren't bothering them in their search for a meal before releasing millions of eggs way up the Hudson River.
Let's talk about these BIG Stripers. You know, or at least you should have heard by now, that the population of big spawning females has dwindled quite a bit over the last few years......not a good thing.
Big females are what keeps our Striper fishery alive and well. Throwing a big female in the cooler does nothing for the future of the fishery. So, I strongly urge you to release what the crew and I feel is a big "pre spawn" female. We'll be glad to measure, weigh and take a photo for you, but let's return her to fight another day. Thank you.
My boat is currently in the process of getting ready for the 2021 season...cutting shrink wrap off, a spring tuneup on the engine, painting the bottom with anti fouling paint and some good ol' elbow grease applying a few coats of wax on the hull. Hopefully, the boat will be in the water by the end of next week and we'll be good to go for another year.
On the COVID front....Rich, Chris and I have all been vaccinated which is a good thing considering the new variants that are now spreading across NJ. I trust you've had your shot(s)....we don't want to get anyone sick over a few fish.
This plea goes out especially to all my "Open Boat" anglers. Let's keep everyone safe and healthy. Get a shot...save a life is my motto!
Finally, I am awaiting the arrival of a new order of those super warm and comfy Reel Fun Hoodies and summer Performance Long Sleeve T-Shirts any day now. Sizes and pricing will be posted here in the near future....stay tuned.
Tight Lines,
Capt. John & Crew
---
March 13, 2021
Fellow Anglers,
Reports coming in online as well as in print (On The Water) is that many bays in New Jersey have been flooded with small schoolie Stripers and that means Raritan Bay too.
Fisherman braving some cold weather at the shore are starting to see small 20-24" Stripers being caught on both sandworms and bloodworms along the south shore of our bay. That's a VERY good sign for all of us. Considering that the bay never froze over, the early arrival of the schoolies is understandable.
The bay water temp currently stands at 42 degrees, down from a high yesterday of 52 degrees...what a swing in temps. But that is to be expected during the spring, but as you can see, sudden and drastic changes in the water temps do occur, but what I'm looking for is a nice steady 55-60 degrees and the fat ladies show up and chow down.
For our novice angler, the vast majority of our spring Striper fishing is in the confines of Raritan Bay...calm and protected waters. We usually don't move out into the ocean until about mid June. Raritan Bay fishing is my favorite for Stripers. Read a report of small schoolie Stripers all over Barnegat Bay too.
Appears that the massive amount of small fish that made a southerly migration back in November, never went that far south for the winter...more good news.
Look, seems to me if you're interested in ACTION fishing, this coming spring could be just the thing for you. A ton of sub-legal Stripers with a some beasts mixed in for the cooler would be a great day on the water after that stinker February we just had to endure.....think about it
. ....NOW is the time to make a reservation. To make your reservation with a $100.00 deposit, call me at 908-421-4671 and let's lock in your date. Let's do it ladies and gentlemen, anglers and anglerettes...the time has come.
Finally, don't forget to turn your clocks AHEAD tonight 1 hour as we spring ahead into daylight savings time....it's tonight!
Tight Lines,
Capt. John & Crew
---
February 14, 2021
Reserve Now for Spring Striped Bass
Even though we still have a ton of snow on the ground and we are in the dead of winter, spring is really just around the corner as the days are getting longer and longer and brighter too.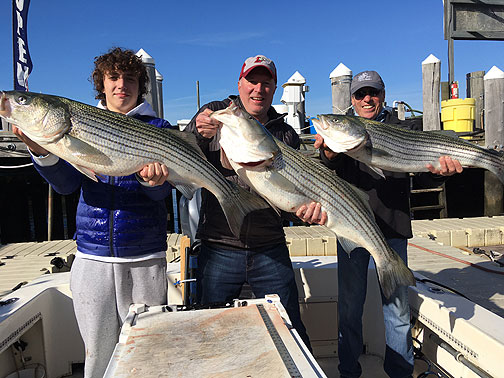 The spring Striper season, for the most part, will begin for Reel Fun Sportfishing around April 15th (which coincides with NY opening day) or even sooner depending on the weather and we will continue until the Stripers decide to bail out and head north.
As you may know, I am a big fan of fishing "tides" for certain species of fish and, as such, there are prime dates in every month for Stripers to put on the feed bag.
We were quite busy last year as many "new" anglers joined us for a day on the water just to get the hell out of the house with the family. Based upon what I've been reading the past few weeks, this year will be a carbon copy of last year in respect to the busy schedule for almost all charter operations. What started out as a morbidly slow spring last year due to COVID, turned into a robust June through November chartering operation.
So having said that....first come, first served, is my M/O as far as reserving dates for the spring run of Stripers. If you have any inclination of Striper fishing with us this year, then I would STRONGLY suggest you call now and reserve your date.
A $100.00 deposit will hold your date and we are good to go.
I already have dates booked in April, May and June, so please don't procrastinate. The fare for our 6 hour "Open Boat" Striper trip is $140.00 p/p, or $560 for a full 4 person charter.
As always, we only take 4 anglers per trip and supply all rods/reels, tackle and bait for you. We set sail at 7 am and return around 1 pm. The crew will fillet your catch for you too.
The spring Striper fishing, for the most part, is usually "bay" fishing in very calm waters and a great opportunity to get out of the house and relax catching those famous NJ Raritan Bay Stripers.
To hold your date, call 908-421-4761 as I'm ready to take your deposit.
Happy Valentines Day everyone!
Tight Lines,
Capt. John & Crew
---
© 2005 Reel Fun Sportfishing, LLC. All Rights Reserved.
Web site designed and published by Capt. John

arters Sandy Hook, NJ