Sandy Hook NJ Fishing Reports for 2020
"Capt. John's Fishing Reports" gives you the latest information about our fishing charters as they occurred.
So bookmark this page and check back with us regularly.
---
Feb 23, 2020

Fellow Anglers,
The ever popular Ramsey Outdoors "Cast and Blast" show for 2020 once again proved to be a busy and well attended gathering of outdoor enthusiasts from the North Jersey area.
The crew and I talked to many people at our booth as well as giving a 1 hour seminar on the art of bucktailing for Fluke. Mates Chris, Rich and I answered questions about many different topics as well as giving away Reel Fun long sleeve T-shirts and drawing the winner of a free 6 hour Fluke fishing trip....which was won by Judy Schiabel!
We were also blessed to book numerous charters and "open boat" trips with anglers who were at the show.....a busy day for Reel Fun to say the least. A common comment that I heard from those who booked charters was how reasonable our rates were. Nice to hear...good vibes from new anglers fishing with us in 2020.
I would like to say "Thank You" to those of you who stopped by to say hello...it's always great to see familiar faces and talk about fishing.
I must also give a "shout out" to my guys who, without their help, I could never have done this show (sore back). Mate Rich and my son/mate Chris are THE BEST. Thank you guys..great men. All my crew (Donnie and Braden included) are outstanding persons.
Some preliminary information...I was told at the show that the start of the 2020 Fluke season looks like Friday May 22, 2020 and ends Saturday September 19, 2020 and will feature 3 fish @ 18" per angler per day as a bag limit. Same bag limit as last year (2019)
Also unofficial word on this, and waiting final approval by ASMFC, is the NJ Striped Bass reg's could be 1 fish 28-38" long with a "bonus" fish of 1 fish 24-28" long providing you have a NJ bonus tag that you will have to apply for online. What I am told, it's not carved in stone yet, but that's the way it's looking for 2020. Retaining the bonus fish would start May 15th.
So, there you have it for this morning. A busy day for Reel Fun Sportfishing with some nice bookings and a lot of information to be gathered. If this weather keeps up like this, the crew and I will be at the boat in a few weeks getting her ready for another fishing season.
Tight Lines,
Capt. John & Crew
---
Feb 20, 2020
Fellow Anglers,
The ever popular Ramsey Outdoor "Cast and Blast" show is this Saturday,10 am till 4 pm. at their Roxbury Mall, Succasunna, NJ store. (275 Rt. 10)
I will be giving a seminar on "Bucktailing for Fluke" as this is, hands down, the most effective way to catch bigger, quality Fluke.
Beginners, as well as seasoned veterans, are welcome to come and pepper me with questions that I or someone in my crew will be glad to answer. Bucktailing is not hard and quickly learned within your first half hour of instructions. It is, by far, the most productive way to catch bigger quality Fluke. Sure, you can catch fish drifting bait, but they are usually smaller "throwbacks" under our current NJ 18" minimum. If you're going to spend your hard earned dollars on a fishing trip, you might as well do it putting some fish in the cooler to take home for dinner...and bucktailing is the way.
I will be covering...... rods, reels, lines, lures as well as tips for the beginner as well as the tournament fishermen out there. Whether you fish with us or you patronize party boats, there are tips here you should know about to be successful. Bring your questions and TAKE NOTES!
The Ramsey Outdoor store has an extensive supply of rod and reels for sale as well as bucktails and Gulp products in colors too numerous to mention. Great deals to be had for Saturday's one day show at nice discounts.
Seating for my seminar is somewhat limited, so get there early. At the end of my seminar, I will open it up to a question and answer period and some time will be allotted for a brief discussion about the upcoming Striped Bass season.
For those who attend my seminar, there will be a drawing for a FREE 6 hour "Open Boat" Fluke fishing trip (valued at $140) to a lucky winner.
My seminar begins promptly at 10:00 am.
Capt. John & Crew
---
Feb 2, 2020
Fellow Anglers,
Good Morning and welcome to Super Bowl Sunday.
This promises to be a great game between the 49'ers and the Chiefs down in Miami. Two great teams that should produce one of the best Super Bowl football games in a long while. All things considered, I'm going with the 49'ers on this one as they have one hell of a defense...but don't put your money on what I say....you'll probably lose.
We are now into February and that means that flea markets and shows are springing up all over the place.
Here are a few....
The Hi-Mar Striper Club....Saturday February 8, 2020 from 8 A.M. to 2 P.M. at the Middletown VFW Post 2179 in Port Monmouth, New Jersey. Free parking. The Cost is $5 per person. Kids 12 and under are free..
Next on the agenda is the SWABC Flea Market....Saturday February 15, 2020 from 9 am to 3 pm at the Hasbrouck Heights Hilton. Admission is $5.00 and kids 10 and under are free. One of the biggest flea markets in North Jersey....a must see.
And don't forget the Ramsey Outdoor's "Cast and Blast" show at their Rt 10 Succasunna, NJ location. (Roxbury Mall) When and Where- Saturday February 22, 2020 starting at 10 am till 4 pm. Many vendors and seminars all day for the hunter and fisherman and a good day to get out with the family. Admission is FREE as well as my 10 am seminar on " Bucktailing for Fluke". (See below) Seating is somewhat limited, so please plan on getting their early. ***TAKE NOTES**
For those who attend my seminar, I will have a drawing for one FREE 6 hour "Open Boat" fishing trip (valued at $140) for Fluke to a lucky winner. Also worth mentioning, I will be offering my "Special Show Pricing" for my charters but the fare MUST be paid in full at the show. To see what that discount is.....just show up with your credit card. So mark your calendar for Saturday, February 22, 2020. Ramsey Outdoor's Roxbury Mall 275 Route 10 Succasunna, NJ.
On the fishing front, haven't heard anything definitive about reg's for Striped Bass or Fluke as of yet....way too early. But it looks like the Striper reg's will be one (1) fish per angler, 28" to 35" per day. Nothing over 35" as they're trying to allow the big spawning females some time to make babies for a few years. But hey, look at it this way....a 35" Striper weighs in at about 20 lbs...a really heafty and meaty fish. Good for at least 6-8 dinners. We have to leave the big females alone for awhile which is a good thing if we want these fish to propagate in good numbers in the future.
About the Fluke....nothing to report yet but let's hope that it stays at least the same as last years reg's...3 fish @ 18" per angler. Considering where we were fishing last year (ocean rough bottom) there are nice Fluke out there in the 4,5 & 6 lb. class to be had. So even at 3 fish, that's still some very good dinner's in the bag of fillet's you're going to bring home.
Enjoy the game...go 49'ers!
Capt. John & Crew
---
Jan. 8, 2020
Fellow Anglers,
Well here we are....the beginning of a new year. Let's hope 2020 is a little more quiet than 2019. It would be nice if we could all exhale and return to a more normal state of existance here in the good ol' USA.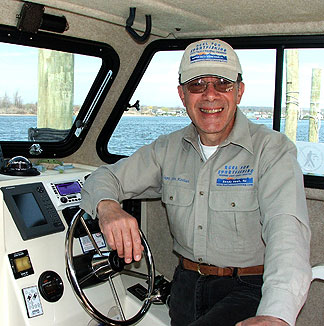 So far, the winter has been quiet...above normal temps is a good thing. If this keeps up, the return of Stripers in the spring could be a earlier than normal which is a good thing too. The smaller schoolies usually arrive in Raritan Bay sometime around mid March with the bigger spawners around the mid April time frame. So stop back here often as I will keep you updated on their arrival. Or better yet, sign up for my emails.
Now is the time to look at your calendar and start to plan your spring fishing trips with us as I now have all my tidal data in my appointment book filled in. I am now taking reservations for the spring run of bigger fish as we will be sailing out first trip on or about April 15th.
You can call me at 908-421-4761 to reserve your date.
Now on to some show stuff.
The one show that I would like to draw your attention to is the Ramsey Outdoor "Cast and Blast" show and exhibit on Saturday February 22, 2020 at their Succusunna (Roxbury Mall) store. The show begins at 10:00 am and concludes at 4:00 pm.
Some great savings in the entire store are being offered (hunting and fishing) as well as a store full of vendors and seminars for the entire family....not to be missed. One of the biggest shows in northern NJ that has gained tremendous popularity over the past few years. Store manager, Marty Brennan, has done a masterful job assembling vendors from all over the tri-state area.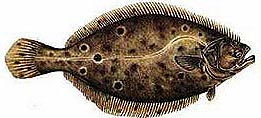 I will be giving a seminar on "Bucktailing for Fluke" at 10:00 am covering many topics for both the beginner as well as the veteran angler.
For those attending, I will be giving away a 6 hour Open Boat Gift Certificate, valued at $140, to a lucky person. Seating is somewhat limited, so get there early for this informative seminar and maybe win a trip for Summer Flounder.
Mark your calendar now and don't delay. See you at Ramsey Outdoor on the 22nd.
Tight Lines,
Capt. John and Crew
---
© 2005 Reel Fun Sportfishing, LLC. All Rights Reserved.
Web site designed and published by Capt. John

arters Sandy Hook, NJ