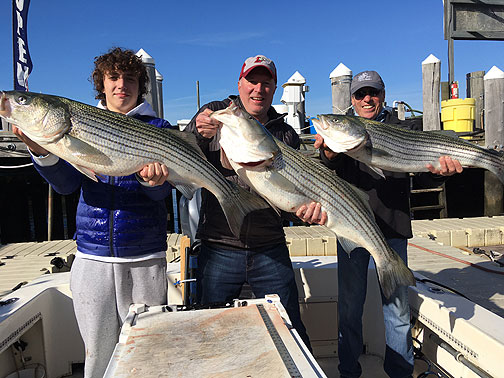 We will start to sail around April 15th, so to get in on "choice dates" for the spring run of Striped Bass, call now and reserve your date.
We are a Sandy Hook, NJ charter fishing business that was incorporated in 2004 located in Monmouth County, NJ.
We are docked at the Highlands, NJ. Call the number below for directions or click here. Our charters are for up to 4 anglers fishing the waters of Raritan and Sandy Hook Bays and numerous inshore Monmouth County wreck and reef ocean locations.
Reel Fun Sportfishing specializes in bait and lure fishing for Striped Bass as well as bucktailing, our specialty, for Fluke.
We offer all the amenities for a pleasant and memorable fishing trip for both novice as well as the skilled angler. We'll teach you all the current methods of fishing for Stripers (eeling, bunker chunking or livelining) as well as casting and retrieving lures. We will also instruct you on our preferred and favorite method of catching Fluke called Bucktailing.
With Reel Fun Sportfishing you may pay a little more per person, but you get so much more.....state of the art rods and reels (no extra rental rod charge or, of course, you can bring your own), instructions by our outstanding crew on how to catch your favorite fish, fresh baits that catch more fish, highly trained responsible mates, state of the art electronics for your safety on a seaworthy vessel, and most of all, a friendly family atmosphere where our first time customers become lifelong members of our "Reel Fun Family of Anglers".
Why not join us and see what a great charter fishing experience is really like! The calm waters of the Raritan and Sandy Hook Bays are great places to introduce first-timers to the sport of saltwater fishing and come home with dinner in the process.
No need for tons of gear...we supply everything you will need for a relaxing and fun filled day on the water and a place to get away from it all. Sounds good ? So give us a call and reserve your day of peace and serenity with family and friends. Just bring your snacks, lunch and beverage and let's set sail and put some fish in the cooler.
Capt. John