Sandy Hook NJ Fishing Reports for 2018
"Capt. John's Fishing Reports" gives you the latest information about our fishing charters as they occurred.
So bookmark this page and check back with us regularly.
---
December 19, 2018
Dear Angler,
With Christmas just a few days away, let's hope you have the bulk of your gift shopping done and can start to calm down.
Had the pleasure of attending last night's annual SWABC (Saltwater Anglers of Bergen County) Christmas Dinner for all the members of this great fishing club. Santa was there to hand out gifts (bring one, get one type of thing) to add to the festivities. Couple that with a 50/50 drawing, some ham and turkey raffles and some nice dark horse fishing items made for a fun time to be had by all.
While I was there I was asked numerous times how I was doing with my P/T sessions on my lower back that hit me the end of August. Let me say that I've been cleared to resume all fishing and boating activities come spring and I'm ready and anxious to get back out on the water.
I had a great physical therapist, Dr. Kate Del Prado from Trinity Rehab in Somerset, NJ work on my back and I would recommend her to anyone if you're interested. Very educated (graduate of Columbia and Rutgers Universities) as well as a professional and caring individual.
So, my back is back and the crew and I are ready to go for the spring run of Stripers in April.....let's fish!
Capt. John & Crew
---
November 18, 2018
Dear Angler,
Reel Fun Sportfishing has ended another season of fishing as we set our sights on the upcoming holidays and the 2019 season.
I think this would be a good time to reflect on 2018 as well as give you some insights into why we do what we do.
First off.....fishing. The 2018 spring Striper season was a not bad considering all the crappy weather we had to contend with. Many reschedules took place due to many, many rainy and windy days. Tough fishing in the bay when the water looks like a washing machine and there's white caps every 4 seconds. I don't have a contract trying to film "Deadliest Catch" in New Jersey. We also had numerous fog days with many "dense fog" advisories....visibility less than 1/4 mile. Even though I have RADAR, most recreational boats don't.....a real problem with inexperienced boaters running full out in the fog! But we made do with some great trips, good trips and a few fair trips and to be honest...one or two stinkers mixed in but that's fishing. You can't hit a home run every time at the plate.
Fluke fishing, once again, was off by my standards, almost a carbon copy of last year. I wouldn't be at all surprised if the regulators tightened the fluke reg's even further....2 fish @ 18 or 19"....but let's hope they at least hold status quo of 2018.
Where were the bigger fish?.....north! Global warming is moving many species of fish further and further north as the ocean waters continue to warm, so we fish for what we are given. Were there keeper Fluke to be caught?.... sure, if you were willing to do a lot of travelling around to find small pockets of fish. We sailed an enormous amount of miles searching for keeper Fluke in 2018. A small pod at one location, and nothing the very next day at the same place....very frustrating.
Fall Striper fishing.....in one word "WINDY". Non stop relentless windy days put a major hurting on my business and I suspect many other boaters. Which brings me to a very important subject I would like to talk about.....why and when I sail and when I don't.
Let me be perfectly clear. When I took the courses to obtain my Captain's license 15 years ago, one of the main things that was always a topic of discussion was "safety". Knowing currents, tides, winds and its direction, vessel capacity, displacement, wave heights, wave frequency.....well I think you get the picture. The velocity of the wind you see at home is usually not the wind that's in the open waters of the bay and ocean.
I use many online resources to try to get a clear picture of the days weather....most times they are dead on....and sometimes dead wrong, but not often. I make a judgment call the night before whether we are a go, no-go trip. Something very important to keep in mind.....I know perfectly well how pissed off you may get when we have to cancel a trip due to weather, but I do that for only one reason....YOUR SAFETY.
As you know, I own a 25' Parker.....which has some limitations. After owning her for 15 years, I know what she can do and what she can't do in sloppy seas. The crew and I don't enjoy bailing out of any fishing trip any more than you do, but if it's the difference between catching fish and risking someone's life or rescheduling, what do you think I going to do? You got it....reschedule. No fish is worth someone's life or a major injury. There's always tomorrow. Be flexible!
With the inherent low gunnels of a Parker, it's even more imperative that I take added precautions in sloppy water. Look at it this way.....all charters have a 50/50 chance of sailing on any given day. That is the nature of charter fishing.
Very important thing to remember....YOUR LIFE IS IN MY HANDS. I make calls to my staff the night before and discuss the weather to make sure that what I see is correct or if I'm missing something...two brains are better than one....once again the emphasis is on safety. There are other people that will sail in any weather, which I don't agree with, but it's their call and not mine....God bless 'em. Not to scare you, but I have seen the panic that sets in when someone plunges into the water....not good. God willing, we won't see that on my boat.
Fishing can be a dangerous sport IF you don't follow some simple safety guidelines. Considering the risk/reward factor in what I do, there aren't many people I know that would take on that responsibility of running a charter boat.
In closing, all I ask is that we are all safety minded, patient and work together so that we can all have an enjoyable day on the water.Thank you.
Tight Lines,
Capt. John & Crew
---
October 31, 2018
Dear Angler,
Just as I had predicted in my last report......
"But, we are in a full moon tonight and a substantial nor'easter coming in Saturday and Sunday, so let's hope that brings the Stripers in next week to feed"
the fall Striper run appears to be underway. Some fish are being caught close to our marina and some south of us in the ocean.
But trying to utilize as much fishing time as possible for you, we'll try for the close to home fish....about 20-30 minute sail time.
We will be fishing this weekend on charters and all signs point to the fact that the body of Stripers that were reported off of Captree, NY last week by my son Chris, now seem to be in our waters. So here we go, as the big blow of last Saturday and the full moon may now be paying dividends.
We are booked both days this weekend, and weather permitting, we are going to try to put some bass "in the cooler" so stay tuned sometime Monday for another update. TIME TO FISH!
I still have some dates open and we'll be fishing until it gets too damn cold or the Stripers bail out on us and head south.
We'll be in Daylight Savings Time Sunday so don't forget to set your clocks BACK Saturday night before you go to bed.
Tight Lines,
Capt. John & Crew
---
October 16, 2018
Dear Angler,
Good morning and hope you are doing well.
Although still a little spotty at times, the fall run of Stripers are starting to make their presence known drifting eels.
Water temps in Raritan Bay have fallen to the 62 degree mark as of this morning which is a good sign if you're a Striper fisherman. Reports from my sources say that Saturday morning was a slow pick of fish, whereas Sunday saw a vast improvement drifting live eels at a few different locations with a nice mix of different size fish.
As you can see by today's windy blow and very cool temperatures, the Bass know that it's time to migrate to southern locations as they move out of the rivers and head south.
Having said that, it's time to get out those long-johns and let's put some Bass in the cooler. These migrating Stripers don't hang around here very long, so now's the time to hop aboard for that final shot before the weather totally shuts us down.
Finally, don't forget about our "Open Boat" Wednesday trips for our single anglers.
CALL ME AT 908-421-4761
Tight Lines,
Capt. John & Crew
---
Sept. 18, 2018
Dear Angler,
Sad to say, but the fat lady has sung for the 2018 Fluke season for Reel Fun Sportfishing.
The weather for the past few weeks has taken its toll as the availability of quality "keeper" Fluke has taken a nosedive in our area over the past week or so. Based upon the numerous online reports from private, party boats, charter boats and my own results, I'm pulling the plug on the 2018 Fluke season.
I refuse to take anyone out for an expensive boat ride with an almost empty cooler to show for a 6 hour charter. For those of you who have sailed with me over the years, you know that's my M/O. The truth can never hurt you and it's what keeps my loyal clients coming back to me year after year.
So, now we set our sights on the fall run of Stripers. When will they appear is anyone's guess. Sure there are resident fish around...mostly schoolie's, but the migrating "cow's" have yet to make an appearance and when they do, you'll be the first to know via email that I send out, so keep your eyes glued to my posts.
The bay water has been cooling off quite fast, so it's only a matter of time (maybe 3 weeks) until these bass make an appearance....sit tight.
Tight Lines,
Capt. John & Crew
---
Dear Angler,
That's the $64,000 question on everyone's mind now that the 2018 Fluke season is winding down.....when will the fall Stripers be here?
Water temperature.....plain and simple and the abundance of bait fish too I may add. But bait fish have been plentiful as of late so that should not be a problem unless the commercial bunker boats suck everything out of our waters again.
Fall Stripers have shown up, based upon my log books over the past 5 years, as early as 1st week in October to as late as the last week in November. You just never know with these fish, but the water in our area has to come down to the high to mid 50's for any possibility of seeing these fish.
Last year, the 3rd week on October saw the arrival of nice ocean fish that we were catching trolling bunker spoons and MOJO rigs. I may add, that I am a big proponent of outgoing (ebb tide) water for fall Striper fishing....a great time to drift eels around the tip of the hook and deep water channels. Casting and retrieving shad's and metal (match the hatch) is a very effective method too.
So having said that, I am now taking reservations for fall Stripers with a tentative start date of around the weekend of October 19, 20 and 21st. Could be a little sooner....could be later, so please be flexible as their arrival is an unknown at this time. But at least you now have a starting point of reference.
Don't forget our Open Boat fishing on Wednesday's for our single anglers is still available for fall Stripers.....the price is $130.00 per angler for a 6 hour all inclusive fishing trip. (mates tip extra)
Tight Lines,
Capt. John & Crew
---
Aug 27, 2018
Fellow Angler,
Please accept my apologies for not submitting a report for almost 2 weeks, but that's because I have been battling a very sore lower back issue that has knocked the crap out of me.
Here's a short story......water floods into my garage from a broken clothes washer hose. So I have to clean up a massive mess....wet furniture, boxes and carpeting to name a few. In the process of all this labor, my back decides to protest. This was Saturday morning the 18th of August.
Since then, it's been pain killers, doctors visits and now physical therapy sessions....what a major pain in the a**. So there you have it....numerous charter cancellations, lost revenue and laying on my back with cold compresses trying to reduce a highly inflamed back and muscle spams.
For those that I have cancelled, we will try to reschedule as soon as I get clearance from the PT.
Thank you to all who have called to wish me well and your support...my anglers are the best. I should be back to fishing conditions by, hopefully, next week. there's Fluke to be caught.
Remember, the closing date for Fluke is Saturday, September 22nd.
Tight Lines,
Capt. John
---
Aug 15, 2018
Fellow Angler,
Today we ran our Wednesday "Open Boat" fishing trip with a few members of the SWABC Fishing Club (Rick Swarthe, Tom Borneman and Barry Paull) along with Craig Cooper for Fluke.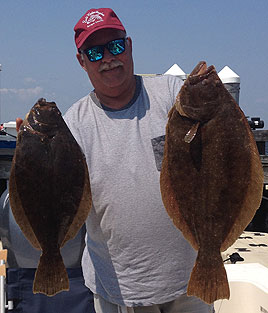 Today was a nice day on the water as we caught some quality Fluke, with Tom's 5 lb, 25" (pictured on the left) along with others caught by everyone.
Just a side note....I'm refraining from showing our total catch in photo's as all that does is give NOAA ammunition for possibly cutting our quota for next year.
For those of you who know me and after 14 years in this business, you know, or I hope you know, I am a man of my word. I think I'm past the point of showing a bunch of fish lined up on a dock to prove that we caught fish and stick a feather in my cap.
I know what I bring to the table, and hope you know that too. If I stunk the place out or conditions were that we had a tough day, I'll tell you that. And if we had a banner day, I'll tell you that too. I think you get my point. Along with our catch of Fluke, we also caught Black Sea Bass which only made the day that much sweeter.
Having to fight through a hell of a wind/against tide departure at the tip of the hook was a real adventure with a west wind cranking at 20-25 kts and an incoming current which made the tip of the hook look like Hawaii 5-0...not for the faint of heart but we plowed through it safely.
Once around the tip of the hook, the ocean flattened out nicely and we were on our way to our destination and catching fish. Nice day and good fishermen....great job guys!
Tight Lines,
Capt. John & Crew
---
Aug 10, 2018
This morning we had we had Sean Basilone party out for some Fluke fishing.
The ocean water was absolutely magnificent (flat as a pancake) with a light north wind to keep us cool and an outgoing current that pushed us just fast enough for good Fluke conditions....remember my previous emails when I talked about conditions. Well today was a great example of that. Days like today don't happen often in any given year...a 10 so to speak, but today was one of them.
Made many stops along the beach....wreck sites, numerous spots at a reef and many water depths, as the entire crew worked very hard to put a nice catch together. We caught Fluke, Black Sea Bass, Ling and the occasional annoying Dog Fish for our time together. Bucktailing, as well as drifting bait strips, worked equally well, but like I said we still had to work very hard....constantly moving around. A fish here, a fish or two there.
This is a year of hard working fishing with no big concentrations of fish as in previous years. Small pods dotting the ocean floor seems to be the M/O so if you're fishing with us in the near future, please be prepared to do a lot of moving around...... eventually we do put a good catch together. Listen to the mates as they are keyed into what process is currently catching fish and what bait or color bucktail to use. The crew and I are always there to assist you. We ALL want to have a good day on the water.
As I stated in my last report, the amount of baitfish (bunker) swimming around in the ocean is incredible. Pods, big and small, are swimming around without being harassed by any predator fish. Not a Bluefish in sight....amazing for this time of year. Where the hell did they all go?
This could turn into a banner fall Striper run once the water temps lower into the mid 50's....yesterday the ocean water temp was 78 degrees. I guess that explains the tropical Trigger fish in our waters. Global warming..believe it.
Tight Lines,
Capt. John & Crew
---
Aug 4, 2018
Here's a quick report of our exploits yesterday as Team Reel Fun (Chris, Rich, Barry, Braden and myself) attempted to bag a doormat fluke in the JCAA 2018 Annual Fluke Tournament.
Weather wise, initially was a real tough go....the persistent southerly crap that we've been dealing with for the past 2 weeks continued for the entire morning and finally cleared up around 1 pm in the afternoon. Dark skies, high winds, downpours and some rough water really tested our mettle but we survived.
Fished an area that customarily produces "doormats" in August in some really deep water, but regretfully a BIG fish was not in this area. And once you commit to a specific area, travelling around searching is a major waste of valuable "lines in the water" fishing time.
Did we catch fluke....and numerous other species....yes we did. A couple of fat 5 lb fluke along with others went into the cooler, a fat and legal Black Sea Bass, too many to count annoying Dog Fish....and a highlight for Braden and the crew a 5 ft. Thresher Shark that almost spooled his reel....great fight!.
So you can see, we had a very eventful day to say the least even though we did not find our main prize. Some really good fishing with a top notch crew in adverse fishing conditions showed me a lot about the character of these guys...Thanks team for a very memorable day. You're the best.
Tight Lines,
Capt. John & Crew
---
July 26, 2018
Good Morning,
Not much to report so far this week as mother nature has put a big dent in our business for the past 5 days.
Ocean swells from 4-8 feet have plagued a lot of the fleet trying to fish the ocean. It may take a few days of west winds to calm things down as the seas were pushing 6 ft. swells this morning and NOAA posted small craft advisories for the NJ shoreline.
Constant south winds, rain and thunderstorms have keep the boat in the dock. This southerly "trough" we're in may be finally moving out over the weekend. My guess is the fluke are sitting in deep water, buried in the mud as they usually don't like the swells that have been occurring in the ocean. So now it's back to search mode for these fish.....
On another matter, I have, for my single anglers, some "Open Boat" spots available for the following dates that I would like to fill...
Wednesday Aug 1....2 spots
Wednesday Aug 15...4 spots
Wednesday Aug 22..1 spot

If you are interested in fishing with us for fluke on any one of those dates, call me at 908-421-4761 and reserve your spot. Hope to hear from you.
Tight Lines,
Capt. John & Crew
---
July 13, 2018
Had Rob Goldstein and members of SWABC fishing club out for a try at the flatties....Fluke. And try we did. Rob won a free fishing trip with us during a monthly SWABC meeting.....nice!
Boy, another tough day at the office with these fish. My only consolation is we weren't the only ones dogging it out as online reports (which I read every day to get a handle on who's doing what) by a lot of anglers said the same thing...tough fishing.
Did quite a bit of moving around from the Sandy Hook Channel in the ocean to mid Raritan Bay searching for any small pod of Fluke to hang my hat on. These very small pods are maybe 50 yards long...if you're in it you hit...once out, it's restart your drift over the same exact line...pinpoint accuracy to be sure. If you don't have a GPS on your boat you could be in the dark.
Finally came across some activity on the NY side of the bay and we had some pretty good action for awhile with a combination of keepers at 20", numerous shorts, Sea Robins and Sand Sharks.
Lots of searching and moving around....seems to be the M/O for our charters this year. You should see my gas bill so far...brutal. I'm up and over what I spent for gas for all of last year and we're only into mid July....ouch.
Tight Lines,
Capt. John & Crew
---
July 11, 2018
Not much news to report about our charters for the past few weeks. Fluke fishing has had it's ups and downs this season. Look....if you know me and how I run the business, I give you the facts....you take it for what it's worth. You'll never hear me say "You should have been here yesterday"
Fish found at one spot on a Monday are totally gone from the same spot by Wednesday...amazing for these fish. Small tight pods of fish exist throughout both bays which requires a TON of travelling around trying to locate the next pod. Short tight drifts until you catch no more and then it's looking again. A carbon copy of last year to a tee...thought this year would be a turnaround... but on the upside.
So far, here we are, mid July, and a substantial body of Fluke have yet to arrive. That's not saying it won't as the water temps during the spring were very slow to rise to fish comfort levels. You see, Fluke move into our waters in "waves" usually about every 2 weeks or so.
There are many theories as to why the Fluke population has dwindled...water temps, water quality, over-fishing to name a few, but someone or something has to be done to find out what the hell is going on here.
But the crew and I keep plugging away hoping for a consistent bite of these great eating fish that we all love. Remember....everyday is a new day.
We are a service business (I take things too personally when we have a slow day) but we really do our absolute best to put you on fish. Most days, so far this year, have been successful, just not enough of them for my satisfaction. But it's still fishing and not catching and we deal with whatever mother nature gives us......so we continue on.
Finally, many new people have recently signed on to receive my email messages. "Thanks" for joining and I hope you enjoy and use this venue to stay abreast of current happenings and maybe learn a few tips along the way.
Or maybe people are just tired of hearing B/S everyday flowing from everywhere....just a thought. Thanks all my loyal anglers...you're the best!
Tight Lines,
Capt. John & Crew
---
June 25, 2018
Yesterday, we had the Matt Weisberger party out for a day with the flatties....Fluke.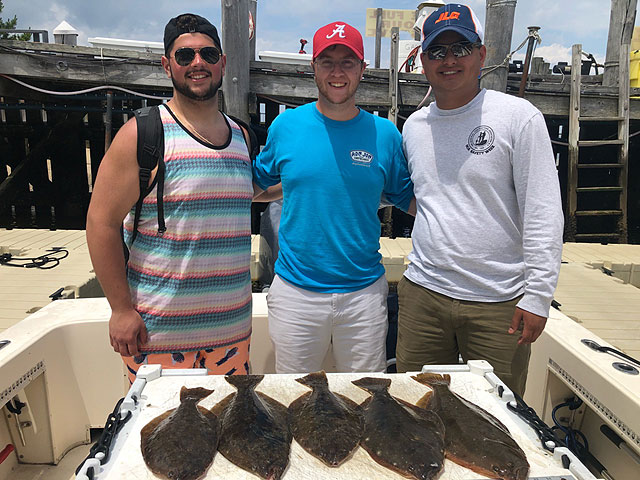 As shown on the right, we did put 5 nice Fluke in the cooler, but it took a lot of hard work and moving around on this tough day of fishing in Raritan Bay. It's time for another wave of new Fluke to come in. Based upon other returning boats to my marina, I would say we did well with 5 keepers as I saw other boats returning with one or two fish....so I really can't complain.
Started the morning off trying to fish the same area as a few days ago only to find a mob scene of party and private boaters (seems there are no secrets on the water...loose lips sink ships as they say) so I had to move around a lot to get away from the traffic. Put a few keepers in the cooler only to see a dreaded tanker around 9:30 am coming in from the east....crap, there goes the morning bite where I need to fish.
Proceeded to move around hunting and picking here and there in the flats with throwbacks, sea robins and dogfish now in the mix.
Once a tanker, which is sitting low in the water filled with crude, comes through the channel, it just about shuts down the fishing for a least 2-3 hours..brutal.
So what else are we suppose to do but start to hunt down pockets of fish on the flats throughout the bay, which everyone started to do....moving and searching....tough day for a lot of fisherman on a gorgeous day with both wind and tide working together. What a damn shame for my guys.
But, that's life in the Sandy Hook area...take the good with the bad. I would like to commend my group on how hard they fished and a great bunch of gentlemen. Kudos guys...looking forward to fishing with you again.
Tight Lines,
Capt. John & Crew
---
June 20, 2018
Good Morning,
Today we ran our weekly Wednesday "Open Boat" fishing trip with (left to right) David, Mort and Dick for some flatties (Fluke) and as you can see we did very well with our limit catch of 9 fish and numerous short throwbacks.
All these fish were stacked up and extremely hungry in Raritan Bay on this light wind, gorgeous day to be on the water....doesn't get any better than we had today.
Upon cleaning and filleting the fish at the dock, we found that all the fish had empty stomachs, an indication that these were newly arrived fish from the ocean.
After they've been in our local waters for awhile, you'll usually find grass shrimp and other small fish in their stomachs, but not today.....totally empty. This is what happens after a long winter offshore.
Hungry fish = good fishing for us :).
Finally, welcome in the first day of summer....and the longest daylight day of the year. I've been waiting all winter for this...YEAAAAAA!
Tight Lines,
Capt. John & Crew
---
June 17, 2018
Happy Fathers Day to all the loving and hard working fathers out there....you really deserve it. Every day should be Father's Day in my opinion.
My son Chris and I wanted to spend some valuable time together during Father's Day weekend, so we decided to hunt down some flatties (Fluke) within Raritan Bay and see what we could come up with yesterday (Saturday) morning.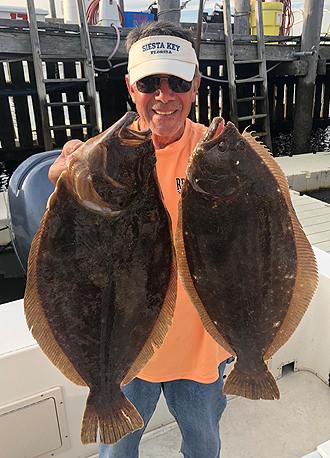 As you can see by the photo on the left of me, we did very well....a 5 lb and a 3.5 lb. fluke to go with the 4 others in the cooler. A limit catch and a ton of thick fillets.
More and more, new fish are now entering the bay's and yesterday proved what I have always been saying....it's all about water temperature. I recorded temps in the low 70's (72.2 to be exact), right in the feeding zone of the species.
We fished in numerous places within Raritan Bay as the ocean is still on the cool side for fishing out there. All fish caught today, including throwbacks which there were a few, only wanted the meat....skip the bucktails they were saying. If you weren't drifting bait (sea robin, bunker strips, bluefish strips or squid strips WITH Gulp Alive products, you just weren't going to whack these guys....plain and simple.
We tried bucktailing along with drifting bait on every drift and it became a no-brainer that all they wanted was the meat..."where's the beef " as they say. Go figure....one year bucktails...the next, meat. You just never know.
Anyway, a wonderful day on the water with my son and mate Chris doing what we both love to do. But most of all, some wonderful quality time together....just like my dad use to do with me over 60 years ago fishing for Porgies at the Long Branch Fishing Pier...do you remember that place?
Thanks Chris for a wonderful day, even though you out-fished me...ha ha! Too bad there wasn't a fluke tournament this weekend, some organization could have made a ton of money. Gorgeous weather, fathers and kids together....what a winner. Oh well, just my opinion.
If you're interested in joining me and the crew for some improving Fluke fishing, I still have great tidal days open, so give me a call.
Tight Lines,
Capt. John & Crew
---
June 12, 2018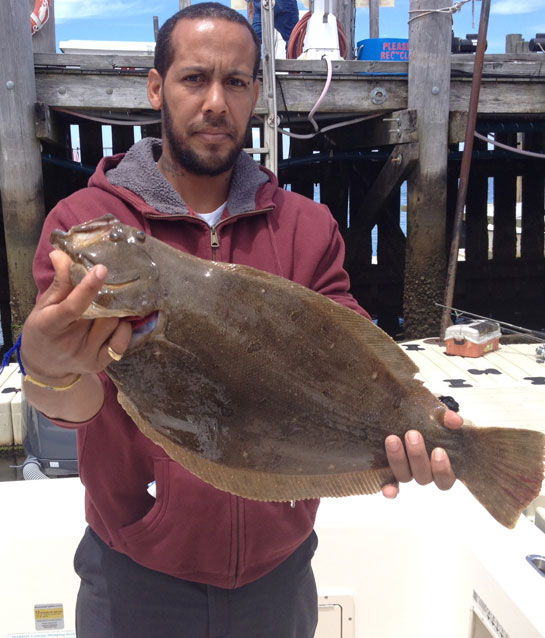 Some nice Fluke are showing in our local waters as the water temps are starting to rise to the comfort level for this species as evident by the 24", 5 lb Fluke caught yesterday morning by Anthony with the Bob Puglio group.
Fishing in an area which I will not disclose, we had nice action for most of the morning catching 13 fish....not a bad day considering a roaring east wind against an outgoing current. It's all about conditions with these fish. With the right conditions....you catch, without, it becomes a struggle but it's still a good day on the water and not at the office working.
Today I worked an area out of that nasty cold east wind and bingo....we have a great day catching and putting fish in the cooler. Bigger Fluke are moving into our waters which is a good sign. It will only get better. as the water temps are hovering around the 66.
Finally, we still have a few "Open Boat" spots left on our calendar as well as some prime tidal days for full 4 man charters in June, July and August. As the water warms, fishing will only get better and better through the coming months.
Hope to see you at the dock fishing with us.....:)
Tight Lines,
Capt. John & Crew
---
June 11, 2018
Fluke fishing in Raritan and Sandy Hook Bays are slowly coming around as the water temps are on the increase.
As such, for all my "single" anglers out there, here are the current "Open Boat" spots and dates that are available for Fluke fishing....
Wednesday, June 20th....2 spots open
Wednesday July 4th.......4 spots open
Wednesday July 11th (8 HOUR MARATHON)....2 spots open
Wednesday July 25th.......2 spots open
If any one of these days is open for you to fish with us, then call me and make your reservation. These trips leave the dock at 7am always searching for the "doormat" of a lifetime.
The cost of the 6 hour trip, all inclusive, is $130 p/p and our 8 hour marathon is priced at $167 p/p. All rods, reels, bait and rigs are provided to you at no additional costs. Now is the time to catch the tastiest eating fish in our waters.
Come on down and learn the art of "bucktailing" for Fluke from our expert staff of mates.
Tight Lines,
Capt. John & Crew
---
May 31, 2018
Reel Fun Sportfishing is now fishing for Summer Flounder (Fluke) and we are taking reservations for charters for 6 and 8 hour fishing along with our Wednesday's "Open Boat" fishing trips for single anglers.
Please refer to our "Rates for 2018" web page navigation tab above for current pricing.
Tight Lines,
Capt. John & Crew
---
May 18, 2018
A new body of Stripers moved into Raritan Bay a few days ago fresh with sea lice on them....a good sign. Now if only the weather would cooperate, I wouldn't have to postpone some of this weeks charters. Rain, dense fog and persistent high East winds have really been a pain in the a** hindering my efforts to get to those fish...not nice weather. Hopefully, the water temps will stay in the mid 50's and the Bass will hang around awhile before the Bluefish show up, which could be any day now.
Long range forecasts predict that this should finally all break by around Monday/Tuesday of next week and I can get my charters out on the water catching some really beautiful fish. Luckily, the water temps have stayed consistent for the past week keeping these bass right here for us. Boy, you really need patience to live in this state. Hang in there as it can only get better.
Based upon online reports and calls that I've made, Fluke fishing should get off to a roaring start as bass fishermen, using bunker chunks, are catching and releasing some pretty hefty Fluke in both the bay and rivers in our area....very good news for sure for us "flukers".
Finally, Fluke season starts May 25th...so mark your calendar for this important date for you "flukers" out there.
Tight Lines,
Capt. John & Crew
---
May 8, 2018
Good Morning,
Striped Bass fishing continues to be anywhere from good to excellent, with an occasional slaughter to a stinker depending on the day.
Fishing, as of late, has been mainly in Raritan Bay with new bodies of fish arriving every few weeks chasing bunker. Sunday, there was a massive showing of new Stripers at the tip of the hook as most people caught, then yesterday (Monday) slowed down a little. That's the nature of Striper fishing....one day bonanza, the next day the Mojave dessert...you just never know with these fish.
One day we're onto fish within half an hour, the next it's slugging it out for a few hours trying to find them. Welcome to the reality of this fishery.....like a box of chocolates, you never know what you're going to get. Like a deer hunter in a tree stand for days seeing nothing, so goes fishing at times.....enjoy the bonanza and accept the Mojave for what it is.
This is reality...I call it the way it is....no B/S!
Tight Lines,
Capt. John & Crew
---
May 2, 2018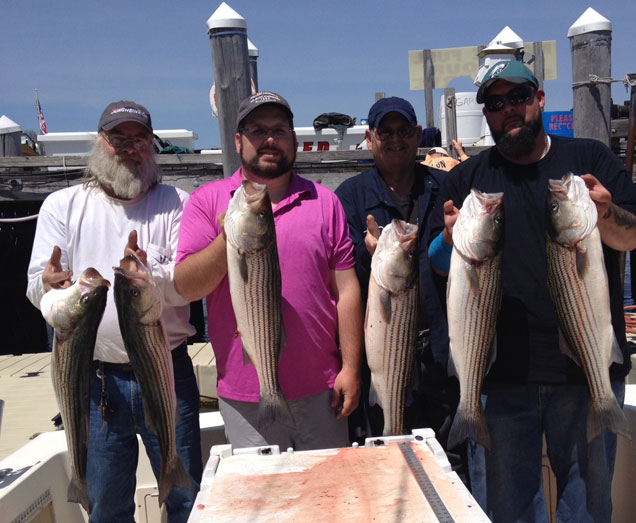 Just returned from a Striper charter with Sean Basilone party as pictured on the left.
Bass fishing was very good today especially that it was only less than 1/2 hour away from the dock....boy that's convenient.
Every fish in the photo was 28" and over in length, and once we limited out with the under fish, we continued to fish for that 43" and over fish, which we weren't lucky enough to bag. Good job Basilone party.
Finally, I need one (1) angler to fill the following "Open Boat" fishing trips.....check your calendar. May 16th (Stripers), May 23 (Stripers) and June 6th (Stripers). Give me a call.
c
---
April 30, 2018
Good Morning,
CALL FOR OPEN BOAT ANGLERS
Striped Bass fishing has broken open with a new body of bigger fish that arrived in just the past few days. If you are a single angler looking to get in on this great, fast paced action, then you may want to consider some of the following days I have open spots on our "Open Boat" fishing trips......
Wed. May 16....1 spot open
Wed. May 23.....3 spots open
Wed. May 30.....3 spots open
The fee for this 6 hour, all inclusive fishing trip is $125.00. (mates gratuity extra). All rods, reels, bait and rigs are included in the price...just bring lunch, beverage and yourself for a fun day on the water.
When you call, have your credit card ready as all Open Boat spots are "paid in full" prior to the day of the trip with a full refund if I have to cancel due to weather and we cannot reschedule.
I can be reached by calling 908-421-4761.
Tight Lines,
Capt. John & Crew
---
April 21, 2018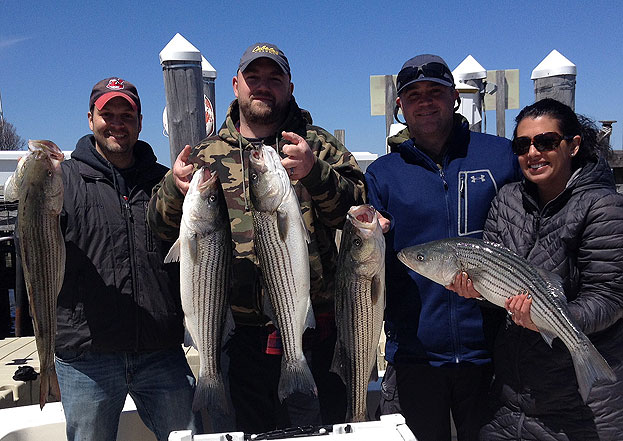 As you can see by the photo on the left, the Angie and Dave West (right to left) party had a really nice day of Striper fishing.
All the fishing was done in the calm confines of Raritan Bay as the water clarity has improved dramatically from last weeks big blow.
The water temperature was still quite cold at 49 degrees, but the bass still decided to chew and provide this crew some great action during the morning.
Fishing can only improve as water temps will begin to rise throughout May and June....the two prime Striper months in Raritan Bay and ocean waters.
If you're looking to book a full charter, I still have a few "choice dates" available for either weekdays or weekends.
If you are a single angler, I have some spots available on our "Open Boat Wednesday" trips. Here are some dates to consider.....May 16, May 23 or May 30. To check availability on any of these dates, go to my "Open Boat Wednesdays" web page.
Let's go anglers and anglerettes, fisherman and fisherwomen...it's time to fish.
The 2018 Striper season is upon us. Give me a call at 908-421-4761 and let the fun (Reel Fun) begin.
Tight Lines,
Capt. John & Crew
---
April 14, 2018
Good Morning,
As you can see....it's "Striper Time" in Raritan Bay
Tight Lines,
Capt. John & Crew
---
April 6, 2018
Good Morning,
Here are the Fluke and Sea Bass reg's that were set at a meeting of the New Jersey Marine Fisheries Council meeting last night.
"At the New Jersey Marine Fisheries Council meeting on 4/5 the following regulations for fluke and sea bass were set. However, there may be a problem with the sea bass regulations as states to our north have filed an appeal with the Atlantic States Marine Fisheries Commission and they are threatening to go out of compliance. The process is pretty complicated but they are going after a portion of New Jersey's quota. Depending on the outcome of the appeal our sea bass regulations may or may not have to change. I will keep you posted as things develop further."
Paul Haertel, JCAA Board Member/Past President
Fluke 5/25 – 9/22, 3 fish at 18"
Sea Bass 5/15 – 6/22, 10 fish at 12.5" 7/1 – 8/31, 2 fish at 12.5" 10/8 – 10/31, 10 fish at 12.5" 11/1 – 12/31, 15 fish at 13"
What a travesty.....so much for "enough is enough....drawing a line in the sand....we'll go out of compliance." as we were told last year in Pt. Pleasant. That's why charter guys are bailing out of this business every year. SAD!
Tight Lines,
Capt. John & Crew
---
April 2, 2018
Just wanted to keep you abreast of the current happenings on the fishing front as well as with Reel Fun Sportfishing.
Water Temps- Just check the Raritan Bay water temps and we are in the 48 degree range...nice! Slowly and steadily the water temps are inching upward and that's a very good sign.
Mate Rich and I were at the marina Saturday morning and put on a coat of polish on the hull and topsides, polished up all the stainless hardware as well as repaired a few things that ole' man winter took its toll on and presto....we are in the water. Yayyyyyyyyyyy!
Too bad we had the brief snow this morning, but the sun is out now and it's melting most of what had dropped. (Boy...do I hate winter)
Haven't heard of any Striper reports as of late, but I did hear of some bunker pods roaming around the bay which, if true, is another good sign. It's only a matter of time now when the first reports of the bayshore "clam slingers" will start to report of keepers being caught. The clock is ticking.
Looked at the long range (8 days) forecast and we aren't in for any substantial warming yet, but that may be a good thing as to not get those bay waters too warm too fast thus holding those bass here awhile. All good signs so far.
The boat is ready, the crew is ready and now all we need is the fish to make an appearance. Any day now! The first valid report I hear of some keeper Stripers and I'll let you know.
Tight Lines,
Capt. John & Crew
---
March 21, 2018
Good Afternoon, Well, here we go again. Another Nor'easter producing snow....the 4th in the past 2 weeks. And this is Spring? Like they say "if you can live in New Jersey, you can live anyplace"....how true.
So now that the state is shut down, I'll offer some light reading on a few topics.
First, last night I was in attendance at the SWABC (Saltwater Anglers of Bergen County) annual "Past President's" dinner up in Clifton, NJ. A family style sit-down dinner for members of this great fishing club where they give out awards for the biggest fish caught in 2017 (11 different categories), a 50/50 raffle to support operating expenses and many dark horse drawings of incredible fishing gear. A fun night for the about 140 members and guests.
If you are a fisherman here in NJ, then you owe it to yourself to join "the best fishing club in NJ" as far as I'm concerned. They have a monthly meeting and they arrange numerous charter fishing trips throughout the year here in New Jersey as well as Rhode Island, Mass. and Costa Rica just to name a few. Check them out by going to their web page.
Second, just checked the water temps in the Raritan Bay and, once again, it took a nosedive to 35 degrees from a high of 44 yesterday. All the snow melt that's going to occur the next few weeks isn't going to help much getting those temps to rise and get those Striper's here. But I'm hoping for an end to this horrible weather soon and a return to normal...it is spring you know.
Finally, I've heard from reports and read online that our Fluke reg's will again be 3 fish at 18" per man/day....not much of a liberalization as I was told. So were're being thrown a bone of about 10 additional days to fish...whoopie! Please pardon my cynical behavior, but it's tough witnessing the slow and methodical strangulation of an entire fishing industry.
Anyway, it shouldn't always be about how many fish you bring home, but whether or not you enjoyed your day on the water doing something you love. As you know, we always do our best to "fill the cooler" on every trip up to our legal limit. Trust me....we want to catch fish just as much as you do, so we work hard and make every effort to locate and put fish in the box on every trip. As we've been often told..."you guys always give your best effort." Thank you. That's what we're all about.
Tight Lines,
Capt. John & Crew
---
February 21, 2018
Important Scheduling Change.....
In order to maximize our efforts for good spring Striper fishing, our first trip will now be Wednesday, April 18th, an "Open Boat" fishing trip. This is being done in order to be able to fish New York waters which their Striper season doesn't open until April 15th.
Our "Open Boat" web page has also been revised to accommmodate this change.
Please make note of the change....Thank You.
Tight Lines,
Capt. John and Crew
---
January 9, 2018
Our first fishing trip for 2018 is planned as an "Open Boat" trip for Striped Bass which will take place on Wednesday, April 4th. Any single angler interested in getting in on our maiden voyage for Stripers can call me (908-421-4761) to reserve your place for the inaugural 2018 season. We always do our "Open Boat"fishing trips on Wednesdays if we are not booked for a full charter by reservation for that day.
Make note of our new sailing schedule.....Monday, Wednesday, Friday, Saturday and Sunday with Tuesday's and Thursday's off.
Some other important changes I like you to be aware are outlined below........
Due to some timely cost cutting, I was able to REDUCE some of our prices for 2018 (good news I'm sure) for all fishing trips for both Stripers and Fluke. The cost cutting will NOT have any effect on the the same great service, choice baits and tackle you've come to use in the past. Same boat, same top notch crew and all the same equipment.
Next, our 10 hour Wreck/Reef "Fluke-A-Thon" from previous years has been replaced by our
8 Hour Wreck/Reef "Duke of Fluke" Marathon. This trip is for those hard core "Flukers" who don't mind being on the water for 8 hours and sailing from wreck to wreck searching for that "doormat" of a lifetime. Big fish tend hang around those deep water wrecks and reefs. If you're anxious to finally get that "doormat" for your man cave, then this just may be the year.
Speaking of Fluke....as of this date, the powers to be have not set the regulations for the 2018 Summer Flounder season yet, but I read a few weeks ago that NJ "under-fished" its 2017 quota and coupled with a possible increase allotment, we could be in for some liberalization in the Fluke reg's...yeaaaaa! Let's hope that's the case as 2017 for many anglers was a tough year.
Mark your calendar for the Ramsey Outdoor Store, Rt 10, Succasunna, NJ, 19th Annual Cast & Blast-Cabin Fever Day on Saturday February 24th 2018 from 10 am to 4 pm.
Reel Fun Sportfishing will have a booth there to talk about fishing and book any charters in advance so you can lock in those prime tidal days for Stripers and Fluke.....you know I'm a big fan of fishing specific tides.
MARK YOUR CALENDAR......Saturday, Feb. 24th, 2018....10 am to 4 pm.
Also, regular returning anglers will now receive our "10% Off Captains Card" after your first trip with us. All subsequent fishing trips after the first one and we'll deduct 10% off the fare.....a great deal for those who fish with us often and our way of saying "Thank You" for you patronage. Just present your card on the day of the trip and we'll knock off 10% of the fare.
This brutal weather has really taken a toll on our waterways....the Shrewsbury River and most of the slips in our marina are frozen over. Ice flows are occurring throughout Sandy Hook Bay as well as Raritan Bay. Tough cold spell we're in, but that may change soon.
Tight Lines,
Capt. John and Crew
---
December 22, 2017
As we approach Christmas 2017, allow me to extend a very Merry Christamas and a Happy and Healthy New Year to you and your family.
We will resume our 2018 fishing schedule around April 4th, fishing for Striped Bass with our "Open Boat" inaugural trip. The price for our 6 hour Striper trip is $125.00/pp paid "in advance in full" prior to the trip itself. We sail with only 4 anglers to insure plenty of space to fight your fish and totally enjoy your time with us. (Gratuity for the mate is additional)
Our "Open Boat" trips sail every Wednesday leaving the dock promptly at 7am and returning around 1 pm.
Of course we also do full "reservation" private charters for a parties of 1 to 4 for Stripers as well as Summer Flounder (Fluke).
For further information and to reserve you fishing trip, please call 908-421-4761.
Thank you and have a wonderful holiday.
Tight Lines,
Capt. John and Crew
---
© 2005 Reel Fun Sportfishing, LLC. All Rights Reserved.
Web site designed and published by Capt. John

arters Sandy Hook, NJ