Sandy Hook NJ Fishing Reports for 2017
"Capt. John's Fishing Reports" gives you the latest information about our fishing charters as they occurred.
So bookmark this page and check back with us regularly.
---
Aug. 12, 2017
Pictured on the left was our entry into the SWABC Fluke Tournament that was held this past Saturday and the representatives for Reel Fun Sportfishing.
Our 3 fish total weight was recorded was 17.2 lbs with mate Braden Niper (far right) holding his 8.6 lb Fluke...all real beautiful fish I would say.
Although the biggest fish of the 27 boat tournament was 10.2 lbs, we felt pretty good we held our own against some really tough competition.
Pictured from left to right is mate/son Chris, Barry Paull and mate Braden. Congratulations guys, you fished hard under some tough conditions and against some really good fisherman. I'm very proud of all of you.
Tight Lines,
Capt. John
---
Aug. 3, 2017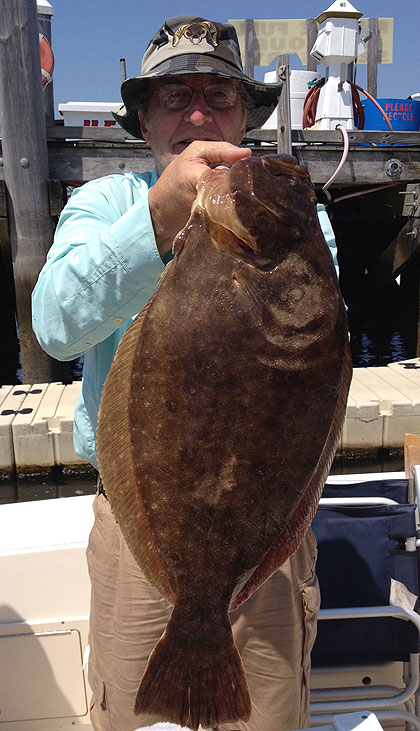 Had James McConnell party out today for a try a Fluke fishing. Since the inshore fluke fishing has been spotty at best, mate Rich and I decided to try a "sticky" bottom location off the beach around the 6 mile line in 60-70 feet of water. Gotta keep those baits and jigs moving in these areas or you'll get hung (like we did numerous times) up on the bottom and lose valuable hardware.
But on the bright side, quality fish as shown by Jim (left) at 7.8 lbs. is your reward for fishing hard and being attentive and not getting snagged on the bottom.
Amazing.....ever since they shut down the commercial draggers a few weeks ago, the fluke fishing has improved substantially here in New Jersey....not lights out yet, but a vast improvement over the past 2 months. Maybe NOAA's on to something...ha ha ha!
Anyway, the Fluke fishing season closes down in one month...September 5th to be exact and time is fast running out if you hanker for a good Fluke dinner. I do have some openings on next Wednesday's August 9th "open boat" trip if you're interested. Hoping to hear from you soon.

Tight Lines,
Capt John
---
July 2 & 3, 2017
Fellow Anglers, Good morning and a very Happy Birthday America on this 4th of July.
A few fishing charters to report to you and some strange sightings and some very strange fishing activities.
First off, had to postpone last Saturdays charter with the McConnell party due to the unreal fog that was persistently hugging the shore for most of the day. Let me add too, that with a persistent south wind for about 5 previous days, the process called "upwelling" occurred and the water temps in the ocean at the Shrewsbury Rocks was reported to me by a fellow captain at 53 degrees.....brrrrrr that's cold.
Look, most fish do not tolerate cold waters well, especially fluke, so when I heard that, I knew my plans for my fluke charters were going to be where the warmest waters AND bait appeared...the back bays and rivers.
Although Raritan Bay has been somewhat deserted of fluke the past few weeks, I was determined to find those fish that wanted warm water along with breakfast in the morning....my baited hooks.
Which brings me to my Sunday charter with the Slawinski group. Very slow day that started off deep into Raritan Bay with waters temps recorded at 77 degrees...holy cow! 5 minutes into our first drift and we had our first keeper in the cooler. But as time went on, we lost the current and the drift, and with it the prospect of catching fish. Moved around to many places within the bay looking for some movement, but as we finally got into incoming (flood) tide, it was wind/against and things got a whole lot tougher. Bottom line in fluke fishing is all about "conditions" and don't forget that for the future.
Our next charter was yesterday, Monday, with the postponed and rescheduled McConnell group. Decided to try another area that I haven't fished yet this year with a very strong outgoing current. First drop....bang a nice 18" keeper for the cooler. Subsequent drifts produced nothing for the cooler and watched a sea turtle, whale and dolphin giving us a show.
Once again, moved around to various spots in warm water looking for a bite as I watched a lot of party boats returning from the ocean with what I expected was realization of fridged water out there. I read online reports that some head boats were catching ling....ling in July? Wow, that's come cold ocean water.
After some analyzing of our conditions, and few fish in the box, made a charter saving decision, so I found a really nice pod of feeding fluke and bagged some beautiful thick meated fish for the cooler with only 45 minutes left in our schedule.....whewwwwww, that was close. ha ha ha ha ha.
Trust me, the Monday report can't be made up. These fish finally decided to put on the feed bag and we were at the right place. Go figure, but I'll take it.
Many thanks to mates Braden (helping out on Sunday) and Richie (Monday) for all your hard work on two really tough days. You guys, ALL my guys, are gems!
Tight Lines,
Capt: John
---
June 10, 2017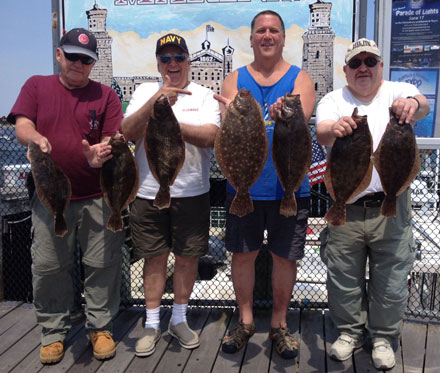 Fellow Anglers,
As pictured on the left are members of SWABC Fishing Club (left to right...Harry, Chuck, Barry and John) with their catch of Fluke for the morning of keepers.
Fluke fishing for 2017 has started out slow, but as of late, is picking up steam with more and more keeper fish as compared to throwbacks.
Fishing in and around Raritan Bay in shallow waters has proven to be the winning ticket with both bucktailing and drifting baits working the best.
Not a bad morning as you can see, but still not up to my lofty standards as this same time last year was better for keepers as well as throwbacks as the action was a tad better in 2016, but it still is early in the Fluke season. The ocean and bay water temps are climbing steadily each day and the Fluke fishing can only get better.
Thanks SWABC for a really fun (a lot of ****bustin on this trip) morning in great and hot weather.
Tight Lines,
Capt: John
---
May 27, 2017
Fellow Anglers,
Went on the hunt this morning for Striped Bass with the Bob Ronyak group from PA being told by fellow anglers that big bass were showing at "The Rocks" the past few mornings. So mate Rich and I decided to spend about an hour of travel time from the marina to search out The Shrewsbury Rocks and adjacent areas for any signs of life as we had heard.
Upon arriving, there was a small fleet of boats set up both trolling and chunking, so we decided to troll our MOJO rigs first and try to cover a lot of water. Good thing about trolling, you get to keep an eye on the fishfinder to see what's below you. After about 45 minutes of watching and trolling it was clear to me that there was very little life out there this morning. We tried various water depths from 40 to 60 feet, usual Striper hangouts, covering a 2 square mile area around the rocks, without even a single mark on the fishfinder of a Striper....crap!
Once again, the near nor'easter that we had this past Thursday put a big crimp in the good fishing that was occurring there for a few days prior. We didn't see a pod of bunker in our entire time at The Rocks.
So it was plan "B" and head back up north to the tip of the hook area in search of Bass/Blues and try trolling or chunking for fish to put in the cooler. So we anchored up on some really good readings on the fishfinder on our journey back north and was surprised with absolute monster "mongoloid" size Bluefish that gave my 4 fisherman everything they could handle.
Bluefish....they are one angry and nasty creature. We had way too many to count after a while and put some of the smaller, better eating fish in the cooler while releasing some absolute "slob" bruisers. We had one fish that broke off boatside that was easily 20+ lbs.....a fish that I never saw that big in all my days of bluefishing.
My thoughts???? I don't' believe in driving all over the vast ocean and bay searching blindly for fish. You're there and have hired me so you can fish...have your lines in the water and attempt to catch some fish. My goal is to minimize travel time by knowing where to fish and maximize fishing time, plain and simple. But when fishing gets tough, as has been now for several weeks for Stripers, information becomes scarce.. very tight lipped. "I've found my honey hole, now you go find yours" type of mentality. Sad!
Realize too that Striped Bass are always moving, searching for food, to spawn, to migrate to cooler northern waters...whatever. So where they were on Monday, may not be there on Wednesday. Striped Bass are a moving target. Finding and having a steady diet of stationary Stripers is a crap shoot at best, that's just the nature of this species of fish.
With Fluke, that's a different story. Those fish return year after year to basically the same areas. And if you keep accurate records (captains log) like I do, locating Fluke at specific times during the season is much easier. Shorter sailing time, more time with lines in the water and more fish in the cooler....everybody wins.
Truth be told, if New Jersey had year round Fluke fishing, like some other neighboring states do, I would fish for them exclusively and I would be very successful doing it. More charters coming this week, so stay tuned.
Tight Lines,
Capt: John
---
May 25, 2017
Fellow Anglers,
Finally, some very good news on the fishing front.
As was reported to me from mate Rich last night, who was out yesterday on his own boat doing a little recon mission, pods of bunker have finally come into Raritan Bay and along the northern New Jersey shore areas in good numbers. Amazing how things can change from one day to the next. Tuesday's charter saw a lifeless Raritan Bay in the morning without any signs of bunker and no life on the fishfinder, then yesterday, Wednesday morning, the bay comes alive again with baitfish....mother nature is very unpredictable.
Many times I get down on myself for a poor trip, only to rebound with a banner day on the next. I guess it's unrealistic to expect banner days on every charter I do. I admit, I'm my own worst enemy at the end of the day. A frequent angler and my friend said just the other day while fishing on a charter "you better lighten up on yourself or you'll be in the hospital" wise words from someone who cares...thank you DT I heard you.
Now back to those bunker....following and harassing those pods should be the northerly migration of Chesapeake Striped Bass along with some of our resident Stripers from the Hudson River. We'll know if they're ocean going fish as they usually have sea lice attached to their bodies. Hopefully, this will kick-start the current slow pick Striper fishing here in our area of Sandy Hook and get back on track like previous years. Again, as they say, "find the bait...find the fish" always applies especially to Striped Bass.
The weather has knocked us out for fishing today and tomorrow, but we will resume fishing on Saturday with a private charter and I should have a better handle on weather or not there are indeed Stripers following those bunker up the coast...let's hope!
And don't forget...Today is the official opening of the 2017 Fluke season.
Finally, this happens to be the official start of the summer and the Memorial Day weekend. Fly your flag and honor all those brave soldiers who stormed the beaches in Normandy or walked the rice paddies in Viet Nam.
Tight Lines,
Capt: John
---
May 23, 2017
Fellow Anglers,
Had the Cooper charter out this morning for a Striper/Bluefish trip within Raritan Bay. Too bad someone didn't tell either fish we were coming.
After yesterday's wet, stormy day, the bay water temperatures took a tumble down to 57 degrees down from 62 degrees just 2 days ago. We had an all morning outgoing tide with steady 57 degree water until the change of tide at around 11:30 when the incoming and wind were in harmony and the water temps rose to 61 degrees within an hour of the tide change....amazing. Once the water warmed just a few degrees, the Bluefish decided to chow down and we had some action, but for the most part this was a slow day. I call it the way it is....no B/S!
The spring weather has really taken its toll on the Striper fishing so far in 2017...I'm not going to sugar coat this and tell you were slammin' them.....quite frankly, few charters are right now. It is what it is and mother nature dictates the success or failure of any and all fishing trips.
Tight Lines,
Capt: John
---
May 21, 2017
Fellow Anglers,
Had the Lyons party out for a morning of Striper (what's that) fishing yesterday as we gave it our best try for what amounted basically to a Bluefish bonanza.
Don't get me wrong....Bluefish are a lot of fun to catch but their culinary excellence has much to be desired. I really don't want to come off as complaining or whining, but this spring, so far, has been really, really tough for the crew and I. Brutal is a better word.
Weather postponements and rescheduling have been numerous, that's why the lack of reports. Currently, I am around 15 and counting with the spring Striper run about the midpoint. My appointment book is a mess!
Speaking of Stripers....where the hell did they go? 2 solid weeks of lights out fishing and then quiet. Are there bass out there? Sure but it's a slow pick and a lot of driving around searching. Bunker, the mainstay food for the Striped Bass, have just about totally vanished throughout Raritan Bay and it's tributaries.....amazing! As they say "find the bait, find the fish" really applies to just about any fish.
The crew and I are counting on a resurgence of Stripers when and if the northerly migration of Chesapeake bass show up....keeping my fingers crossed here. So, if you were to ask me, in a word, my impressions of the spring run of Stripers so far.....disappointing! But that could change in a day...let's hope.
Reminder....the official opening of the 2017 Fluke season is this coming Thursday, May 25 so make note as well as the legal keepers size per angler/per day is 3 fish @ 18". So for a party of 4, that's 12 fish and that could be plenty of fillets with fish in the 3-5 lb range which I will most definitely target considering the current circumstances.
Tight Lines,
Capt: John
---
May 18, 2017
Fellow Anglers,
2017 Fluke regulations for New Jersey....and you're not going to like it.
Here goes....3 keepers per angler at 18" minimum length per day. The start of the season will be a week from today, Thursday May 25 and run till Tuesday September 5....a total, of I believe, 109 days.
At that point I might as well and I'm seriously considering ending my season and putting the shrink wrap on the boat and calling it a season. It's anyones guess when the hell the fall run of the Stripers will appear, if at all in norther Monmouth County. The deeper into the fall, the colder it gets and Striper fishing participation drops off dramatically.
Sad, very sad....ALL the recreational fishing industry and it's affiliated businesses here in New Jersey will suffer. As if Hurricane Sandy wasn't enough, now this.
What a JOKE....all our elected officials here in NJ and in Washington....ALL failed to rescue an already wounded industry from these ridiculous and antiquated fishing regulations based upon totally, and admitted, flawed science used by NOAA.
I feel I did my fair share in protest by attending a meeting in Galloway Township months ago and the infamous "enough is enough" rally in Point Pleasant, which regretfully amounted to nothing. This whole fight was our time to draw a line in the sand as all we asked NOAA was to reevaluate their method of counting fish so to speak and while you do that allow our anglers to fish under last years reg's at 5 fish @ 18" until such time and we would adhere to the new "corrected" regulations.
But no.....NOAA played hardball threatening a total shutdown of fluke fishing (B/S) and our NJDEP knees buckled (wimps) and asked for a compromise. So much for all the tough talk at Point Pleasant.
There's plenty of blame for this massive failure to go around in my opinion so I'm not going to mention them by name as I will pi** off a some people I know.
You know, this is my 14th year in the charter business and I can truly say that I have some wonderful memories and met some great, great people....my anglers, BUT every year gets harder and harder. As to paraphrase..."this may be the final straw".
For you who really know me, I wear my heart on my sleeve and am truthful to a fault, but this latest series of events could be a backbreaker for many in this business. Very sad.
Tight Lines,
Capt: John
Mates: Rich, Chris and Donnie
---
May 17, 2017
Fellow Anglers,
Our Wednesday charter, an open boat fishing trip with Don, Don, Dick and Hani saw a proliferation of Bluefish while searching the recently elusive Striped Bass.
Live bunker in Raritan Bay has been scarce to say the least, a far cry from all the bunker that was in the bay in mid February. Trolling was the key to success today as the Bluefish jumped at just about everything we trolled in many different locations we tried in the bay searching for Stripers.
Some of the Bluefish were real tackle busters in the 10 to 14 lb. range as we did have a few Striper hookups that pulled the hook a few minutes into the fight on MOJO rigs.
It seems clear now that the initial run of Stripers three (3) weeks ago, which I presume were Hudson River bass have since departed for either spawning or for their journey into Long Island Sound and their trip north for the summer.
Water temperatures throughout the bay were in the mid 60's...warming up nicely for productive Striper fishing. Are there Stripers around....yes, but you really have to work for them.
Hopefully, we will see the return of the Chesapeake Stripers from the south any day now which are usually covered with sea lice.....a true indication of ocean-side migrating fish.
Tight Lines,
Capt: John
Mates: Rich, Chris and Donnie
---
May 9 & 10, 2017
Fellow Anglers,
Had the John LaPenta charter out Tuesday morning for a try a Striped Bass. Had many good bottom marks on the fishfinder that were Bass, but the Bluefish beat them to the bait repeatedly. Raritan Bay, right now, is loaded with Bluefish making it quite hard to catch Stripers either on the troll or with fresh bunker which we used.
Don't get me wrong, Bluefish put up one hell of a fight, but if your intent is Striped Bass ONLY, then Tuesday and Wednesday could be rough if you're not flexible.
Our Wednesday charter, an open boat fishing trip with Tom, Dick, Mort and Jim went well as all the guys worked together and best of all they enjoyed the day on the water as a group meeting for the first time. What I find interesting is how well everyone cooperates on these open boat trips. Amazing interaction among people who have never met before.
We came up with some short bass and a ton of monster bluefish.....we stopped counting after awhile. We went through a ton of tackle in the process and traveled many miles throughout the bay in search of Bass. So we can't be faulted for not trying. But the Bluefish have just about taken over the bay right now. Where the hell the bass went in the bay, where we had two (2) solid weeks of outstanding Striper fishing with bass in the 25-30 lb range, is anyone's guess.....on the spawn up in the Hudson River? Heading up to Cape Cod? Who knows.
Could that change?....sure any day now when and if the Chesapeake Bay Stripers, that make their yearly northerly migration, show up at which time fishing in the ocean near the tip of "The Hook" will become the M/O for the next few weeks. But these fish would have to be within our 3 mile limit in the ocean or it's hands off as they are in federal protected waters, which I may say, has happened at times over the last couple of years.
Bottom line, I'll be searching "outside" for the bass for the next couple of charters as Raritan Bay may have run its course for spring Stripers unless, of course, if your fishing for "ole Yellow Eyes" then it's game on and get out the tackle.
Tight Lines,
Capt: John
Mates: Rich, Chris, Donnie and Tom
---
May 2, 2017
Fellow Anglers,
Regretfully, there's not much to report on the Raritan Bay Striper situation from Reel Fun Sportfishing for the past week. Fishing for Stripers has slow down, hopefully temporarily, for the past 5 days now. I wish I had something more positive to report, but being true to myself and to you, I report it as it is...no B/S.
Not sure what the hell happened here....numerous discussions and opinions but no one really knows....mother nature at work. But as you know, this whole thing could change tomorrow....that's fishing and what gives me gray hair.
In case you haven't been reading the online reports, almost all of the charters and rec. boats are struggling now. Cold water...no! But with all the high winds and lightning and thunderstorms it's no wonder that whatever fish are around may be laying low waiting for things to calm down...my opinion here. If we were fishing for Fluke, and these thunderstorms came through, the Fluke bite would shut down for at least 2 days. The spring of 2017, so far, has been tough for my business.
Boats trying to fish with fresh bunker have been having a hard time finding bait, but we've been scoring very well "trolling" and that's what we are going to remain doing until the troll bite bombs out. You may not be a big fan of trolling, but that's outproducing bait fishing by a wide margin, so we are going to stick with it to put fish in the cooler for you. Has the fish that, for two weeks and given us lights out fishing, moved up the Hudson to spawn?...it's anyone's guess. The Chesapeake fish haven't arrived yet, so hopefully the Hudson fish will reappear after this crappy spring weather settles down. As they say "that's why they call it fishing and not catching".
The euphoria that I had just a week ago with all these big fish in Raritan Bay has me scratching my head wondering what happened. Had a talk with mate Donnie yesterday and his take is that once this week's weather passes us by and settles down, the month of May will be great fishing again.
Tight Lines,
Capt: John
Mates: Rich, Chris, Donnie and Tom
---
April 22, 2017
Fellow Anglers,
Pictured on the left is the Dawyn Sandi group after a great day fishing for Stripers in Raritan Bay this morning.
The fish on the far left weighed in at exactly 35 lbs. as the fish in the middle weighed in at 30 lbs...both on a digital scale.

We also released 9 other "legal" bass. Fish on the far right looked around 12-14 lbs by my estimate which we did not weigh but measured 31" on the ruler.
Great day on the water as you can see despite cool and overcast skies with occasional showers occurring during the morning and a rather stiff SE wind off the ocean. Great job guys....see you again soon.
Tight Lines,
Capt: John
Mates: Rich, Chris, Donnie and Tom
---
April 15, 2017
Fellow Anglers,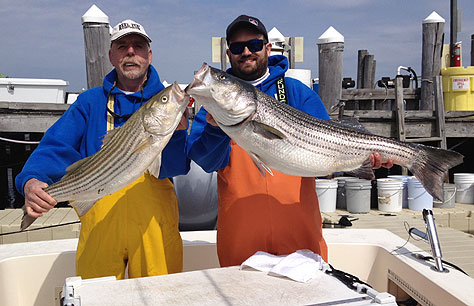 They say a picture is worth a thousand words.....so I'll let the photo on the left speak for itself.
Today was a "shakedown" crew trip to accomplish how well the boat was running, how well the crew remembered what we did last year, but above all, to hunt down some Raritan Bay Stripers.
As you can see all went well. Judging by the expressions on the guys faces, they were pretty satisfied too.
Mate Rich is on the left and son/mate Chris is on the right supporting that beautiful 30 lb Striper...not bad for a look-see to start the year I would say. Water temps were still a little on the cool side but we trolled these fish nontheless. If you're interested in trying for some Striped Bass, now's the time to call at the number below. We still have a few choice dates available.
Tight Lines,
Capt: John
Mates: Rich, Chris, Donnie and Tom
---
April 11, 2017
Fellow Anglers,
Just a brief heads-up that the water conditions in Raritan Bay have been improving steadily over the past few days. Water temps Sunday and Monday have both hit a low of 46 degrees with a high of 52 degrees....yeaaaa we're over that illusive 50 degree mark. Water clarity has also been improving daily with tide changes and that's a good thing.
Charters and private boaters that have been fishing the past few days have had success with both shorts and keeper bass with most of the keepers being fished "on the troll". Clamming has had very spotty response so far. Tons of bunker in the bay so why should the bass feed on clams?
I've heard the kayak guys are out there in droves...something more to contend with. A word of caution to all the kayaker's out there....put up your flags or someone may get injured. Thanks!
Mate Rich and I were at the boat yesterday giving her a total polish job (boy, what am arm breaker) and we also loaded up the boat with all our equipment.
Weather permitting, mates Rich, Chris and I will be doing some "hunting" around the bay this Saturday as our first official charter is next Wednesday. We're getting close and good to go. Give me a call (908-421-4761) and let's get the season going. Have a great day.
Tight Lines,
Capt: John
Mates: Rich, Chris, Donnie and Tom
---
April 5, 2017
Fellow Anglers,
Cold and Muddy Waters...my Striper Prediction (ETA)
This horrible pattern of crappy March weather looks to be done with by the end of this week. Rainy one day, and sunny the next. No consistent sunny days is making it very hard for fishing charters to get their boats ready for the season. But the pattern seems to be breaking as the jet-stream may be lifting to the north giving us some "normal" spring weather. I should have the boat in the water by the end of this week or early next.
Read a report from a charter that's in the water now and had his first trip from well back in the bay on Sunday. He said the water was cold and muddy (all the drainage and snow melt into the bay). He tried clamming unsuccessfully and switched to trolling to catch one (1) keeper for his efforts. Obviously not good, but he gave it a try and broke the ice so to speak. The water temps are still fluctuating between 42 and 48 degrees for the past week. So now that we will finally break into a nice fair and sunny weather pattern, the Stripers should arrive soon.
We have a full moon Monday, April 10th, so I would suspect a few days after that, coupled with water temps 50 degrees and above the bass should respond big time with all the "bunker" that's in the bay right now. I'll subject myself here to a massive amount of comments, and go out on a limb and say that by Saturday, April 15, Striped Bass will be in the bay in good numbers. (Watch it snow on that day....ha ha ha ha) Along with the Easter Bunny dropping eggs all over the place, the Easter Bass will be filling up the cooler!
I'm saying this because my captains log book from last year, 2016, showed my first bass charter was April 15th and we had a banner day. So I'm very optimistic for a repeat for this year.
If you haven't already made your Striper plans and reserved a trip with me, now is the time to call as I do have a some days still open in April and a few in May and June. Call me at 908-421-4761....
Tight Lines,
Capt. John
---
March 24, 2017
Fellow Anglers,
Good morning.... Just a quick note keeping you informed as to the Raritan Bay water temps I just read this morning at 8:30 am. The temperature recorded at the Keansburg monitoring station is at 38 degrees and dropping as we still have 3 more hours of outgoing tide. It's painfully clear to me that the snow melt is having quite an effect on the bay water temps as the melting snow is feeding cold water into the streams that feed the Raritan Bay. Yesterday, at this same time, the water dipped to a low of 34 degrees....brrrrr that's cold. Water temps that I like to activate these fish to feed is around the 52-55 degree mark for Stripers so we have a little ways to go yet. I'll keep you updated as the days go along.
Also want to give a shout out to the organizers of the SWABC Past President Dinner that I attended this past Tuesday evening in the Mountainside Inn, Clifton. Great job.... as the food was family style and delicious, and with good conversations and the "Dark Horse" prizes were many. I even won a basket of fishing "goodies" which doesn't happen often. I donated a couple of Reel Fun Hoodies to the items to be won as there was a ton of great fishing stuff to be had for the lucky ticket holders.
SWABC (Saltwater Anglers of Bergen County) is one of the best fishing clubs that I've seen as they are very involved in fishing issues, are community minded, friendly and most of all....THEY GO FISHING OFTEN! Local fishing trips, Rhode Island fluke trips...you name it. So if you want to join a really good fishing club, I highly recommend this group which you can Google their web site and join this great dedicated group of people. They currently have over 160 members and counting and for the beginner in saltwater fishing, this is a great venue to learn the sport from fellow anglers as well as hearing the many "pro's" who come to their monthly meetings to give seminars.
The mates and I will be heading to the marina in a week or so to get the boat ready and right now, with the way the water temps are going, our first official Striper trip is slated for Wednesday April 19 which is also our first "Open Boat" trip of the season. I do have 2 spots available for that date if you are interested in getting the season off with a bang....great tide and the waters should be within range for hungry Bass. You can call me at 908-421-4761 to reserve you spot on the 19th. The mates and I will be doing a few "scouting" trips before then so we have a handle on what's going on out there.
Tight Lines,
Capt. John
Mates: Rich, Chris, Donnie and Tom
---
March 10, 2017
Fellow Anglers,
The first statewide keeper Striper has been reported being caught in the Mullica River (south) the other day as reported by The Fisherman magazine. So it's just a matter to time that some resident Stripers wake up and get hungry somewhere back in the Raritan Bay up around the mud flats.
Surf fisherman will usually bag the first keeper bass slinging sandworms, bloodworms or clams in shallow water around Pebble Beach or Hazlet, Union Beach area. As the water warms to around 52-55 degrees, these fish will get active and start looking for something to eat.
Checking the Raritan Bay water temps this morning, it was around the 43 degree mark which hit a high of 50 on Thursday and a low on Sunday of around 34 degrees. This swing of temperatures is usual for this time of year as the tides flood and ebb.
Nothing new on the Fluke situation.....we're still at 5 fish @ 18" and holding until something changes.
Also, this would be a great time to get a Reel Fun Triple Weight Hoodie for those cool spring morning fishing with us. I have a few large and extra-large available for sale at $40.00...shipping "included"....a great price for this really warm garment. Ask anyone who has one! Call me, put it on your credit card and I'll ship it out the next day.....easy as that.
Finally, my appointment book is filling fast for Striper charters, so if you're going to fish with us this year, PLEASE don't put off making a reservation. I would really like to afford you "prime" tidal dates. Call me at 908-421-4761
Tight Lines,
Capt. John
Mates: Rich, Chris, Donnie and Tom
---
February 26, 2017
Fellow Anglers,
Just concluded a very successful show yesterday at the Ramsey Outdoor, Succusunna, NJ location with their annual "Cast and Blast" show featuring many exhibitors too numerous to mention here.
Great show for the outdoor family as not only fishing was represented but hunting as well with some very exciting seminars including live birds from the Raptor Trust....very cool owl's as well as a demo from a reptile exhibitor. As mentioned, many exhibitors were present from all over the tri state area with things of interest for the whole family, so definitely mark your calendar for next year or log onto Ramsey Outdoors web site and keep track of when the 2018 show will be. Store Manager Marty Brennan gets a big "kudos" from me for a very well planned and organized show. This show is getting bigger and bigger every year and is a wonderful day to get out with the family and see the wonders of nature.
Now onto some very exciting news....BUNKER ARE ALREADY IN THE BAY!
Boy, this is going to be an early striper season. Water temps have been hovering around the 46-48 degree mark and the rivers and bays never froze over with ice during the winter (global warming is real guys). That's not to say that Stripers are swimming and feeding on those pods of bunker, but it's only a matter of time when the bass find them and start to feed after their winter hybernation. I get the feeling that this is going to be a banner spring Striper run.....so don't get left out.
Mates Chris, Rich and I booked quite a few charters from new anglers yesterday at the show and they had their choice of "prime" tidal days (you snooze, you loose as they say) so word to the wise.
Time to get out the calendar and get your guys and gals together and give me a call to reserve your date for spring Stripers. If you're a single angler, then utilize our Wednesday's "Open Boat" fishing to get in on the action. The guys and I will be making every attempt to have the boat ready by April 1 if the weather cooperates or sometime around then and I'll let you know when she's in the water.
You can call me at 908-421-4761 to arrange your spring Striper trip or your Open Boat reservation....don't procrastinate as this Striper thing will bust wide open in the very near future.
Tight Lines,
Capt. John
Mates: Rich, Chris, Donnie and Tom
---
February 22, 2017
Fellow Anglers,
I've been called and emailed numerous times from my anglers asking about what's happening with the 2017 fluke regulations.
Until I, or any other party and charter boat business hears otherwise, we are following last years (2016) fluke fishing reg's with 5 fish @ 18" which is "status quo" from 2016. New Jersey will be out of compliance with NOAA (NMFS), but our fearless DEP Commissioner, Bob Martin, basically told NOAA and ASMFC to go stuff it and a line in the sand has been drawn.
It's anyone's guess as to what or when the final outcome will be, but ALL fishing concerns are standing totally united as we've had enough with their bulls**t regulations. So, it's 5 fish @ 18" until I'm told otherwise with a starting date of Sunday May 21, 2017 until Monday September 25, 2017.......so a word to the wise!
Book your fluke charters EARLY! As everyday into the season could possibly be a total shutdown or 2 fish at 20" as a penalty for being out of compliance. Once again, if you're fishing for fluke this year, DO IT EARLY or you may get left out.
Finally, if you have the time or are infected with cabin fever, stop by the Ramsey Outdoor "Cast and Blast" show this Saturday, February 25 from 10 am to 4 pm and say hello. Mates Rich, Chris and I will be there to talk fishing and maybe to book a few charters in the process.....see you then. Ramsey Outdoors, 281 Rt 10, Succusuna, NJ.
Tight Lines,
Capt. John
Mates: Rich, Chris, Donnie and Tom
---
January 27, 2017
Fellow Anglers,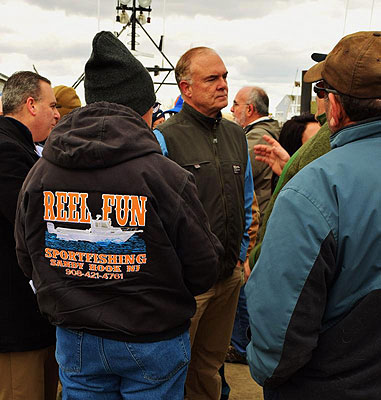 Mate Rich and I just returned from a very successful fluke press conference this morning in Pt. Pleasant, NJ at 10:00 discussing the NOAA's (ASMFC) 2017 ludicrous fluke regulations of 2 fish @ 19" per person which they are trying to impose upon us.
By my estimate, there were about 200 people there....party and charter boat captains, commercial captains as well as business concerns from Sandy Hook to Cape May in attendance. A good show of support also from the elected officials that were there to speak to us about the proposed regulations that could impact upwards of 20,000 workers. DEP Commissioner Bob Martin (which you will hear in the YouTube video below) will give you his thoughts moving forward.
Quite frankly, this is the first time I've met the man and his sincerity addressing the plight of the recreational fisherman and women was truly felt by me.
Kudos Mr Martin....many thanks for setting this conference up and listening to our concerns.
Pictured on left is NJ DEP Commissioner Bob Martin with my back to you (obvious) getting ready to ask him a few questions.
Ever since Hurricane Sandy, the Jersey shore businesses have been taking a beating and it was refreshing to hear someone....anyone, hear our voices and say "I hear you". This is could be the beginning of a long road to establishing clear, concise and reliable survey information that we as recreational fisherman can "trust". We have to start somewhere, so a "status quo" direction should be allowed to exist for 2017 until such time as reliable assessment information is obtained by NOAA.
I am all for conservation of a valuable resource....especially my fish. So we should all be responsible when we out on the water together. If we fish the joint out and nothing is left then I have failed. I want reliable, scientific data that I can trust and I'm sure that you will honor my requests to follow the regulations to preserve this valuable resource...fluke are my babies!
Let's keep it thriving and plentiful for future generations. But pulling too far to the conservation side and not considering negative economic impact for thousands of NJ workers isn't good either. It's called "balance" which I'm sure can be obtained if we all work together.
Thank you for listening to my rant. After being in this business now for 14 years, I've come to understand the balancing act that's required for a happy and healthy fishing environment. Like I stated earlier, status quo is just a temporary fix to a long (30 year) problem with NOAA. But it's a beginning and a very positive one seeing the response and attendance of today's crowd....KUDO'S TO ALL WHO WHERE THERE.
The rallying cry for today's assemblance.....ENOUGH IS ENOUGH!
To see Paul Haertel's video of Commissioner Martins' speech....click here.
Tight Lines,
Capt. John
---
For archived 2011 Fishing Reports and Videos.....
.click here.

For archived 2012 Fishing Reports and Videos.....
.click here.
For archived 2013 Fishing Reports and Videos.....
.click here.
For archived 2014 Fishing Reports and Videos.....
.click here.
For archived 2015 Fishing Reports and Videos.....
.click here.
For archived 2016 Fishing Reports and Videos.....
.click here.
---
© 2005 Reel Fun Sportfishing, LLC. All Rights Reserved.
Web site designed and published by Capt. John

arters Sandy Hook, NJ