Sandy Hook NJ Fishing Reports (2016)
"Capt. John's Fishing Reports" gives you the latest information about our fishing charters as they occurred.
So bookmark this page and check back with us regularly.
---
November 26
Fellow Anglers,
Good Morning.....as the saying goes "all good things must come to an end". So with great regret, Reel Fun Sportfishing brings to a close the 2016 fishing season as the Parker will be lifted out of her slip in the next few days and put to sleep for a few short months.
Looking ahead, we will begin sailing for spring Stripers when the NY Bass season opens on or about April 15th. A word of advice to anglers looking to book those prime tidal days.....call me around February 1st to reserve your date. I like fishing incoming water in the spring for Stripers as you know and those dates get booked early...don't wait!
Looking back on 2016, we had a good fishing year with a spring Striper fishery that saw us blast a ton of Bluefish that moved into our waters....not what we really wanted, but you take what mother nature gives you. We had some nice days with the Bass but the "Blues" soon became a real pain in the a** at times. All in all, I would call the spring Striper run a "fair to good" situation for our anglers.
Moving on, we had a good Fluke season with some really nice size fish coming into our nets. When the water heated up by mid July and August we fished some deep water spots and caught 6, 7 and 8 lb. Fluke on a regular basis. So I would have to rate the 2016 Fluke season as good to very good.....an 8 on my scale.
We just finished blasting fall Stripers for the past month or so. Funny fishery this fall....if you weren't trolling MoJo rigs, you just weren't putting the BIG Stripers in the cooler. Sure you could cast and retrieve any assortment of lures to surfacing Bass and play run and gun by following the birds, but if you wanted substantial size fish, it was MoJo's or nothing......incredible rig for Stripers. Can't wait for the spring to come. You see, small Stripers tend to swim mid-surface as the big "mamma's" swim and feed exclusively within 5ft of the bottom.....troll deep. We've got this MoJo thing down pat....let's go April!
All things considered, on a scale of 1 to 10, I would give 2016 fishing season a 7 rating. Let's hope 2017 is the same or better.
I've had the good fortune to add some crew....mates Rich and Tom who are both very capable people to work our charters as well as adding new equipment to our arsenal of fish catching gear. Regretfully, Capt. Greg's full time job moved him and his family to North Carolina as I lost a very competent captain and most of all a very good friend. Hopefully, he'll be back in a few years.
So there you have a brief wrap-up of the 2016 season. On behalf of the entire crew and myself, I want to sincerely "Thank You" for fishing with us.....your loyalty is always and greatly appreciated. I've (we) been blessed with knowing and fishing with a tremendous group of people like yourself. That's why we treat every charter as special and give 110%.....you are my "Reel Fun Family of Anglers"
Tight Lines,
Capt. John and Crew
---
November 14
Fellow Anglers,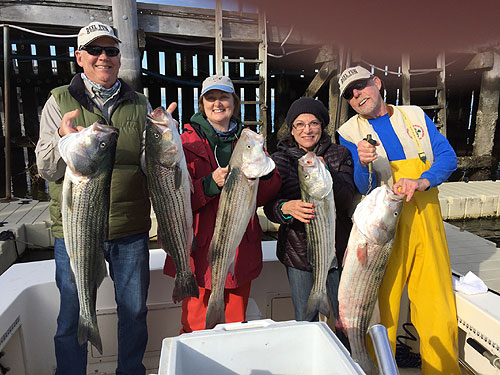 To say this was an amazing Striper charter does not do this trip justice.
Had Bernie and Liz Doerning and friend Mary out for some incredible fall Striper fishing going on right now. Took a little searching to find them, but once we did it was game on.
Trolling MoJo rigs we had a double header on one rod about 5 minutes after setting it out.....one fish 32" at 14 lbs. and the other 34" at 19 lbs. All I can say is what a blast that was. Two quick keepers in the cooler making the crew awe struck. Mary, third from left, had the pleasure of catching a 40", 26lb fish....her first Striper ever. Nice way to break someone into fishing I would say...ha ha ha!
Birds were working almost all morning in this one area with fish boiling on top...what a sight to see. Ironically, the casting and retrieving method didn't work nearly as well as trolling those MoJo rigs....what an incredible lure.....outfishes just about anything I've used in the past 13 years. Also pictured, far right, is mate Rich holding the brute that Mary caught. Days like today will have many memories for all of us for a long time. By the way we caught and released an additional 20 "legal" fish all over 28" to 32" to swim another day.
Tight Lines,
Capt. John and Crew
---
October 30
Fellow Anglers,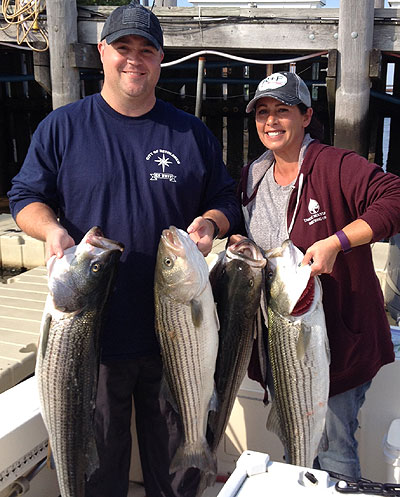 The great fall Striper run of 2016 in Raritan Bay continues with Dave and Angie West from PA as we trolled MOJO rigs and caught these beautiful Stripers making their long trip from Pennsylvania worthwhile.
Great husband and wife team who fish and hunt together and know what "sportfishing" is all about.
The day started slow as compared to yesterday but they showed great patience and was rewarded with these beautiful fish which didn't turn on until 11:00 am when a good moving outgoing tide started to pick up steam.
Congrats Angie and Dave....mate Rich and I are very proud of your effort. Hope to see you both again for spring Stripers in May.
Tight Lines,
Capt. John and Crew
---
October 29
Fellow Anglers,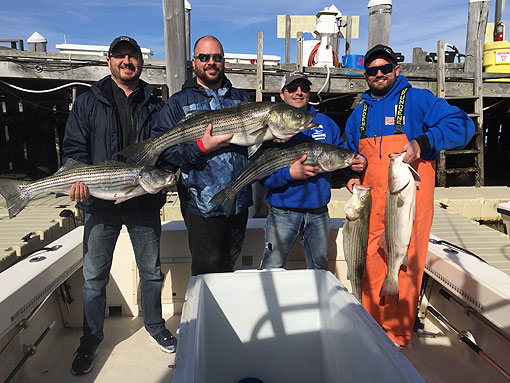 Striper fishing broke wide open this past Tuesday (10/25/16) in Raritan Bay as is evident from the picture on the left taken this morning (Saturday 10/29/16) with Andrew Basso and friends aboard with my son Christopher handling the mate duties (far right). The big fish in the middle weighed in at 34 lbs.....nice fish!
As we arrived at the tip of Sandy Hook, I noticed birds working to the west and headed toward them ready to cast and retrieve shad rigs....to bad another hundred or so boats had the same idea. Bottom line......with that much boat traffic, the bass sounded (went deep) and spread out all over the place so it was time to get out the trolling rods and cover a lot of water which resulted in the great fish that we caught in just a few hours of fishing. Outstanding day to say the least. Heading out again tomorrow for hopefully a repeat of the same results.
Tight Lines,
Capt. John and Crew
---
October 22
Fellow Anglers,
Striper fishing has been slow to develop as of late. Persistent warm water temperatures, I believe, is what is accounting for the late arrival of Stripers in our waters. The bite has been mostly an afternoon thing as a morning crew trip on the 15th of October searching for Stripers was very poor as other charter boats reported the same results....poor morning fishing and better afternoon results.
With water temperatures in the bay are still hovering around the 64-68 degree mark which I think is the main culprit in the slow start. Bass do well when the water temps are around the 55 degree range so we need a strong cold front to come through, which is predicted to arrive Saturday and Sunday with gale force winds in the 30-40 mph range. This current cold front along with the passage of last weeks full moon cycle should get these fish to arrive in our area waters soon. So we wait and hope.
Also note, that this is the time of year (fall Striper fishing) that windy cold fronts move in from the west and create scheduling issues as most 25' boat don't handle rough choppy waters very well. Winds in the 5-10 and 10-15kt range and we can usually sail. Above that, 20-25 and gale 30kt winds will usually result in a postponement of a trip.
Please remember that your safety on the water is first and foremost on our minds determining whether or not to take you out. So please be understanding and try to work with us as it relates to weather. I will always advise you, in advance, of the weather conditions as well as how the fish are biting and if I think we are going to have a poor day then I will tell you so.
I don't believe in taking people out for boat rides.....we're there to catch fish. Good for you AND me and the crew. If you put you trust and faith in me then rest assured that I am trying to do the best for all of us.
Tight Lines,
Capt. John and Crew
---
September 27
Fellow Anglers,
Fall fishing has arrived and what better time than our "Fall Hoodie Blowout Sale" for one of the warmest hoodies you will ever wear.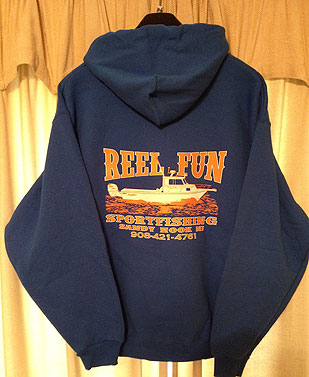 Our Reel Fun Fruit of the Loom heavy weight hoodie will keep you toasty during those chilly fall mornings both on the boat and at home as you do your fall chores and your honey-do lists. As pictured on the left, each hoodie comes with a drawstring hood and a fleece lined chest hand warmer for added warmth with our Reel Fun logo silkscreened over your heart (where it and us belongs) as well as a multi-colored silkscreen of our boat on the back to proudly displayed to everyone that you're a member of the Reel Fun Family of Anglers. (Not clear in my photo, but the hoodie is Royal Blue with orange and white silkscreen characters)
Our "Fall Hoodie Blowout Sale" has these great garments priced at $35.95, plus $8.00 shipping and tax. (Quite frankly, this is a steal based upon what I've seen in the department and sporting goods stores for similar items....$65)
To order your Hoodie, call me at 908-421-4761 and have your credit card ready. Supplies of Large, X-Large and 2XLarge are very limited. Shipping charges will be added to your order.
We are now awaiting the arrival of our fall run of Striped Bass which could occur at any time. Water temperatures continue to slowly drop and with all the bait in our bays, we could have "lights out" fishing within a few weeks or so. So get ready......
Tight Lines,
Capt. John and Crew
---
September 20
Fellow Anglers,
After two very slow Fluke trips recently, I am officially declaring the 2016 Fluke season over and done for Reel Fun Sportfishing. Like I had anticipated, Tropical Storm Hermine was a crushing blow to an otherwise nice Fluke season here at Sandy Hook.
Storms that produce ocean "swells" as did Hermine for over a week, is a real killer for Fluke fishing as those fish just don't seem to like that kind of turbulent water. All, if not most, of the fish usually swim due east to deeper waters and a rather small percentage of Fluke will hunker down in our deep water channels and ride out the storm. We've fished virtually the entire Raritan and Sandy Hook Bays searching for a reasonable catch of fish for our anglers, but aside from a few throwbacks, dogfish and sea robins, the bays were lifeless of our intended species.
This is the 5th Labor Day storm that has wrecked the Fluke fishing in our area, thus bringing an abrupt halt to our Summer Flounder season. I think it's time for the fishing "regulators" to change the Fluke start date to the end of April vs. the end of May so we anglers are able to fish our allotted 128 days.
So, we now await the arrival of fall Striped Bass. With the water temperatures still in the 70's, it's anyone's guess as to when the Stripers will make their southerly migration into our waters. With all the peanut bunker swimming in our bays, fishing could be quite good, if and when those bass find the bait.
I think trolling shad rigs, which closely resemble a pod of peanut bunker, will be our m/o with casting and retrieving shad lures also working as an alternate. We do what we have to do to put fish in the cooler.
Tight Lines,
Capt. John and Crew
---
September 8
Fellow Anglers,
Just a quick note that the boat is now back in the water and we are ready to sail again....now that Hermine has passed us. Quite frankly, although the weather service was trying to cover their rear ends, and playing it safe, Hermine's media coverage made it much worse than it turned out to be. But as they say, better safe than sorry so I, along with my fellow charter captains at Twin Lights Marina decided to pull our boats out of the water in preparation for the storm.
While I had her out, I also had the hull power washed free of slim and barnacles and we are once again ready to set sail. I will continue fishing for Fluke for the remainder of the season (Sunday September 25 closing date) hopefully there will be some more fish to catch.
With the heavy seas that existed this past week, it's anyone's guess what we are going to find as far as Fluke are concerned but I think it's worth a try as some of those fish, I'm sure, hunkered down in our bays and deep water channels riding out the storm.....but then again they all may have bailed out. The next few charters should tell me a lot.
I am also now taking reservations for the fall run of Stripers that will hopefully arrive sometime by mid October as our waters continue to cool down. Hermine may have helped in that regards and our fall Striper run could start much sooner than mid October.....let's hope so.
It's all about the water temperature with those fish...and bait which there is plenty of in our bays. (Peanut Bunker are all over the place before the storm...incredible!)
So there you have it....in the water and ready to sail again.
Tight Lines,
Capt. John and Crew
---
August 13 & 14
Fellow Anglers,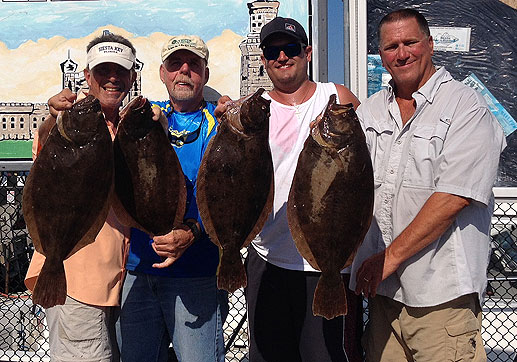 Had part of my crew entered in 2016 SWABC Fluke Tournament that was held in Sandy Hook this past Saturday Aug 13. The crew fishing was myself, mate Rich, mate/son Chris and Barry Paull (aka: Fluke Slayer) To say we "kicked butt" is an understatement.
Great conditions coupled with a good spot to fish and 4 great "flukers" and we put a real hurtin' on some flatties to the tune of 33 fish caught and 16 keepers in the cooler from 5 lbs to a high of 6 lbs. No we didn't win the tournament with a 3 fish weight of 16.4 lbs,, but we had a blast anyway in what was one of the best fluke fishing days we've all had in a long time....incredible fishing to say the least. Pictured on the left is 4 of the 16 keepers....jumbo Fluke and smiling faces. Drifting bait was basically the way to go using an assortment of fresh baits and fishing some really deep waters. Almost non-stop action on just about every drift over this one area. Thanks guys...you made my year.
Now onto today.....Sunday Aug 14.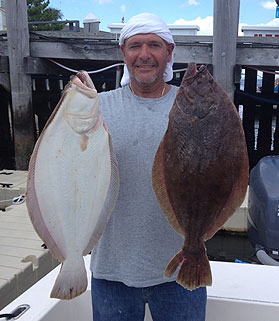 Had the Justin Vogali party out for hopefully a repeat of yesterday's Fluke fishing. But, in fishing things are always changing. We continued to find some real monster fluke....one at 7 lbs and one at 8 lbs as pictured on the left, just not enough of them, but who's complaining...not Mike (the guy pictured on the left) who caught them. Fished the same area as Saturday, same wind direction but a little stronger, same outgoing tide but a little faster and much different results. That's why they call it fishing and not catching. Like I've said numerous times it's all about conditions....a slight change from what they like to feed in and the results can change totally. Did we catch award winning fish today...yes we did but just not enough of them. The crew today seemed to have a good time with the results though.
Tight Lines,
Capt. John and Crew
---
July 24 & 25
Fellow Anglers,
After taking the family on a short vacation last week, we were back at it this past weekend hunting and scoring with Fluke in various locations with good to fair success with both keeper and sub-legal Fluke.
Sunday was the John L. charter and a group from John's work. Headed for an area that I heard was producing some nice fish in deeper waters....45-55 feet. Within a few minutes, our first hookup was a nice keeper size fish. As usual, action consisted of a mix of keeper Fluke as well as Dogfish and Sea Robins and Skates. But that's to be expected for this time of year. Also in the cooler went a nice plump 5 lb. Fluke that filleted out to some really fat meat for the dinner table. Good action almost all day with some great anglers. Thanks John and friends for a Reel Fun day on the water which was the place to be in this heat wave we're in.
Next up was the Nure J. charter on Monday the 25th which started off about a hour late as we waited for a front pass us that was producing some showers and thunder...something not to mess around with when you're on the water. Departing around 8:15, we headed straight to where we found them yesterday only to be met with a really tough wind against current condition and slow fishing. Started our search again for some fishable waters and had to tuck in away from the wind and still catch fish.....had to work really hard today to put a catch in the cooler for Nure and the guys. Very slow pick today as the conditions didn't lend itself to a good day on the water......conditions, conditions. Right current and wind and you're a winner, otherwise it could be a slow pick for the day.
Although, we did go through a ton of shorts, we did put some nice keepers in the cooler for dinner. Back at it again Friday and Saturday....weather permitting. The Fluke have spread out over a much wider area now as our first try in Raritan Reach was a total bust and it puts everyone in a search mode locating a good body of fish for the remainder of the year.
Tight Lines,
Capt. John and Crew
---
July 6,7,8 & 10
Fellow Anglers,
As you can tell by the dates, we've had a busy week and that's taking into consideration a weather postponement for Saturday, July 9 with strong East winds that made Raritan Bay a washtub with 3 foot waves and the ocean totally unfishable.
Being restricted to the bay is not a bad thing so far this season as ocean fluking is virtually non-existent as I have tried numerous times to fish ocean side rough bottom with poor results. My usual "honey holes" have failed to produce many keepers....scary.
Had an open boat trip on the 6th which was a slow pick of fish. Ever since the beginning of the Fluke season, if you not fishing dead center of the Reach Channel, you wouldn't catch a thing. Add to that an armada of boats almost equal to the Normandy invasion, and you can only expect tough fishing. Also add to that the tankers coming and going through the channel, and all hopes of a decent day get dashed quickly. I'm not whining or complaining here, just giving you the facts on the conditions and how they can affect fishing for Fluke. Once a tanker sails through, you can expect a complete shutdown for at least 2 hours or so.....deadly.
The Bob Kagan charter on the 7th as well as the Joe LaPosta charter on the 8th saw equally slow pick of fish with again a fleet of boats lined up along the Reach Channel. Too many boats in too tight a space.
Now onto the best day of the week....yesterday Sunday the 10th.
First off, regretfully, Capt. Greg (pictured below) will be leaving the New Jersey area shortly as he has accepted a new position with his company which involves relocating to North Carolina....bummer for me. Great, great Captain and a true friend too. I will miss him dearly.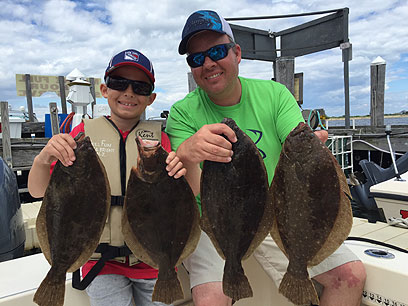 So for yesterday's trip we decided to do a farewell trip with Capt. Greg, his 9 year old son Thomas (pictured left), and my son Chris.
Suffice it say, young Thomas out fished all of us. We happened to locate 2 distinct pods of Fluke in the bay that we whacked either bucktailing or drifting bait. We caught 32 fish, putting 5 nice keepers in the cooler....a ton of action is an understatement. Boy, I needed that after a very tough week with my customers. Found these fish in a few very unlikely spots....a blind squirrel finds a nut every now and then as they say and yesterday we found a few nuts.....ha ha ha.
But on the bright side, it seems to me that a new body of Fluke have moved in which is very good news to the Fluke fleet. Maybe now I can head out to some of my ocean spots and catch some bigger fish.
Tight Lines,
Capt. John and Crew
---
July 3
Fellow Anglers,
Friends....in this business any fisherman would be dead in the water without them and their guidance. Like I've said many, many times before in my posts....I learn something new every time I take that boat out and go fishing.
Got a call a few days ago from a long time and trusted friend about a spot that held some decent "quantity" of Fluke. So, I took the Lynn Slawinski charter out today and made a beeline for that area and sure enough a pretty substantial body of fish awaited us. Oh happy days!
And even better yet, there wasn't another boat around us for a few miles, and nobody came upon us as we sat and drifted over and over again on this pod of fish and boxed at least one keeper, sometimes two on every drift...beautiful fishing and no pressure!
How many fish are down there is anybody's guess, so I'll continue to head over and fish it hard but I'm not going to fish it out as I assured my friend that I wouldn't abuse our friendship and rake the area clean. Have to show respect here. Can't name names (he likes to stay low-keyed) or the location, but the fish were aggressive on drifting meat and some on bucktails too. So we'll see how long those fish hold up there on my next few charters this coming week.
Tight Lines,
Capt. John and Crew
---
June 29 & 30
Fellow Anglers,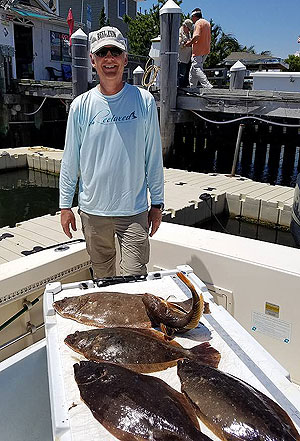 Ran an "Open Boat" fishing trip on Wednesday June 29 with Bernie, Liz, Mort and David aboard for a try at some flatties....Fluke.
Had favorable conditions for most of the day as we had a light west winds and outgoing tide....my favorite. Fishing various locations withing Raritan Bay.....a LOT of moving around to find our catch for the day.
Picturde left is Bernie with some of the fish we caught along with a 5 lb. flattie
---
Thursday, June 30 was an effort in futility....throwbacks, dogfish and sea robins all over theplace. Sure a lot of action but not of the right size and species of fish to put in the cooler for dinner. Had the Phil Simon and friends out for a morning trip with near-perfect drifting conditions...but somebody forgot to tell the legal keeper fish that. Tough day to say the least....too bad as we all had very high expectations while leaving the dock. Next time I'll keep my thoughts to myself. Back at it again Saturday July 2....let's hope for better results.
Tight Lines,
Capt. John and Crew
---
June 15 , 2016
Fellow Anglers,
Ran an "Open Boat" fishing trip today with Chuck, Dick, Craig and Garth aboard for a try at some flatties....Fluke.
Had favorable conditions for most of the day as we had a light west winds and outgoing tide....my favorite. Fishing at the same location as Saturday's charter saw slower fishing today....why? Well when you put that many boats for two days (Saturday and Sunday) on these fish, there's just so many fish to go around. Numbers...still many "big" fish to be caught so let's go get them.
We did some moving around to locate fish as Saturday's spot was much slower than I like. Found a new pocket of fish with two keepers hitting the cooler in rapid one, two order. Kept working that pod over and over again until I was confident we fished that out. Went further back (west) in the bay and got warmer waters...by the way the waters temps from Saturday were 5 degrees cooler so I was looking for warmer waters today. Big downside to working further west....lost a good moving current....trade-offs! I'll take the current. Look, if your not moving your bait, you're just not going to catch these fish....that simple. Amazing too was how many boats and people were on the water for a Wednesday. Doesn't anybody work anymore? All retired baby boomers I guess.
We had a decent day with nice action of throwback as well as keeper Fluke and running into a school of feeding Bluefish which whacked Fluke rigs with a vengeance. Bottom line from today.....slower action than Satruday but still respectable with keeper fish in the cooler and satisfied customers.
Here's a switch...you know what rig was the most successful today? Would you believe the old tried and true spinner blade rig of years gone by. Yup....bring back the oldies if you can believe it. Sure, our bucktails and gulp produced results, but we had one angler who brought some of his older fish catchers, the "spinner blade rig" and it out-fished almost everything we threw at them....simply amazing. What goes around, comes around as they say.
With these fish, you just never know from day to day what's going to tickle their fancy....now I've seen it all.
Tight Lines,
Capt. John and Crew
---
June 11 , 2016
Fellow Anglers,
Had the Melissa Cook party (3 female anglers) out for a try at some flatties yesterday morning. Watch out guys...the ladies know how to fish.
First off, let me say that the current wave of Fluke are here and it doesn't get any better than this even with tough conditions (seemed like almost two hours of slack tide) and a absolute mob scene of private and party boats to make things even tougher. A word to the wise if you are going to get in on this great action.....FISH ON WEEKDAYS!
Got a very reliable tip (I have eyes on the water) the other day that a hot Fluke bite was in progress in a certain area of Raritan Bay, so I take my charter over to that area only to find about 200 boats (not a very secret tip I guess!) already assembled there at 7:30am. I'm not one to get in with a crowd of boats, but I know that this particular area was the best game in town for Fluke so I decided to try to pick my areas to fish.
We had incoming (flood) tide all morning....hate incoming tide for Fluke fishing I may add. Along with the armada of boats out there, the change of tide, from outgoing to slack to incoming seemed to take hours making for the dreaded dead still water which I had to power drift and/or cast and retrieve to get the action needed to catch fish. Trust me, mate Rich and I worked very hard all day on this trip.
But I will say that the current wave of Fluke is quite impressive with some very nice fish being caught and some big slobs out there...a boat less than 100 feet next to me lands an 8lb beast...dammit! ha ha ha. We threw everything at them including bucktailing and drifting bait with squid strips, smelts and spearing for our fish and everything worked....a good day on the water.
Regretfully, mother nature killed many of my charters this week and my appointment book is a mess. But this horrible pattern has to break sooner or later and the forecast for the upcoming week looks very promising. I would of had 4 other fishing trips to report to you but mother nature just wouldn't allow it. Rain, thunderstorms, high winds....Jesus what's next? A snow storm in June? It's tough owning and working charters from a small boat but I try the best I can to make a safe and pleasant fishing trip for my customers. I received many emails this week telling me that my anglers appreciate how safety conscious I am. I've had a few close calls with lightning while on the water.....not nice and life threatening too.
Bottom line..THE FLUKE ARE HERE in good numbers now. Weekdays are the way to go if you can and I still have CHOICE DATES next week and in early July with prime outgoing tides.....give a call. After a disappointing Fluke year last year, it's good to see such a rebound...let's hope this lasts.
Tight Lines,
Capt. John and Crew
---
May 25, 2016
Fellow Anglers,
Had the Mike McAleer party out for a try at some Stripers and which has been the case over the past few trips, Bluefish have totally taken over Raritan Bay. Really fun fish to catch, but if you're hell-bent on catching some Stripers, it has been slim-pickin's to say the least.
Got a tip that bass were spotted in an area of the bay the night before and headed right over to check it out.....trolling Tony Maja bunkers spoons on his 8' rods we mark fish and within minutes we have our first fish....Bluefish. Moved to many areas within the bay and tried both trolling spoons and chunking fresh bunker with basically the same results.....Bluefish.
So, to the people who have me booked for Striper charters in June, let me say that I am keeping a keen eye out for, hopefully, those migrating Chesapeake Stripers coming from the south. But the reality is that those fish could head from the Island Beach State Park area, which they are currently at, and make a beeline straight offshore for the Block Island area which they have done in the past and we'll never see them....a real possibility. So be prepared for some alternate plans.
Tight Lines,
Capt. John and Crew
---
May 17 , 2016
Fellow Anglers,
Had a few charters this past week with whopping success if you're interested in Bluefish......regretfully Striper fishing has been a slow pick. The weather for this spring is nothing to write home about either.....winds, cold temperatures, rain....what else. This is more like March than May.
Look, what I report here is factual information based upon what took place on my charters. I also try to include what I've read on the Internet as well as discussions I've had with both recreational and charter businesses.
Honesty, integrity and loyalty....three important words that are my credo for my business. I report what we've done....both good and bad and hope that I retain your loyalty by doing so. There haven't been many reports from me due to both weather postponements AND postponing some trips due to lack of a good fishing experience.
My take on this whole thing, my opinion again, is that the majority of the post-spawn Hudson River fish came down the Hudson, made a left turn up into the East River and out into the Long Island Sound. From there they swam east and are now being caught in good number in Narraganset Bay, RI. Like I said.....it's a slow pick right now here in Raritan Bay with just about no signs of bass migrating in the ocean into northern New Jersey (Monmouth County) waters.
I've heard that enormous schools of bunker are off the Island Beach State Park area, which I would think that migrating Chesapeake Stripers should be close behind. One or two bass in the cooler is not what I consider a good charter for 4 persons and 6 hours....not even close.
So for my bass fisherman that I put on a temporary hold.....we sit tight and wait.....maybe a week, maybe two. Let's hope sooner rather than later as Reel Fun gets ready for this coming Saturday's Fluke opener. Hopefully that species will cooperate for the 2016 season.
Tight Lines,
Capt. John and Crew
---
April 21, 2016
Fellow Anglers,
Raritan Bay Warming Fast, Arrival of Bluefish.. and now we have competition for Fluke.
The water temperatures in Raritan Bay have been warming steadily over the past week. The high water temp for Tuesday and Wednesday already reached 62 degrees....and for April that's damn high. Sure, temps drop off a few degrees during the cool nights, but now we are averaging around 58 degrees and rising rapidly. A good sign for fishing in general, but a bad sign because of the invasion of ole' yellow eyes (Bluefish).
Reports from a few sources have Bluefish of substantial size invading Raritan Bay a few days ago and now the Striped Bass are competing for the schools of bunker that are around which makes trolling soft plastic baits (shads) a real chore. We may have to switch over to trolling Stretch and X-Rap deep diving plugs or bunker chunking and clamming to weed out the Blues. Bluefish are not big on clams. Don't get me wrong.....the bass will still be around a while, hopefully mid to late June, but now we're going to be contending with Bluefish too. Sure they are one great fighting fish, pound for pound one of the meanest fish in the water, but if that's not what your after, they can become a nuisance.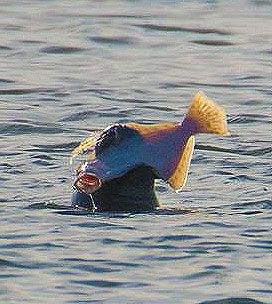 And now if not to make matters a little more difficult for us charter guys, we're all going to have to contend with Seals....that's right Seals, and not the ones from the Navy. Seals have been in our area waters for over a month now, sunning themselves at various spots along Sandy Hook bay side which people saw at low tide on certain days. I knew about them but didn't say anything as I was under the impression that they would have moved on by now. Well, by the photo on the left they are still here and feeding. As if running a charter business isn't tough enough, we've got Seals catching and eating our Fluke as the photo on the left shows.
This photo, I am told, was taken off Jones Beach by a very lucky fisherman with his camera....incredible shot. Sure looks like a keeper Fluke to me....right? I hope that seal knows it's got to be 18" to be a keeper. The photo was sent to me and I took the liberty to post it here for your enjoyment......nature is an amazing thing. This better not be a "Photoshop" image or I'll really be upset. Hey let's look at the bright side......the flatties are here already. A month ahead of our opening day and that's a REEL good sign. Get the Fluke gear ready guys and gals... we'll be whacking flatties before you know it.
Tight Lines,
Capt. John and Crew
---
April 15, 2016
Fellow Anglers,
Striper Beatdown...Well, the title just about sums up an incredible day on the water today with our first Striper charter of 2016 and the Bob Kagan party.
We had a 4 man limit (4 keepers all 20lbs and over) and released 6 more legal fish. We trolled some real beast fish in the bay with the fishfinder constantly showing marks virtually from our arrival at 7:45 till we had our limit by 9 am and went into a catch and release mode. The guys now call me "Admiral"....I'm very humbled! Thank you for the kudos. We do work very hard to ensure you have a great day with us.
Although trolling is not my preferred method of fishing, I decided that bait fishing, right now, was probably not going to be as successful as I wanted. We started our trolling using X-Rap Magnum lures, but after two unsuccessful passes, I decided to switch to another mode of trolling that has become quite good as of late. If you weren't trolling you didn't catch, it was that simple today. Quite frankly, it was the best opening day trip aboard Reel Fun Sportfishing in 13 years....and that says a lot.
The fish on the far right top photo and photo on left weighed 36 lbs. and was 44" long....nice fish. Great job to Tony Nigido (far right) who fought the fish. (That's me on the left in the knit hat!)
If you're into top notch Striper fishing.....now is the time to get on board. Hopefully the water temps (49 degrees) will stay like this for some time and these fantastic creatures stay around for awhile. Regretfully, as the water temps continue to warm up, we'll be invaded by ole' Yelloweyes (Bluefish) and we'll have to contend with those bait stealers.
Once again, many "Thanks" to the Kagan group for an outstanding day, catching many fish and having a lot of laughs throughout the day......kudos again to Tony Nigido and his 36 lb'er. There was a lot of huffin' and puffin' bringing that fish in.
If you'd like to make a reservation for a charter call me at 908-421-4761...THE BASS ARE IN!

Tight Lines,
Capt. John and Crew
---
April 2, 2016
Fellow Anglers,
These photos were taken a few days ago off the tip of Sandy Hook (Bug Light) area by my friend Bill Climas. What you see are diving gannets feeding on a school of menhaden (bunker)......poor bunker getting attacked from above by the gannets and probably below from some hungry Bass.
Throughout my business career on the water, you occasionally see sights like this but not to this magnitude. This should give you a good indication as to the shear number of baitfish in the water right now as I've heard that the feeding gannets have been spotted gathering all over Raritan and Sandy Hook Bays daily. Mother nature is an amazing thing to watch. This goes along with all the Seals sunning themselves on Skeleton Island within the Shrewsbury River.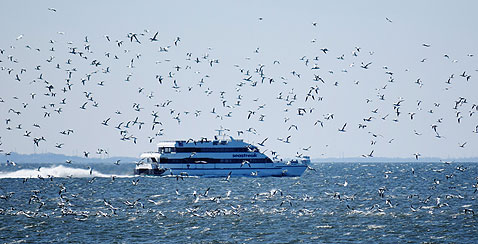 The amount of bait that's in the water right now is nothing short of astounding and these pictures prove. It's just a matter of time until the Striped Bass move into our waters and find the bunker!
This spring Striper season could well go down as one of the best in a long time. Let's hope the water temps don't rise too fast and keep the bass around awhile. Seen beyond is the Seastreak ferry probably heading to the Wall Street area of NY.
Thanks Billy for the great photos.
Tight Lines,
Capt. John and Crew
---
March 21, 2016
Thanks for stopping by......Saltwater Expo!
I would like to take this opportunity to thank the many people who stopped by my booth and especially the two capacity seminars that I presented over the weekend at the Somerset Saltwater Expo show.
All those who attended either of the two seminars received a free Reel Fun Beach Tote Bag as a small token of our appreciation for being there. It was good to get out and meet the many Striper anglers here in New Jersey and to be able to try to answer some of your questions and concerns.
Once again, the show was a huge success judging by the big crowds that were there on all 3 days. It was great to see all my devoted and loyal anglers stop by and say hello and have the opportunity to book so many charters. My appointment book filled up really fast. Once again......Thank You!
Tight Lines,
Capt. John and Crew
---
March 16 , 2016
Friday, March 18, is the official opening day for the Somerset Saltwater Fishing Expo located at the junction of Route 287 (Exit 10) and Easton Ave. The entrance is actually on Davidson Ave.
The show opens Friday 12 noon till 8pm, Saturday 10am till 6pm and Sunday from 10am till 5pm. This show, in it's11th year, is bigger and better than ever, with record attendance last year and all indications are that we will top last years numbers. This is the un-official start of the saltwater fishing season here in New Jersey and if you're into the "salt-life", then this show is not to be missed. There are so many great seminars and demonstrations going on by so many speakers which is all included in the entrance fee that you're getting all this knowledge almost for free.....can't miss!
Come on down....spend the day with us. Bring the kids on Sunday "Family Day". Meet your friends and fishing buddies, have a sandwich and a beer and let's talk about our passion.....fishing!
Here is my seminar schedule:
Friday March 18, 2016 at 2:00 pm @ Lobby Theater Raritan Bay Stripers.....
Topics to be covered will be the various methods I use for Raritan Bay Stripers including clamming, bunker chunking, cast netting vs. snagging, snag and drop method, trolling Stretch 25's and Rapala X-Raps 30's, advantages of using braided line for trolling, tides to fish, areas to fish based upon time of season and migration route, monitoring water temperatures for greatest success, rod and reel preferences for chunking/clamming versus trolling, fishing artificial lures using spinning outfits and most important of all, answering whatever questions you have to increase your catch of Striped Bass.
Saturday March 19, 2016 at 12:30 pm @ Lobby Theater Bucktailing for Fluke.....
Topics to be covered will be the various methods I use for both shallow and deep-water bucktailing for Summer Flounder (Fluke). Rod and reel preferences, choice of line, choice of leader material, tying the bucktail rig, hook selection, tides for best productivity, current (drift) speeds, bucktail sizes and colors, baits to use with your teasers and bucktails, locations both bay and ocean hot spots and most of all, answering your concerns about catching our favorite fish.
All those who attend either one of my seminars will receive a "Reel Fun Beach Tote" courtesy of Advantage Promotions in Boonton, NJ.
Tight Lines,
Capt. John and Crew
---
March 1 , 2016
Fellow Anglers,
We're now taking reservations for the spring run of
Stripers and Summer Flounder (Fluke).
---
February 4 , 2016
Fellow Anglers,
Just released from the office of Paul Haertel of the JCAA pertaining to the 2016 NJ Fluke season.
"At their meeting on 2/2/16, the Atlantic States Marine Fisheries Commission Summer Flounder, Scup and Black Sea Bass Management Board unanimously approved the fluke option that most New Jersey fishermen supported. This option will allow NJ to be its own region. NJ will still be required to have the same size (18"), same bag limit (5) and same season length (128 days) as the region to our north (New York and Connecticut). However, we will be allowed to have special regulations for Delaware Bay.
In 2015, people in southern NJ were treated unfairly in that fishermen from New Jersey and Delaware were fishing essentially the same waters in Delaware Bay but had different size limits. Delaware had a 16" size limit while fishermen from NJ had an 18" size limit. This option will allow for a 17" size limit, 4 fish bag limit and 128 day season for NJ fishermen fishing in Delaware Bay. It will close the gap with those fishing from Delaware to just one inch. NJ will also be allowed to continue its shore based enhanced fishing opportunity to keep two fluke, 16" or greater at Island Beach State Park and possibly expand this program to other areas as well. The approved option will only be valid for one year.
The news for sea bass was not as good. It is expected that we will have to create regulations to reduce last year's harvest by 23% or more. However, we will not know exactly what the percentage is until the final MRIP numbers come out in mid-February. The more stringent regulations will have to be created though a higher size limit, reduced bag limit, a shortened season or a combination thereof. The New Jersey Bureau of Marine Fisheries will be working on these options.
The New Jersey Marine Fisheries Council will have to give their approval to any new regulations pertaining to fluke and sea bass before they become law. The council is expected to approve the 5 fish limit, 18" size limit and 128 day season for fluke. However, they will accept public comment regarding the starting and ending dates for the fluke season at their next meeting on March 3rd. The Council may or may not decide on new sea bass regulations as well at this meeting. There will be a lot of discussion on this as groups such as JCAA will urge the NJMFC to rebel and refuse to set any regulations that are any more stringent than they were in 2015. JCAA believes that there are plenty of sea bass and that the quota is far too low. JCAA also has proof showing how unfairly NJ fishermen have been treated, regarding sea bass, by the ASMFC. For more detailed information on his issue please read Paul Haertel's article in the February edition of the JCAA newsletter."
Now as far as Fluke reg's., I don't what other organizations have to approve this, but it now seems like "status quo" from last year as far as size and bag limit, but we just don't know when the start and finish dates will be. So far good news for us "flukers" out there.
Tight Lines,
Capt. John and Crew
---
January 18, 2016
Fellow Anglers,
Reel Fun Sportfishing would like to wish you and your family a very Happy and Healthy New Year. I'd like to tell you about a new program starting in 2016 as well as some very interesting weather observations and how it may affect the coming spring striper run for 2016 that I read recently.
Open boat fishing is not something new in this business, but we're now offering it for our "single" anglers. I've had numerous requests the past few years for doing "Open Boat" fishing by single anglers itching to go but not having or knowing enough people to arrange a full 4 man trip. So starting Wednesday, May 4, 2016, just in time for the prime spring Striper run, I will be offering my single anglers the opportunity to get some fishing done as an Open Boat angler. For further details, please refer to our "Open Boat Fishing" web page.
Spring Striper Watch....an early Arrival???
Just got finished reading a very interesting and informative article that I thought I'd pass on to you in case you don't read the publication "On the Water" in their January 2016 Special Edition Anglers Almanac. I'll take the liberty of retyping the following information in the Mapping the Striper Migration article:
"2016 Striper Season Forecast-A strong El Nino, which is a warming of sea-surface temperatures in the Pacific Ocean, has meteorologists forecasting a milder winter for the Northeast. The result should be warmer spring water temperatures and an earlier arrival of migrating striped bass than we have seen in the past two years."
Well...if true, that's certainly good news for all of us here in New Jersey planning on fishing for spring striped bass. Of course that's just a prediction, but there is a El Nino occurring in the Pacific right now and we have had a very mild December so things are trending in that direction. Quality fishing for stripers in our area didn't really happen until around end of May to mid June which was very late. Sure the small schoolies where in their traditional back bay hangouts in mid to late March, but the bigger fish were late in arriving if you recall as well as the late arrival of Summer Flounder (Fluke).
As I've said numerous times at my seminars, water temperatures rule! Warm water brings in the baitfish which brings in the predators....that simple. Raritan Bay was frigid last spring and the arrival of everything was way off. Hopefully not this year. Those early season stripers deep in the back of Raritan Bay are mostly schoolie fish, but are a real blast to catch on light tackle. A light spinning rod/reel combo along with a bushel of clams and we could easily anchor up on 20, 30 or even 40 bass for a morning trip. How many keepers is another story, but you won't complain about lack of action that's for sure. Once the bunker move in, then it's time to get out the trolling gear and start whacking some bigger fish as they follow the bait into the bay. A Rapala X-Rap 20 or 30 or Mann's Stretch 25's in black and silver will always get strikes. Once the bigger stripers arrive, then it's bunker chunking, livelineing, clamming......well you get the picture.
Also read where the 2015 "Young of Year Index" for stripers in the Chesapeake was quite good which is a very good sign. Not as strong as 2011, but right up there just the same. In comparison, 2012 was way down so it's looking bright for the future IF we continue to fish responsibly for these magnificent fish. So, having said that, if you are planning on fishing with us for stripers this spring, start making plans with your group soon and let's go over good tidal dates.
I'm going to make a concerted effort to have the boat up and running soon after the Somerset Expo Show. I'm shooting for April 1 launch date and doing charters soon thereafter. Keep in mind also, that as a Show Special, if you book a charter at the upcoming Somerset Saltwater Expo in March, you'll get a 10% discount on any 6, 8 or 10 hour fishing trip regardless of species.
Please remember to hit the "refresh" tab on your browser whenever you visit this web site to view the latest info that I've entered. I'm constantly updating pages of this web site to give you the newest and latest information. I'm always surfing the Internet and reading numerous publications to keep you, my fellow anglers, abreast of the most current news! A good captain is an informed captain.
Finally, If you like my web site (I built it myself) then by all means tell you friends to log on and keep abreast of what's going on here at Reel Fun Sportfishing. Fishing reports from my charters, both good and bad, special offers and some of the latest information concerning saltwater fishing here at Sandy Hook, NJ. The more the merrier is a good thing.
Tight Lines,
Capt. John and Crew


---
For archived 2011 Fishing Reports and Videos.....
.click here.

For archived 2012 Fishing Reports and Videos.....
.click here.
For archived 2013 Fishing Reports and Videos.....
.click here.
For archived 2014 Fishing Reports and Videos.....
.click here.
For archived 2015 Fishing Reports and Videos.....
.click here.
---
© 2005 Reel Fun Sportfishing, LLC. All Rights Reserved.
Web site designed and published by Capt. John

arters Sandy Hook, NJ