Sandy Hook NJ Fishing Reports (2015)
"Capt. John's Fishing Reports" gives you the latest information about our fishing charters as they occurred.
So bookmark this page and check back with us regularly.
---
Dec 5
Fellow Anglers,
Just a quick note..... First off, many "Thanks" for fishing with us in 2015 and sincerely hope you enjoyed your time on the water.
The boat is out of the water for the winter and she will be awaken around the mid March timeframe getting ready for the spring run of Stripers. Scuttlebutt has it that the Fluke reg's for next year might not be a tight as initially thought....we'll see. It seems, as I've heard, our region "underfished" Fluke in 2015 meaning that a proposed cutback might not be as drastic as first thought. We'll wait and see what the "organization" has to say in the next few months going forward.
A quick overview of the 2015 fishing season here at Reel Fun is the spring Striper run was quite good....not as good as 2013 and 2014, but good just the same. Sure there were some slow days every now and then, but for the most part decent fishing throughout Raritan Bay. On a scale of 1 to 10, I would give the spring Striper run a 6.
Fluke on the other hand, but my standards, just didn't live up to what I thought was a good year. A lot of travelling around to try to put a catch together. A ton of small sub-legal size fish (throwbacks) and the usual hangouts just didn't produce good quantities of keepers. Anywhere from 5 to 10 keepers in the cooler for a 6 hour, 4 man charter is not what I would call a great day. Drifting bait, on numerous occasions, outfished bucktails by a wide margin....go figure. On a scale of 1 to 10, I would give the 2015 Fluke season a 4.
So, the season is over, but just for a few brief months.....as we'll be back in the water by around April 1. If you're planning on fishing for spring Stripers and want to cash in on the best moon/tide phases, I strongly suggest you call me no later than March 1 when I have all my tide tables set up and let's pick the optimum days for fishing.
Before closing, I've added a few videos to my "Photos" web page and I will be updating the photos and videos as we go through the 2016 fishing season. To see some of our fishing videos....click here.
Tight Lines,
Capt. John
---
Nov 7
Fellow Anglers,
Had Bernie and Liz out yesterday for a try at some Striped Bass. My son Chris working the deck for our trip.
Left the dock at 7am as usual and as we approached the Atlantic Highlands breakwater seawall, Chris and I saw vast pods of working birds in numerous locations within Sandy Hook Bay. So we make ready the spinning rods/reels with white Spro shads and quietly approach a pod of birds that didn't already have some boats working on them.
Could have been Bass...could have been Bluefish I say. After our first few cast and retrieves, low and behold, we've got an enormous amount of feeding Stripers all around us.....GOD works in strange ways. Every cast, another hookup....what a blast that was.
This is the type of "run and gun" fishing where you keep the motor running and just follow the birds around the bay hoping the birds don't break up. Most of the fish were "bonus tag" 24-28" size fish with a few 30" fish mixed in, but on light spinning tackle this is the ONLY way to enjoy fishing for Stripers.
So Liz and Bernie used their bonus tags to retain their two fish and we released others in that same basic size unharmed and ready to be harvested next spring. Once the bird action broke up, it was time to move on and troll some bigger fish in Raritan Bay. Fun morning with two great people who know how to fish.
Tight Lines,
Capt. John
---
Oct 17
Fellow Anglers,
According to daily reports that I follow, the fall run of bass has not quite developed in full swing yet in our area. Sure, there are a decent amount of small school bass around in the bays and rivers with a few larger fish mixed in if you drift eels, but the larger fish are what we target in the fall. Although, yesterday's reports from a few sources did quite well following bunker schools around in the ocean at first light with some nice fish being caught, so the fall run is just about to break open.
With this cold front coming in this weekend and the cooler water temps that are sure to follow, the Striper fishing should improve dramatically in the next few days.
Water temps last week were still relatively warm for this time of year (around 62 degrees the other day) so that may be having an effect on their arrival. Bait fish in our waters is not a problem as bait has resurfaced nicely after the storm and the bays, Sandy Hook and Raritan, were chock full of readings on our fish finder. If we have bait, we should have to bass too.
The Fire Island area, which the past few weeks was good for that areas anglers, seems to have gotten quiet as of the past few days. That being the case, tells me that the bass might be moving further west into our area waters.....a good sign for sure.
Tight Lines,
Capt. John
---
Oct 9
Fellow Anglers,
We are awaiting the arrival of the bigger fall Striped Bass that should be migrating from the northern waters of Cape Cod. According to some recent reports, the Captree boats (Fire Island, NY area) are into these larger bass and hopefully they will be making their way to our waters very shortly...next week? There are some smaller resident Stripers now in our waters in both the rivers and the bays for good fishing action.
The only negative word that I've read lately is the lack of baitfish in our waters ever since the hard nor'east blow that look place last week. The ocean waters have calmed down considerably as of this morning, but the very turbulent waters of last week (Hurricane Joaquin) seems to have taken a toll on the amount of baitfish that were in our waters before the blow.
Hopefully too, prime baits like peanut bunker are somewhere (in the rivers) and they will make there appearance in our bays soon. If live bait fail to show, then our next option is jigging and trolling to put fish in the cooler. I'm keeping a close eye out for the appearance of Stripers in our area which should be any day now.
Finally, don't forget to apply for your Striper Bonus Tag to retain an additional 24-28" Bass by going to NJ Div. of Fish and Wildlife web site.
Tight Lines,
Capt. John
---
Sept. 30
Fellow Anglers,
Well, as you can tell, we've had some pretty nasty winds now for over a week which brought us to the end of the Fluke season unceremoniously I may add. My previous post gave you some of my thoughts about fluke fishing for 2015 so now it's time to move on to the final phase of the 2015 fishing season which is the fall Striped Bass run.
First off, how about some regulations on bass fishing in our waters. As of September 1, we are now into the NJ Div. of Fish and Wildlife "Bonus" tag program for Stripers. Which means for you, if you register for a "Bonus" tag with the NJ Div. of Fish and Wildlife, you will be permitted to retain an additional fish of 24" to less than 28", plus a bass 28" to less than 43" and a final fish greater than 43". So in all, you can keep 3 fish on your day on the water with me.
One other thing I want to mention....please fish conservatively and if you are lucky enough to catch a big female, it would be the right thing to do to release her for the future of NJ fishing. There is "NO" order on which to catch the fish as long as you have your "Bonus" tag for 2015.
I was alerted just recently that the "Bonus" tag program, which had been suspended for charter boats for a few years now, was reinstated. I'll have my allotment of tags shortly but you should have yours also as there was no time frame given to me by the Port Republic office of NJDFW.
Now on to the fishing scene. As you know the weather has not been good for almost 2 weeks now and seems like it's going to get a lot worse come this weekend. High winds and rain with now Hurricane Joaquin is making its way up the coast. NOAA predictions for Saturday and Sunday are call for 8-11' seas. So my weekend charters are going kaput if things don't change.
But look on the bright side. Once this weather passes us AND the seas clean up and calm down, striper fishing could blow wide open. Fall stripers can take up residence just about anyplace...where ever the bait is so where we will be fishing will more than likely be oceanside for fish. With the rough surf that's going on now, all the clams being broken up along the beach will be a great dinner for migrating Stripers as well as push any baitfish in tight to the beach too.
Let's hope this weekend weather passes us quickly and please don't make landfall here in New Jersey.
Tight Lines,
Capt. John & Crew
---
Sept. 6
Fellow Anglers,
Had the pleasure of having the Ciottone family out for a short 4 hour "Magic Hours" afternoon charter for some Fluke today.
Because of the time constraints, I don't make it a habit of travelling too far as I want to get the lines in the water as fast as possible upon departure, so the areas that we fish are somewhat limited as well as trying to be as successful as possible.
Headed for a peak outside once we got to the tip of "The Hook" and found that with that constant East wind, the heave (swell) in the ocen prevented us from going there, so we fished "the Knoll" area and we were pleasantly surprised with the amount of short and keeper action there....did someone say all the Fluke were outside? NOT!
It seems apparent to me that back bay and river fish are still migrating out and there are still quality fish to be caught close to home for those not able or willing to venture out to the "rough stuff" offshore as has been the case the past 2 weeks. Go figure!
Many thanks to Glenn, Michele and the kids for a fun afternoon in beautiful weather.
Tight Lines,
Capt. John & Crew
---
Aug 29 & 30
Fellow Anglers,
Well here we go....a couple of fishing reports from this past weekend.
First off, Saturday 8/29......
We had the Dave Bischoff and coworker Mike out for a try at some Fluke which turned into a very interesting day to say the least. Talk about a potpourri of fish, this day was it.
While heading to our fluke fishing grounds, we encounter a massive flock of diving birds at Flynn's Knoll. So mate Chris and I decide to investigate....low and behold we come across a huge body of feeding Bluefish in the 2-4 lb range. We scurry and get our light-weight spinning rods/reels and start throwing "Deadly Dick" lures and had immediate hookups one after the other....what a blast! Quite frankly, if we wanted to, we could have boated 20-30 tasty small bluefish but why take more than you can eat so we put a half dozen in the cooler and off we went.
Next we move to our Fluke fishing grounds and start to bucktail some keeper as well as short fish. Not bad action, not great, but steady action with numerous throwbacks as well as an occasional keeper to take home. When the current (full moon roaring) got too fast, we moved further east and start another drift and low and behold....another 30lb. class cow nose ray. Both anglers wanted to see what this thing looked like, so we stayed with it for almost 20 minutes and took some pictures boat side before releasing him. BIG FISH!!!
We thought we had seen enough unwanted action, but what happened next has to go in the record books.....at least for Reel Fun Sportfishing. Bang another hookup and another long almost spooled run off. After about a 30 minute fight we have a 7', around a 100lb., Thresher Shark next to us on our starboard side. UNREAL! What a magnificent fish, tail and all. Just as we were making arrangements to boat this fish, we have a line break as he twists and turns and then swims away. Sorry we didn't get him in the boat, but the whole experience for all of us is something we'll remember for a lifetime.
Sunday, August 30......
Had the Joe LoPosta charter our for a try at the flatties. Once again, the full moon current proved too much for a full morning of good fishing. We found a good pocket of "migrating" fluke but the combination of a roaring current that developed at around 10:30 along with an armada of private boaters made fishing very tough this morning. There are fish there and good numbers of them, but weekday fishing for them is the only key now as weekends are turning into a mob scene of boats and way too many lines in the water. The reason I say "migrating" is it's obvious that at this time of year, the Fluke begin their fall movement out of the rivers and bays by schooling up in the channels as they have been now the past few days. It's only a matter of a few more weeks and all those fish will be heading east right into nets.
Too bad as the Fluke reg's for next year could get very ugly...stay tuned fellow anglers.
Tight Lines,
Capt. John & Crew
---
Aug 9
Fellow Anglers,
Had John Lucciola and friends out for a morning of Fluke fishing. Caught about a dozen shorts to go along with about half dozen barely legal keepers in very confused bay water which was the remnants of a low that was sitting off the DelMarVa coast for the past few days.
The ocean swells carried over into the mouth of Raritan Bay and made for some very tough fishing conditions. We tried drifting bait as well as bucktailing in many locations trying to find some calm water to drift, but the combination of wind and tide made for a very tough day no matter where we tried to fish. Tough day fishing and a tough Fluke season so far, but there's always tomorrow and hopefully the waters will calm down soon so we can get back to catching fish normally.
Look, I'm not going to sugar coat this....the 2015 Fluke season, so far, has been disappointing. A far cry from last year and way, way off from just a few short years ago.
Today, the conditions really killed it, but the 2015 Fluke fishing goes far beyond a days wind and tide situation. Although we still have a good 7 weeks of Fluke fishing left and I'm still optimistic that some good charters are still in front of me.
The fishing regulations (both Fluke and Stripers) keep getting tighter and tighter and yet the population of recreational fish to catch has been going down. Seems to me these number crunchers don't really have a handle on this situation. NMFS, ASMFC......how many agencies do we need to regulate recreational fishing? (I'm sure I'm missing one or two here) Are the recreational fisherman (you and me) overfishing these fish as is being implied?........B/S! This whole system is so screwed up it's really hilarious.
Sorry for the rant, but after 11 years you get tired of hearing the same song played over and over again.
Tight Lines,
Capt. John & Crew
---
Aug 3
Fellow Anglers,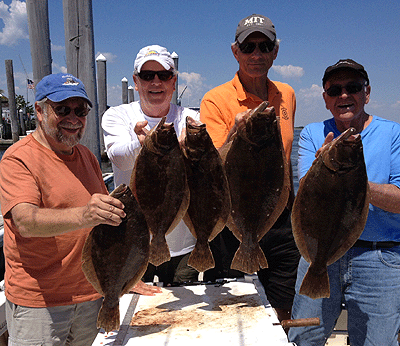 Pictured on the left is the Phil Simon charter from Monday Aug 3 displaying some of the Fluke we caught on a day when the conditions were terrible for drifting for fish.
We had the dreaded "wind/against tide" just about all morning which left the boat almost dead in the water with a 0.0 GPS reading for movement.
But, with ways to get around this situation, I decided to power drift which produced some beautifully fat Fluke as you see here.
You just never know what type of conditions you're going to encounter on any given day when you're out on the water, so that's where the knowledge of the captain and crew working together can make or break a day and ultimately your success for bringing home some dinner for the family.
This was a really fun group of guys who I really like because they could take and dish out the jabs all day and have a good laugh on a bright and hot day on Reel Fun Sportfishing. They've told me they will be booking a fall Striper charter during the coming week. Thank you from me and the staff.
On a final note, the crew and I will be fishing the SWABC (Saltwater Anglers of Bergen County) Annual Fluke Tournament that will be held this coming Saturday Aug. 8 out of Twin Lights Marina. Any private boaters think you're up to the challange, why not register for this great fun filled tournament which happens to be one of the last of the year and try your skills for this 3 fish total weight contest. Hey....you never know what can happen. "You've got to be in it to win it" as they say. The Captains meeting is this coming Thursday at 7pm at Twin Lights Marina and bring your checkbook to register and their will be calcutta's too.
Tight Lines,
Capt. John & Crew
---
Aug 2
Fellow Anglers,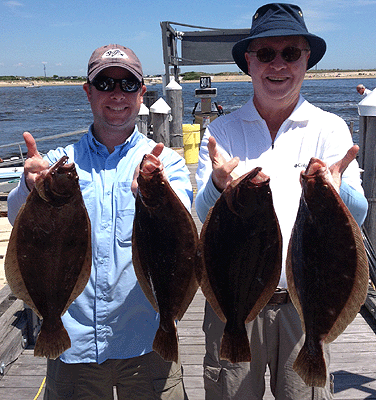 Pictured on the left is Joe Kinlin and son Dan with a few of the Fluke we caught on our Sunday Aug 2 charter.
Once again, the wind/against current conditions could have really put a big hurtin' on our success for the day, but employing the casting and retrieving technique along with power drifting proved the downfall of these fish which are headed straight for the skillet....yummmmm!
As you can see, it was a beautiful, warm and sunlit day that put some smiles on the faces of Joe and Dan....ahhh father and son fishing. It doesn't get any better than this. Reminds me when I was young fishing with my dad at the Long Branch fishing pier....good memories for sure.
Thanks Joe and Dan for a really nice day on the water and firing up those fond memories of me and my dad.
Tight Lines,
Capt. John & Crew
---
July 29
Fellow Anglers,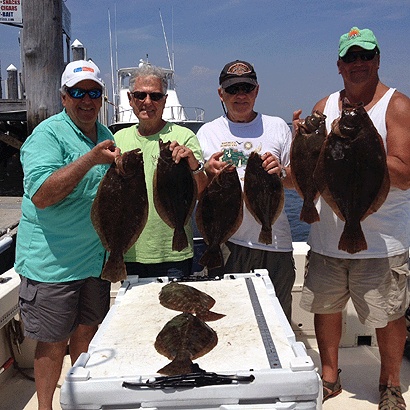 Pictured on the left are members of the Saltwater Anglers of Bergen County after we returned to the dock from a morning of Summer Flounder (Fluke) fishing today.
Considering how up and down the fishing has been for all species this summer, today's catch was not bad as we released numerous shorts as well as retaining the 8 keepers shown here. Also not shown were a couple of tremendous Cow Nose Rays which easily weighed in at around 30 lbs. that we released.....what a long, long fight they gave.
The largest Fluke weighed in at 6 lbs-9 oz. (far right) and was 26" long and a real fat beauty. The experienced angler who caught that fish was Barry Paull (also far right holding his fish) as he was literally "on fire" today with his bucktailing skills.....great, great job Barry. I taught you well. Although the Fluke fishing this year has not been up to my usual standards, it has gotten better over the past few days (since Saturday) and hopefully continue to get better now that the water temps in the bay have reached the high 70's.
I do many SWABC Fluke and Striper charters as they are one of my member fishing clubs that I've worked with over the past 10 years. SWABC is a very good club to belong to as they do many fishing trips throughout the year, have seminars every month and are just a friendly bunch of anglers who get along.....great group to join which I did a few years ago. (and Barry will teach you how to bucktail for Fluke too....right Barry?) And finally, they volunteer many, many hours of their time for the overall betterment of fishing here in New Jersey. Please check them out by clicking here...
Tight Lines,
Capt. John & Crew
---
July 17
Fellow Anglers,
I came across this post from Capt. Al Ristori's blog the other morning as I was scanning the Internet about fishing in and around our area. I always read the fishing reports to keep abreast of who, what and where the action has been going on, so this post from Capt. Al slapped me in the face this morning.
If, and that's a big word, these reg's goes through and is eventually approved, all I can say is that you better get your fill of Fluke in the next 2 months, and then get ready to bitch and complain about the possible implications that could take place.
Here's Capt. Ristori's post from Tuesday:
"The season has a long way to go, and anglers are generally having a hard time finding enough fluke with which to fill the recreational quota, but this may be remembered as a year of "easy" regulations. The Atlantic States Marine Fisheries Commission (ASMFC) Scientific and Statistical Committee will later this month be considering a report from the NMFS Northeast Fisheries Science Center which blames summer flounder overfishing in 2014 relative to the biological reference points for mortality much greater than had been previously reported. As a result, the study called for not only a 43 percent reduction in the overall summer flounder quota for 2016 -- but for an additional 31 percent in 2017 and 17 percent in 2018 -- from 2015 levels. Tom Fote, N.J. Governor's Appointee to the ASMFC, says this would be a disaster for the state's fluke fisheries. As I've frequently pointed out, the public has been getting the short end of that quota since it was established -- with only 40 percent for recreational fishing even though NMFS figures from prior to management had the recreational component at about 70 percent. If those reductions are put in place, there will have to be some combination of an increase in minimum length, shorter season and lower bag limit that could cripple the already struggling recreational fishing industry -- and that's before any possible overfishing of this year's quota."
If they (ASMFC & NMFS) continue to raise the minimum size limits, that forces all of us to target larger fish, thus killing more females (breeders). Uhhhhh......what wrong with this picture? No females=no babies...no babies=no fish to catch. No fish to catch...the entire recreational fishing industry goes belly-up.
I'm sure there will be many, many discussions about this going forward as to size limits, number of keepers, length of season and so on, so there is a long way to go. But the first salvo has been fired for next year.
Well, there you have it. More reductions are on the horizon for next year. This could may be the final nail in the coffin for many for-hire businesses as we know it. Mine could be one of them! These guys may not have me to kick around much longer.
A quote from a dear fisherman friend of mine who will remain anonymous:
"There have always been fluke. There have always been fishermen. Now we have scientists and politicians who don't fish, telling us that we are the reason there is a reduction in the fluke populations. They tell us that they are looking out for "our" future. Who looked out for our future before? Not them!
Did the fluke population get wiped out before the scientists? No! The scientists are number crunchers. They know formulas and that's it. I'd much rather eat a 16" fish than one that is 9 lbs.
But I'll always have fish to eat. Arrrrr!
I've been catching fluke since I was five years old and I'm still catching them. There were no scientists when I was a kid and yet, there were always fluke to catch and eat!
Now we're fishing for the breeders. If you put a dent in them, where will the future fluke come from?"
Tight Lines,
Capt. John & Crew
---
July 6
Fellow Anglers,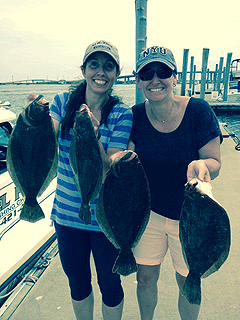 Had the pleasure of having Jolie (left) and Jess (right) out for a morning of Fluke fishing today. As you can see we were pretty successful with a steady pick of flatties in an area that had good action with both shorts as well as keepers.
Bucktailing trailed behind drifting baits on this day as the fish were in for a feeding of squid and smelt sandwiches and basically turned their noses up on our bucktail offerings. The initial location today was a spot that has traditionally done very well for me a few miles offshore, but the combination of heat and no wind proved a little too much for one of our anglers, so we moved to another inshore location which produced fish on our very first drop. Good move I would say considering that for the first offshore hour produced one small Sea bass throwback.
Our two anglers proved they could "rally" from their initial motion sickness and put together a really good and productive day on the water I would say. They are both avid fisherwomen and long time "Jersey Girls" who are quite good at throwing fly's for giant Rainbow Trout in Montana so I was told......Kudos ladies for your rally.
They are learning the fine art of fluking as was being taught by mate Chris and we hope to see you both on Reel Fun again soon.....there's a doormat waiting for you out there ladies.
Tight Lines,
Capt. John & Crew
---
June 27
Fellow Anglers,
Just in case you haven't been reading the some of the online reports the past few days, the Fluke fishing has been really good if and when the weather cooperates. The fluke fishing is really heating up now as I'm going to be putting Striper fishing on the back burner until the fall. I do have a couple more Striper charters to do, but the main thrust will be centered around Fluke fishing until the end of September and you know how much I like Fluke fishing.
Water temps have been steadily increasing and new and larger Fluke have been migrating into our waters daily. They are being caught by either drifting bait or bucktailing (our preferred method) but either way you'll catch fish.
Remember, we offer our standard 6 hour Fluke charter, our 4 hour afternoon "Magic Hours" charter as well as our 10 hour "Wreck/Reef Marathon" for those real die hard flukers out there....not to be missed if you're looking to put some tasty fillets in storage. So call now as I still have a few excellent tidal days available in the coming summer vacation months for you, your family and friends or business associates....DON'T WAIT as the nice days of summer pass quickly.
And finally, if you're in the need of a wide variety of Fluke fishing gear for the upcoming season, look no further than Efinger's Sporting Goods in Bound Brook, NJ. Stop in and ask for Braden and tell him I sent you for top notch service and advice....and best of all great prices!
Tight Lines,
Capt. John & Crew
---
June 12 & 13,
Fellow Anglers,
Had Andrew Basso and his father out for a Striper charter on Friday morning that proved to be difficult to locate the Bass. Covered a lot of water, but I guess I just have the bulls-eye on me today....what can I say. A real shame too because my son Chris, who had mate duties, showed off his cast net skills by getting around 70 bunker in a single great throw of the net. Nothing like fresh bait for the bass. We had the main course all set....just couldn't locate the customers. Bluefish...just about all you wanted, but getting the bait down to the Stripers was another issue. To analyze Striper fishing this year is really quite simple....inconsistent. Good one day, a stinker the next.
I got a call Friday that there was a late afternoon bite in a specific area that lasted all of about an hour or so. Big fish....too bad I had already wrapped up my charter for the day and was heading home when the call came in. Got another call Saturday that a bass bite was in progress in the back of Flynn's Knoll.....too bad again as I was already home. This stuff happens all the time. The fish blow up for maybe an hour or so in totally different locations and if you're not at the right place and time you miss out. That's the nature of Striper fishing now. Want to see all the gray hairs I've grown in the past 11 years?
Some good news....it appears the bass fishing is heating up right now as the post-spawn fish are starting show up. This has been a wacky season so far. Normal arrival times for both bass and fluke are about 3-4 weeks late.....once again I go back to my original premise...cold water.
Fluke fishing with the Tavormina family on Saturday saw a good amount of traveling to locate a substantial pod of Fluke. You really don't realize how big Raritan Bay is until you have to search for a pod of fish. Started the morning off heading outside to the Nude Beach area which was holding a bite for about a week. Water temps had gone up a few degrees and immediately caught two (2) keepers on our first drift....oh boy here we go I thought. Too bad a front was coming through as we had north winds cranking 15-18kts and we had white caps all around us with a SE swell by 10 am. Time to get out of there and let me tell you heading in around the tip of "The Hook" was a real adventure. Those Parkers are tough rigs but I admit it was a little scary. Moved all around the lower bay picking here and there with limited success. Dog fish everywhere....endangered species says NOAA?
There is not doubt in my mind that the main body of flatties have not made it in here yet. What we are seeing is just the yearly initial fringe that comes to our shores. The fish we are seeing now are what we usually have for opening day back in May. A very strange fishing year to say the least.
Everyone has their theories as to why, mine I think was the brutally cold winter we had. When have you seen the vast expanse of Raritan Bay frozen over....just amazing. Here we are mid June and sinkers and bucktails that we bring up from 30 feet of water are ice cold. Fluke we catch are ice cold too....amazing how they survive in that water temperature.
Want to know when Fluke fishing will get HOT?......July and August and just watch for those doormats in September too. Just like the good old days.
Tight Lines,
Capt. John & Crew
---
Sunday June 7
Fellow Anglers,
Had long time Reel Fun anglers Tom Tanacredi and John Lucciola out for what was supposed to be a Bass charter with the option of a few hours of Fluke fishing. Too bad the Stripers forgot to show up locally.
A bite that was occurring locally during the week lasted only a few days and was absent for our Saturday charter. Sure, if I had one of those go-fast boats and took a drive down past Sea Girt or further south I may have been able to find a pod of fish...but that's no guarantee either.
Striper fishing this spring has been up and down. It's been a major struggle trying to find these fish as they have failed to hold up in any one area for any sustained period of time. Certainly not what it was last spring, and last spring wasn't lights out fishing either. Am I being greedy....no! I'm just looking for my legal limit and have my customers walk off the boat with a smile on their faces. One bass per man.....Is that too much to ask? So I opted for Fluke fishing which unfortunately was also a tough go with pretty strong southeast swells and some more cold water down deep. It's been a pick at best for the flatties since opening day. All I saw yesterday were boats constantly moving around....a bad sign and a dead giveaway. Moving outside, coming back inside, moving here, moving there. Once I repeated a drift a few times, I was boxed out of my drift by a swarm of boats....ridiculous.
Fluke fishing seems weeks behind schedule and hopefully, the migrating main body of fish are still out there. Certainly not what it was last year and not what we had in 2012. If you consider 1-2 fluke in your cooler after 6 hours of fishing a good day, well good for you. But that's not what I call a good day by my standards and for my customers. Hopefully that will change soon if we see the waters warm to comfortable levels.
Tight Lines,
Capt. John & Crew
---
Saturday June 6
Fellow Anglers,
Had the Bernard Doerning party out for what was suppose to be a 4 hour "Magic Hours" Striper charter, but once again, finding and getting the Stripers to chew was another issue. Capt's Greg and Marc worked the trip searching for the elusive Bass by sailing to numerous different locations, but to no avail.....tough, tough evening to say the least. Miss the bite in a specific area by a few days and you lose out. Small pods of moving fish.
Let's call it the way it is....it's been a tough spring for Stripers for the most part with many ups and downs as compared to a few years ago and the Fluke season is starting slowly. Why, simple....cold water down below. The brutally cold winter where the bay was iced over in almost every area has had an adverse effect on some aspects of fishing. Maybe not so much with the Stripers, but certainly with the arrival of the inshore migration of Fluke. I had a "top water" reading of 61 degrees ocean side yesterday morning and I'm sure 25-30 feet below in had to be no more than 52-53 at best. The shorts we did catch were very lethargic in attacking the bait and were ice cold to the touch.
Tight Lines,
Capt. John & Crew
---
Tuesday May 26, 2015 (Memorial Weekend Reports)
Fellow Anglers,
As the song goes..."What a difference a day makes" sure holds true in the world of coastal saltwater fishing here in New Jersey. You can stink the place out one day and the very next day will give you a limit catch. You just never what to expect. I guess that's why they call it fishing and not catching.
Let's start with our Saturday morning inaugural Fluke trip of the 2015 season with the Saltwater Anglers of Bergen County. Decided to do some river fishing with bucktails knowing that the bay and ocean water temps were still quite cold and I wanted to utilize the much warmer river water. Too bad the tide on Saturday was incoming which pumped in colder water, but we tried it just the same. A few drifts produced some keepers and throwbacks....not bad I thought. Once the current died out, we tried casting and retrieving bucktails but that didn't do much better. Moved out to the bay and fished a few different locations that were unproductive....cold water! Not what I and my guys expected for the opening day of Fluke season. By my standards....... a very slow start to the fluke season.
Our Saturday afternoon "Magic Hours" Striper charter, unfortunately, didn't do a hell of a lot better. Capt's Greg and Marc had George Puccio and sons out and the guys tried chunking as well as trolling spoons at quite a few Raritan Bay locations which only produced bluefish and a runoff of a Bass that never made it to the cooler.....disappointing! The Raritan Bay striper fishery has regressed over the past week and hopefully this is just the spawn and not the end of the spring bay run....we'll see over the next week or so when or if the females return to our waters....post spawn.
My Sunday Fluke charter with John Lucciola and friends didn't fair much better than Saturday morning's fluke trip as, once again, we were met with cold water in the bay and moving out to the tip if the "hook" didn't fair much better. We initially started our day in the rivers, but decided quickly that wasn't going to happen and off we went. Made numerous moves trying hard to locate a pod of fluke, but to no avail....tough day to say the least......once again cold water! One short fluke we brought up ocean side was ice cold when we felt its body. Surface temp reading on my fishfinder was 55.2 degrees so it had to be below 50 degrees 25 feet down. Don't forget, it's still very early in the fishing season, so this is to be expected. Things will get better.
Tight Lines,
Capt. John & Crew
---
Friday May 22, 2015
Fellow Anglers,
I've been waiting a long time to finally say this, and fellow anglers it's finally here.......LET'S GO FLUKE FISHING. Amen.....Praise the Lord....Haleluuah....and God Bless America If you can tell I'm excited about today, you are right. My kind of fishing and my season is finally here and we will be starting to fish for Fluke now that the New Jersey season is upon us.
We will also be continuing to fish for Stripers during the month of June as we have many charters booked for the Bass. Although the Bass fishing the past week has been slow, with a ton of Bluefish in the bay, hopefully the bass fishing will bounce back after the spawn is completed in a few days.
Remember, the bag limit for Fluke per angler is 5 fish @ 18"> per day regardless in New Jersey or New York. You DO NOT have to be registered for NJ or NY if you fish with Reel Fun as we have a blanket license for both states to fish in their waters for whatever species.
Just checked the weather forecast at 7:40 this morning for Memorial Day weekend on the water and Raritan Bay will have a NW wind/against condition for Saturday (tough for Raritan Bay) so I'm sure many boats will have to tuck out of the wind to establish a decent drift.....maybe Sandy Hook Bay?....or other places that I know! Sunday looks calmer with a SW breeze so conditions do improve over the weekend. But that won't deter me from putting flatties in the cooler.
We have many "prime tidal days" for Fluke fishing this summer, so please don't hesitate to call and reserve your day for this great eating and fun to catch fish on a beautiful day at the Jersey Shore. Be aware too, that some of the best deep water/wreck fishing for Fluke is during the months of July and August, so please don't let those two great Fluke fishing months pass you by. That doormat of your dreams could be waiting there for you now just a few miles off the beach at one of the numerous wrecks along our shores.
Don't forget, bucktailing is our M/O so please be prepared. Contact the Bucktail Boys for a complete assortment of sizes and colors by going to their web site for ordering. I was just notified that Efinger's in South Bound Brook, NJ has a big 25% OFF sale on ALL saltwater fishing rods...nice deal. Ask for one of my mates, Braden, and he'll help you as he works there when not helping me out on the boat.
Tight Lines,
Capt. John & Crew
---
Sunday May 17 , 2015
Fellow Anglers,
Seems the spawn is on. That along with a new moon really hurt Striper fishing for Ron Tuosto and his son Mike on our charter. Getting around was a slow go as, once again, the fog was somewhat thick (about 1 mine visibility) until around 10 am but we still had a safe trip.
Bluefish are all over the place...no matter where we moved or what method we tried. Bunker chunking....the Blues where on you like a tall dog on short grass. Trolling....the same basic results. Clamming...no bite at all.
Look, I get it. Some action is better than no action. A few Blues in the box can be a lot of fun to catch. Quite frankly, Capt Greg and I worked very hard trying to find the suddenly elusive Bass, which I can only think they are in spawn and coupled with the current new moon made fishing for Stripers slow. Let's hope so for the sake of the numerous Striper charters I still have coming up and for my sanity, that it is just a spawn situation. So, let's be optimistic and see what happens by the end of the week and if the Stripers can reclaim the bay and the ocean from the Bluefish. I'll keep you posted as to how the spring run of Bass is going.
Don't forget that NJ Fluke season starts this coming Friday (YESSSSSSSS!) so use this week fellow flukers to get all your gear in order. There have been some BIG Fluke caught the past weeks by Bass fisherman on bunker chunks and trolling Stretch 25's (8 & 9 pounds...yes, you read that right). THE FLUKE ARE IN!
On a sad note, I had to postpone a couple of charters toward the end of last week as my dear 98 year old mother passed away quietly in her sleep. I can only hope for the same. Rest in peace Mom!
Tight Lines,
Capt. John & Crew
---
Friday May 15, 2015
Fellow Anglers,
I have been reading online reports of a monumental Bluefish migration into the Sandy Hook area. Bunker chunking for Stripers will usually lead to the Bluefish overpowering and getting to the chunk baits before the Bass can get there. Seems like it's time to try clamming for awhile for Stripers in the usual clamming areas. Blues can get pesky at times if that's not what your intended target is.
Don't get me wrong......Blues (gators, yellow eyes or whatever you call them) are a lot of fun to catch from a fishing point of view. But on the downside you go through a ton of tackle in the process. The vast majority of my anglers do not go out on bluefish charters . So I honor my anglers requests and try to find places that are predominately Bass hangouts.
The Gov. has signed into law the new Striper reg's for NJ which are now 1 fish @ 28" and your second keeper fish has to be 43" or larger ( if you're lucky enough to catch one). Disappointingly, the Bonus Tag program is dead until Sept.1. I've heard that persons who purchased the $2.00 Bonus Tag will be able to "exchange" that tag for a valid tag which you can use September 1 through December 31. I hope that this info is correct. Your new fall Bonus Tag will allow a slot fish of 24" - 28" for your info.
I was hoping the current Bonus Tag would have given my anglers a fighting chance to retain a second fish, but that's over for now......reality is one fish per angler until September 1, 2015 for the vast majority of all of us. My fear and I'm sure the fear of most "sportsman" is how many catch and release fish will die ( due to mishandling) trying to find that 43"er? I hope everyone gets the hang of using circle hooks?
I had to postpone several charters last weekend due to that pesky "dense fog" of a 1/4 and less for almost 5 days, so any fishing reports will now be forthcoming now that the fog has dispersed.
And finally....a big CONGRATS goes out to mate Braden, who became a first time father. Teach him how to fish and fillet soon. I may need another set of hands on board...ha ha ha ha.
Tight Lines,
Capt. John & Crew
---

Wednesday May 6, 2015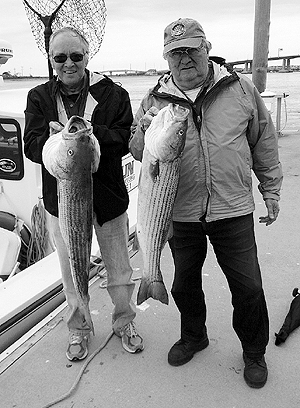 Fellow Anglers,
Pictured on the left is Mort and his friend David after fishing for Stripers that we caught this morning.
After netting a good supply of fresh bunker, we were on our way in search of Bass. We came upon a few boats working an area, but we decided to find our own little "honey hole" to set up on for our fish if we could.
After catching a few Bluefish, Mort and David asked if I could move so that they could catch some Striped Bass. So off we went to an area that produced Stripers for me on Sunday.
We switched over to trolling plugs and after a few minutes it was game on with the first Bass of the day....a 27lb beauty. We continued to troll in that area, over and over but with a lot less marks on the fishfinder as we had on Sunday, but I thought that was our best option for another Bass. "Never leave fish to find fish" as they say.
We worked that area until the change in tide totally shut down the action for our time on the water.
All in all, not a bad day and according to Mort and David it was a great day. Many Thanks to Mort and David for the "Kudos"....we do work hard to make your day a Reel Fun day. Back at it again on Saturday and Sunday.

Capt. John & Crew
---
Sunday May 3, 2015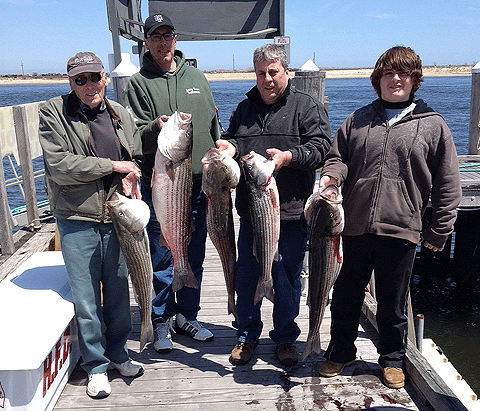 Fellow Anglers,
Had Dennis Carey and his son along with John LaPenta and his father out for a beautiful morning of Striper fishing. Upon leaving Twin Lights Marina, and upon sailing through Sandy Hook Bay we saw a small fleet of boats anchored up and clamming/chunking on the Knoll. So we searched around the area and with good marks, we tried our hand at clamming for Stripers. Turns out all the marks were Bluefish, so we got out of there and headed back to where we caught them yesterday.
Too bad the bite today was much slower than Saturday as we could only troll one (1) legal Bass to put in our cooler. Just at the time when Marc and I were deciding our next move, got a call from my friend John Cuozzo about a trolling bite that he was into....so off we went.
Once we figured out in what direction and speed to troll our plugs, it was game on with some much bigger fish that we've seen in awhile. If someone tells me that a 22-24 lb Striper is not big, tell that to me when you're hooked up to one. We boxed 5 keepers and released and another 6 more to live another day......all keeper size fish. We had one (1) fish that whacked the plug and ran almost half of the spool with the drag on. Marc set the hook on her, but the hook pulled a few seconds after setting.......boy I would have loved to see the size of that fish. Could have been Reel Fun's biggest Bass ever. Not Marc's fault, that's just the way fishing is sometimes. But I know she's still out there. I'll be back again.
Capt. John & Crew
---
Saturday May 2, 2015
Fellow Anglers,
Had Darwyn Sandi and his friends out for a morning of Striper fishing today. Got a heads up report that the bite in Raritan Bay was going on in a certain location on the troll so we headed straight there upon leaving Twin Lights Marina. Once again, my sources did not fail me as we set up for the early morning "troll" bite that was going on with a few other boats that were there. Had plenty of marks on the fishfinder for the first one and a half hours and after putting 5 big bass in the cooler, the marks and the action started to subside and the current went slack and an armada of boats developed. So we headed out of there and started to search for greener pastures. The other pastures produced many shorts on both the troll and clamming but I'm also here to inform you that the BLUEFISH have arrived in Raritan Bay too....oh brother just what I need when trying to fish for Stripers.
Capt. John & Crew
---
April 26, 2015
Fellow Anglers,
Had an open day yesterday (last minute cancellation) so I decided to do a short crew trip just to see what was happening on the Striper scene for myself. (customer missed it!!)
I had heard that the majority of the larger fish were being taken "on the troll" using Stretch 25's, so my son Chris, Capt Marc and Chris' girlfriend Jen sailed out around 9:15 am from Twin Light Marina in search of some Raritan Bay Stripers. We left the clams in Twin Lights cooler hell bent on putting the bass in the cooler trolling or nothing at all.
The trolling reports were right on as we had good deep marks on the fishfinder of bass throughout the bay. We trolled numerous Stretch color's trying to find the right one that would score a hits......chartreuse, silver and black, etc. Once we found the right color to their liking, we had numerous hits trolling at a surprisingly fast 4.2 - 4.5kts. That trolling speed usually is much too fast to present those lures, but after adjusting our speed numerous times, we got the constant hits at that speed.....go figure.
Anyway, we only fished for about 3 hours as we put some fish in the box and released many shorts......all in all, a real nice time on the water and good for my upcoming charters as I know where and what to do going forward. The bass have arrived and should only get better as the water temps yesterday recorded 50.7 - 52.2 which is still chilly for this late date but things should improve this week with warmer temperatures predicted.
For a quick Youtube video of Chris with a fish on click here......
Capt. John & Crew
---
April 18 , 2015
Fellow Anglers,
Here we go....the Striper season is underway!
Reports are now coming in as to Striped Bass being caught from bayshore Monmouth County locations, mainly at night, as well as from charter boats in Raritan Bay during yesterday's daytime sailings. Not a lot of keepers so far, but plenty of action with smaller schoolie size fish using both clams and casting plugs on spinning gear.
The Tackle Box in Hazlet has reported a 40lb (WOW) bass clammed yesterday from the back of Raritan Bay. Why the back of the bay historically produces the first fish is because it's the area of the bay that is shallow, has a dark mud bottom and warms the fastest from the sun's rays AND the fish know this so it's a no-brainer for the Hudson River fish to come to this area to feed after a long winter hiatus.
Also reported to me personally yesterday was a all out "spanking" of Stripers early Friday morning (11pm to 2am) by my pizza guy in his small boat in the bay casting plugs on spinning gear. Can't tell you where, but I saw the pictures and these were all legal keeper fish which he kept 3 fish for the cooler. The other 30 or so he released. He told me he had to stop because his arms were so sore.....oh poor baby!
If this story is to be believed, which I do, then the Bass migration has begun. It's only a matter of time when these bass will start to respond to bunker chunks and clams. Now is the time to troll Stretch 25's and whack the heck out of these fish.
We're ready to go if you are.......?
Capt. John & Crew
---
April 11 , 2015
Fellow Anglers,
The official start of the 2015 Fluke season was set by the New Jersey Marine Fisheries Council last night and the date to put some flatties in the cooler is Friday, May 22, and ends Saturday September 26, with 5 fish @ 18" per angler/day.
2015 Stripers....1 fish at 28"- 43" and 1 fish over 43"..... however the "Bonus Tag" regulations will let you retain 1 additional Bass at least 28" until August 31....and then 1 slot fish 24"- 28" from September 1 thru December 31. (I have a lot of questions about these reg's so I'll get back to you on this)
And finally 2015 Sea Bass reg's....May 27 thru June 30 (15 fish @ 12.5") July 1 thru July 31 (2 fish @12.5") October 22 thru December 31 (15 fish @ 12.5")
Now onto a fishing report from our beloved Raritan Bay and Striper fishing. There have been sporadic reports online that a few people have caught some Bass on clams from the bayshore beaches. Nothing has been weighed in yet for verification....just scuttlebutt. I also heard that a charter captain sighted "bunker" throughout parts of the bay the other day. Regardless, the Bass are getting active in our waters and it's just a matter of a few days when there will be enough Bass around to substantiate our charter fishing trips of 2015. Water temps have been slowly rising in the bay and with a few sunny days and light west winds, these Bass should turn on now....a little late due to cold water, but there just the same.
And the really good news....THE BOAT IS IN THE WATER AND READY TO SAIL!!!!
So, for those of you who have not booked a Bass charter yet (what are you waiting for?) now is the time unless you want to loose out on some great tidal days for Stripers. With the late start of the Bass season, I'm pretty sure that our season could very well extend into July which opens the possibility of a combo, Bass/Fluke trip which may be to your liking also..... so give me a call and let the Reel Fun begin.
Capt. John & Crew
---
March 3, 2015
Fellow Anglers,
First reports of New Jersey Stripers caught were on Sunday March 1, 2015.
Nikita Grantham caught a 29lb'er and his fishing buddy, Louis Pabon caught a 15 lb'er. Both the fish were caught in the warm waters of Oyster Creek near the power plant's water discharge....nuclear fish? Goes to show that water temperatures as well as bait mean everything to a fisherman and me too.
When the waters of Sandy Hook will warm up to Striper levels is anybody's guess. There is enormous amount of ice in both rivers and the bay right now and along with all the melting snow runoff from street sewers is sure to keep the water temps quite cold for some time. This could be one of the late developing seasons.....I just don't know at this point.
The water temps at the Keansburg facility was recording 29 degrees.....obviously the sensor was encased in ice but the amount of ice all around Sandy Hook Bay, Navesink and Shrewsbury Rivers is substantial as pictured on left.
On a brighter note, mark your calender for March 20 thru 22 and the Saltwater Expo in Somerset, NJ. I suspect the show will be "mobbed" with people having severe cabin fever. There will be many good seminars by local captains, as well as me doing one on "Bucktailing for Fluke" as well as a "Raritan Bay Stripers" about clamming and chunking in our area.
I will have my booth at the same location as last year to talk fishing and take reservations for charters and I'll be joined by Capt's Greg and Marc.
Capt. John & Crew
---
February 3, 2015
Fellow Anglers,
The Somerset Saltwater Expo if fast approaching. The show will take place Friday, March 20 and run through Sunday, March 22, 2015 and be at the Garden State Exhibit Center, Rt 287 and Easton Ave. Somerset, NJ. It is THE biggest and best saltwater show in the northeast with hundreds of vendors there selling and displaying everything you need for fishing the brine.
Once again, Reel Fun Sportfishing will be there to talk about fishing and booking your charters for the 2015 Striper and Fluke fishing seasons. The show offers us time to go over dates and tides for prime fishing for Striped Bass and Fluke during our fishing season.
In case you haven't been to this web site lately, we've added a few new wrinkles to our charters. We now have 8 hour trips for both Stripers and Fluke to compliment our 4 hour "Magic Hour" afternoon trips as well as our standard 6 hour morning charters.
Also, back again for 2015, is our "10 Hour Fluke-A-Thon" for those die-hard "flukers" out there who just can't get enough of those flatties....and we won't be drifting around in one location for 10 hours either. We'll be covering a lot of water searching for that doormat of a lifetime so be ready to fish your a** off on this trip. Let's see who can put up with me for 10 hours....ha ha ha ha!
On the subject of Fluke, rumor has it that our Fluke reg's will be the same as last year....5 fish at 18" per angler/day and that regionalization will still be the law of the land for 2015. Once again, that's just a rumor I heard recently so that may change.
On the Striper situation, reg's have still not been finalized for NJ anglers. As of right now, NJ charter boats would be allowed to retain one bass at 28' to 42' and another fish greater than 43" with the "Bonus" tag program still in effect. One final important thing....if you want to increase your chances of keeping 2 Stripers to take home, sign up for the "Bonus Tag" through the New Jersey Division of Fish and Wildlife. Don't say I didn't warn you.
Hope all this cold and snowy weather isn't getting you down as it's February already and I'll be taking the shrink wrap off the boat and bottom painting the hull sometime mid March.
Another nice thing about opening day of the show, March 20, is the first day of Spring.......yahooooooooo!
Capt. John & Crew
---
For archived 2011 Fishing Reports and Videos.....
.click here.

For archived 2012 Fishing Reports and Videos.....
.click here.
For archived 2013 Fishing Reports and Videos.....
.click here.
For archived 2014 Fishing Reports and Videos.....
.click here.
---
© 2005 Reel Fun Sportfishing, LLC. All Rights Reserved.
Web site designed and published by Capt. John

arters Sandy Hook, NJ