Sandy Hook NJ Fishing Reports (2014)
"Capt. John's Fishing Reports" gives you the latest information about our fishing charters as they occurred.
So bookmark this page and check back with us regularly.
---
Nov. 22, 2014
Fellow Anglers,
Fishing aboard Reel Fun has come to an end for 2014.
With the current cold spell and the marina wanting to get the boats out of the water soon, I thought it was time to bring 2014 to a close. Let me first take this opportunity to "Thank You" for your patronage during the year and hope you'll be fishing with us again in 2015. We will be in the water and fishing again, weather permitting, around April 1, 2015 for Stripers during their spring run in Raritan Bay and surrounding waters.
Spring Striper Fishing........the 2014 spring Striper run was quite good for us. Not as good as 2013 but good fishing nonetheless. As you may or may not know, the Striper regulations for 2015 have changed. Anglers are now allowed to keep one (1) Striped Bass per day 28" or greater in length, but if you apply for a Striper Bonus Permit through the State of NJ and for a $2.00 fee, it gives you the right to retain an additional Striper at 28" or greater for our day on the water. Of course, that could change as we get closer to opening day, so we'll have to wait and see. To the best of my knowledge, the "Bonus" program is still in operation.
Fluke Fishing....... By my very high standards, I would have to rate 2014 as "fair" at best. Did we catch fish...yes. But not as good as 2013 and nowhere near 2012. Were there some big "doormats" caught in the Sandy Hook area? You bet. But when you take into consideration the vast numbers of people who fished daily on party and charter boats and the areas covered and the lines in the water, which was staggering, you can see why the waters can easily be cleaned out within days. Couple that with the fact that many New York party boats were fishing our waters almost daily, and you can see that the number of "keeper" fluke just couldn't sustain itself from May to September. Numbers.......sheer numbers.
By my standards....disappointing. But look, I'm a Fluke guy. I love to fish it.....I teach it......I'm obsessed with it. What can I say. Don't get me wrong, I love to Striper fish too, thanks to Capt Marc who taught me a lot about Bass fishing (the guy can really bag bass) but Fluke fishing has a special place in my heart and soul. Amazing too, bucktailing didn't do as well as drifting bait this year for us. Although we caught a good share of fish on bucktails tipped with some meat.... drifting a whole squid on a stinger rig and look out. BANG....fish on within minutes and usually a keeper at 5lbs or better every time. Maybe they had enough of bucktails and Gulp for dinner!
Current Fall Striper Fishing.......For us and I think for other anglers too, this fall Striper run has been a stinker for bigger keeper fish. I can take you out there right now and bag 20-30 Stripers at 22-26" sub legal fish. Sure a ton of action but nothing to take home. As of now, the sand eels, that were so abundant last year, have failed to materialize. Bunker schools all around the bay and along the ocean have not produced the bigger fish that we have come to expect along our beaches. But, that could change at any time from now to the end of the year. I've read reports that, on occasion, some 30's and 40's were caught well to the south of us.....way too far for me to make that run. Add to the fact that the weather recently has turned very cold and windy almost every day (some days are gale warnings as well as small craft advisories) and the number of fishable days drops off significantly which led me to the decision to put the Parker to bed for the season. (My luck, the weather will go onto the 60's & 70"s and the sand eels will flood into the area along with 50 lb'ers behind them)
Through it all, we still had a great time fishing with you this year and we sincerely hope we lived up to your expectations and provided you with a fun day on the water. We will be back next year at the same location around April 1. We would love to have you back again fishing with us.
Tight Lines,
Capt. John & Crew
---
Nov. 9,
Fellow Anglers,
Tough day for Stripers to say the least. From the reports that I've read online, not much to brag about anywhere for the most part. Sure there there a few isolated reports of bass being caught, but for the most, the fish would not cooperate despite very good readings of bait almost everywhere we went this morning.
Left the dock at 7am with the Fred Maier party under light to moderate winds predicted for the day. Sun came up under a light cloud cover and had all our tackle ready to go.......jigs on the spinning rods for casting and shad umbrella rigs for trolling. Upon first arriving at the tip of the "Hook" we find a few small pods of working birds and we immediately jig up a keeper bass. Here we go I thought......
Followed the birds around for a few minutes, but the bass were being chased by all the other boats that found our birds too and the birds and bass quickly broke up. Decided to put on the shad rigs and troll as the bass were now scattered at "the Knoll" as we were still getting good bottom readings which were bass. After trolling a few minutes, heading east, one rod went off and low and behold we've got a triple header of bluefish. What a job reeling that up!
Made a lot of moves today with Capt. Greg working the deck today following birds and making cell phone calls only to find the bass with a sever case of lockjaw and an occasional bluefish to show for our journey....tough day!
I'll be keeping the boat in the water a few more weeks, but if these bass don't start to cooperate soon ....well we'll see. Might have to start to turn our attention to Sea Bass and Tog for the remainder of the 2014 fishing season!
Tight Lines,
Capt. John & Crew
---
Nov. 4,
Fellow Anglers,
As you know, between the nor'easter's and the almost constant windy conditions that we've been having to deal with, it's been tough to get a read on the Stripers as well as just being able to sail.
Boats that have been able to make it out the past few days have found some substantial pods of Stripers following the bunker schools along the beach from Sandy Hook on south. Some fish have been taken jigging, a few eeling as well as trolling. Snag and drop live lining of bunker has also produced at times. But the good news is the much anticipated arrival of fall Stripers seems to have begun.
It's time to get ourselves out there as the numbers and reports that I've seen substantiate getting my fisherman out on the water for a productive day and not go for a boat ride. I pray that the winds will calm down somewhat so we can have an enjoyable trip. That's fall bass fishing.....mother nature dictates when I go and when I stay at the dock, so please try to be flexible.
For all the people who had Striper charters with me in October postponed due to lack of fish, now's the time to call and let's get these trips going. It would be nice to also see pods of sand eels reappear in our waters like last year where the fishing was a non-stop catching affair and quite close to the marina too.
But, the bottom line is, the fall Striper run has started and it's time to fish. Give me a call and let's do it.
Tight Lines,
Capt. John & Crew
---
Oct. 7
Things have been quiet here at Reel Fun for a few weeks as we await the arrival of the fall run of Striped Bass. Since the closing of the Fluke season, which went out with a whimper, we've been keeping tabs on the whereabouts of the fall Stripers.
With the passing of the full moon this coming Wednesday, Oct 8, along with the really cool fall mornings, it's only a matter of time now that the bass will show up and we'll be putting some fish in the cooler. The water temps have been dropping, slowly but steadily, over the past week into the mid 60's.
So check back daily and follow other online reports for the most current Striper sightings. We should be only days away.
Tight Lines,
Capt. John & Crew
---
Sept 11
As we head into the fall fishing season, I just wanted to inform you as to the important dates that are coming up for Black Sea Bass and Tautog (Blackfish).
First off, the end of the Fluke season is just around the corner...Saturday, September 27 to be exact, so mark your calendar as we are still booking Fluke charters for the next two weeks with some of the best fishing of the year occurring just a short distance from the marina.
Black Sea Bass fishing starts in earnest on October 18 with a bag limit of 15 fish per angler according to a chart that I'm looking at by the NJ Div. of Fish and Wildlife. Tog (Tautog) fishing starts November 16 with a bag limit per person of 6 fish according to my same chart....hope these guys are right.
Also, we awaiting the arrival of fall Stripers again into our waters. When these fish will arrive is anybody's guess as it all depends on water temperature and the amount of bait that's in our bay or along our coast. So basically we are on a wait and see pattern for Striped Bass right now.
Fall fishing is "the best" time to fish as the summer crowds are gone as well as the boat traffic making for great sportfishing here at Sandy Hook.
And finally, let us never forget this infamous day 13 years ago.....may they all rest in peace. God Bless America.
Tight Lines,
Capt. John & Crew
---
Sept 3
Just wanted to alert everyone that the Fluke fishing has been very good since Tuesday Aug 26 in the channels around Sandy Hook. A little bit late, but this current run of Fluke has been the best of the 2014 season so far and probably won't last too long with the cool nights starting to settle in.
Plenty of action on most days with keepers and throwbacks and some real quality fish from 5 to 9 lbs. hitting the cooler too. So don't delay as this current fishery won't last too long. Now's the time to fill up your freezer with those tasty Fluke fillets.
Tight Lines,
Capt. John & Crew
---
Aug 25 & 26
As the song goes, "What A Difference A Day Makes."
Aug 25- Had the Steven Caputo charter out for a morning fishing for the flatties. To make a long story short, we fished just about every fluke producing place you could image within the NY Bight as our plans of heading to the Rockaway Reef were dashed with the ever persistent swell that has been plaguing our coastline for days now. Made numerous stops to the tune of 52 miles traveled and drifting, only to find the fluke with a case of lockjaw. Tough, tough day to say the least. We had just about every imaginable bait, great drift speed and water temperature, but after some throwbacks, dogfish and a few sea robins we all realized that it just wasn't going to be our day today. By my standards....brutal.
Now onto the Brandli charter of 8/26....Good day of fluke fishing for our anglers today. As far as shear numbers are concerned, both keepers and throwbacks, one of our best days of 2014. We fished the same areas as the previous day and much to our surprise the fish had the feedbag on today. Found a great spot that gave us both keepers and throwbacks on every drift....every drift. The fluke were whacking almost everything we threw at them with a great drift speed almost all day (both outgoing and incoming) as we were the first boat at this one area but within 90 minutes an armada developed around us or we might of had our limit for the day. Good day of fishing for the Brandli group.........not great but, one of the better days of the summer. Now let's keep this going into September.
Tight Lines,
Capt. John & Crew
---
Aug 21
Fellow Anglers,
Had Joe LaPosta and his son Mike out for a try at the flatties today. Decided to try "outside" in the ocean around sticky stuff instead of the bay this time for some bigger fish. We had nice outgoing tide all morning, but we still had that persistent East/Southeast wind to contend with, although, not as strong as previous days so we took a shot. We also had the leftover swell from the previous days storm, which I've known for sometime that fluke really don't like as was evident that all the fish we brought up were covered in mud and sand.
Headed to the Fisherman's Buoy and caught a Sea Bass but no Fluke. Then headed south a mile or so to another rocky spot and caught 2 nice flatties on our first drop....not bad I thought. After a few more drifts, Marc and I decided to move out to the Mud Buoy for a sniff around there. Numerous hits, but no hookups as the fish were very timid and were short striking almost all our offerings. Went back to the spot we had the two fish and tried a few more drifts.
By this time the Southeast winds were starting to kick up stronger now and being about 6 miles off the beach, decided to head in the bay for another try. As they say, hindsight is 20/20, but we should have fished the bay right from the get-go as we found a lot of life in the bay much to my surprise. A few more keepers went in the box bucktailing an incoming tide and southeast wind.......a little fast but acceptable.
What did I learn today....stay out of the ocean with any kind of leftover swell from a previous storm AND the bay is not dead yet. Around the end of the fluke season, these fish will school up and follow the channels out into the ocean, but today proved that the fish are still in the bay....but for how long is anyone's guess.
Tight Lines,
Capt. John & Crew
---
Aug 5 , 2014
Fellow Anglers,
A couple of fishing reports to give you today.
Sunday Aug 3- We had the Joe LaPosta party out for a try at the flatties. As you know by now, the wind and tide conditions dictate either success or failure in most of our trips. That being said, our trip with the LaPosta family was confined to the bays. With a stiff East wind and a strong incoming tide, our drift speed was very fast in places that I would have like to fish other than the bay. We had to move far back in Raritan Bay to slow down on the wind/current effect to get a suitable 1.5kt drift. But we found a nice pocket of fish mid bay and scored with some nice flatties to show for our effort. Joe, son Mike and friend Amy enjoyed the day as they already booked another fluke charter in two weeks.
Tuesday Aug 5- Pictured on the left is part of the Tom Durso party for another try at the flatties one of our 4 hour "Magic Hours" fishing trip. Great, great group of guys who all brought their own gear and knew how to use it. Once again, wind/current dictated where we were going to fish, but this time I tried one of my tried and true locations and to combat a 2.8 kt drift down to 1.5, I used reverse engine speed to slow down our drift and BANG fish on.
The photo above shows two of the fluke we caught during the trip one being 5 lbs. and the other 4 lbs. The bay is loaded with "shorts" right now for a ton of action with keepers mixed in too. Much, much better action than we've had all year, so it looks like the fluke season has gotten off to a very late start.....but better late than never. The best concentration of fluke right now is ocean side in the "rough stuff"....wrecks and reefs so bring your bucktails and let's head outside for a try at the bigger fish.
We still have a full 7 weeks in the fluke season which, strange as it may seem, is just getting going now...strange.

Tight Lines,
Capt. John & Crew
---
July 22, 2014
Fellow Anglers,
Finally...........the current and wind working together. And a bay water temperature of 74.3 degrees. What does that equal.............some quality Fluke being caught. Amazing when you get just the right conditions working in harmony together how these fish respond. We know that, of course, but we have to repeat that many times to our anglers so they don't get frustrated when things are wrong on their day to fish. We work very hard every day to put fish in the box, regardless of conditions, you can be sure of that.
Had the Lynn Slawinski party out this morning for a Fluke charter that saw fish in the 4 and 6 lb. range in the cooler. Not big numbers quantity wise, but quality fish just the same.
Tight Lines,
Capt. John & Crew
---
July 10, 2014
Fellow Anglers,
Had members of the Saltwater Anglers of Bergen County out for a morning of Fluke fishing today.
Had to battle a wind against tide drift conditions most of the morning which made it very difficult to put a really good catch together. But as you can see by the photo on the left, we did work hard in tough conditions and scored with some nice fat flatties with two fish hitting the 5 LB mark.
We moved all around the bay trying to find a suitable wind and tide drift, but mother nature would only let us fish a few spots this morning for our catch. Wind and current working together in harmony is critical when it comes to fluke fishing, much more so than just about other type of fishing as today we had a wonderful outgoing tide being offset by a stubborn NNE wind that registered 0.0 on my GPS which meant we had no movement at all. Tough morning of fishing but we still prevailed anyway.
The group fro SWABC are a great group of fisherman that went along with all the ribbing we all had to take as well as give out. Fun morning on the water. Drifting baits worked equally as well as bucktailing SPRO jigs tipped with some fresh meat for bait. Much better so far this year than tipping the SPRO's with Gulp. Go figure!
Tight Lines,
Capt. John & Crew
---
June 28, 2014
Fellow Anglers,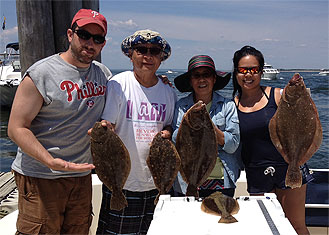 Had the Jessie Palafox party out on Saturday for a try at some flatties, and surprisingly, things are getting better on the fluke fishing scene.
Got away from the fleet for our first drift and was rewarded with a 6 lb fluke.....nice fish! Kept going over that area on subsequent drifts and added a few more legal fish and low and behold we land another beauty at 4 lbs. Made many moves searching for a pod of fluke, but it was a pick here, pick there type of day. Numerous dogfish, a few skates and sea robins too. Recorded a water temperature at the mouth of the bay of 73.4 degrees which is a good sign for the flatties. Hopefully, a new and substantial body of fish will be moving in now that we are just passing a full moon on Friday.
Pictured above is Jessie (far right with her 6 lb fluke) along with her parents and husband Jeff (far left). Not a lot of keepers, but a hell of a lot more action than we've seen in the past few weeks and some quality fish to bring home to the dinner table. I definitely see a swing for the better in the fishery. I really think July and August will be good months for fluke fishing as the water temperatures will stabilize in the 70's and we stop getting these big swings in weather fronts moving through.
Tight Lines,
Capt. John & Crew
---
June 26, 2014
Fellow Anglers,
First off, high winds knocked out the Mike McAleer party for my Saturday "Magic Hours" charter for Stripers. The usual afternoon "southerlies" have actually turned into a roaring 15-20 kt gusting to 25 kt wind making my 25' Parker unable to make out to the ocean where the dusk bite for Stripers has been occurring almost nightly for about two weeks. The daytime Striper bite has all but dwindled as these fish migrate north with the majority of the good fishing occurring in northern New Jersey between 4 and 8 pm. Also, which I'm sure is contributing to the slow Fluke fishing, the water temperatures in the ocean have taken a nosedive as of late which constant south winds produce.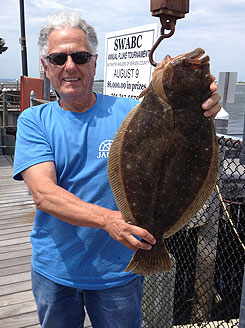 Now onto Fluke....Pictured on the left is Jim Cattanzaro of the Saltwater Anglers of Bergen County with his 6 lb Fluke we caught Tuesday on a club charter with 3 other of his fellow SWABC members.
Tough fishing to say the least. Sure we caught 18 or so throwbacks, some dogfish, a few skates and a couple of sea robins, but not nearly enough keepers. One other thing too....I logged a lot of miles searching for a decent bite of keeper fluke! I sure hope nobody accuses me of not trying!
Ever since the our new "plan" went into effect here in NJ for fluke, it appears that the availability of legal fluke to catch is down. I call it the way it is......is it the new plan? Well, I look at it this way.......more boats in our waters, more lines in the water, more fish taken at a much faster rate, less fish to go around for the local fishing fleet. Simple right?
Opening day fluke was great fishing for my fares. But what we need NOW is another wave of new fluke to come in to our waters soon as they have been doing for years. Let's keep our fingers crossed, say a few prayers or hope for Divine intervention for all the fluke anglers in our state.
Nice fish Jim.....and you thought you snagged bottom with your rig.

Tight Lines,
Capt. John & Crew
---
June 18, 2014
Fellow Anglers,
After a week of rotten fishing weather last week, here we finally go with some fishing reports.
First off, had a group of my son Christopher's alumni from Bryant University out for a try at some fluke fishing on Saturday the 14th. Once again, we experienced a slow pick of flatties for a lot of searching around. Too bad because I really wanted to show my sons classmates what New Jersey fishing is all about, but the fishing gods would have none of it. Sure we caught some keepers, but not nearly enough.
On Sunday, June 15, Father's Day, we had Mark Lawrence and his son out for another try at some flatties. I probably would have stayed at the dock because we were all greeted by a really stiff NNW wind at 15-20kts which I knew was going to be tough fishing for fluke. So I gave Mark his options and we both agreed about the only area we could fish if we didn't turn back and we were off.
Well the fishing gods decided to reward us for our efforts as his son bagged a nice 6 lb fluke and a few more keepers in one of the most unlikely spots in Sandy Hook Bay. You can read his comments on my testimonials web page.
On Monday, June 16th, we had the Mort Perchick group out for a try at some Stripers, but it's obvious that the spring Striper fishery is slowing down significantly. It's fluke time guys!
Yesterday, June 17th, we had the Jeff Karpf party out for a "Magic Hours" 3 to 7 pm fishing trip for Stripers. Tried a few different spots, which were uneventful, so we decided to tough it out at another spot that we had a hunch would produce fish if we were patient and wait for the change of tide that didn't occur until 7:30pm. We were rewarded with some 20 lb class Stripers for our efforts. Thanks Jeff for following our advice........it worked out for all of us!
Tight Lines,
Capt. John & Crew
---
June 7 , 2014
Fellow Anglers,
Just a short report on the McCormick fluke charter we had today. Very slow fishing trying to bucktail some flatties today at numerous spots.
Started outside along the beach at the tip of Sandy Hook and then moved off the beach into deeper waters with about the same results........numerous dogfish and a few shorts with an occasional keeper for our efforts.
Tried the edges of the Sandy Hook Channel for a few drifts with basically the same results....very slow pick.
We need the water temps to come up a bit and then a fresh new body of fish will enter our area. That first wave of opening day fluke is just about done and we need another wave of ocean fluke to move in. Hopefully, any day now.
Tight Lines,
Capt. John & Crew
---
June 5 , 2014
Fellow Anglers,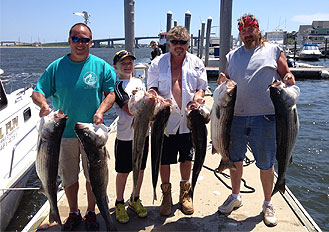 Pictured on the left are the members of the Gardsy family from Pennsylvania that joined us for a morning Striper trip recently.
It was a beautiful day to be on the water and a great day of fishing too. We cast netted a good supply of fresh bunker first thing in the morning and we were off to some new Striper grounds that I found......lucky me!
The young man (11 y/o) was top dog on the trip catching 3 big Stripers all by himself. Great job!
Hope the young man had a fun day ( I know his dad did) as the crew did too.

Tight Lines,
Capt. John & Crew
---
May 25, 2014
Fellow Anglers,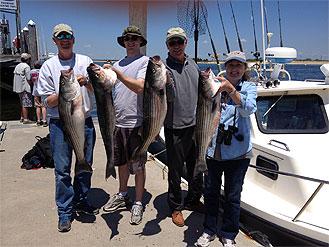 Pictured on the left are the members of the Doerning family that joined us for a morning Striper trip.
Today was a beautiful day to be on the water and a good day of fishing too. Although it was a slow pick of fish at first by my standards, the Stripers we did get were hefty and healthy fish as you can see by the picture on the left.
We cast netted a good supply of fresh bunker first thing in the morning and we were off to the current Striper grounds.
The entire family were really good fisherman which made our time on the water that more enjoyable. Our many thanks to the Doerning family for a great day.
Tight Lines,
Capt. John & Crew
---
May 24, 2014
Fellow Anglers,
Pictured on the left are John Lucciola (right) and his uncle "Babe" on the left holding some nice Stripers we caught this morning.
After cast netting a good supply of fresh bunker for bait, we were off to the Striper grounds to put a few of these great fish in our cooler.
Many thanks to Babe and John for a fun time on the water. We hope you had a good time too.
Tight Lines,
Capt. John & Crew
---
May 23, 2014 Opening Day NJ Fluke Season......
Fellow Anglers,
Pictured on the left are a few of member of the Saltwater Anglers of Bergen County showing off some of the fish they caught during our "Opening Day of 2014 NJ Fluke" charter.
Today was a perfect example of the old saying "it's not quantity, but quality" that counts. As far as sheer numbers are concerned, I would say today was a slow pick of fish, but as far as the size and fatness of the fish we did catch, today was, by far, one of the best days I can remember in a long, long time for opening day fluke fishery.
All the fish in the photo were 5 lbs and over in size......not bad for the first day of fluke fishing when traditionally, the bay is loaded with short throwbacks from 14-16" but not these beauties that came in at 22.5 inches to 27.5 inches in length and some of the thickest fillets you can imagine. Real quality fish. If this is any indication of what we may be able to expect for 2014, we are in for a really good fluke season. For the record, Barry Paull (second from left) had the hot hand today bucktailing some real fine fish. Congrats Barry!
Tight Lines,
Capt. John & Crew
---
May 17 , 2014
Fellow Anglers,
Pictured on the left is the David Prager family that we took out for a charter this morning. Very interesting day.
First off, the hot bite lately has been on "the chunk" so we set out to find some fresh bunker to commit suicide by jumping into our cast net. After a fruitless ride up the Navesink River, it was on to our 2nd option and that was a trip to Great Kills harbor in Staten Island and bingo.......we found small pods of bait to net which we did.
Now it was off to a spot that we've been fishing for the past few charters to catch Striped Bass and once again, we were not disappointed. I think we found a fish "superhighway" of sorts as it was solid bluefish for about the first hour, and as the tide went from slack to outgoing we had a good flurry of really bigger Stripers in the 22 to 28 lb. bracket.
Sara, standing in the middle, had a Bass that easily went over 35 lbs, but lost her due to line breakage.....too bad as that probably was our biggest fish of the day. We know the size was a good estimate as when the fish came to the top (typical bass maneuver) we could see the area of her tail and it was HUGE!
Oh well, that bass will live another day or at least until someone, or me, gets her on a line again. We used an enormous amount of rigs due to breakoffs from those empty bellied "racer" bluefish. They are literally all over the bay right now.
Tight Lines,
Capt. John & Crew
---
May 14 , 2014
Fellow Anglers,
The best way to describe today's Striped Bass fishing was a plain old simple "beatdown".
Bud Luzzi and his two sons, pictured left, did a real number on the Bass this morning with Capt Greg at the helm of the vessel along with Donnie working the deck.
Chunking bunker in Raritan Bay at a spot I fished a few days ago proved once again the old adage "you never leave fish to find fish" The limit catch of fish were all over 20 lbs. And Greg, Donnie and the Luzzi family left them biting. The boat was an absolute mess. But that's the price of success I guess.
What a day. Although it started out slow, once the outgoing tide started to roll and the fish caught a scent of that fresh bunker in the water, it was game on and smiling faces for the boys as well. I'm sure these two brothers are arm weary and will have a lot of stories to tell their friends and family.
Thanks to the Luzzi family for a very good day on the water. See you again soon!
Tight Lines,
Capt. John & Crew
---
May 12, 2014
Fellow Anglers,
Here's a short video of our Striper trip today of Trish and John fighting some tough fighting bass while chunking with bunker.
Started the day off trolling in another area of the bay, but the bass would have nothing to do with my offerings, although there were other boats in the general vicinity who were trolling with some success.
The tide this morning was at flood stage when we arrived and was just beginning to move out, but quite slowly at the onset. Once the water got up a head of steam, the chunking bite was on.
As you can tell by the video, Trish and John were somewhat new to the sport of Striper fishing and didn't quite know what to expect, so we had to lend a hand on some occasions with Trish's fish to get them to the cooler. Beautiful weather to go along with a great day on the water and an early sail back to the dock. Thanks Trish and John and we hope you had "Reel Fun".
Tight Lines,
Capt. John & Crew
---
May 3 , 2014
Fellow Anglers,
Had the Saltwater Anglers of Bergen County out for a morning of Striper fishing today. Considering the water in most areas was still muddy and discolored (Yoo-Hoo beverage color along with floating logs, bags and other garbage) we didn't do too bad from what I heard from other people fishing today.
Started the day off clamming, but once a fleet built up to almost an armada and no fish, it was time for a different plan of attack. Moved to another area of the bay and trolled Stretch 25's and after a couple of passes it was fish on. Pulled up on the Stretch's and tried clamming in that same area and bingo.....fish on again. Almost caught a 4 man limit, but lost 3 nice fish at and near the boat which really hurts on a day like today when every fish counts with 4 keepers for the cooler.
Oh well, back at it during the week. Let's hope the water clears up soon because there are a good number of fish around to be caught.
Tight Lines,
Capt. John & Crew
---
April 21, 2014
Fellow Anglers,
The Raritan Bay Striped Bass season is now officially underway. Stripers are being caught now with regularity on "incoming" tides for the most part, with the action slowing down a bit on outgoing tides. The water temps in the back of the bay have steadied around the 50-52 degree mark with minimal fluctuation.
My Striper season begins full swing this week now that the fish are finally in our waters. We are catching them clamming, some on bunker (both chunks and livelining) as well as trolling. So don't delay if you're interested in putting some Stripers in the cooler and taking home some great Bass steaks. We sail daily from 7am till 1pm for our 6 hour morning trip and 2pm till 6 pm for our 4 hour "Magic Hours" charter.
You can call me at 908-421-4761 as I have a few dates left in May as well as some great June days.
Don't delay...call Now!
Tight Lines,
Capt. John & Crew
---
April 18, 2014
Fellow Anglers,
The first legal keeper Striped Bass of the season finally appeared yesterday in the bay by a few of my fellow captains fishing out of Twin Lights Marina. This is very good news as the spring striper season has been delayed somewhat probably due to the cold bay waters from all the snow runoff during our brutal winter here in New Jersey.
So here we are....April 18th (Good Friday), but for me that's just about on time based upon my last years captains log that I keep. So for those of you who have been anticipating the start of the Bass season, the fun and games have begun. So pick up the phone and give me a call and let's lock in your day on the water for those spring Stripers.
You can call me at 908-421-4761 as I have a few choice dates in May as well as great June Striper fishing days.
Tight Lines,
Capt. John & Crew
---
April 14 , 2014
Please accept my apologies for this rapid succession of fishing reports, but a few developments have taken place over the past 2 days that I thought you should be aware of if you are an avid fisherman like me and tracking the arrival of spring Stripers.
As Capt Al Ristori reported in his blog this morning, the Elaine B. party boat from the Highlands, finally, landed what is believed to be the first legal Striper from our area.....hallelujah! It's a start.
On the downside, most, if not all, the charters that sailed from my area had a very tough weekend in the back of the bay with no reports of keeper bass being landed. Some shorts, a few flounder, even some skates, but no legal keeper bass. Tough, tough fishing this weekend by some very good boats. We happen to be on a full moon phase right now and the water temperatures has been fluctuating from tide to tide which really doesn't help either.
But on the bright side..... Capt. Marc of Reel Fun Sportfishing, who has his boat in Leonardo, spotted schools of bunker yesterday which is a very good sign. The fish that was caught on the Elaine B. had a adult size bunker in it's belly so that tells me a lot.
My friend Lorenzo, who happens to brag alot, but is a damn good bass guy, fishes the Raritan bayshore area often, almost nightly, and told me yesterday that he got good size and numbers "fishing at night with both clams and sandworms" in very shallow water. No wonder the boats can't get to them. At night and shallow (5-6 feet) of water. But, they are there and that's very encouraging.
My son Chris and I took the boat out yesterday morning to do some winter flounder fishing up in the Navesink River with little results to show for our effort. Boy, it's really bad when you can't put 4 flounder in the cooler as we tried just about every imaginable bait and method to get a few bites. Slow, slow day even on that species in an area that use to be the top producing body of water for winter flounder. Very sad state of affairs on the winter flounder.
It's only a matter of time now...probably days that this Striped Bass thing is going to break open. Remember, we had a brutally cold and snowy winter and all that cold water runoff from upstate streams and estuaries is taking place right now.
I want to get you out there catching bass, but I refuse to go for a fruitless boat ride, so for now, we sit and wait. Any day now, any day! Finally, have a quiet and peaceful Easter and Passover this week. Ah spring.....finally!
Tight Lines,
Capt. John & Crew
---
April 4 , 2014
Fellow Anglers,
The Marine Fisheries Council, in a special meeting last night, has officially set Friday May 23, 2014 as the opening day for our 2014 Fluke season here in New Jersey with a closing day of Saturday September 27.
The season will run for 128 days with a bag limit, per angler, of 5 fish at 18" so for our 4 man charters that will be able to keep a total of 20 fish. So to all you who were asking me about an opening day fluke trip, there you have it. Time to get on the phone and let's get the season going.
The water temperatures for Stripers in Raritan Bay was recorded this morning at 44 degrees in Keansburg..... still a little cold for bass to turn on but getting close now. Surprisingly, the temps have been rising quite good the past week, and with the passage of this past Sunday's full moon, I suspect that a few degree improvement will get these fish on "the feed" any day now.
The boat work is progressing nicely, in between crappy weather days, with the hull bottom being painted. This weekend, Twin Lights Marina should be able to finish their work so I can go down and give her a coat of wax and outfit her for the season and then she'll be ready to go.
And finally, if you never fished with us before, we would love to have you join us in 2014. Reel Fun Sportfishing is offering all first time Reel Fun anglers our $50 Reel Fun Gift Card that will be mailed when you book a charter with us. Just present your card at the end of your first fishing trip and we'll reduce the unpaid balance by $50.
Tight Lines,
Capt. John & Crew
---
Fellow Anglers,
On behalf of the crew and I, a big "Thank You" for making this year's show another success for Reel Fun Sportfishing. It's obvious that with the brutal winter we've had here in New Jersey, cabin fever really set in as was displayed by the big crowds that attended all three days of the show.
It was good to see a lot of familiar faces from previous years fishing trips. It looks like it's going to be a very busy year for Reel Fun and the staff as we now begin to get the boat ready for the first run of spring Stripers that will invade the western part of Raritan Bay sometime around mid April (my estimate) or when the water temps get to around 45 degrees.
The crew and I will be doing some exploratory trips as soon as the boat is ready to find the first substantial body of fish and at that time I email you our findings. As of today, I haven't heard any "finalized" information for this years Fluke regulations other than 5 keepers @ 18" per person per day. When I do, I'll be the first to send another post and tell you of the start and finish dates.
As you know, I'm a big "outgoing tide" guy so I'll be trying to steer you to those dates based upon my tide charts for 2014 (you don't get that kind of service from other fishing operations!). I strongly suggest you make some purchases of 2,4 & 6 ounce Spro bucktails if you intend to do some fishing with me around all the "sticky" stuff (wreck/reef) for the bigger fish. White and chartreuse/white are my preferred colors so please be prepared. One final reminder is to read our fishing reports. I post our reports every evening after one of our trips. Just log onto our web site and click the "fishing reports" tab at the top of our home page.
Once again, Thank you for a great show as it's always a pleasure seeing and talking to you.
One final word...KUDOS goes out to my entire staff for helping out this weekend at the booth as well as John Cuozzo (Advantage Promotions), Bill Climas and Donnie from Tastee Subs in Franklin Park and lastly the entire Somerset Expo staff (Tod, Julia and Mike) for a job well done.
Let the 2014 season begin.
Tight Lines,
Capt. John & Crew
---
March 6, 2014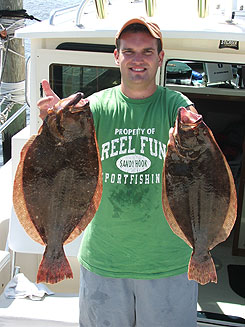 Fellow Anglers,
I'll be giving 3 seminars on "Bucktailing for Fluke" this year at the Somerset Saltwater Expo. So mark your calendar and stop by to give a listen to a seminar on a very effective and my favorite way to catch those tasty Summer Flounder we all love to eat.......bucktailing.
Here are the dates, times and locations :

Friday March 14 @ 4:00 pm @ the Front Lobby Theater
Saturday March 15 @ 11:00 am @ the Exhibit Hall Rear Theater
Sunday March 16 @ 2:30 pm @ the Exhibit Hall Rear Theater
The Somerset Saltwater Expo is now only a week away. This year promises to be another banner year for the show with numerous vendors there ready to make great deals on all your fishing needs as well numerous seminars to sharpen your skills.
I'll have my reservation book with me if you care to book a few of your fishing trips at the show along with some goodies that we'll be giving away. A small deposit using your credit card will hold your day(s) for you.
See you at the show!
Tight Lines,
Capt. John & Crew
---
January 15 , 2014
Fellow Anglers,
This is the beginning of a new year and the start of our 2014 fishing reports. We hope you had a very happy holiday season as we start the beginning of a new year. If you like to go back to last years reports or beyond, scroll down to the bottom of this page and you will find our archived reports from 2011 and 2012 with reports, pictures as well as YouTube videos to watch.
The next major event here at Reel Fun Sportfishing will be the Somerset Saltwater Expo on March 14-16 which you should mark on your calendars now so you don't forget.
This is the "Show of Shows" if you're a saltwater angler fishing in New Jersey. Just about all the major manufacturers of rods, reels, lures, line, clothing, gear, tackle, custom made rods and much more will be on hand to sell their good's at great prices as this show is the 2014 seasonal kickoff to saltwater angling. Also, there will be a number of northeast charter captains there to answer your questions and book your charter fishing trips for spring and fall Stripers as well as Fluke(Summer Flounder) and Sea Bass and Tog. Also at the show will be the rep's from the great fishing clubs that fish in our area which every dedicated angler should join and be a part of in support of our passion. There si so much to see and so much to do at this event that 3 days really doesn't really cover the time you need to see everything.
There will be seminars on livelining bunker, clamming, bunker chunking, trolling and jigging for Striped Bass, bucktailing for Fluke, as well as bottom fishing for Sea Bass and Tog. The techniques used in throwing a cast net will also be covered and much too much to cover here. All 3 days will be filled with items of interest including surf fishing as well as saltwater fly fishing. There will also be some of the top fishing boats on display for sale such as Contender from Gateway Marine, Parker from Schraeder Yachts and more just to name a few that you can see and touch and talk with the rep's there to answer all of your questions and maybe sell you that ride of your dreams.
Last year's show saw the biggest attendance of any of the previous 8 years and this year should and could possibly exceed last years numbers. This is an event you just can't afford to miss. So mark your calendars, and call you fishing buddies to see the biggest saltwater show in the entire northeast. Don't forget to stop by our booth (same location as last year) and let's talk fishing and if you sign up for my email fishing reports at the show, I'll have a nifty Reel Fun Tote Bag to give you. I'll also have something special for those of you who book a charter at the show too.
So stop by and let's get the 2014 fishing season off to a roaring start.
Tight Lines,
Capt. John

***Coming Soon.....don't miss out***
The Expo opens it doors:
Friday March 14, 12 noon till 8 pm.
Saturday March 15, 10 am till 6 pm.
Sunday March 16, 10 am till 5 pm.
---
For archived 2011 Fishing Reports and Videos.....
.click here.

For archived 2012 Fishing Reports and Videos.....
.click here.
For archived 2013 Fishing Reports and Videos.....
.click here.
---
© 2005 Reel Fun Sportfishing, LLC. All Rights Reserved.
Web site designed and published by Capt. John

arters Sandy Hook, NJ