Sandy Hook NJ Fishing Reports (2013)
"Capt. John's Fishing Reports" gives you the latest information about our fishing charters as they occurred.
So bookmark this page and check back with us regularly.
---
Wednesday Dec. 4
Fellow Anglers,
The Striper fishing for keeper Stripers has trailed off significantly over the past two weeks to the point where the vast majority of the fish are shorts with just a couple of keepers in the cooler to show for a 6 hour charter. Don't get me wrong, there is a lot of action out there, but the majority of them are really small fish.
So, my 2013 fishing season is coming to an end here at Reel Fun Sportfishing. A little wrap-up is in order for how the 2013 season was, don't you think?
Spring Striped Bass - In one word OUTSTANDING! In the 10 years I've been in business, I've never had a spring Bass season like the 2013 season with such an abundance of fish concentrated in one basic area for so long. Limit trip after limit trip was the M.O. for the spring. If I could have all those legal throwbacks for next year, I would have just as many limit trips again. Simply amazing run of fish!
Summer Flounder (Fluke) - In one word disappointing! In the past 10 years, this past season was one dominated by mostly barely legal keepers with an occasional bragging fish thrown in, fish in the 7 lb's and up size range. Did we catch fish at our usual spots....yes. Did we catch as many as last year....NO and my records prove it. It was a drastic drop-off from the 2012 season and for whatever reason is any body's guess. But I know one thing, it's something we better keep a close eye on. New this year was the fact that drifting bait did almost as well as bucktailing with jigs which surprised me. It's now time to move to Plan B for 2014 and fish areas that will require some additional travel time so be prepared.
Fall Striped Bass - Once again, GREAT, but much too short...about one month to be exact! As with the spring, the bass stayed concentrated in one area feeding heavily on sand eels migrating out of the estuaries. Eeling, trolling bunker spoons or just about anything else and you were just wasting your time. Sand eels is what they wanted and that's what you had to give them...plain and simple. So it was back to past techniques of trolling umbrella rigs that mimicked pods of swimming sand eels and you whacked the heck out of them. There were also days when jigging produced just as, if not better, than trolling, but if you used the sand eel jig, once again, you kicked the crap out of them. The sand eel jig that we found to be a real hot lure was the Run Off 4 oz. Sand Eel imitation in natural color....a great lure.
All in all, a very good fishing year for Reel Fun Sportfishing. So I would like to Thank all those who fished with us this year and look forward to fishing with you again in 2014 as we will be back in the water around April 1 for spring Stripers.
Don't forget to stop by the Somerset Saltwater Expo in March to say hello and mostly to book your fishing trip on the water with us. I'll have some goodies to give out for those who reserve their fishing trips with deposits at the show. Have a very Merry Christmas and a Happy and Healthy New Year.
As Always...Tight Lines,
Capt. John and Crew
---
Sunday Nov. 17
Fellow Anglers,
Action, action and more action. Now this is what I'm talking about.
Capt's Greg and Marc sailed the 25' Parker Reel Fun out early this morning in pea soup fog for the "Path Boys" (Marcus Moore, Jim Moran and Mike Lovrincich) for one of our "combo" Striper/Sea Bass/Tautog charters.
Right from the get-go, Greg and Marc knew it was going to be one of those days as they jigged over 30 Stripers, with shorts as well as keepers to put in the ice cooler, 15 really big Bluefish and to finish off the day, 6 beautiful keeper Tautog (Blackfish) which were pulled up from the depths to round out a very productive day.
After a pretty slow day yesterday (Saturday) with the Tom Tanacredi party, it's obvious the bite was on today for mostly all species as the fish were gorging on abundant sand eels that are in our area. The amount of baitfish that is currently around is mind boggling. Why Stripers turn their noses up one day, and put the feed bag on another is any body's guess, but today is was chow down time for all of our 3 species of fish.
I also forgot to mention that the group also had numerous Blackfish throwbacks and if you add up the total number of fish caught today, we are at something close to 60 fish......amazing! At one point during the early morning "jig bite" there were times that all 3 anglers were into fish. What a blast!
Kudos to Capt.'s Greg and Marc for finding fish and contending with horrible weather conditions (fog)! And congrats to Marcus, Jim and Mike to fighting all those fish. Hope to see you guys again this spring for Bass.
Tight Lines,
Capt. John
---
Tuesday Nov. 5
Fellow Anglers,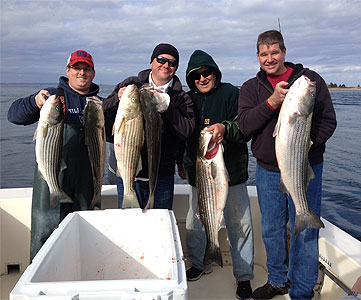 Here is the Mark Redrick party from Springfield, NJ with their near limit (one fish short) catch of Striped Bass today. We also returned 5 additional bass (a total of 13 fish caught) to the waters to fight another day.
We jigged and trolled these fish in the same place as a few days ago with equal success. We had a heck of a chop outside during most of the day with an east wind, but as you can see, Striped Bass seem to like that type of water condition.
Thanks guys for a good day on the water. We hope you had a fun time fishing with Reel Fun Sportfishing. The Striper fishing is really beginning to heat up right now, so if you or anyone is inclined to fish for fall Stripers, take advantage of the current opportunity now.
Tight Lines,
Capt. John
---
Saturday Nov. 2
Fellow Anglers,
This video is of Tom Tanacredi, John Lucciola and Uncle Babe with fish we caught today jigging and trolling for Striped Bass around the Sandy Hook area..
What a great day of fishing it was. Plenty of action both jigging as well as trolling, as the jigging was red hot at the beginning of the bite, but trolling put most of the fish on our hooks.
We fished an area know as "between the channels" as we came upon a small fleet of boats working an area where bird action gave away the location of the Stripers.
Just about anything your threw at them worked...Ava 47's, diamond jigs, but the sand eel lures by Run Off Lures worked the best in 4 ounce. After an armada of boats built up, all the bass scattered and it was time to troll the fish using the old style umbrella rigs which Marc was kind enough to let us use today which are wire line outfits utilizing red and green tails umbrella's with a white tube down the center. We enjoyed steady action almost all day as we returned 11 bass to fight another day while keeping our 3 man limit.
To anyone looking to get into the fall Striper run....it's on my friends!
Tight Lines,
Capt. John
---
Wednesday Oct. 30
Fellow Anglers,
Finally....a day on the water without getting blown away with high winds.
Had the pleasure of having Dick Toro and friends out today for some Striper fishing. Left the dock at 7 am in partly cloudy skies and a magnificent sunrise.
As I had planned, we started the day off trolling at the tip of Sandy Hook among a quickly building armada of boats doing the same. From the get go, I knew it was going to be slim pickin's with all the boat traffic spooking these fish. Trolled the Tube and Worm rigs but we had no one interested after about 1/2 hours, so I decided to try another method of trolling.
Surprisingly, we did have 2 hookups of keeper Bass trolling umbrella rigs. After we had 2 bass "in the box", the number of hits we then had turned to few and far between. Do I move or do I stick it out and wait for a tide change and this impatient fleet to break up? Although we did observe intermittent action on other boats in our area, I decided it wasn't enough to stick around any longer and it was off to hopefully greener pastures.
On the way to try our hand at eeling for Bass, low and behold I come across a pretty hefty pod of birds working over an area about 200 yards in diameter that was about mile away from us. So we sail quietly to the working birds and start to chuck AVA 47's, white paddle tail shads and Run Off Lures 4 oz sand eel jig. BINGO....success with newly arrived Stripers covered with sea lice. What a beautiful thing to see! Hook-ups with fish after fish and almost nobody else around us......ahh heaven!
Many Thanks to Dick Toro and friends for a really "FUN" day on the water and hope to see you back again soon.
Tight Lines,
Capt John
---
Wednesday Oct. 9
Fellow Anglers,
Sorry for the gap from my last report but a combination of weather postponements and on and off Striper fishing has led me to put some of my customers on a holding pattern. Although small to medium size Bluefish are along the beach from the tip of Sandy Hook to the Highlands Bridge, the Striper population has been an on and off situation mainly with resident fish and not the migratory fish from up north...yet!
Now today we have a slow moving nor'easter coming our way from the south to contend with. Well, let's look at the bright side of a storm with 20-25kt winds and 8-11 foot seas....this should be enough to get the Bass moving into our waters and on the feed. So that's the good news.
To all my customers that I called today take heart...great Striper fishing is just around the corner. So be patient as we still have the rest of October and November.
Tight Lines
Capt. John
---
Wednesday Sept. 25
Fellow Anglers,
Great News!...The fall run of Striped Bass is beginning with fish being caught at a few different locations drifting eels and liveling bunker.
Thankfully, this is a lot earlier than I had anticipated and much earlier than the previous 2 years which is good since we don't have to wait until late in the year when we have to chip off ice from the deck of the boat.
Many of my spring Striper charter anglers wanted me to let them know when the fall run was going on....well it's about that time guys! Get out your long john's, your flannel shirts, knit hats and let's get cracking here. It's time to pick up the phone and call your friends and book a date in October or November for a Striper charter.
Checking my appointment book, all my Saturday morning spots are booked, but I do have a few afternoon spots open as well as a some Sunday morning's. Of course, my weekday schedule is currently open as most everyone is back to work after summer vacations, but if you can swing it with the boss, then let's set up a weekday charter for Stripers which I have some good tidal days left.
Final Fluke Roundup-
Someone asked me today, what was my impressions of the 2013 fluke season that just concluded yesterday. Fair, at best was my response. On a scale of 1 to 10, with 10 being outstanding, I would have to give 2013 a 6.
Based upon my log book from last year, this year was off by comparison. A lot of driving around trying to find bigger fish. Sure we had a constant supply of fish that were in the 4 lb. range locally, but we had to search far and wide for fish in the 6 -10 lb. range which burned a lot of fuel and ate up a ton of time. Areas, that over the past 3 - 4 years customarily held bigger quality fish produced the "cookie cutter" 4 - 5 lb. flatties. Don't get me wrong, 4 - 5 lb fish are great fighters and great eating for dinner, but the "quantity" of larger fish as well as the quantity of all fluke in general just didn't materialize. By my standards, disappointing.
Let's hope 2014 is better for our fluke fishery than 2013.
Tight Lines
Capt. John
---
Saturday Sept. 7
Fellow Anglers,
Had the pleasure of having aboard Grace Latta and her brothers of Stillwater, NJ celebrating Grace's birthday with a fluke fishing charter.
Although we had we wait out a change in tide, we had a good day of fishing for the flatties which responded mostly to drifting bait with our squid/smelt sandwich instead of our usual bucktailing method. Just goes to show what's hot one day can be totally cold the next, so be flexible in your choice of baits and styles when you're fishing.
We had a turbulent wind against condition this morning at a couple of various spots until around 10:00 am when the tide changed to outgoing to match the west wind and it was game on. Our top fish today was 4.3 lbs which is not a real big fish, but a nice meaty fish just the same for some great dinner fillets.
Tight Lines
Capt. John
---
Sunday August 25
Had the pleasure of having aboard two of my loyal anglers, Tom Tanacredi and John Lucciola and co-workers Dawn and Ian.
I arranged this trip specifically to take advantage of the "outgoing" tide that was going to start sometime about 12:30 pm and continue till around 6:30 or so.
Fluke fishing, for the most part, has been much more productive during outgoing tides this year, so I wanted to get Tom, John, Dawn and Ian into the best possible fishing situation. As luck would have it, we had a WNW breeze today to help with our drift which calmed down to light and variable for about an hour or so. We fished our local channel, both edges and center, with some early success.
Ian landed the first fish, a nice 21" inch, 3 lb fat meaty flattie which we promptly put in the cooler. A few more drifts resulted in some more fish in the cooler, but along with our early success, came a swarm of boats into our area and now the fight was on for any fish that was under us. Too bad we can't find a way to net fish without anyone seeing us! When you're on the water, there are eyes everywhere.
As the time went by, the current got steadily faster and stronger and when we hit around 2.3 kts, it was just about over for fishing the channel and catching bigger fish which we were targeting. We had about 15-20 throwbacks, a few sea robins and one monster Cow Nose Ray that we never even got close to the boat to see, that broke off our bucktail rig.
All in all, a gorgeous day on the water with very good friends and anglers, a lot of laughs and we caught some of our targeted species. Not enough by my standards (too much boat traffic) but we caught just the same. Thanks Tom, John, Dawn and Ian for a fun Sunday afternoon.
Tight Lines
Capt. John
---
Thursday August 22-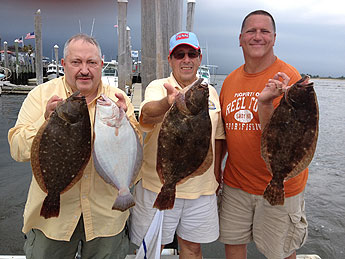 Had the John Toth party from the Saltwater Anglers of Bergen County out for another morning at fluke fishing which because of the weather, made for a very eventful day.
We were dodging and playing hide and seek with showers and thunderstorms all morning. We were even forced to take up temporary shelter in Atlantic Highlands harbor and wait out some very nasty weather that came through during the morning. It's not the kind of day I usually go out in, and it will probably be the last.
Once we finally made it out, I decided to stay close and fish the Sandy Hook Channel as I knew what to expect from my previous day at Ambrose. And we were not disappointed as the morning turned out to be fishable with a few hours of fair weather before another nasty front came in our area and it was back into port, and this time for good. Caught some really nice keeper fluke in the 3 - 4 lb range with about 20 or so throwbacks until both the current got too strong and that nasty thunderstorm sent us packing for the day. All in all, we did the best we could considering the deplorable weather we had to contend with and smiles on the faces of (left to right) John, Rich and Barry.
Tight Lines
Capt. John
---
Wednesday August 21-
Fellow Anglers,
No picture for this one as we didn't have the time to do one, but we had the Eugene Bond party from Staten Island out for a morning of fluke fishing that turned out to be a slow pick at the Ambrose Channel.
Although it was a slow pick of fish, the keepers we did catch were real quality fish in the 3 - 4 lb. range that we bucktailed along the channel edges during the last of the incoming tide, through the slack and for the first two hours of outgoing tide.
Once the current started to really move at 2kts and above, our morning was basically over at Ambrose and it was time to look for slower water to drift around. Not a bad morning as we didn't whack a ton of fish, but our keepers were finally some real nice meaty flatties.
Tight Lines
Capt. John
---
August 11, 2013
Fellow Anglers,
AM Charter-
Had the Hildebrant family from PA out for a morning of fluke fishing on what turned out to be a very active day, not always catching fluke though. Decided to fish a few channel edges first off and was greeted by some enormous Cow Nose Rays.
Let me tell you, if you want a long drawn out tug-of-war with a fish, try landing a Cow Nose Ray in the 30-40 lb. class. 20 minutes later and they were no closer to the boat than when they were hooked. The kids really loved watching the rods doubled over to almost the breaking point.
Once we got them off our lines, we moved to an area that started to produce a few nice keeper Fluke along with the ever pesky throwbacks. To make matters tough, we had wind against tide drift all morning so as you can tell, it turned out to be a hard day of fishing in order to scratch out a few keeper Fluke, but the Hildebrant family enjoyed themselves just the same on a beautiful morning.
PM Charter-
Had the pleasure of having aboard two of my regulars, Tom Tanacredi and John Lucciola, with a surprise visit by coworker Dawn who usually catches more fish. (ha ha ha...as you can tell I like Dawn)
Once again, we were greeted with beautiful weather but this time my preferred "outgoing" tide was being met with the dreaded afternoon 15-20 kt south/southeast winds that had the bay and ocean "white-capping" and hard to hold bottom even with 8 ounce bucktails or weights....oh brother what next ?
We all worked hard trying to put a catch together, but the conditions just wouldn't let us. Mother nature can really be mean at times and there's just nothing you can do about it but try to find a more suitable area to fish. Tucking the boat in on the lee of the tip of the hook produced a little better drifting conditions, but the number of quality fish just weren't in this area.
Fluke fishing, for the most part, has been off in comparison to my charters of 2012. Sure you'll read reports of an occasional 6, 7 or 8 lb fluke being caught, but the shear quantity of fluke are less this year than last year. Did Hurricane Sandy have an adverse effect on the fluke fishery?.....maybe. I really think it was a combination of a few different things happening to our area that has the fluke fishery down from last year.
Hurricane Sandy displaced a lot of sand and rearranged the bottom structure that fluke become familiar with as they navigate inshore in the spring. Couple that with a very rainy month of June and you have all that rain water being flushed into the rivers and bay (Raritan) which totally changes the salinity level of the water. Stripers, I think, are much more able to handle a change in salinity more than the fluke, explaining why we had a great spring Striper season by comparison. Just my thoughts trying to find some rationale for the obvious drop in the fluke fishery this year.
But it sure didn't bother the Striped Bass as our spring season was sensational to say the least. Hopefully, the fall Striper run will duplicate what we enjoyed this spring. For those of you who are interested in fishing with me during the fall Striped Bass season, NOW is the time to make your reservations for October and November fishing....don't procrastinate!
Tight Lines
Capt. John
---
August 4, 2013
Fellow Anglers,
Had the Art Erickson party of Wayne, NJ out for a morning of Fluke fishing which I decided to give a first try on the Ambrose Channel edges and was not disappointed with the results.
Was greeted to the beginning of outgoing tide (which I really like) and a light to moderate NW breeze for near ideal drifting conditions for bucktailing with our 6 ounce Spro jigs. Our rigs employ the use of teasers just above the bucktails with all the hardware adorned with either Gulp products or fresh bait.
Caught a total of 53 fluke, with 15 going into the our "Wicked Cooler" and returning the remaining 38 shorts to grow up a little for harvesting next year. All in all, a productive day with some really nice quality fish for the Erickson family. Our biggest Fluke came in at 4 lbs., not real big, but really thick and meaty just the same providing Art a great dinner for 4.
Our best action occurred within the beginning half of the outgoing tide with the current running nicely from .5 kts to around 1.7 kts (not too slow and not too fast). Once the current really started to roll, productivity started to drop off to a pick of fish but we caught fish just the same. All things considered, a very good day for Art and the family as well as the crew with great weather, steady action most of the day and best of all fish in the cooler.
Reel Fun Sportfishing is enjoying a great year of fishing for 2013 as we had a banner spring Striped Bass run with numerous limit catch charters as well as our current Summer Flounder (Fluke) fishing that we are currently in right now producing some limit, near limit or good quantity and quality fish. As we've had a few cool mornings as of late and Autumn is just around the corner now that we are in August, now is the time to get in on the good fishing for Fluke that is going on and put some fillets in the freezer for dinner.
Tight Lines
Capt. John
---
July 28, 2013
Fellow Anglers,
Now that we are in the midst of what's turning out to be a good Summer Flounder season, this may be a good time to look ahead to the fall Striped Bass run that we are anticipating to start sometime in October and lasting until who knows when.
Fishing for Stripers this past spring, for those of you who were unable to fish with us, was nothing short of outstanding. We had eleven (11) limit charters in a row and our 12th was just one (1) fish short of the limit. Just a few years ago that was highly improbable.
Have we seen a resurgence of Stripers in our area, that's hard to say, but all indications sure seem to be pointing in that direction, at least for the Sandy Hook area. So I'll go out on a limb and say that if we see a repeat of the spring fishing for Stripers this coming fall, then it's something you just don't want to be left out of. The fall bass fishery is another totally different animal as the bass are chasing pods (schools) of baitfish down the beach and we will be jig fishing as we follow them.
Of course, the weather plays a very important roll here as the colder west winds that occur can either help us or hurt us. The crew has to be very vigilant to the direction of the fall west winds AND their speed. Give us a light to moderate west quadrant wind, and we'll tuck the Parker in close along the beach and hammer those migrating Stripers. Don't forget, we are also bait fishermen and drifting eels is a big producer of fall Stripers too.
So there you have a little capsule of information on fall Stripers. Hopefully this will inspire you to pick up the phone and give us a call on a possible bass charter in October or November. And don't forget our 8 Hour Fall Striper/Bottom Fishing Combo that we offer targeting both Stripers and bottom fishing for Blackfish/Sea Bass on the same charter.
Hope to hear from you soon as we set into motion our fall charter bookings. Call me at 908- 421- 4761.
Here are some photos from a few of our spring Striper charters......
The Fluke fishing has been gaining strength the past 2 weeks with bigger and more quality fish being caught in the deep water channels as well as around bottom structure such as rock piles, wrecks and reefs. 6, 7 and 8 pound fluke are now being caught with significant regularity.
Now is the time to get your fluke fishing gear ready for the possibility of bagging that "doormat" you've always been looking for. So let's move on this before any major storms pop up in our area and push these fish offshore like what happened last year with Sandy.
Tight Lines
Capt. John
---
July 9, 2013
Fellow Anglers,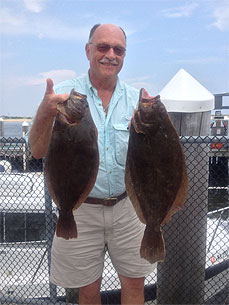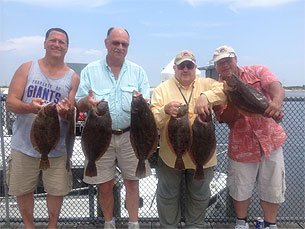 Had the Saltwater Anglers of Bergen County out for a morning of Fluke fishing that can only be described as a "Fluke Beatdown". Days on the water fishing for Fluke don't usually come along like this often, so I hope the party consisting of John Toth, Barry Paull, Roberto Rodriguez and Tom Tyls really appreciate what took place today. It was one of those days that everything fell into place, the speed of the current, light winds out of the west and being able to fish both the end of one tide (incoming) with the beginning of the other (outgoing) that produced 1.2kts of perfect drifting conditions most of the morning.

Bucktailed Ambrose Channel with Spro jigs tipped with various Gulp products that caught 49 Fluke, with 18 of them being keepers that took the mate 1.5 hours to fillet back at the marina. The biggest of the fish came in at just over 5 lbs which was brought up by Tom Tyls (pictured above top left). Congrats Tom....I taught you well.
But high hook honors went to Barry Paull (GIANTS t-shirt) who just kept whacking one fish after the other like the EveryReady Bunny playing that drum....UNREAL! Barry sure had the touch for bucktailing in all depths of really clear water from 35' to 80'. Congrats Barry....great fishing to you and the entire SWABC fishing team today.
Tight Lines
Capt. John
---
July 8, 2013
Fellow Anglers,
Reel Fun Sportfishing has, as of late, witnessed increased sea sickness occurring aboard a few of our trips. Last year, luckily, we only had one incident while out on fishing trip. Unfortunately, we've seen a spike in the number of our anglers coming down with this uncomfortable ailment and in a few cases, we've had to return to the marina earlier than planned. Too bad, because in a few of those cases, we were catching fish at a good pace. So let's talk about how we can avoid this.
First off, I highly recommend calling your doctor for a prescription for "The Patch" that you put behind your ear the night before when you go to bed. I've used them years ago on offshore tuna trips and believe me they work, for me at least. But they only work if you put them on the night before. Talk to your doctor and get his approval first!
Dramamine is another option, but that made me very lethargic, sleepy, and with an upset stomach. So you can try it, but that's not my first choice. Read the instructions on the box for maximum effectiveness. All other products (ex: wristbands) haven't proven much to me so far, but you have to be the judge of that.
I guess I've been blessed not having to worry about seasickness. Here are a few tips while ON THE WATER.
1- Keep your eyes fixed on a stationary object on the horizon if you can see one.

2- Don't lay down. Sit up and do #1

3- Bring a can of "Coke" or " Pepsi" as the syrup, for some strange reason, has a settling effect on your stomach.

4- You may not agree with this last one, but I think you can talk yourself out of getting seasick. I've done that a few times years ago. Strange, but explain to me when things are slow and it's hot as heck out there, the seasick bug starts to occur, yet when everyone's catching fish and doing something, nobody gets sick....why! Coincidence...I don't know!
5-At the first sign of seasickness (ex: upset stomach, clammy feeling to your skin, dizziness etc) notify the crew immediately and we'll try to move the boat to a more comfortable spot. We may not catch as many fish, but at least you may get over your ill feeling.

I hope this helps, as none of the crew likes to see anyone get sick on the boat. And remember, we are at your service. Although, if you ask us to return early to the marina because you are sick, I still have to charge you full fare as I've already incurred the operating expenses for the day. So be prepared!
Tight Lines
Capt. John
---
July 5, 2013
Fellow Anglers,
Just want to take a few lines to give you a heads up on the current Fluke fishing.
The majority of the good fishing has been in the ocean, as the bay has really slowed down as of late. The deeper waters oceanside have been producing much better fish now and a byproduct of that is that, at times when the current is really moving, we have to move up to heavier and heavier bucktails to hold bottom,
Bucktails in the 4, 6 and even 8 ounce range will be needed to successfully fish in my area to catch bigger fish so........be prepared. A word to the wise too is maybe a heavier stick to accommodate those bucktails.
A few suggested sizes and colors are the Spro 4 and 6 ounce all white or white /chartreuse bucktail and have a couple of each for a backup in case you loose some to Davey Jones locker.
Tight Lines
Capt. John
---
July 2, 2013
Fellow Anglers,
In case you haven't noticed, the weather has created a real problem with many of the party and charter operations as far as just sailing as well at just catching fish in reasonable numbers.
The constant threat of thunderstorms coupled with these annoying and constant southerly winds is really creating havoc with just about all species of fish. The month of June for many anglers and captains was a tough month, but being an optimist, July has to be better and hopefully August and September too.
The Fluke fishing still hasn't come back to last years levels yet, but it is improving each and every day. Now that the supermoon phase is by us, and once the jetstream changes for the better and moves the lows out of here, the Fluke fishing should rebound nicely. Patience!
Tight Lines
Capt. John
---
Sunday June 23- Had Bob Centamore party out for a morning of fishing for Fluke in what turned out to be a nice morning fishing the ocean as long as the current cooperated with us. Great drifting conditions from 7:45 am, our arrival time, till about 11:00 am when the current really starting to rip (3 kts) where bucktailing was virtually impossible.
But until that time, we had pretty much steady action on the bucktail's catching both keeper Fluke and shorts with our biggest fish today coming in at almost 6 lb's, a 4 lb'er, and fish over the legal limit.
The guys were very good fisherman.....very good. Knowledgeable and with good equipment they brought aboard ready to do battle. We had a light SW wind and a workable outgoing tide, exactly what I look for putting together a good action day for the guys. Also, my personal thanks to Capt Pete on this charter.
I hope Bob and the guys enjoyed their day as much as Marc and I did. See you again soon.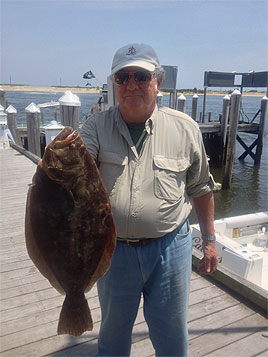 Saturday June 22 AM- Had the Mort Perchick of Morganville, NJ party out for another morning of fishing for Fluke in what turned out to be a nice, productive day. Once again, drifting the same basic area as yesterday's trip and with just about the same results in quantity, but this time with larger fish being added to the cooler. A nice 4 lb. fish (pictured left) for our top fish is not too shabby as Fluke go.

Bucktailing, once again, is proving to be the winning method of catching the flatties until the current becomes too fast for this method and then it's back into the bay for calmer and slower waters.

We were using 4 & 6 oz Spro bucktails in both chartreuse/white and all white adorned with strips of squid, sea robin bellies, and fresh bunker strips which the flatties just couldn't resist. Ahh, nothing like fresh baits!

The key to catching Fluke on bucktails is your reaction time...too slow and you missed the fish. Success is constantly jigging that bucktail/teaser rig on the bottom and setting the hook quickly and with authority.

Saturday June 22 PM- Had the David Prager party of Bethlehem, PA out for an afternoon of fishing for Fluke in what turned out to be a "stinker" afternoon fishing trip as the "southerly's" (strong south winds that occur during the afternoon) really ruined our fishing by creating the dreaded "wind/against" situation.

Try as we did in finding a suitable fish producing area in those conditions was very tough. Did we catch fish, yes but not enough and not nearly enough keepers. I call it the way it is guys. This was a tough afternoon for a really nice family from PA. I can only do with what mother nature deals me.

Friday June 21, 2013- Had the Keith Wakefield party out for a morning of fishing for the "flatties" ...aka Fluke. Although the Fluke fishing has been slow since the start of the season by my standards, this Friday morning trip proved that a new body of fish has arrived in our area.

Fished the ocean side rather than fishing the bay as Keith, as always, wants me to target the bigger fish in hopes of bagging that elusive doormat he's been looking for. Not a bad day at all. Caught a good supply of fish, both shorts and a few (6) keepers for our efforts drifting channel edges in the morning until the current started roaring and we had to move into the bay to get more suitable drifting conditions. Not a bad day all in all.

Tight Lines
Capt. John
---
June 17, 2013
Fellow Anglers,
Had the Bud Luzzi party out this morning for some Striper fishing and decided to capture some of the action on the video you see here.
Although fishing was a slow pick this morning, as compared to yesterday's Striper beatdown by the Basso party, the boys still had a good time nontheless catching numerous dogfish, a few Fluke as well as 3 legal Stripers that ended up in the cooler with one weighing 20 lbs.
We also had 2 shorts Bass and lost a few fish at the boat.
Hope you enjoy this quick 2:00 minute video.
Tight Lines
Capt. John
---
June 15 & 16, 2013
Fellow Anglers,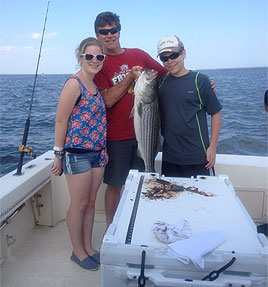 June 15, 2013
Pictured on the left is the Mike McAleer family showing one of the 11 legal Stripers caught Saturday June 15 while bunker chunking.
Mike decided to release all but 3 of the Bass to fight another day which was his way of trying to conserve this valuable resource that swim in the waters of New Jersey.
Thanks to Mike and the family for a very enjoyable day on the water.
Tight Lines
Capt. John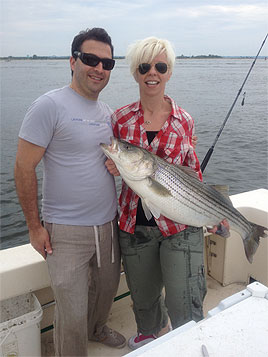 June 16, 2013
Pictured on the left is Andrew Basso and his fiancé Christina on our Fathers Day fishing trip with one of the 25 legal Stripers caught clamming in the Sandy Hook area on a glorious day for weather.
Andrew was also accompanied by his father Bob on his Fathers Day fishing trip. All the Bass were fish in the 15 to 28 lb. bracket putting up one hell of a fight to the point that everyone was arm weary by the end of our charter.
Great job guys on an outstanding day on the water and congratulations on your upcoming wedding day in August.
Tight Lines
Capt. John
---
June 3, 2013
Fellow Anglers,
In case you haven't been keeping up with fishing reports from other sources like I do, it's obvious the cold ocean water temperatures have put a big hurtin on ALL the fish that should be biting right now.
Striper fishing has dropped off considerably as opposed to what we were doing in May on numerous LIMIT Striper charters. I have to feel that these fish are on the spawn as we hopefully await another body of Chesapeake migrating fish to move into our area. With the ocean temps what they are as of today (very cold) I can only suspect that some more Stripers are to our south. Let's hope so.
Ocean Fluke fishing is also slow, but at least we have the bay fish, with a good current, to help put some fish in the cooler for our customers. A couple of good locations are producing right now providing you have a good outgoing current to warm things up and get the Fluke feeding.
The water temps, so far in 2013, are a far cry from what we had last year at this time, but this may be a blessing as all that warm water from last year probably gave us Superstorm Sandy. Add to this the chaotic weather that we've had to deal with .....high winds and rain and you can see why my fishing reports haven't been seen here lately as we've had to postpone charters over the past few weeks. Phew.....can we get a break!
The odds have got to be in my favor for the rest of the summer (please).
Tight Lines
Capt. John
---
June 2, 2013 AM
Fellow Anglers,
Now that we've had our first heat wave, we are in full swing for summer festivities. Picnics, bar-b-que's, swimming in your neighbor's pool, lounging at the beach and, best of all, fishing at the Jersey Shore.

The Jersey Shore is rebuilding after Superstorm Sandy last October better than ever. The spring Striped Bass run was one of the best in memory in Raritan Bay. And now, Fluke (Summer Flounder) are beginning to make a strong appearance as well. The months of June, July, August and September are 4 great months to be fishing for these great fighting and great tasting fish. A really fun time to be out on the water with your family and friends just relaxing and enjoying the beautiful sights and sounds of the Jersey Shore as well as putting dinner on the table.

So, to kick start the summer of 2013, I'm offering a $50.00 Reel Fun Gift Card if you call and reserve a charter fishing trip. Call me at the number below and I'll give you the current open dates I have available for the next four (4) months. You can use your Reel Fun Gift Card as part of the payment on the day of your charter. So, you'll be saving a cool $50.00...not too bad I would say. Once you book your charter, I'll mail your Gift Card to you.
(Note: Gift Cards are redeemable for any 6, 8 or 10 hour charter and cannot be redeemed for cash. The reservation deadline to get your $50.00 Reel Fun Gift Card is Saturday, June 15, 2013.
Only one Gift Card redemption per charter. Cannot be combined with any other offer or promotion)
Tight Lines
Capt. John
---
May 18, 2013 AM
Fellow Anglers,
I've been away from fishing for a few days as I traveled to Rhode Island to attend my son's graduation from Bryant University with his Master's of Accountancy degree........Congratulations Christopher , I am so proud of you.! So now on to a fishing report for opening day of Fluke season.
Had Tom Tanacredi and John Lucciola, two of our most loyal anglers, out for a morning of Fluke fishing on opening day of the 2013 Fluke season. Too bad the fishing (or catching as they say) did NOT live up to the hype. Boy, what a stinker for opening day in our area.
Moved around to many of my locations only to find a few Winter Flounder and a few Fluke throwbacks. What a stinker day.....I'm still in shock. Look, I call it the way it really was for us and today was a big letdown. Bucktailing, drifting bait.......it didn't matter. Nothing worked. Very disappointing to say the least. Culprit.........the water temps. plain and simple. 56 degrees is still damn cold for these fish, but great for Stripers which is why we've had such a tremendous spring Striper season.
So there you have it in a nutshell. Look, it can only get better as the water temps increase.
Tight Lines
Capt. John
---

May 10, 2013 AM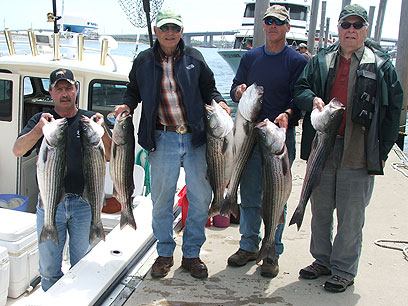 Fellow Anglers,
Pictured on the left is the Dick Toro party from Bridgewater, NJ after a morning fishing for Stripers. The Striped Bass bite continues in HIGH GEAR right now and shows no signs of letting up, but things could change at any time, so if you're inclined to go fishing for Stripers....do it now!
Had a nice steady bite going with the bass this morning on outgoing and fast full moon water.
Oh well, it is what it is, and as long as I'm getting fish for my customers, so be it.
Thanks to the Toro group for a pleasant morning on the water. We hope you enjoyed your day with us as much as we did.
---
May 10, 2013 PM
Fellow Anglers,
Pictured on the right is the Mike Barlow party from Nazareth, PA after an afternoon "Magic Hours" charter bunker chunking for Stripers.
Like this morning we had a nice steady bite going chunking for bass but this time Capt Greg ( in middle) put the guys onto fish on incoming water which seemed to produce bigger fish than this mornings bite. Could it be current or the bait used, we seem to think it's a combination of both.
But in any event, Mike and the boy's had a blast on this charter with one of the boys (pictured far right) getting married tomorrow....congratulations!
Many thanks to the Barlow group for a great afternoon fishing with us. We hope you enjoyed your day too.
Tight Lines,
Capt John
---
May 4, 2013 AM
Video on the left is our good friends and long time anglers of Reel Fun Sportfishing, Tom Tanacredi and John Lucciola.
Tom and John were with us fishing for Striped Bass this morning in Raritan Bay, Sandy Hook, NJ area on a windy and bumpy boat especially in the morning with wind against tide producing the rockin' and rollin' you see here. But Stripers seem to enjoy this turbulant water and if you can handle it, you'll catch fish.
Tom and John limited (2 fish per man) on our trip and we were in the "release" mode after awhile so the fish can fight another day. I almost forgot to mention, we caught our first Fluke of the 2013 season....a 20" (would be) keeper that we returned to the water because the season doesn't officially open until May 18. So hopefully it'll grow a little more before I get her a second time. Thanks guys for another great day on the water. Oh, by the way Tom.....the power handles are on order.
---
May 4, 2013 "Magic Hours" Afternoon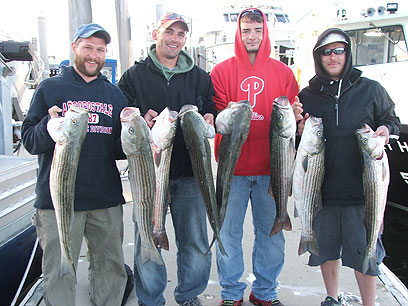 Fellow Anglers,
Pictured on the right is the Dustin Driscoll party from Friedensburg, Pa with their 8 fish LIMIT (2 fish per man) of Striped Bass.
We had Dustin (far left) and his friends out for an afternoon "Magic Hours" 4 hour charter fishing for Stripers in Raritan Bay.
So as you can see, we did pretty good for the shortened time of our regular 6 hour charter. But, that's mostly because the fish have been very hungry the past 2 weeks and it's almost to the point of just drop and reel fishing for Stripers.
The baits of choice, as usual, are clams and bunker. Thanks guys, we had a great time too. Hope to see you again in a few weeks for a combination Striper/Fluke trip we talked about.

Tight Lines,
Capt. John
---
May 2, 2013
Fellow Anglers,
Pictured on the left is the Bob Corduan party from Rahway, NJ with their 6 fish LIMIT (2 fish per man) of Striped Bass. The other 16, that's right 16, were set free to fight another day.
Of the 16, only 2 were shorts under the 28" size limit and the rest of the 14 were all legal fish. Especially a female Bass that we returned to the water as it was fairly certain that she was filled with eggs and ready to spawn. How many times have you been fishing for Striped Bass and let 14 go?
So as you can see, we're doing our part to help preserve this valuable resource for future generations. You can only eat so much Striper steaks.
The current run of Stripers can only be described as outstanding. Sure, you'll get an occasional slow day here and there, but for the majority of time, the fishing has been the best I've seen in 8 years as a charter business.
Reel Fun has fished the same basic area now for over a week and it's been "lights out" most days for our fishing enthusiasts. The weather has finally been cooperating for the fishing fleet so if you're so inclined to try your hand at this great sport, NOW is the time to do it. When the spawning time arrives, Bass fishing might get quiet for awhile... so don't delay!
Come enjoy a day on the water with your family and friends and we'll show you that the Jersey Shore is alive and well and bouncing back "Jersey Strong".

Tight Lines,
Capt. John
---
May 1 , 2013
Fellow Anglers,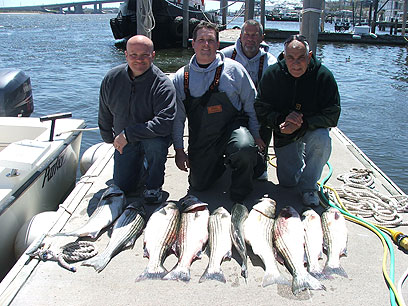 They say a picture is worth a thousand words...so I'll let the photo on the right tell it all.
Had the Mark Rodrick party out for a morning of Striper fishing and once again "King Neptune" was very good to me and my group.
We had our limit within the first two hours and played catch and release for awhile until the bite shut down and then we went trolling for a short time to the west for some more fish to release.
Many thanks to the Rodrick party.....these guys really know how to fish for Stripers..great job guys.
Hope to see you again when the Fluke are in which is very soon.

Tight Lines,
Capt. John
---
April 27 & 28, 2013
Fellow Anglers,
Saturday April 27
Had Tom T and John L out for a morning of Striped Bass fishing that, although was a slow pick, we did get our legal limit of Stripers for our efforts.
The fish were somewhat finicky for most of the morning and couldn't quite decide what they wanted more...clams or trolling Stretch plugs, but we caught fish just the same using both methods before the morning was over.
Tom and John are two very loyal members of the Reel Fun Family of Anglers which I am always greatful. They come prepared with their own gear, which I may say, are the best rods and reels I've every seen on the boat. They do a lot of fishing together and work hard to learn and use the latest fishing techniques. Very good fisherman as well as just very nice people. It's a pleasure to have know them over the years. Thanks guys!
---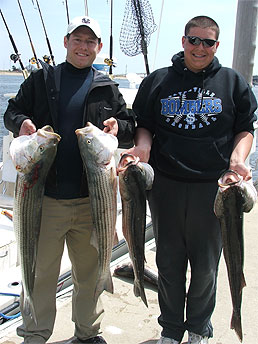 Sunday April 28

Had Sean and Peter out for a try at morning Stripers and as the song goes "What a Difference a Day Makes". Left Twin Lights Marina a little earlier than our usual time..........6:30 to be exact. Made our clamming destination by 7 am and by 7:40 am we had our legal limit. Outstanding fishing is best way to describe what happened this morning.

Quite frankly, days like this do not happen as often as we like so it was a real treat to see Stripers feeding with reckless abandon. Too bad once the tide slowed down from incoming and started going slack, the bite shut down for awhile so we decided to keep the action going by trolling Stretch plugs in the same place as yesterday but with better results. Caught 22 fish to a high of 22 lbs. only keeping our legal limit.

Outstanding day to say the least. Every fish we caught trolling were KEEPERS but because of the 2 keeper fish per angler regulations, and I believe in the sustainability of these great fish, they went back in the water to fight another day.

Regardless of what the regulations are for Striped Bass, it was still a fun day on the water with Sean and Peter. Thanks guys. p.s. Peter (pictured on right) became arm weary by the end of the day and he's a big guy. Nice job guys!

Tight Lines,
Capt. John
---
April 25, 2013
In case you haven't been following the online fishing reports, Stripers has really turned on the past week. Jigging, bunker chunking or clamming, it really doesn't matter as we are just about at the "Stupid Fishing" stage. It won't get much better than this for spring Stripers.
Every time I do a seminar or the Somerset Saltwater Expo in March, guys come up to me and say "Let me know when the Stripers are in".....well guys THE DAMN FISH ARE IN. I can't be any plainer than that.
Except for some short moving around by the fish, they have been concentrated in an area within 30 minutes of my marina. How long these fish will be around is anybody's guess..hopefully till the end of June but that's no guarantee so if you want to get in on the Striped Bass action CALL NOW!
Tight Lines,
Capt. John
---
April 21, 2013 10:24pm
Fellow Anglers,
Here is a post by Capt Adam Nowalski of Karen Ann Charters. Capt Nowalski is very active and knowledgeable pertaining to New Jersey fishing regulations and is a key source of information to the fishing industry. The article I read that prompted me to post the information (read below) about what I believed to be valid pertaining to an extended Fluke season here in New Jersey I'm being told is premature at this time.
Capt. Nowalski states: "The Press of Atlantic City is ERRONEOUSLY REPORTING today that NJ's summer flounder season has been extended for 2013 by 11 days. This MAY HAPPEN, but needs to be approved by the NJ Marine Fisheries Council which next meets on May 2nd. No extension is done at this point, NJ simply has the opportunity to do so at this point."
So, my report a few hours ago is, at this point, incorrect. Please accept my apologies and I will more diligent in gathering the facts in my reports.
Capt. John
---
April 21, 2013
Fellow Anglers,
I case you haven't heard yet, the end of Fluke fishing here in New Jersey was moved from: September 16 to September 27.
Because New Jersey over fished last year (according to their records which I find hard to believe) as well as New York, we have received from states that did not overfish, some additional numbers of fish, meaning NJ anglers are getting 11 additional days tacked on to the end of the season which was to close September 16. I think this is fine just as long as we don't have mother nature screw things up again.
September has always been the month of BIG FLUKE in and around Ambrose Channel as well as the inshore reefs and wrecks. I know some, if not many of you have been chomping at the bit to finally bag that doormat, so maybe this September will be the year.
So mark your calendar for September 27 for our last day together whacking flatties.
Tight Lines,
Capt. John
---
April 11, 2013
Fellow Anglers,
Good news Striper fans....the bass have finally made an appearance in Raritan Bay on Tuesday. It's been a long time coming with the extended winter we've been having and especially with the continued cold water in the bay.
I checked Tuesday's water temps and the Keansburg station registered a 58 degree peak by mid afternoon which is very good to see. But the water temps do fluctuate considerably during this time of year based upon my past experiences, but bass should hold tight with temps in the 45-50 range, maybe not feed actively, but should stick around non-the less.
The reports I read were guys clamming in Raritan Bay where the water historically heats up first and the bass invade these waters around this time of year. Hopefully this backdoor cold front doesn't plunge the water temperatures too far down and we can hold these fish now that they have arrived. With air temperatures like we saw yesterday.......WOW...the bass fishing should get into high gear very soon and Tuesday's bite was a good one so if anyone is looking for a sign, Tuesday was the green flag of the race so get yourself ready and get your fishing gear in order and give me a call.
I running an "Open Boat" trip for Wednesday April 24 and I need 4 anglers to go for Stripers from 7 am to 1 pm. The price, per person, is $135.00 with a $50.00 deposit to hold your space. So let me know. You can call in your deposit at 908-421-4761.
Note: If we get knocked out because of weather on the 24th, your deposit will be applied to the following Wednesday for the next Open Boat charter.
Tight Lines,
Capt. John
---
April 5 , 2013
Fellow Anglers,
Just a brief announcement that my 25' Parker, Reel Fun, is back in the water and back at Twin Lights Marina. I will be spending the next few days doing some engine break-in runs around the bay to log 10 hours on this new F250 Yamaha engine. Once completed, she'll be ready to roll and we'll be tracking down Stripers in Raritan Bay. My official start date is now Saturday, April 13 and we're taking Striper charter reservations NOW to start fishing from that day forward.
Hopefully, the Striped Bass will show up soon. As of late, the Striper fishing has been almost nonexistent due to the very cold water that's been in Raritan Bay. Last year on this date, we were catching 15-20 lb fish clamming the back of the bay as well as trolling Stretch 25's around the east end of the Reach channel, but so far that's just not happening this year. We need some warmer weather and some bright sunshine days that will quickly get the water temps in the 50's. I'll keep you posted about the Striper arrival.
Tight Lines,
Capt. John
---
March 30, 2013
Fellow Anglers,
Just read a few fishing reports from the Cape May area were of cold water temperatures and no Striped Bass yet. So it looks as though the migrating Stripers from the Chesapeake DEL/MAR/VA area hasn't occurred yet as I anxiously await their arrival here in the Sandy Hook area.
So, I, along with most of you, have to remain patient and keep a keen eye out for the Hudson River Stripers that usually invade the Raritan Bay area any day now. Good news, is that as of this morning's reading, Raritan Bay water temps have inched up to the 43 degree mark. If the water can stay that way for a few more days, then bass should start to be found along the bayshore by surfcasters and we can have a steady bite going on. I'll keep a close eye on this and alert all my anglers that we are ready to go.
Good news too...... my boat is in the water, currently at Gateway Marina, which did all my repair work, and we will be doing a test run/break-in cruise next Tuesday so I can start to put some hours on that new Yamaha F250 engine. Once test runs are completed, I'll be bringing her back home to Twin Lights Marina in the Highlands where I was docked last year. I'm also getting her ready with all the gear we need and updating a few interior items as we proceed into the new 2013 fishing season.
I read this morning that the commercial "netters" fisherman are starting to see some Fluke come into their nets not too far offshore and that's a very good sign.
So as you can see, we are on the cusp of another great fishing season here on the Jersey Shore, so if you want to get in on the great fishing here, start making your plans now and give us a call here at Reel Fun Sportfishing, LLC.
Tight Lines,
Capt. John
---
March 24, 2013
Fellow Anglers,
Now that the shows are over, it's time to talk about what's important to all of us.....fishing!
This long, drawn out winter that keeps hanging on is getting to be a real pain right now. It's slowing down the repair work of some marina's as well as delaying my boat' from preparing for the upcoming season. Although all of the body work and new engine is completed on the Parker, the boat still has to be put in the water and I'm in a holding pattern at Gateway waiting for their floating docks to be put in before I can have my boat set in the water. Then I have to go through a engine break-in period which will add an additional few days before I can bring her back to Twin Lights Marina and get her tied up at my slip. Once the break-in cycle is completed, then I will outfit her with all fishing equipment and we'll be ready to go.
Just checked this morning the water temperatures back in Raritan Bay and it was a chilly 38 degrees...burrrrr! My rule of thumb is the waters have to be around the 45 degree mark and have a stead "daily" bite going on before I will start to contact my anglers and do charters. Sure, some surfcasters are catching fish from the usual shore hotspots, but not consistently enough for me to do a charter for my customers. A fish here, a fish there, one at night, a few in the day.......not much consistancy.
So, right now, I would have to say that a projected sail date for my anglers for Striped Bass will be the same as my first trip last year which was April 15. It seems the arrival of the spring Stripers "in full force" is about 2 weeks later than last year.
Tight Lines,
Capt. John
---
March 18, 2013
Fellow Anglers,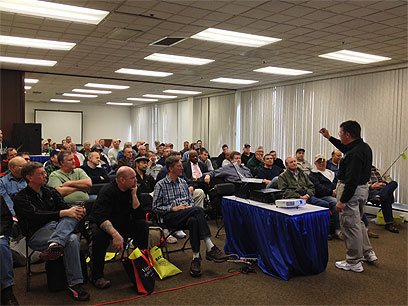 Pictured on the left are anglers who were in attendance for my " Bucktailing for Fluke" seminar that I gave on Friday March 15 at the Somerset Saltwater Expo, Somerset, NJ
As you can see, the room was almost filled to capacity as fluke fishing is still a very popular sport among saltwater anglers here in New Jersey.
My interactive seminar lasted about 45 minutes due to the fact that I want to give every opportunity for a lively question and answer period. I like when the audience gets involved in the discussion. I would like to take this time to thank all those who attended both Friday and Saturday seminars and especially the Expo staff consisting of Amanda, Julia, Paul and Todd for another outstanding 3 day show that broke all previous attendance records. Many of the vendors told me that they too had a very good weekend in sales as they were there to make start of season deals. Reel Fun Sportfishing will be Striper fishing as soon as the weather starts to cooperate and we get some significant increase in back bay water temperatures which should bring the Stripers into Raritan Bay.
Tight Lines,
Capt. John
---
March 15, 2013
Fellow Anglers,
Just in case you were wondering what to look for at the Somerset Saltwater Expo, pictured on the left is our booth which is located by making a left turn as you enter the hall.
Plenty of brochures, business cards, post cards and tons of information about fishing and just a really nice day to spend with the family looking at all the goodies for sale from the numerous vendors at the show.
The Expo organizers saw an all-time record breaking attendance. This is a very exciting time for everyone who produces and participates in the greatest saltwater exhibit on the northeast.
I gave my Bucktailing for Fluke seminar at 4:00 PM to a near capacity room (125) of eager anglers wanting to hear all the latest techniques in the art of fishing for Fluke. Saturday my seminar was presented at 1:45 PM. The staff will be there to help out at the booth as well as the seminars in order to answer any of your questions. So come on down to the show with your family, fishing buddies and friends. It's a great time to stock up for the season. I'll have some giveaways to hand out too so come with your calendar as it's a great time to book your 2013 charters. Hope to see you Sunday at the show.
Tight Lines,
Capt. John
---
March 15, 2013
Fellow Anglers,

***This is Show Weekend.....don't miss out***
The Expo opens it doors:
Friday, 12 noon till 8 pm.
Saturday, 10 am till 6 pm.
Sunday, 10 am till 5 pm.
Tight Lines,
Capt. John
---
March 12, 2013
Fellow Anglers,

Just a quick reminder that the
Saltwater Expo starts this coming Friday March 15, and runs to Sunday March 17th. With all the great vendors and seminars going on this weekend, it would be a shame if you missed this great show going on here the Garden State Expo Center, Rt 287 (Exit 6) & Easton Ave, Somerset, New Jersey.
The Expo opens it doors:
Friday March 15, 12 noon till 8 pm.
Saturday March 16, 10 am till 6 pm.
Sunday March 17, 10 am till 5 pm.
There are 3 days packed with seminars that are sure to answer all your fishing questions as well as get you in the mood after a long winter.
For a complete listing of the seminar dates and times....click here.
My "Bucktailing for Fluke" seminars are: Friday March 15th at 4 pm and Saturday March 16th at 1:45 pm.

Bring a pad and pen and come with your questions. The staff will be there to help out at the booth as well as the seminars in order to answer any of your questions. So come on down to the show with your family, fishing buddies and friends and check out all the goodies on sale. It's a great time to stock up for the season. I'll have some giveaways to hand out too so come with your calendar as it's a great time to book your 2013 charters.
Tight Lines,
Capt. John
---
March 8, 2013
Fellow Anglers,
Here is the report that was on Capt Al Ristori's Star Ledger blog this morning about what was voted on for the 2013 Fluke season as reported by Paul Haertel of the JCAA:
Following is a report from Paul Haertel of the JCAA on the Thursday afternoon action of the Marine Fisheries Council on the fluke regulation options:
"The NJMFC voted unanimously in favor of a recreational fluke season that will begin on May 18th and end on September 16th, with a 17 1/2" size limit and a five fish bag limit. The groups I represented at the meeting supported a longer season or at least one that extended the season further into the fall.
However, the vast majority of those who spoke favored the option that was chosen. However, there is still a little ray of hope that the season might be extended further. After all states have set their regulations, the ASMFC will review them. If they determine that the regulations are likely to result in a coastwide underage of the quota they may allow New Jersey and New York to liberalize their regulations somewhat.
New Jersey and New York were the only two states who were forced to take a reduction due to overfishing their quotas last year. If the ASMFC does allow us to liberalize somewhat the NJMFC may do so by adding a few days to the end of our season. However, there was some concern by council members that doing so could cause us to exceed our quota. I pointed out that we are more likely to underfish our quota this year because there will be far less participation. This is due to all the marinas, boats and coastal homes that were damaged or lost due to Hurricane Sandy. If we are given the option to liberalize further, the NJMFC will consider doing so at their next meeting on May 2nd."
So it looks like the season is now May 18th throught September 16th with 5 fish per angler at 17.5". If anything changes, I will let you know so mark your calendar's
Tight Lines,
Capt. John
---
February 24 , 2013
Fellow Anglers,
As you are probably aware, the Somerset Saltwater Expo is fast approaching and I would like to give you some dates and times for the show as well as the "Bucktailing for Fluke" seminars that I will be presenting.
First off, the Expo opens it doors Friday March 15, at 12 noon till 8 pm, Saturday from 10 am till 6 pm and Sunday March 17th from 10 am till 5 pm. The scope and magnitude of this show strictly for the saltwater fisherman is not to be taken lightly. Anybody and everybody in the field of saltwater fishing in the Northeast attends this show with great deals on rods, reels, tackle, clothing, charter captains, fishing clubs and organizations and quite frankly much too much to list here.
There are 3 days packed with seminars on just about every imaginable topic you can think of and more. These are 45 minute seminars and are sure to answer all your fishing questions as well as get you in the mood after a long winter and cabin fever. Once again, the show staff has done an outstanding job of putting the show and seminars together and this year will not disappoint. For a complete listing and times of all the seminars...click here.
My "Bucktailing for Fluke" seminar schedule is: Friday March 15th at 4 pm and Saturday March 16th at 1:45 pm, so jot those dates and times down in your calendar and please plan to attend as I would love to see you again before the fishing season starts for us on April 1, 2013. Bring a pad and pen and come with your questions. Captains Greg, Marc and crew will also be there to help out at the booth as well as the seminars in order to answer any of your questions. So come on down to the show with the family or your fishing buddies, have a few beers and walk the aisles and look at all the goodies on sale. It's a great time to stock up for the season on almost anything you might need.
Tight Lines,
Capt. John
---
February 22 , 2013
Fellow Anglers,
Capt Al Ristori posted the following report on his Star Ledger blog today about the "proposal" for the Fluke fishing this year in New Jersey which will be considered by the Marine Fisheries Council:
"There was some good news about fluke at yesterday's Council meeting. We've been expecting to take a 15 percent cut, but Tom Fote of the JCAA said some additional poundage may be available to allow status quo. The 2012 season had a five fish bag limit at 17 ½" and ran from 5/5 – 9/28 for a total of 147 days."
"The following preliminary proposals for a 15 percent cut were as follows -- all based on a five fish bag."
17 ½" with a season from 5/11 – 9/4 for a total of 117 days
17 ½" with a season from 5/18 – 9/16 for a total of 122 days
17 ½" with a season from 5/24 – 9/22 for a total of 122 days
18" with a season from 5/25 – 10/2 for a total of 131 days
18" with a season from 5/2 – 9/12 for a total of 135 days
18" with a season from 5/4 – 9/29 for a total of 149 days
As I get additional information, I will pass this along to you.
Tight Lines,
Capt. John & Crew
---
February 1 , 2013
Fellow Anglers,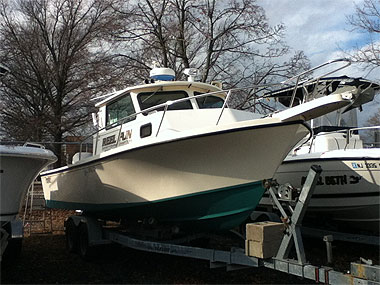 I'm proud to show this picture on the left as this was taken yesterday at Gateway Marine Services.

Reel Fun is now ready and anxious to sail after a face lift she had due to Superstorm Sandy. New bow rail, pulpit, engine, repaired gel coat and fiberglass on the hull and many other peripherals that you can't see... Gateway did a great job.

We'll be moving the Parker down to the water in the beginning of March to do a sea trail of the engine and a few engine break in trips to fine tune her for performance. Visually, the boat looks great...boy I can't wait to get the season started.

Now on to fishing. I've gotten some calls this week from anglers booking Striped Bass charters for April and May, and because they called early, they took advantage of some really prime Striper days as far as tides are concerned so if you're interested in fishing for spring Striped Bass, maybe you should consider calling soon to reserve your days.

I found a few more You Tube videos from John Skinner on his kayak...the trolling "Tube and Worm" technique for Striped Bass. This is a method I personally fished in the Cape Cod area a few years ago and was very successful doing so. I want to try this here in NJ and I'm quite sure the results will be the same. It's trolling a long red tube with either a live sandworm attached to the hook or a Gulp Alive Sandworm. The live sandworms releases its pheromones and attracts the Striped Bass on an amazingly consistent basis.

I know...it's trolling, but when you see how well this method works on days when maybe clamming isn't doing it or trolling bunker spoons on telephone poles is not your thing and mine either, then trolling these red tubes on braided line rods whacking big fish might change your mind.
Tight Lines,
Capt. John & Crew
---
January 21 , 2013
Fellow Anglers,
It's been a few weeks since my last report during these quiet times on the fishing scene here in New Jersey. I trust you had a safe and enjoyable New Years celebration and now it's on to 2013 and the many winter and spring shows that are going on now through mid March,
Reel Fun Sportfishing will, once again, be attending the Saltwater Expo, March 15 through 17, at the Garden State Exhibit Center, Somerset, NJ. This is THE premier saltwater fishing show in the tri-state area. Hundreds of vendors will be there along with numerous seminars pertaining to saltwater fishing that I'm sure will interest you. Mark you calendar's now and don't forget to stop by my booth to say hello and let's talk fishing, share a few good laughs and maybe book a charter or two for 2013.
We'll be starting off the spring season clamming Striped Bass around April 1st, so make your plans now.
The boat repair is just about done. I spoke to Gateway Marine Services in Belford just this morning and we are in the home stretch. It's just a matter of a few days now and we'll be taking little Miss Parker back home as good as new. As an added little new feature that you may be glad to hear about, I've had the technicians at Gateway install a new AM/FM/CD player (the old one was inoperable all last year) that also has the capability of playing music from your iPod's as well as your CD's....so I welcome you to bring along some of your favorite tunes for you next fishing charter. Of course I have my selection of music to soothe the savage beast if you forget.
So as you can see we are getting very close to closing the unfortunate chapter for the boat because of Superstorm Sandy. All things considered, I was pretty fortunate that the boat was saved and I had an outstanding crew available to repair the boat at Gateway in Belford. Please remember that many homeowners are still reeling from the storm and that the American Red Cross and the Salvation Army are still accepting donations to help those who are in desperate need. Every dollar helps!
Tight Lines,
Capt. John & Crew
---
January 1 , 2013
Fellow Anglers,
On behalf of the entire crew here at Reel Fun Sportfishing allow me to take this opportunity to wish you
a Happy, Healthy and Prosperous New Year.
Reel Fun Sportfishing will, once again, be attending the 2013 Saltwater Expo, March 15 through 17, at the Garden State Exhibit Center, Somerset, NJ. This is THE premier saltwater fishing show in the tri-state area. You will never find a better place for all your saltwater fishing needs at great prices to boot.
So stop by and let's talk fishing and share a good laugh while we're at it as I'm always looking forward to seeing the great Reel Fun family of anglers.
The boat repair is coming along quite nicely as you read this message and barring any unforeseen situations, we will be back in the water targeting Striped Bass sometime around April 1, 2013. I have my appointment calendar filled with all the tide and moon phases with all the prime Striper days available for charter. A quick phone call to me and you can lock in any of those dates.
Also don't forget I'll be sending out emails to my subscriber's of some great "how-to" video's on topics such as filleting fluke and striped bass, knowing your knots, sharpening your knives, bucktailing for fluke and many more topics of great interest. Good fishing stuff to keep you busy and interested during those long and cold winter nights, so keep your eyes peeled for my email messages beginning in January.
Tight Lines,
Capt. John & Crew
---
For archived 2011 Fishing Reports and Videos......click here.
For archived 2012 Fishing Reports and Videos......click here.
---
© 2005 Reel Fun Sportfishing, LLC. All Rights Reserved.
Web site designed and published by Capt. John

arters Sandy Hook, NJ