Sandy Hook NJ Fishing Reports for 2011
"Capt. John's Fishing Reports" gives you the latest information about our fishing charters as they occurred.
You'll read when we do good and when we don't, what baits we used, rigs, water and tide conditions.
So bookmark this page and check back with us regularly.
Thursday December 29, 2011
Fellow Anglers,
On behalf of the entire crew here at Reel Fun Sportfishing allow me to take this opportunity to wish everyone
a happy, healthy and prosperous New Year.
Anyone interested in talking about Striper or Fluke fishing with me or to arrange a spring Striper charter for 2012, I'll be at the 2012 World Fishing and Outdoor Expo, March 1 through 4, 2012 at the Rockland Community College in Suffern, NY. This is a very big fishing and hunting show and is sort of the kickoff to the spring fishing and hunting season in the Northeast. Hundreds of exhibitors will be on hand for this 4 day show. One of, if not, the best shows in the Northeast. I'll be right near the front entrance, so stop by and say hello and let's go over the my reservation calendar of great tidal days for the spring Striped Bass run in Raritan Bay, NJ as well as the outstanding days available for Summer Flounder (Fluke) here in New Jersey.
Reel Fun Sportfishing will also be attending the 2012 Saltwater Expo, March 16 through 18, at the Garden State Exhibit Center, Somerset, NJ. This is THE premier saltwater fishing show in the tri-state area. You will never find a better place for all your saltwater fishing needs at great prices to boot.
I'll be offering special "show pricing" for those ready to book your spring and summer charters right at the shows. Great savings in these tough economic times. So stop by and let's talk fishing, past and future, and share a good laugh while we're at it as I'm always looking forward to seeing the great Reel Fun family of anglers. See you then!
Tight Lines,
Capt. John
---
Thursday December 8, 2011
Fellow Anglers,
As we enter the final stages of 2011 and the Holiday Season, this is a good time to reflect on the past spring, summer and fall fishing seasons here at Reel Fun Sportfishing in Sandy Hook, NJ.
Spring-The spring Striper run was very good in the Raritan Bay and surrounding waters for Reel Fun Sportfishing. We had numerous limit catch days as we began the season, despite some really sloppy weather around mid April. Clamming was the way to go back into the western portions of Raritan Bay and as the waters warmed up, numerous other bay locations started to produce as well. Once some bunker showed up it was time to switch our baits.....but I may add that the bunker population in Raritan Bay was way off this year and it is something to keep an eye on. Based upon my records we had a few stinker days Bass fishing which is to be expected at times, but for the most part the spring Striper run was very productive. Just telling the facts!
Spring/Summer-The Fluke season began on May 7th, and quite frankly, the 2011 run of Fluke was "outstanding" for most of my charters. Right from the very first day we were catching nice fat and plump quality Fluke in the confines of Sandy Hook Bay as this is usually the warmest waters to produce in early May. Fluke fishing in the Shrewsbury and Navesink Rivers also produced some really big fish for those that like to fish skinny water with ultra light tackle while jigging bucktails with teasers attached. Great, great early season fishing in protected waters for the light tackle fisherman.
Of course, the throwbacks outnumbered the keepers as usual, but the amount of keeper fish was quite good to satisfy most anglers. As the waters warmed and the fish began to spread out, the numbers of throwbacks as well as keepers rose dramatically especially in early and mid June to the tune of 40-60 fish caught per charter with a few of my charters hit the 100 fish mark....amazing fishing!
It's obvious too that "bucktailing" was THE way to fish for bigger quality fish. Although dragging bait was very effective on many of our trips, bucktailing effectively was the method to score some really nice fish. Spro 4,6,& 8 oz bucktails in glow was an absolute killer in the deeper waters of the Ambrose Channel as well as other waters that ranged in depth from 40-80 ft. If you are unfamiliar with the art of "bucktailing" then give us a call for next year and we'll be glad to teach you this very productive technique. Within an hour you'll be whacking Fluke with the best of them. It's all about "feel". My records indicate that we had numerous charters with Fluke in the 3-5 lb class on a regular basis, with Fluke coming over the rail in the 7, 8 and 9 lb mark. Now that's alot of Fluke and real tasty fillets for dinner. Great, great Fluke season until the Labor Day weekend arrived with Hurricane Irene and totally killed the Fluke season for those big doormats I was just getting ready to sail for on the wrecks and reefs. Sad...really sad! The whole month of September shot for something I was waiting for all year. But, with the amount of throwbacks we had alone, I think the 2012 Fluke season should be a dandy.
Fall- With the good news comes the bad at times. The fall Striper season in the Sandy Hook area was, based upon my previous years records, way off to say the least. Once again, the southern migration of Stripers from up north, made a detour from Sandy Hook and took up residence in Island Beach State Park area down to Barnegat Inlet.
Don't get me wrong, there are always resident Stripers that hang out here, but those big cows that migrate from northern waters is what I'm looking for to fill my cooler. It would be impossible for me to make that long run south to Barnegat Inlet with my setup. This is now the 3rd year in a row that the Striper migration route steered clear of Sandy Hook in the fall. I really think someone needs to do some investigating as to the cause of what's happening. I have my viewpoint, which centers around water quality and the lack of baitfish in our area because of it, but that's another topic for later discussion. Sure I heard of charters scoring well at times, but consistantly.....no!
So there you have it from the helm of Reel Fun Sportfishing. Let me take this opportunity to sincerely Thank all the great anglers who fished with us this year and we hope you'll find the time to join us again in 2012 which starts around April 15th. If you plan on fishing with us, book your charter early for the spring Striper season as the prime tidal dates fill up early. When I find out the new 2012 Fluke season dates, I will post them here so stop back soon.
Have a Happy Holiday Season and a properous and healthy New Year. Don't forget about all the numerous fishing shows that will be coming up over the next few months. We'll be out on the water before you know it.
Tight Lines,
Capt. John, Mates Mark and Chris
---
Tuesday November 29, 2011
Fellow Anglers and Loyal Customers,
Went to the marina yesterday and little "Miss Parker" is out of the water, which brings us to the end of our 2011 fishing season here at Reel Fun Sportfishing.
Because of the mild weather we've been having recently along with the lack of a consistent Striper fishery here at Sandy Hook, I thought it was time to winterize the engine and shrink wrap her up for the coming winter. I'll be offering my thoughts about the entire 2011 fishing season in a wrap-up report for the year. Just some of my thoughts to ponder.
Currently I'm scheduled to attend the 2012 Somerset Saltwater Expo held at the Garden State Exhibit Center at the junction of Rt. 287 and Easton Ave, in Somerset, NJ on the weekend of March 16,17,& 18 so mark your calendar now and attend this great saltwater fishing show. Plans are in the works for a few other shows, so I'll post that information as soon as I get final confirmation.
I hope you all had a wonderful Thanksgiving weekend and check back here for my 2011 wrap-up report.
Tight Lines,
Capt. John
---
Wednesday November 23, 2011
Fellow Anglers,
As I reported here a few short weeks ago, I was expressing my concerns about the fall migration route of the Striped Bass and hoping they would pay a visit to the Sandy Hook area on their southerly migration. Well, I'm sad to say, that for the 3rd straight year it's become apparent that's not going to happen.
I'm not sure you've heard, but the Manasquan River and Barnegat boats as well as Island Beach State Park surf fisherman are "hammering" the Striped Bass right now and have been, almost daily, for the past 3 weeks. Schools of sand eel baitfish are being devoured by the Stripers along the beach as reported by my sources. Sure, there are resident Stripers in Sandy Hook to go fishing for, but once again THE big body of fall migrating Striped Bass are not going to appear in the Sandy Hook area, at least not so far. Sad, very sad!
Something is wrong here in the Sandy Hook area for these thousands of migrating fish not to follow the contour that they followed on their spring northerly migration to their Cape Cod summer playground. What it is I really don't think I'm qualified to answer, but something is definitely happening here at Sandy Hook for these fish, that turn the corner around Montauk, swim right past us and wind up in the waters from Manasquan south to Barnegat Inlet for the 3rd year in a row.
Coincidence.... don't think so. Something is wrong here and it's time for the powers to be to earn their money and do some investigation on this pattern that's developing. I want some answers as what the heck is going on here and is their something I can to do change this pattern.
Tight Lines,
Capt. John
---
Tuesday November 22, 2011
Fellow Anglers,
On behalf of the staff of Reel Fun Sportfishing, allow me to take this opportunity to wish you all a very peaceful and "Happy Thanksgiving"
Join me in giving thanks for all the wonderful things in life that we enjoy which also includes some of the great fishing that we are able to indulge in as well as valuable time with family and friends sharing good stories, many laughs and peaceful time on the water.
Thanksgiving is a special time of year as it allows me to look back on all the wonderful people that I've met and how lucky I am to have such great anglers fishing with us.
Tight Lines,
Capt. John
Mates Christopher and Mark
---
Monday November 7, 2011
Fellow Anglers,
Had the Peter Diamond charter out for an afternoon "Magic Hours" Striped Bass fishing trip which was anything but "magic". Wow.......what a tough day. This is not the fall Striped Bass fishing that I was expecting here in Sandy Hook.
Had all the necessary baits aboard to take on just about any situation, but the Sandy Hook area was totally devoid of Stripers today. Tried clamming Romer, eeling Ambrose Channel, clamming and eeling the Swash area, eeling the Sandy Hook Channel too. All for naught. Boy, what a bust today.
First off, this is turning into a repeat of the last two years........the fall migrating Stripers are bypassing Sandy Hook and showing up down south off Island Beach State Park, Barnegat Inlet area. Why, who knows, but there is a trend developing here that can't be overlooked. Why? I'm sure if you ask 20 or so charter and/or party boat owners, you'll get 20 or so different opinions, but I'll offer mine since this is my web site.
Water quality in the New York Bight area. Over the past couple of years, we've been hit by major flooding storms just around the Labor Day weekend. All that runoff from the streets and the overflowing waste treatment plants has to of had an effect on the water quality in our area. Hurricane Irene had a devastating effect on the Raritan Bay water quality. I know because that's where I fish most often and what I saw after Irene can't be described here. Enough said. The Striped Bass aren't stupid. They'll stay offshore on their migration route from the North and bypass our water system and follow the Mud Hole contour until they find cleaner water and migrating baitfish further to our south....Barnegat for instance. Speaking of baitfish, that's another thing that bailed out of our area when Irene came to us, the millions of baitfish that moved out and started to head south "during" and after Irene.
So that's a theory that I'll offer, right or wrong, but we have to admit there's a very bad trend developing here, especially for people in my line of work as well as the recreational fisherman. I'm keeping my hopes alive though for next years spring Striper run.
Tight Lines,
Capt. John
---
Saturday October 29, 2011
Fellow Anglers,
Well, here I sit at my PC on this horrible Saturday morning, another charter postponed because of weather issues. Nothing like a good Nor'Easter to get the fish put on the feed bag!
Got a good phone call yesterday that eeling "in the channels" has broken open for Striped Bass and that the water temperatures are now at 57 degrees. Prime fishing temperature for Stripers. I would suspect next week, if the weather cooperates, will be a break open week for Stripers in the Sandy Hook area. The weather that is occurring today should really energize the Bass to move into our area and feed along the way on their southerly migration route.
The charters that I have for next week will give me a good indication as to the sheer numbers of Stripers now in our area.
Tight Lines,
Capt. John
---
Monday October 24, 2011
Fellow Anglers,
Sorry for the delay in reporting as I've been fighting the flu bug now for almost 2 weeks........not nice. But here's what's been happening in our area as of late.
According to reports from fellow charter captains and private boaters that I'm friends with, the consistent Striper fishing still has not occurred as we await the fall migration of bigger fish from the North. Although I've heard that some 40's were fished from the Bay Head area the other day which can be a good and bad sign for the Sandy Hook area.
The good sign is the bigger fish are starting to make a showing in NJ, the bad is, and I hope this is not the case, that the bigger migrating fish could be bypassing the Sandy Hook area staying out to sea following the Mud Hole contour on their way down south. Boy, I hope this doesn't happen again like it did 2 years ago. Keep in mind that it is unlawful to fish and keep Striped Bass beyond the 3 mile coastal limit because this is federal protected waters.
As a reminder, the Sea Bass fishing resumes on the 1st of November and fishing has been very good for bottom fisherman of Sea Bass, Blackfish and Porgies. So, if you're so inclined, give me a call for a bottom fishing trip.
Now that I'm almost back on my feet, I have quite a few makeup charters to do and I'll be reporting on those as they occur.
Tight Lines,
Capt. John
---
Monday October 10, 2011
Fellow Anglers,
Just wanted to report to you about the fishing here in the Sandy Hook area as of late.
The Striper fishing has had its ups and downs, but with the water still a bit too warm, that's to be expected. Good one day and then poor for a few. No steady, solid action to report. But then again if you're looking for Bluefish, then trolling BIG Blues in the bay is a good choice. Some smaller Blues are outside along the beach, but it seems the bigger fish have decided to hold up inside Raritan Bay.
Bottom fishing is doing very well at the Sandy Hook Reef where boaters are whacking pan size Porgies and plenty of them. Too bad the Sea Bass fishing is closed until November 1 and the Blackfish (Tautog) anglers can keep only one (1) per man until November 15.
Will continue to report the status of the Striper fishing going forward as this should break open big time any day soon as there is tons of baitfish streaming out of the creeks and rivers now.
Tight Lines,
Capt. John
---
Tuesday October 4, 2011
Just like to take this opportunity to sincerely "Thank You" for making the Reel Fun Sportfishing web site quite a popular place among the angling community. Apparently you enjoy what I've posted on this site as the hit counter, which records the amount of visitors to the site, now exceeds 103,000 since January 1st of 2011, which is quite a feat.
People visit web sites for a host of reasons but the number one reason, based upon studies conducted in the industry, is "content". Give the viewers substantive information, keep it fresh and up-to-date and above all include photos and videos and people will come back to the site. You may not be aware that I spend quite a bit of time keeping the web site current along with spending my time on the water fishing with you.
The 100,000 mark is a milestone to reach for a small business and, quite frankly, I'm very proud of my web site which I designed myself without any previous commercial web design experience. Once again, Thank You!
On the fishing front, the Striped Bass are showing signs of heating up as fishing at night in the rivers has been quite good and with cooler weather settling in now, means the bait fish are starting to school up and head out for the winter. This means that the Stripers are starting to get very active now.
So, if you're planning on doing Striped Bass fishing this fall, call me now for available dates for a charter trip in
October and November.
Tight Lines,
Capt. John
---
Friday September 23, 2011
Fellow Anglers,
Now that the 2011 Fluke season has come to an abrupt halt, thanks to Hurricane Irene, it's time we turned our attention to the fall Striped Bass.
Stripers have been making an appearance at night in a few "undisclosed" areas that Mate Mark and I have been fishing now for about a week. We've been casting and retrieving artificial lures with good success and we're within 20 minutes of the dock in very protected waters under clear moon-lit and star filled skies.
Just imagine...no other boaters to contend with.... just you, me, Mark and the fish all caught on light spinning tackle where all you hear is the slap of Striper tails whacking bunker and mullet as they are trying to escape....what a blast! And the best thing about this charter trip is you can fish weeknights and still have enough time to go home and get some sleep for work the next day.
We will be leaving the dock weekdays at 6 pm, returning by 11 pm. On weekends we'll depart 7 pm and return by 12 midnight. The cost of this 4 man charter is $395. As always, a $100.00 deposit is required to hold your night which I will take via a credit card when you call to reserve your trip. If we have to postpone due to weather, we will reschedule to another date.
You may use your own spinning rods/reels or you can use ours, but please let me know in advance. (6 to 7 foot med/light spinning rod/reel combo with 30 lb. braid is ideal but mono is O.K.
Please be advised that because we fish incoming water for these fish around selected structure, there are only a limited number of prime evenings available, so don't hesitate to reserve the prime dates I have for the next few weeks while these fish are around.
Tight Lines,
Capt. John
---
Saturday September 17, 2011
Fellow Anglers,
Had the opportunity to have the Vito Zarrillo party from Hoboken, NJ out for some early morning fishing, starting off with some Striped Bass and then trying our hand at whatever Fluke may still be available.
Unfortunately, mother nature decided not to cooperate as we were given some tough conditions for fishing for Stripers with a E/NE winds around 15 kts gusting to 20 kts which made fishing a few of our locations a really tough go. We decided to do a couple of drifts worming the Shrewsbury River upon leaving our marina and found really good readings at the bridge with a couple of hookups of short Stripers (runts) but that's a good sign as we recorded the water temperature had dropped to 65.2 degrees in contrast to 80 degrees just a few short weeks ago.
After that limited action died, we decided to move into Sandy Hook Bay and attempt a few Fluke drifts "inside" because I could see that we had a hard E/NE wind with whitecaps developing and I knew that fishing for Stripers from Flynn's to Romer was going to be a fight every step of the way, especially for a 25' Parker. Made several attempts at various locations along the lee of Sandy Hook drifting with Peruvian/Squid combo as well as bucktailing, but whatever Fluke are still around weren't interested in our offerings. Tough, tough day to say the least.
Back in the spring, when I heard that the Fluke season was going to be last until September 25th, I was ecstatic that I had a chance at some "doormat" Fluke in the Ambrose Channel as well as some wrecks and reefs along Sandy Hook. Then along comes Hurricane Irene and that kills everything as far as Fluke are concerned. Very disappointing, but I'm still going to hang in there until the 25th of this month.
My sincere "Thanks" to the Zarrillo party for all the enjoyable conversations we had and still a nice time on the water with a good group of fishermen.
---
Tuesday September 13, 2011
Fellow Anglers,
Just wanted to keep you all updated as to the Fluke fishing here in the Sandy Hook area. I've been getting mixed reports from my sources, but for the most part, the Fluke fishing took a real hit from Hurricane Irene from all the water that's been flooding into Raritan Bay for the past 2 weeks.
As can be expected, all the runoff from the rivers has had an adverse effect on the fishing with incredible amounts of trash and brown and stained waters making the general Sandy Hook area waters look like the color of coffee.....not good. That coupled with a big swell from offshore Hurricane Katia, and the waters have been very mixed up in the area. When this happens, as it did last year around Labor Day when we had a Nor'Easter, the Fluke basically have 2 places to go....one is stay in close but move into deep waters and two is to head offshore way out of our reach of most charter boats.
Based upon conversations I've had over the last week, it seems like it's the 2nd option that has occurred and that's really not good for the Fluke fisherman and especially for Reel Fun Sportfishing. Sad, very sad as I was really looking forward to the September bite for doormat Fluke in the Ambrose Channel and it appears that might not be happening this year.
We'll be sticking with it until the end of the Fluke season (September 25) as I'm optimistic that all those great fish haven't left yet. In the mean time, I am keeping a keen eye out for the fall run of Striped Bass to begin which hopefully is soon as even the Black Sea Bass season is closed until November 1 and the Blackfish (Tautog) keeper is only one per angler now until November 15th....that's really sad.
Boy, they're really trying to put us all out of business. And we all know who "they" are! Need I say more.
Tight Lines,
Capt. John
---
Wednesday September 7, 2011
Fellow Anglers,
Some very optimistic news that was reported by Capt. Al Ristori on his blog that is as follows:
"There's been a lack of fishing information this week, but Capt. Sal Cursi of Cathy Sea from Sewaren had an interesting report. His mate, Al Glahuski of Sewaren, plus a friend fished the back of Raritan Bay on Monday to catch 11 keeper fluke up to 5 pounds."
"There's been no good news on fluke to the north since the storm until today. Capt. Stan Zagleski, after a "bummer of a day" Sunday in the ocean, drifted the bay shallows to find good numbers of keepers with his Elaine B from Bahrs Landing in Highlands. Most fares caught a few, and Dennis O'Brien of South Bound Brook bagged five. Wayne Pinder of Somerset had four up to the pool winning 4 7/16 pounds."
This is very good news for me and my customers to say the least as it shows that even with this horrible weather we've been having, the fluke are still in our area and haven't left for the winter home at the Continental Shelf. My mate Mark and I thought it was imperative to relay this info to you as we've been hunkered down since Irene like most of you waiting for better weather, which I'm sure is just a few days away.
Tight Lines,
Capt. John
---
Monday (Labor Day) September 5, 2011
Dock Repair Update......Back in the water and ready to go!
As you can see by the photo on the left, my Parker is back in the water and we're ready to roll. The dock has been totally repaired from the after effects of hurricane Irene and Reel Fun Sportfishing is back in business. Now it's just a matter of waiting for the waters to settle down from all the runoff from the rivers, which nature has to take care of herself and hopefully the Fluke fishing will resume back to the great fishing we've been enjoying before the storm.
Once again, many "Thanks" go out to Anglers Marina for getting the dock repaired so rapidly and a special "Thank You" to Brad and his helper. Looks Great!
Tight Lines,
Capt. John
---
Friday, September 2, 2011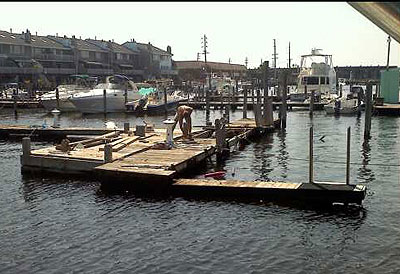 Dock Repair Update......Just wanted to keep you, my very concerned customers, up to date as to the status of the repair to the dock due to Hurricane Irene. The start had to be delayed a bit due to the Sea Bright bridge (Rumson) wouldn't open for a few days delaying the repair rig from sailing up the Shrewsbury to Anglers.
As you can see by this photo taken just this morning, the workers are progressing nicely and it's just a matter of hours now when I'll be slipping little Miss Parker back into her berth and going after those tasty Fluke.
My "Thanks" go to the staff at Anglers Marina for their service getting me back in the water so soon after this very disruptive storm that passed us just a few days ago.


Great job guys. And "Thanks" to Brad too!
Tight Lines,
Capt. John
---
Tuesday, August 30, 2011
Fellow Anglers,
Irene Update......Some of you have e-mailed me as to what the status of Reel Fun Sportfishing since hurricane Irene passed through on Saturday night and Sunday.
Luckily, I decided to haul out my Parker onto land the Friday before the storm, and she is safe and sound on blocks sitting in the lot at Anglers Marina. That's the good news. Now for the bad news.
The dock where the boat is berthed, the end of the "t" dock, was severly damaged by the Sunday morning's high tide coupled with the 60 kt N/NW winds that hit Sea Bright and now we are in the rebuilding phase. I was told the pier builders would be there soon to begin construction and repair as fast as possible to get me and the other 3 vessels that are at the t-dock back in the water.
Sea Bright was hit very hard by Irene as many businesses sustained extensive water damage which will take days and weeks to clean up from. That said, numerous other marina's in the hard hit Monmouth County area were devastated by Irene and I'm sure repairing their docks too. So be patient, and when we get back in the water, I hope in a few days, I will send out notices to all my anglers. It could have been much worse.
Tight Lines,
Capt. John
---
Wednesday, Aug 24, 2011
Fellow Anglers,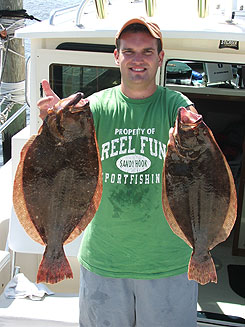 Had the opportunity of having my son and mate Chris out for some quality time before he returns to college. We went Fluke fishing in the Ambrose Channel and boy did we whack some nice fish in a short amount of time.
Waited for the tide to shift to incoming with a nice light southwest wind and decided to bucktail the channel edges using our 6 oz. Spro-Glo's adorned with pearl white squid strips that knocked the heck out of the fish. Sure there were the normal amount of throwbacks, but the keepers were all quality fish in the 18" to 23" range with a fish going 5 lb's as shown by Chris on the left along with a 4 lb'er too.
Then once the wind started to honk out of the south at 22 kts and our 8 oz bucktails couldn't hold bottom, it was time to call it a day since dragging baits has not been nearly as productive as bucktailing.
Not bad for 3 hours of fishing. We bagged 7 keepers and had 31 throwbacks for the 2 men fishing.
Now time to sit back and wait for hurricane Irene to arrive. What next?

Tight Lines,
Capt. John
---
Wednesday, Aug 17, 2011
Fellow Anglers,
Had Ralph Barone family out on a fluke charter on an absolutely beautiful day. Headed right for Ambrose Channel and set up around an area that had been producing quite well for my customers for the past 2-3 weeks. Too bad someone didn't tell the bigger fish that I was around.
We had a steady pick of shorts on an incoming current, which surprised me to begin with, because I like the outgoing tide for my best action on Fluke fishing. Problem was waiting for the outgoing to occur which seemed to take forever to start. And to my surprise, the incoming turned out to produce better than the outgoing. Boy, just when you think you've got these guys figured out, they do an about face and challenge all previous assumptions.
We decided to have the Barone family bucktail for our trip as this method has been constantly producing better catches than dragging bait by a long shot. We were using 6 oz Spro-Glo bucktails with a teaser about a foot ahead of the Spro which we adorned with numerous combination of pearl white Squid Strips cut about 6-8" long and Gulp Alive products in which both produced nicely. Our biggest fish of the day was a 5 LB, 8 oz fattie that put up a real stink as he got closer to the surface pulling out drag not once but 2 and a 3rd time. A real tough fish! What was also amazing was how small some of the throwbacks were in 70 feet of water....14 inches. Now that's small but back in the water he went to fight another day.
Thank you Barone family for an enjoyable morning on the water.
Tight Lines,
Capt. John
---
Wednesday, Aug 10, 2011
Fellow Anglers,
Tough day to say the least for the Chris George party of Pompton Lakes, NJ.
First off, we had to contend with a steady NW wind between 14kts and 19kts out at the lower Reach area which made fishing difficult even with a drift sock deployed. 6 and 8 ounces of lead was the MO for the day in the channels as well as the shallow flats just to hold bottom. Not the best of conditions for a good day a fluke fishing.
Add to that the "summer doldrums" seem to be in high gear and as you tell we didn't have a good day today. Although we did box a few keepers with a load of throw backs, it was not a good day to put fish in the cooler.
Worked numerous areas looking for fish as was evident by the fact that we put 42 miles on the boat searching for a decent catch, but it was not to be today. Fished the lower Reach, the Swash Channel as well as the Ambrose Channel, which I may add was filthy dirty from the runoff, all coming up with a ton of shorts.............WHAT HAPPENED TO THE BIGGER FISH?
Well, as they say, there's always tomorrow
Tight Lines,
Capt. John
---
Sunday, July 31, 2011
Fellow Anglers,
Had Tom Tanacredi and John Lucciola out for a morning Fluke charter in what turned out to be a productive day once the tide started moving "out" and we got a little wind to push the fly's off the boat. How can fly's find us out where we were is amazing but they did.
Anyway, back to fishing....Flood tide was 9:30 am, so once the outgoing started to move it was GAME ON! Bucktailed all day as we were just giving the fish what they wanted. 6 oz Glo-Spro's tipped with Gulp Alive products did a number on these fish today. Many of our 68 throwbacks were in the 14 - 17.5 inch range, but the 12 New Jersey legal keepers were fat fish in the in the 19" to 4 lb's and a great 7 lb, 28.5" long fish that Tom (on the right) is holding.




Great day on the water with 2 very good fisherman and just very nice people to be with for the day. Tom and John are very fish knowledeable and up on all the latest technical developments in the fishing industry. They always come with their own equipment ready to go after the biggest fish of the day as I advise them, in advance, where we'll be fishing. Great fishermen and good people too.
Video on the left shows us heading out through the Shrewsbury River and then fishing in various places around the Ambrose. Too bad the vid doesn't show some of the nice keepers we caught, but that's a timing thing, but does show the 7 lb'er being brought up from the deep on a white bucktail with a Gulp Alive Squid attached to it. These fish were also hitting Gulp Alive Sandworms repeatedly to our delight. Thanks Tom and John for a fun day on the water.
Tight Lines,
Capt. John
---
Wednesday, July 20, 2011
Fellow Anglers,
Very little good news to report here for today's "Magic Hours" charter. Had Tom Tambone of Cresskill, NJ party fishing with us for a Wednesday "Magic Hours" fishing trip which usually is a very productive charter for us, but yesterday proved why they call this fishing and not catching.
Although we did put 6 nice fish in the cooler and have 19 throwbacks, we here at Reel Fun Sportfishing consider that a poor day based upon what we've been doing since the Fluke season opened in May. We had to fight a persistent south wind at 15 kts gusting to 21 kts at times which made fishing at the spot we would have fished virtually impossible considering a wind against tide condition. So you play the hand you're dealt and make the best of it.
Like I say above, we report the good and the bad, but tomorrow is another day. If history dictates, we should kick the cr** out of them on our next charter.
Tight Lines,
Capt. John
---
Friday July 15, 2011
Fellow Anglers,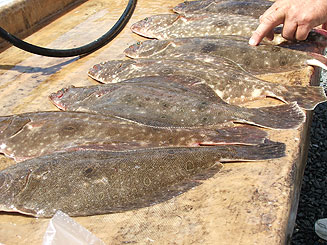 Action! Action! Action!
Had Joe Keller and Friends from Monmouth Beach, NJ with us today for what was an action filled, productive day of both keepers and throwbacks fishing in various spots in Raritan Bay this morning. Our top fish weighed exactly 5 lb's as we added 7 more keepers to the box and returned 67 more fish back to the water to grow.
Great group of fun loving guys that I would have on my boat anytime. Once again, the top producing bait was Peruvian Smelt/Squid strip combo which our fish just inhaled time and again to keep our crew busy for most of the day.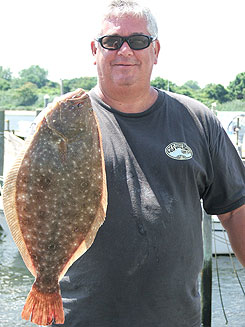 Our first drift at the edge of the Earle Pier had a constant pick of small throwbacks so it was time to move. Our next drift, along the eastern end of the Reach provided more of the same, so a quick tap on my GPS to some of my good fish producing locations and a phone call to another charter friend and off we went. And once again we were not disappointed with our move as we scored with keeper fish on our first drift along with the usual throwbacks.
We were using today our 6.5 ft St. Croix rods with Shimano TL 200 Reels with 30# braided line top shot. On the business end was a 2 foot fluorocarbon leader with on a snelled 4/0 wide gap hook and a 6 inch dropper for the sinker. The current where we were was workable providing we deployed our 72" drift sock. Because we were in a full moon phase, we had to use a drift sock as well as some pretty heavy sinkers to hold bottom, but the payoff was some real quality fish that went into the box for dinner fillets for the guys.
Pictured on the left is Tom Lovgren. Great guys, great trip Keller group.
See you again in August!


Tight Lines,
Capt. John
---
Saturday, July 9, 2011
Fellow Anglers,
Had John Cuozzo and brother Bob of Boonton, NJ on board fishing in the Sandy Hook Bay Anglers Tournament today for what turned out to be a very productive day, but unfortunately not bagging a fish big enough to win the contest. To give you an idea of the pure numbers of fish we caught today by a 5 man crew: we stopped counting when we hit 100 Fluke with 20 of them being keeper fish in the 18" to 5 lb range. All beautiful fat, plump quality fish as you can tell by the photo on the left at the fillet station at Anglers Marina in Sea Bright, NJ.
Congrats go out to John and Bob and crew for a job well done as we traveled to numerous locations in and around Ambrose Channel under, sometimes, very adverse drifting and big vessel traffic conditions looking for that elusive "doormat" which we knew we were going to need to win the top prize. Second place would have even been nice, but anything other than that we decided we weren't even going to enter a fish.
We had numerous baits such as Peruvian Smelts, beautiful pure white Squid Tubes for strips, live Herring and an assortment of Spro Bucktail jigs from 4 to 8 oz. tipped with natural as well as Gulp Alive products. As you can see we came well prepared for our day on the water, but that big baby was not in our cards today. Once again, my hats off to John, Bob and crew for their tenacious effort....I'm very proud of you guys.
Tight Lines,
Capt. John
---
Saturday, July 2, 2011
Fellow Anglers,
Had Jack Famularo of Little Falls, NJ party fishing with us today for what was a frustrating day as we caught numerous shorts (63) in many areas of Raritan Bay and could only post 5 keepers for the box to show for our efforts.I would be remiss if I didn't mention the highlight of our day as we put a 8 lb. 14 oz. Fluke in the cooler for the only bragging rights we had for the day.
Although we had fantastic drifting conditions in one key spot we were in, it was one short after another with a keeper every now and then thrown in. Once the current went into high gear where 6 and 8 oz sinkers with a drift sock couldn't hold bottom, it was basically over in that area and it was time to move again searching for fish. Frustrating day as far as keepers were concerned. Too bad as this group of men were really fun, very good fisherman and I was hoping for a little better success. 12 to 14 keepers in the 4-6 lb class would have made me much happier.
Tight Lines,
Capt. John
---
Friday, July 1, 2011
Fellow Anglers,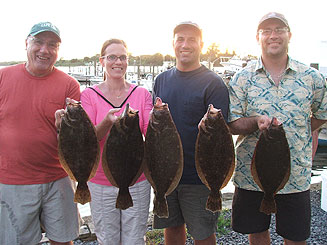 Had the pleasure of having the DeFuria family from North Jersey out for an afternoon "Magic Hours" charter fishing trip that was slow by my standards with 5 keepers caught although the keepers were nice and fat fish that ranged in size to Danielle's 4.2 lb'er. Our ladies do it again on Reel Fun Sportfishing!
First off, we had a wind against tide situation for most of the afternoon and then the wind dropped out to almost nothing providing with almost no movement throughout the bay. Tough! We fished the end of Earle Pier as well as the Swash Channel in absolutely beautiful weather but the movement produced by the current alone was very slow as we had the new moon effect on our fishing trip. Very slow moving current today.
Too bad because there are plenty of Fluke to be caught throughout the Sandy Hook area WITH the right conditions.
Many "Thanks" to the DeFuria family for a very pleasant evening. Looking forward to fishing with you again.
Tight Lines,
Capt. John
---
Thursday, June 30, 2011
Fellow Anglers,
Had Ralph Patrone and Brian Jewell out for a "Magic Hours" Fluke charter in what turned out to be a very productive afternoon. We were blessed with gorgeous weather with light west winds and great drifting conditions in key areas of Raritan Bay. While dragging bait (Squid and Peruvian Smelts) as well as bucktailing with our favorite Spro jigs we hit our first fish within minutes of our first drift.
A 5.8 lb'er is not bad for the first fish in the boat I would say. All told, Ralph and Brian caught 53 fish, 8 of which were keepers and kept the both of them quite busy as you can tell for a short afternoon fishing trip. Great job guys, and hope to see you again soon as the Fluke fishing can only get even better as the summer progresses.
Tight Lines,
Capt. John
---
Wednesday, June 29, 2011
Fellow Anglers,
Had Chris George with sons Trevor and Zachary of Pompton Lakes, NJ out for a good morning of Fluke fishing at various locations in and around the Sandy Hook area.
We were dragging bait (Squid/Peruvian Smelt combo) as well as bucktailing Spro's tipped with Gulp Alive products to catch over 40 Fluke for our morning charter fishing trip. Although bucktailing did out-produce dragging bait by a wide margin, we did catch nice keepers to 2 lb's using both methods. Although the fish caught today were smaller than our Monday "Magic Hours" trip, there were enough fish to keep these 14 year old anglers busy for the morning.
We had a light N/NW breeze for most of the morning with an outgoing tide which had us on a perfect drift accounting for great conditions at most of our locations. Amazingly, the Sea Robbins have not been a problem this year, so far, but that could change at any time. Saw many "Bunker Boats" in Sandy Hook Bay which was disturbing, but they have to earn a living too so who am I to judge.
What I'm also surprised with was that even the undersized fish (throwbacks) were fat, plump beauties which bodes well for the health of the coming new year. Looks like 2012 could be a good year for the Fluke fisherman.
Tight Lines,
Capt. John
---
Monday, June 27, 2011
Fellow Anglers,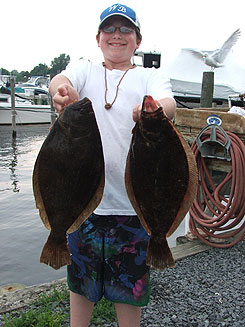 Had Bob Leiberman and son Bailey out for a "Magic Hours" Fluke charter in what turned out to be a great afternoon. (What can I say to Tom and John from the 26th....time to fish weekdays. Maybe too much boat traffic on weekends and that's spooking the fish not to bite.)
Good thing I started these "Magic Hours" charters for 2011 as it is now obvious that the best fishing is occurring late in the day when all the boat traffic gone and the sun is setting. These fish were very hungry and their stomach's where empty as was evident when we were cleaning the fish.
This was a 2 man, afternoon charter, with Bob and his son in which we caught 34 fish (7 keepers and 27 throwbacks) with the keepers ranging from 2 lb's to Bailey's fat beauty of 5.2 lb'er. And let me tell you, can this boy fish....wow! Talk about dragging bait and setting a mean hook. He had great technique for a beginner and he's just a fast learner as we gave a few instructions to him and his dad on the fine art of Fluke fishing. From his very first fish, nothing more was said and he just kept whacking one after the other. Boy, was I proud!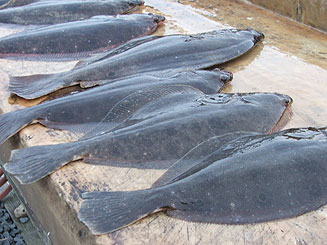 Just want to take this opportunity to thank Bob and Bailey for the kind words and for a really enjoyable afternoon on the water. This was some really great fishing with almost nobody around us competing for obviously a new body of fish. We dragged spearing/squid combo as well a bucktailing.
Just a quick plug.....if you're interested in catching some fish, try to refrain from the weekends as it's very obvious to me now that the massive boat traffic around on Saturday's and Sunday's are drivingthe fish to bury themselves in the bottom and not feed aggressively. So keep that in mind when booking your charter with Reel Fun Sportfishing. Our Magic Hours fishing trips are a wonderful time to be on the water especially during the week.
Tight Lines,
Capt. John
---
Sunday, June 26, 2011
Fellow Anglers,
Had Tom Tanacredi and John Lucciola out for a morning Fluke charter in what turned out to be very tough day. How's does covering 50 miles for a few keepers and about 23 shorts sound? I had a hunch that this would of happened because of the storm that hit Sandy Hook Friday afternoon/night.
We fished the ocean from the Highlands Bridge north, Sandy Hook Channel from 18 to 5, Ambrose Channel around 11a through 7 and then to the mob scene at the Earle Pier. Talk about move around for a few barely legal keepers. Not my idea of a good day of fishing. Well it's obvious to me it's time to start fishing the "sticky" bottom areas as the close in spots are just about done for big fish, at least until Ambrose starts to heat up, which hasn't happened yet.
Tight Lines,
Capt. John
---
Tuesday, June 21, 2011
Fellow Anglers,
Had Steve Tokarzewski party out for a morning Fluke charter in what turned out to be very tough drifting conditions most of the morning with an incoming current coupled with a west wind almost eliminating good drifting conditions for most of our charter.
Drove to numerous locations such as the TC, along Raritan Reach Bouys 14,16 and 18, the Twin Sticks and even (my God, I can't believe I'm saying this) Kiddie City [the Bug Light] only to find almost zero drift in most areas. Although we caught 32 throwbacks we were only able to land a few keepers. In short.....tough day!
Tight Lines,
Capt. John
---
Thursday, June 16, 2011
Fellow Anglers,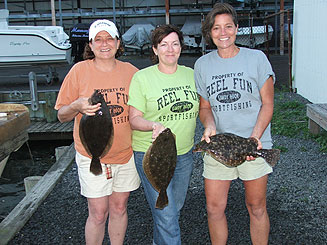 The only way to describe tonight's "Magic Hours" charter with Elizabeth Dickerson and her sisters Laura and Susan was that we "kicked the cr** out of the Fluke" What a night!
First off let me say that Liz and her sisters are now "seasoned" veterans in the art of catching Fluke, which for some people is not an easy thing to do. I would now put these three against anybody I've had on my boat over the past few years.......they are that good!
Don't expect me to divulge the location of this body of fish but what I will say is that they were in a very tight "pack" about 200 yards long and once in it BANG.....FISH ON and once out of it you're in the Sahara Desert and nothing. A word of advice to all my fellow boaters........always mark the beginning and end of your drift with your GPS and rake the place over and over again and stop these long unproductive drifts hoping for a hit. Tonight proved to me again that these fish huddle with each other so take that to the bank.
The ladies caught 41 Fluke over repeated drifts in a very tight area using Spearing/Squid and/or Peruvian Smelts/Squid combo dragging bait for 3-4 fish per drift catching both throwbacks and keepers that were fighting mad and fat, plump fish. The ladies were not experienced fisherpersons, but with about a half hours of instruction, they started to get the "touch" of Fluke fishing. What an outstanding Fluke season so far. All quality fish!
Were they big fish, no, but it was a night of nonstop action while we were watching pod after pod of bunker finning by us and then being harassed by some really JUMBO Bluefish looking for a meal. Poor bunker didn't have a chance. What an outstanding evening ladies. Great fishing and wonderful people too.
Tight Lines,
Capt. John
---
Wednesday, June 15, 2011
Fellow Anglers,
Had John Toth, Jim Zimmer, Don Karl and Craig Adams out for a morning Fluke charter in what turned out to be a constant fight with nature with a fast moving current due to the coming full moon as well as a honking N/NW wind upon our arrival at 7:30 am.
Although we caught numerous shorts (36 in all), the keepers were few and far between today. Got to call it the way it was. Tried numerous locations that produced good fish for us last week, but the fast moving current in those areas proved even too much for our "drift sock" as well as our braid line outfits. When you fish light outfits, like we do, and fail to hold bottom with 6 oz of lead AND a drift sock, it makes hooking up for Fluke a very difficult situation.
There were times when I was recording 3.8 kts drift even with a drift sock deployed. I know there were good fish in the area as we got numerous strikes, but were unable to set the hooks with yards and yards of line out. Sure we moved to more favorable locations, but all we caught were shorts for our efforts.
Did we catch fish today....yes. But just not enough keepers for my satisfaction although our crew had a good time aboard Reel Fun just the same.
Tight Lines,
Capt. John
---
Wednesday, June 8, 2011
Fellow Anglers,
There's a song that goes "What a difference a day makes", well that's the only way to describe the Fluke charter we just completed today. From desperately trying to find Fluke a few days ago, to an absolute kick butt day of fishing here at Sandy Hook today.
Every drift produced 3 and 4 fish with good size keepers mixed in with the shorts. Fat plump keepers in the 3 to 5 lb. range met their fate in our net and really delighted our customers Thomas Noble and Dale Lansdowne of Syracuse, NY. There is no doubt that a new body of fish have moved in and are as hungry as a bear. Drifting bait adorned with fresh pure white squid strips and Peruvian smelts got whacked time and again and if you really wanted some fantastic action try bucktail jigging with 4 oz. Spro's and a teaser setup dressed with a squid strip.
Haven't had a day like today this year with all quality keepers.......even the throwbacks that were just shy of legal were fat and heavy in the net. So far, this Fluke season is turning out to be a very good year. Had current and wind working in harmony which probably explains the good fishing today, but as we all know, that doesn't happen everyday. We even come up with stinker days too, just like the June 4th and 5th charters but that's how it goes sometimes.
Tight Lines,
Capt. John
---
June 4 & 5, 2011
Fellow Anglers,
Fluke fishing this weekend was in a word.....tough!
Had Tom Tanacredi along with close friend John Lucciola out for a "Magic Hours" 3-8 Fluke charter on the 4th that was all but "Magic". Headed out of the marina on the afternoon of the 4th with my game plan all set, but the weather gods had different plans for us as we were greeted with N/NW winds reported by Robbins Reef station of 17kts gusting to 25kts throughout New York Bight. Finding a place to get a good drift in those winds even with a drift sock was a real chore. Put that together with the fact that the fish just weren't going to cooperate for us this evening and it made for a very tough evening of fishing. Had just about all the baits required for a good trip, including some fantastic long clean white squid strips and Peruvian smelts to attract the bigger fish, but I guess it just wasn't meant to be. I heard that the Friday morning fishing in that area was a parking lot of boats, so that may explain our poor results as too many lines in the water with not enough fish to support it. But a new body of fish are always entering our area so have faith. As they say in life, timing is everything.
Our next charter on the morning of the 5th was the Bryant Swift party that experienced the somewhat same poor fishing as my evening before charter did. But this time, we had to contend with a stiff and unrelenting wind out of the East that made fishing outside (the ocean) just about impossible considering what you need for a good drift.
Today, we had to hunker down inside Sandy Hook Bay for wind protect and hopefully try to scratch out a catch of Fluke. I must admit though, that today's fishing was way better than my "Magic Hours" trip with Tom and John as we did get repeated hits once we found the concentration of fish in the bay. We had a bunch of throwbacks and a some keepers, but not nearly enough to make me happy. But, we caught and I saw numerous boats who didn't!
As you can see, the weather dictates a lot of the success in this sport, which about all my regular anglers understand. We all (customers and crew) want to have really great days on the water, but some times it just doesn't work out that way.
Tight Lines,
Capt. John
---
May 30, 2011
Fellow Anglers,
Had the Mikel Carey and his wife Susan out for a combo day of early morning Stripers and if that didn't work out, a switch over of a Fluke trip. It didn't take long to realize after a thunderstorm rolled through, that the Striped Bass fishery in our area was going to be a bust today, so we quickly moved over to Fluke to try to stuff our cooler with some fish.
Fished numerous locations that produced very well for me on Saturday only to find a very slow pick of fish today. Inside, outside it didn't really matter. Dragging bait as well as bucktailing, these fish just weren't going to respond today. I have to think that with the massive amount of boats out on Sunday, that the Sandy Hook area was totally "fished out" and it's time to look for a new body of fish to move in which can occur at any time, so the M.O. for fishing, which I tell all my customers is PATIENCE! Just because you hire a charter or jump on a party boat, doesn't guarantee fish in the box all the time. Everyone working in this business works very hard looking for fish to earn your loyalty, but some days it's just not meant to be. Remember "that's why they call it fishing and not catching"
My sincere "Thanks" to Mikel and Susan for a really fun day on the water as we put some flatties in the cooler and enjoyed spectacular weather too. We hope you liked New Jersey saltwater fishing (their 1st saltwater fishing trip ever ) as well as your overnight stay and the dinner. We really enjoyed your time with us....hope to fish with you again.
Tight Lines,
Capt. John
---
May 28, 2011
Fellow Anglers,
Had the Art Erickson party out for some bassin-in-the-bay which turned out to be a bust as it's obvious now all the Striper fishing is occurring "outside" and it seems, unfortunately, the bay Striper run for 2011 may be history. Now that the Striper run is an ocean side run-and-gun fishing, it turns out to be a crap shoot on finding bunker as well as the fish. On one day and off the next. Anglers fishing south of Sandy Hook have been doing well as of late with the guys in the north, like me, are having to make long, time consuming, runs for both bait and fish.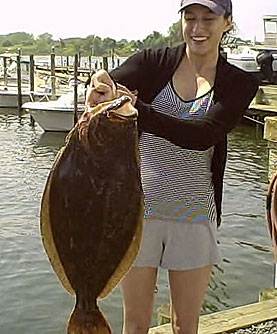 So we decided to turn our attention to fluking and was pleasantly rewarded with our biggest fluke of the year so far on Reel Fun Sportfishing. Set up on one of my "honey holes" and started repeated drifts utilizing both bucktailing and dragging bait. We had beautiful long white squid strips and Peruvian smelt sandwiches for the draggers and 3 oz Spro-glo bucktails tipped with various goodies. In short order, BANG......FISH ON!
Although it was a slow pick by my standards, Kristy O'Neill (pictured left) of the group showed that women can really fish too as she caught the 2 biggest fish of the day. How does a 8 lb. 14 oz beast sound? And for her second fish she nails a 7 lb. 9 oz. beauty. Both fish were on dragging bait with squid and Peruvian smelts. Way to go!
So what initially started out as a stinker day in the bay for Stripers turns out to be a very nice Fluking day. Good to have alternative plans and bait for days like today. Good fishing Erickson party AND especially Kristy!
Tight Lines,
Capt. John
---
May 21, 2011
Fellow Anglers,
Well after almost a week of really bad weather, got out today for the Quin party from Sudbury, MA for a Striped Bass charter that resulted in a slow but steady pick. Not a limit day like our previous charters but a successful fishing trip nonetheless as we caught some nice keeper Bass for our efforts.
Caught Stripers that ranged in size from 29" up to a beauty at 35" all taken on clams fishing with a substantial fleet around us in great weather and an incoming tide. Although we had to wait a half hour for the pea soup fog to dissipate somewhat, we still managed to make it out to a one of our steady producing areas from last week.
As they say, "never leave fish to find fish", so we went back to the last area that produced fish and was rewarded with some really nice Stripers. Patience was the key to some nice fishing once the clam slick started to do its job. Hope you enjoy the video and many thanks to the Quin party for an enjoyable day on the water........good fishing guys. Just a note: for that one fish we left the clicker on to get a feel for the amount of line that was out and when the fish decided to make some runs. We don't usually do that but we tried something new for spice!
Tight Lines,
Capt. John
---
May 15-18 , 2011
Fellow Anglers,
What can I say. 4 solid days of bad weather, and 3 postponed charter fishing trips for Stripers. Oh well, it can't last forever. Hopefully my Saturday charter will get under way and I'll have something to report about. But until then, hang in there.
Tight Lines and Sunny Skies,
Capt. John
---
May 14 , 2011
Fellow Anglers,
What a great day here at Reel Fun Sportfishing. Had 2 charters today for Striped Bass with a LIMIT catch on our morning trip and a near limit on our afternoon "Magic Hours" charter.
Many Thanks to the Inphone Laonady party from Philadelphia as they were out Striper fishing for their first time ever and after a little instruction started banging fish within minutes of setting the anchor at one of my steady producing areas.
We caught fish clamming from 28" to 32" with a good steady bite that lasted just about all of the outgoing tide. Water was cold too as well as a cold and overcast day at the shore. But the party toughed it out in somewhat adverse conditions and my "hats off" to the group for a job well done.
My special "Thanks" to goes to Mark of that party as he was the point of some real good nature "Trash" talk.
The second of our charters today was the Mike Kelly group from Brookfield, Conn. A birthday gift for his father Mike and attended by his sister Diane and her boyfriend.
Set up house at around 4 pm in around the exact same spot as the morning charter and after some really heavy clamming, finally enticed these light biting Stripers to respond. Although it was a very cloudy and cold day at the shore, everyone held up well as we started to put the Bass in the box.
We fished a total incoming and strong tide that had a cold 54.6 degree water. I warned the guys that Diane would outfish the guys AND she caught our largest Striper of the day..... a 34" beauty. Way to go girl!

Well there you have it, a very successful Saturday here at Reel Fun Sportfishing with both parties giving me and the crew kudos for a job well done and a promise to return later this year for some more fishing.
Tight Lines,
Capt. John
---
May 11 , 2011
Fellow Anglers,
This afternoon's Striper charter with the Richard Daretany party from Staten Island was in a word... tough! As they say, some days you get the bear and some days the bear gets you. Well the bear got us good at today's "Magic Hours" charter. With all the right conditions ( outgoing tide and a light E/SE wind) I would have thought that we would have hit a home run today.
The swell at the mouth of Raritan Bay from the offshore storm was tolerable. But the garbage in the water was unreal. The water was discolored and dirty too, which could have explained the poor fishing when we arrived at 4:00 pm.
With my spot picked out based upon last Friday's successful charter still in my head, headed over to the north side of Flynn's Knoll around the Swash channel and anchored up and started to clam our fannies off. Had a few initial readings on the finder, but just couldn't raise the fish to eat. Frustrating! We were also limited in the amount of travelling around we could do because our "Magic Hours" charters are much shorter in duration and our customer didn't want to spend a lot of time moving around and more time fishing. So we live with what we were given. Made another move to an area just west of Chappel Hill channel with MANY readings on the fishfinder but the Bass proved to be very finicky and elusive.
Called a friend who was working deeper in Raritan Bay (west of our location) and he reported that things were all Bluefish where he was at, so I decided to stay put for awhile longer to see if we could entice these fish to feed. Like I said, Stripers just weren't in the cards for us today. Better days are ahead I'm sure.
Tight Lines,
Capt. John
---
May 7, 2011
Fellow Anglers,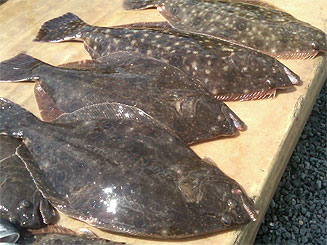 Nothing like starting the opening day of the 2011 Fluke season with a BANG!
Had the John Cuozzo party from Advantage Promotions, Boonton, NJ out for opening day of the 2011 Fluke season, and boy what a day. Our first drift started in what I thought would be the top spot for early season Fluke, the Shrewsbury River which had a water temp of 52.2. That temp was a drop off of 8 degrees from Wednesday and obviously resulted in the poor fishing in the river this morning. After 2 drifts with not even a hit, we moved to a few other spots within the Shrewsbury with the same results.....nothing. It's just not happening in the river yet.
Reluctantly, I decided to move to "Kiddie City" (the Bug Light) and was pleasantly surprised by the number of quality Fluke that the area held. One fish after another my anglers were rewarded with very hungry Fluke.
Although there was a substantial fleet of boats in the area, we kept finding fish after fish in what turned out to be beautiful weather working both the incoming and outgoing tides. We caught 22 Fluke for our efforts......not bad for opening day in early May! Thanks to John, Gerry and Mike for a great day.
If you'd like to get in on the action, give us a call and learn what catching Fluke the "Reel Fun" way is all about.
Tight Lines,
Capt. John
---
May 6 , 2011
Fellow Anglers,
Today's Striper charter with the Gene Lens party started slow as I decided to start the day clamming at the clam beds off the Sandy Hook beach. After an hour of "nothing" decided to make my move to a spot at Flynn's Knoll that is usually very good on outgoing water.
Once again, I wasn't disappointed with the move. We waited out the tide change and then BANG....fish on with clams. Amazing how these Stripers like just the right conditions when they decide to chow down. We limited out with some really nice healthy fish up to 34" and lost 2 more "beasts" right at boatside. Ouch!
Anyone wishing to fish for Striped Bass, now is the time. The bunker are in too, so the Bass are responding to bunker chunking, clamming as well as trolling Stretch 25's. One thing I did notice was the water temp's in the ocean has cooled down which could explain the slow fishing at the clam beds. Once we moved inside and with an outgoing tide the water temps jumped 4 degrees in less than an hour.
Tight Lines,
Capt. John
---
April 30, 2011
Fellow Anglers,
Today's Striper charter with the Lloyd Raheem party was, like most other's I heard on the radio on this Saturday, very picky and slow. Getting a heads up call from one of my mates fishing with a friend in the back of Raritan Bay, we sailed through a pretty stiff north wind to the 20A area. We had clams and bunker ready to do battle, but found only one keeper for our time there. We had runoffs, but setting and landing those fish proved to be another issue. Very light bite....pick up and drop was the M.O. for this area.
Then moved to the Romer area only to find similar picky eaters again on clams and/or bunker chunks. Today proved to be a very frustrating day compared to what we encounterred during the week. I guess that's why they call it fishing and not catching. Better days are ahead as the season is still early. More reports to follow so keep in touch.
Tight Lines,
Capt. John
---
April 28, 2011
Fellow Anglers,
Reel Fun Sportfishing is announcing a special Fluke season opening celebration charter fishing trip for Saturday May 7, 2011.
That's right.... to usher in the long anticipated 2011 Fluke season with its relaxed regulations in New Jersey, Reel Fun Sportfishing will celebrate this day by offering some (reel) goodies to anyone who books this charter for Saturday the 7th of May.
First off, we'll be adding and extra hour to our Fluke fishing schedule ( from 7 to 8 hours) along with a free Reel Fun Sportfishing T-Shirt for every member of your crew. Not to be outdone, we'll even supply lunch (sub sandwiches from the best sub shop in NJ....Tastee Subs) along with ice cold soft drinks and/or bottle water. As always, we'll be supplying you with some of the best rods, reels, rigs and fresh bait in the business as well as sailing aboard one of the best fishing vessels made, the 25' Parker Sport Cabin.
And if that's not enough, Fluke killer "Mate Mark" will be glad to instruct you on the fine art of "bucktailing" for Fluke.....the hands down top producer in this type of fishery.
We'll be leaving the dock at 7 am and returning by 3 pm for a fun filled day of fishing.
So call me at 908- 421- 4761 for the cost of this very special charter fishing trip and have your credit card ready to make your reservation for our 7th of May opening day Fluke charter.
Tight Lines,
Capt. John
---
April 20, 2011
Fellow Anglers,
I'm pleased to announce for our single anglers that we have 2 spots available for our 1st "Open Boat" fishing charter for 2011 on May 4th fishing for Striped Bass. As always, we will be leaving the dock at 7 am and returning by around 1 pm which is our 6 hour Open Boat fishing charter for single anglers looking to "share" the cost of a charter fishing trip. Included in the price, as always, is use of our top notch St. Croix rods, reels, rigs and all bait.
Also remember that our "Open Boat" charters are EVERY WEDNESDAY during the 2011 fishing season, so if you can't make the May 4th trip, call us and hold your spot for another Wednesday of great fishing here at Sandy Hook, NJ. We will be "Open Boating" during the Striper season as well as the Fluke season which starts May 7th this year.
For further information and pricing, please refer to my web page by clicking here. See you at the dock!
Tight Lines
Capt. John
---
April 15, 2011
Fellow Anglers,
I'm very pleased to announce that the boat is in the water and we are READY!!!!! to fish the 2011 season. Striped Bass are just now starting to give up some decent numbers to boaters fishing western Raritan Bay. The overcast skies and rain doesn't help matters much as it looks like the spring Striper season is starting "late" but there are fish to be caught anyway.
Clamming is the way to go right now and shallow water is the place to be as the water temps in the shallow "flats" have reached 52.5 for awhile this week. So get those rods and reels ready and let's get this spring Striped Bass season going in high gear.
Mates Mark and Chris put in a lot of hard work getting "Miss Parker" ready for a new season. Sanding, painting, scraping, compounding and waxing along with some minor repairs have little Miss Parker ready to go. And so are we.
So check your calendar, pick up the phone and call me to place a reservation on the date of your choice for Stripers and don't forget the Fluke season is officially opening on May 7th, so don't wait to choose the best tidal dates we have available for those great tasting fish. See you at the dock!
Tight Lines
Capt. John
---
April 7 , 2011
Fellow Anglers,
This just in.....the 2011 New Jersey Fluke Reg's are now official and they are 8 fish per man @ 18" starting May 7th and ending September 25th. GREAT news if you are a Fluke fisherman like I am which gives us a total of 142 days of great fishing here in New Jersey for our favorite fish.
So now that we have fixed dates to work with, let's get those phones ringing and get those prime dates locked in for the summer of 2011. See you at the dock.
Tight Lines
Capt. John
---
March 26, 2011
Fellow Anglers,
This cold early season spring weather has put a temporary hold on doing any further preparation work on the boat this past week, but we always have our eye on the weather reports and are waiting for a few 50 degree back to back days to complete our job. Why 50? Well that is the temperature that is needed to apply the bottom paint for an optimum drying situation. So if we can get a few (2-3) 50 degree days strung out together then the prepping work needed for another season will be done.
Calls from people I met at the Saltwater Expo show last weekend are coming in for the spring Striped Bass run that is starting to occur in Raritan Bay as well as taking advantage of the prime Fluke days available for this summer. Reports and calls that I've received indicate that Stripers are, in fact, in Raritan Bay now, so as you can tell, we are chomping at the bit to get little Ms. Parker in the water. Come on 50 degrees!
I've also been busy having some new 6 and 8 oz. Spro bucktails made for the upcoming Fluke season. These are hand made bucktails with some great colors and are sure to attract the attention of some of those bigger deep water doormats this season. Tip them with some fresh big meat strips and BANG..... fish on! So if you're a Fluke fisherman, like I am, eager to put some delicious fillets on your dinner table, call me NOW and I'll turn you on to some PRIME Fluke fishing days starting in early May and running through September. Waiting to hear from you!
Tight Lines,
Capt. John
---
March 21, 2011
Fellow Anglers,
Just like to take this opportunity to thank the staff of the Eastern Fishing & Outdoor Exposition (Judy, Amanda and Jonathan) for a great show at the Saltwater Expo that just concluded this past weekend in Somerset, NJ.
I would also like to thank the many people who stopped by my booth to say hello, talk about fishing and book a bunch of charters for 2011. "Can't Wait" for the season to start.
To the many new people who stopped by and took some brochures, business cards, pens, candy and flyers, it was a pleasure talking to you all and I'm looking forward to hearing from all of you in the next few days or weeks and join Reel Fun Sportfishing for a fun day on the water this fishing season.
The show was very successful for me as well as many of the exhibitors who were there this past weekend. The boat will be ready to go by April 1 if not sooner weather permitting. So call your buddies, get out your calendars and give me a call and let's lock in some prime fishing dates. See you soon!
Tight Lines,
Capt. John
---
March 19, 2011
Fellow Anglers,
Great day at the show yesterday as there were large crowds in attendance throughout the day. I had the pleasure of talking to many, many people at my booth discussing the current and the projected Striper season along with the upcoming Fluke regulations for New Jersey.
I had the opportunity to walk the show floor to get a birds eye view of all the vendors that were there. Boy, talk about a kid walking through a candy store. The sheer number of saltwater fishing "stuff" was amazing. If you can't find what they are looking for to fill your tackle box, I don't know where you'll find it.
My thanks to Capt. Greg W. for stopping by to lend a hand taking inquiries and to Donnie for Tastee Subs, Franklin Park, NJ for the yummy lunch he provided me (best sub sandwiches in NJ) and to all my customers for stopping by to say hello and booking some charters with me for 2011. Great way to begin the season guys! You're the best. Also was glad to see and finally meet in person the crew from NJ Saltwater Fisherman web site and fishing report contributors (Jeff, TBone, Rod and Irish Eyes...great group of fisherman)
If you can tear yourself away from your "honey-do" chores, stop by today or Sunday and join all your brother fisherman at this great once a year show.......not to be missed.
Tight Lines,
Capt. John
---
March 18, 2011
Fellow Anglers,
SHOW DAY TODAY!!!!! Looking forward to seeing you all at the ASA Saltwater Fishing Expo located at the Garden State Exhibit Center on Rt. 287 (Exit 10) and Easton Ave., Somerset, NJ.
Yesterday, mate Mark and I worked very hard at the marina sanding the old bottom paint off the Parker and applying the first coat of new bottom paint. I use Interlux Micron CSC exclusively for my boat as it does a great job of keeping all those nasty barnacles and slime off of the hull for the year. Next up is the application of coats 2 and 3 and then on to giving my baby a few coats of wax and then in the water she goes.
Our projected launch date will be around the end of next week at which time it's time to hunt down some of those early spring Stripers in Raritan Bay. Boy, after this very long winter, we can't wait! I'm sure you feel the same as we do, so stop on by the Expo this weekend and let's talk about our favorite sport........fishing!
Tight Lines,
Capt. John
---
March 11, 2011
Fellow Anglers,
Just to keep you abreast as to the readiness of the boat after a long winters sleep, little "Miss Parker" will be awaken over the weekend (cutting off the shrink wrap) and a good cleaning and waxing of all the topsides. After that, the next major issue is sanding the bottom of all the old bottom paint and applying a few fresh coats for the new season.
With the help of my son and mate Mark, we have about a weeks worth of work ahead of us ( weather permitting) and then she'll be ready to go. Don't forget we are also getting ready for the upcoming Saltwater Expo at the Garden State Exhibit Center, Rt 287 (Exit 10) and Easton Ave. that we will be attending next week (Fri.-Sun., March 18 - 20) This is a show you don't want to miss if you're a saltwater angler like myself. THE last major show of 2011 in New Jersey with many great deals available so don't miss out! Also follow my reports here as any news I gather about the spring Striper run will be passed along to you.
Tight Lines,
Capt. John
---
March 9, 2011
Fellow Anglers,
As was reported by Capt. Al Ristori on his Star Ledger blog: "The first keeper striper was recorded Tuesday at The Tackle Box in Hazlet as Dennis Galvez of East Brunswick using worms at Cliffwood Beach to land an 11-pounder."
Quite early for a keeper Striper to be caught considering all the rain we've had and the runoff that's being pumped into the Raritan Bay, but so be it. A very good sign for the upcoming Striper season, so let's go fisherman let's get the phone ringing.
Tight Lines,
Capt. John
---
March 6, 2011
Fellow Anglers,
There have been unconfirmed reports of Striped Bass being caught at two (2) different New Jersey locations over the past 2 days.
The first spot was reported by the Absecon Bay Sportsman Center in Absecon, NJ from anglers casting lures from undisclosed locations along Absecon Bay. If true, boy that is really early with such cold water that currently exists in most of our waters.
The second location I've heard about is in and around the flats, on bait, along the Raritan Bay sod banks. And once again, if true, a very early showing for Stripers considering how cold the water is in the bay. But let's remain optimistic and hope to hear more reports from surfcasters working the shallow waters of the bays.
Tight Lines,
Capt. John
---
Feb 18 thru 28, 2011
Fellow Anglers,
Just a brief reminder about some of the great charter fishing trips we have for you here at Reel Fun Sportfishing:
1 - For you hard core Fluke fisherman, why not try our "10 Hour Fluke Marathon" charter fishing trip? What better way to finally bag that "doormat" once and for all fishing with us at some of the best structured locations along the coast in deep water. We leave the dock at 7 am and return by 5 pm.....now that's a lot of fishing.
To read more about it CLICK HERE....
2 - For those single anglers unable to put a 4 man group together, why not consider our very popular Wednesday's "Open Boat" fishing trips. Great for single anglers who would like to share the cost of a 6 hour fishing trip for Stripers or Fluke with other anglers. A great way to make friends and enjoy the day on the water fishing for your favorite fish. To read more about it CLICK HERE....
3 - Our "Ladies Day" charter fishing trips are just that.....a ladies only charter fishing trip just for our female anglers. What a great way to spend the day with your close friends enjoying the day on the water and having fun. To read more about it CLICK HERE....
4- Ever catch a Striper of Fluke "on a fly"? Why not now? For those who are seasoned fly fisherman, we now offer bay and river fly fishing charters for Stripers or Fluke. Let's go you fly chuckers..... see what fishing is REALLY like trying to bag a 20 - 25 lb Striper or a 8 lb. Fluke on a 10 wt. fly rod. To read more about it CLICK HERE....
5- And finally, our very popular "Magic Hours" charters that leave the dock at 3 pm and returns at 8 pm. Just what the stressed out worker needs.......a few hours after work to chill out. Our Magic Hours charter is a 5 hour getaway for Stripers or Fluke that can be booked anytime during the week. No boat traffic, very peaceful and a lot of fish too! To read more about it CLICK HERE....
So there you have some of our fishing trips for 2011. Check you calendars and give us a call TODAY!
Tight Lines,
Capt. John
---
Feb 4, 2011
Fellow Anglers,
Here is some very important information that I feel compelled to relay to you about the upcoming 2011 Fluke regulations that are currently being considered. This information is coming to you via Capt. Al Ristori's blog and can be seen by clicking here....
Please read the article as this is going to affect all of us. Personally, I'm pulling for Option 8 which gives us the longest possible season to fish (6 fish @ 18" from May 2 through Sept. 30, 2011) but that's just my preference.
Stay tuned for further details and I will relay the final outcome as soon as I get them..
Tight Lines,
Capt. John
---
Jan 26, 2011
Fellow Anglers,
Here are a few newsworthy items to mark on your calendars for February and March of 2011.
The Atlantic City Boat Show is set for Feb. 2nd to 6th, 2011
The Raritan Bay Anglers Fishing Flea Market is set for Feb. 5 at St. Cecelia's Hall (Iselin, NJ) from 8 a.m. to 2 p.m.
The Silverton Fishermen's Flea Market will be on Feb. 6 at 15 Kettle Creek Rd. in Toms River for the benefit of the Children's Christmas Fund.
The 10th annual Hi-Mar Striper Club Fishing Flea Market runs from 8 a.m. to 3 p.m. on Feb. 12 at the Middletown VFW.
Coming to Somerset, NJ on March 18th through 20th is the Saltwater Expo at the Garden State Expo Center on Rt. 287 and Easton Ave. in Somerset, NJ. For saltwater anglers, this is a CAN'T MISS show. Tons of great bargains of all types as well as local charter captains anxious to book your charter (me too) as well as fishing seminars by some of the top guides in the Northeast.
So mark your calendars now and I will see you at Somerset, NJ.
Tight Lines,
Capt. John
---
Jan 13, 2011
Fellow Anglers,
The Garden State Outdoor Sportsman Show in Edison, NJ (Raritan Center) starts today (Thursday) so don't waste time seeing this great jam packed show. Click on the link above for show information and times.
Tight Lines,
Capt. John
---
Jan 6, 2011
Fellow Anglers,
Welcome to the new year. Boy, I can't wait for the first Stripers to show up back in Raritan Bay around mid April or sooner I hope. Hope you all had a wonderful holiday season. I know I did.
I know this is customarily a very slow time of year as far as fishing is concerned, but to keep us all occupied during these cold and snowy days, the fishing and outdoor shows are coming very soon.
The Garden State Outdoor Sportsman Show in Edison, NJ (Raritan Center) is just a week away so check your newspapers for dates and times and stop by and say "Hi" to my good friend Capt. Frank Tenore of Fins on Feathers.
Also coming February 17th to the 20th is the Greater Philadelphia Outdoor Show at Oaks, PA. These are the same people who run the Somerset Saltwater Expo in March and I hear from the response from last year that this show was HUGE!!!
Coming to Somerset, NJ on March 18th through 20th is the Saltwater Expo at the Garden State Expo Center on Rt. 287 and Easton Ave. in Somerset, NJ. For those saltwater anglers, this is a CAN'T MISS show. Tons of great bargains of all types as well as local charter captains anxious to book your charter (me too) as well as fishing seminars by some of the top guides in the Northeast.
So mark your calendars now as I look forward to seeing you at Somerset.
Tight Lines,
Capt. John
To reserve your date call...

Capt. John at: 908- 421- 4761

© 2005 Reel Fun Sportfishing, LLC. All Rights Reserved.
Web site designed and published by Capt. John