Reel Fun Photo Album - Page 1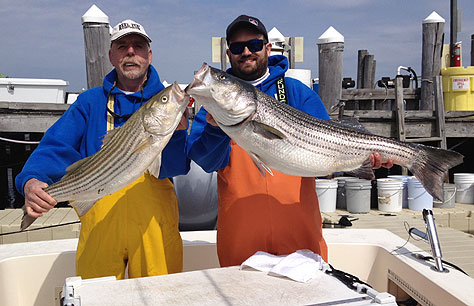 Mates Rich (left) and Chris (right) on a crew shakedown trip April 15, 2017
Spring Striper fishing.....let the fun begin.

Dawyn Sandi charter.....bass on the left weighed in at 35lbs., middle bass was 30lbs all weighed on a calibrated digital scale.. We released 9 other "legal" bass to live another day in hopes of catching another big bass or two.
April 22, 2017.....great morning on the striper grounds.

Photos and descriptions shown here with the permission of the anglers
and may NOT be reproduced for use on any other web site or publication.
To reserve your date call...

Capt. John at: 908- 421- 4761
© 2005 Reel Fun Sportfishing, LLC. All Rights Reserved.
Web site designed and published by Capt. John
Fishing Charters Sandy Hook, NJ